Shockingly, when snowed in, people want to get drunk.
I wanted something warm but I wasn't really in the mood for something hot. Does that make sense?
I came up with this port punch that very easy to throw together and is very tasty.
This could also be called Cheater's Sangria. It tastes a lot like sangria which makes sense since Port is red wine that's been fortified with Brandy. Most sangrias are beefed up with brandy or rum or some other kind of hard liquor, but if you use port than that extra booze is already included!
Port Punch
This could also be called Cheater's Sangria. Marinating fruit in port and then mixing it with some juice and ginger ale makes for a perfect punch!
Ingredients
1

bottle

,

750ml Port

1

apple

,

diced

1

orange

,

segmented and chopped

1

lime

,

juice only

Grapes

,

optional

Orange juice

Ginger ale
One Drink:
2

parts port mixture

1

part OJ

1

part ginger ale
Instructions
Cut segments out of oranges. Peel and core the apples and dice into chunks.

Add fruit to a bowl with lime joice and port.

Let marinate for 1-2 hours or overnight.

Mix 2 parts of the port mixture with 1 part OJ and ginger ale in a tall glass with ice.
Nutrition
Serving:
1
Drink
|
Calories:
22
kcal
|
Carbohydrates:
6
g
|
Protein:
0.3
g
|
Fat:
0.1
g
|
Saturated Fat:
0.01
g
|
Polyunsaturated Fat:
0.02
g
|
Monounsaturated Fat:
0.01
g
|
Sodium:
0.4
mg
|
Potassium:
63
mg
|
Fiber:
1
g
|
Sugar:
4
g
|
Vitamin A:
53
IU
|
Vitamin C:
12
mg
|
Calcium:
11
mg
|
Iron:
0.1
mg
Did you make this recipe?
I kept the fruit kind of minimal for this version because, frankly, it's all I had! You could go crazy though with pears, berries, grapes, etc.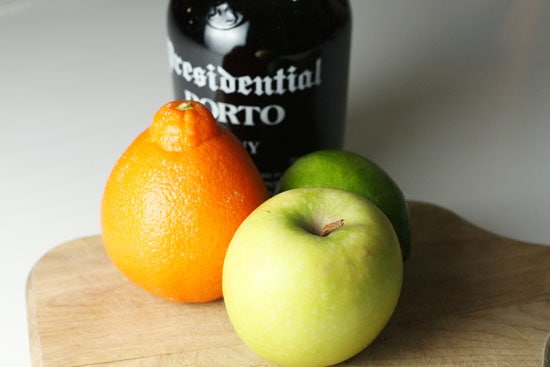 When prepping your fruit, try to just get out the segments from the orange. You don't want the white casing part which will be kind of bitter in the final drink and also hard to chew.
If you take a sharp paring knife and slice down each side of the segment, you should be able to just pop each segment out.
Also, peel and core your apple and then dice it up into tiny chunks. Add all that fruit to a bowl along with your lime juice.
Then add your port!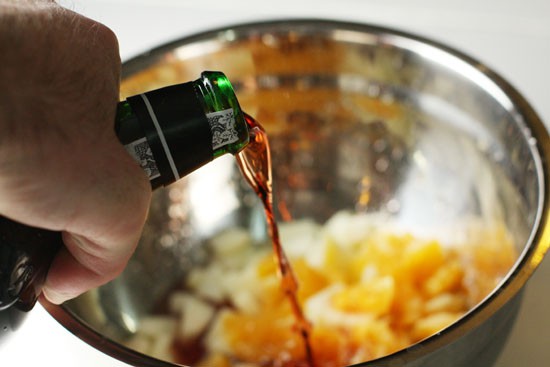 Now you could just let this marinate for an hour or two, but the longer the better. I let mine sit overnight in the fridge and it was great!
Finishing the Punch
When you're ready to serve, you just need some ice, OJ and ginger ale.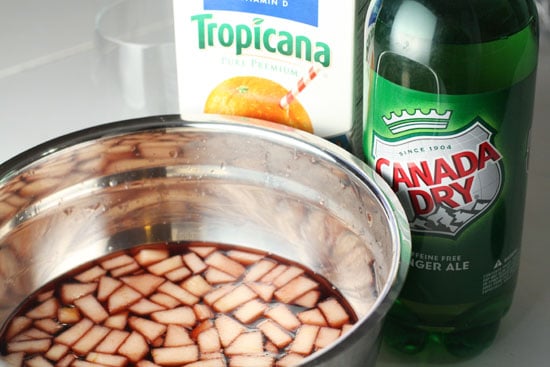 I decided to mix mine up a cup at a time, but if you're serving a crowd you could definitely mix up a big punch bowl and then just ladle the punch into glasses with ice.
The ratio is:
– 2 parts port mixture
– 1 part OJ
– 1 part ginger ale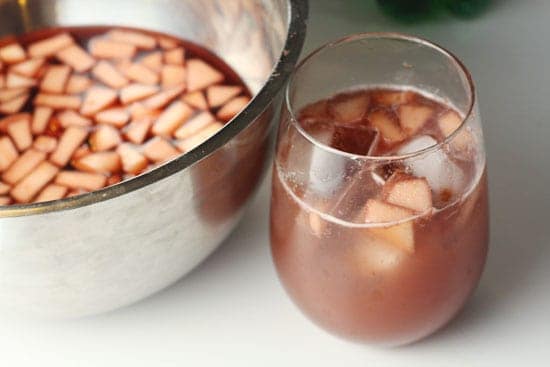 The orange juice and lime juice do a great job of cutting the sweetness of the Port and the ginger ale gives it some good bubbles.
For another snow-in cocktail option, check out these Snow Cream drinks (which can be made adult only!)
I was kind of worried when I started making this mainly because Port is one of my most favorite drinks. The idea of wasting a bottle of it on a bad drink was scary to me! Luckily, this stuff turned out great. It tastes basically like sangria without the need for all the individual liquors!
Now if you'll excuse me, I have to get back to the largest snow storm in DC history…