Our little dude is no longer little. He is almost four and 1/2 now and has a 2 1/2-year-old sister. They have both had ups and downs with trying foods, but these Blueberry Baby Muffins have been a consistent hit at our house!
Breakfast can be really hard with small children and I've found luck with these muffins and a side of scrambled eggs.
My goal with these baby muffins with blueberries and oatmeal were to try and minimize the added sugar, keep the fiber content high, but make something that actually tastes good in case I want to sneak one!
I tried a few things like a baked oatmeal dish that ended up not being a hit, but these oatmeal and blueberry muffins were great! All I had to do was cut one in half and pop it in the microwave for 10 seconds. When my kids were very little, I'd chop them up, but now they can handle them whole.
Daddy might be known to sneak one or four for a mid afternoon snack as well!
This recipe was update May 3rd, 2019 with some new images and descriptions.
Oatmeal & Blueberry Muffins for Babies
The perfect quick breakfast for toddlers! Packed with oats and blueberries and super-reduced sugar content.
Ingredients
1 ⅔

cup

oats

,

ground (Sub: 1 cup oat flour)

¾

cup

whole wheat flour

¾

cup

all-purpose flour

1

teaspoon

baking soda

1

teaspoon

baking powder

½

teaspoon

ground cinnamon

½

teaspoon

salt

½

cup

apple sauce

¼

cup

brown sugar

2

large eggs

2

tablespoons

unsalted butter

,

melted

1 ¼

cups

buttermilk

10-12

oz.

frozen blueberries + 1 tablespoon flour
Instructions
Preheat oven to 400 degrees F. Lightly grease or butter a muffin tin.

In a food processor, plus oats until they are ground coarsely. You can also substitute 1 cup oat flour for this.

In a large bowl, mix together pulsed oats, flours, cinnamon, baking powder, baking soda, and salt.

In a smaller bowl, whisk together apple sauce, brown sugar, eggs, buttermilk, and melted butter.

Thaw blueberries and drain off any liquid. Toss blueberries with a tablespoon of flour.

Stir wet ingredients into dry ingredients and mix until just combined. Then fold in blueberries. Fill muffin tins with batter.

Bake muffins for 20-25 minutes at 400 degrees F. until muffins are puffed and browned on top.

Let muffins cool before serving. Store extras in an airtight container in the fridge or freeze them for longer storage.
Nutrition
Serving:
1
Muffin
|
Calories:
175
kcal
|
Carbohydrates:
29
g
|
Protein:
5
g
|
Fat:
5
g
|
Saturated Fat:
2
g
|
Polyunsaturated Fat:
1
g
|
Monounsaturated Fat:
1
g
|
Trans Fat:
0.1
g
|
Cholesterol:
35
mg
|
Sodium:
263
mg
|
Potassium:
153
mg
|
Fiber:
3
g
|
Sugar:
9
g
|
Vitamin A:
156
IU
|
Vitamin C:
2
mg
|
Calcium:
69
mg
|
Iron:
1
mg
Did you make this recipe?
Blueberry Baby Muffins
Disclaimer: You should always check with your pediatrician before jumping into solid foods with your baby. Also, it's a good idea to feed babies individual items first (eggs, etc.) before combining them just to make sure there are no issues.
There is a tiny bit of brown sugar in this recipe (works out to about 1 teaspoon per muffin and he would eat 1/3-1/2 of a muffin), but I cut it way back from most muffin recipes. If you try one, you'll find it way less sweet than most muffins, but they have great texture and are jam-packed with fruit so I didn't really miss the sweetness.
Speaking of texture, start these muffins by grinding up some oats! If you don't want to deal with this, you can use 1 cup of oat flour in the recipe but you'll miss out. I like the oat pieces in the muffins.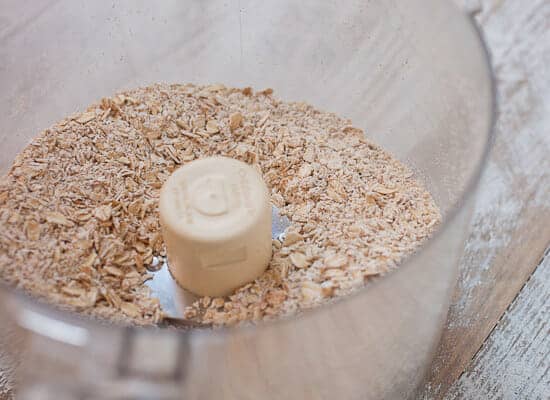 Mix the oats with the other dry stuff and in a separate bowl whisk together the apple sauce, eggs, and brown sugar. Eventually add the buttermilk and melted butter to this also.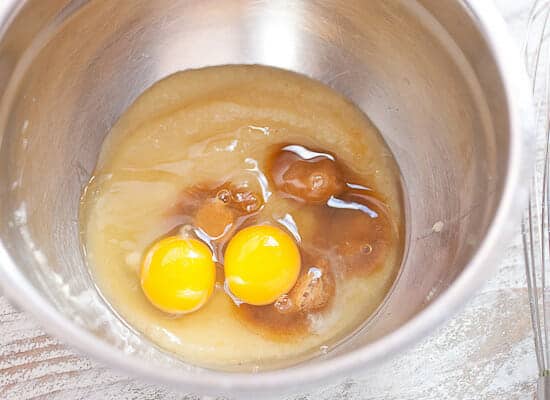 Stir the wet stuff into the dry stuff and you're on your way to muffins!
The Blueberries
I wouldn't bother with fresh blueberries in this recipe most of the time of the year. Frozen work great. Just thaw and drain them and then toss them with a little flour to soak up any extra liquid.
This is a lot of blueberries. You could cut it back if you want, but I like mine really packed with fruit.
Fold this into the muffin batter.
Next, divide the batter into 12 muffins. You can really fill these up. They won't rise too much during baking.
Bake these guys at 400 degrees F. for 20-25 minutes. They should be nicely browned on the outside and slightly puffed.
Let them cool before slicing into them. Store extras in the fridge in an airtight container and they'll keep fine for 5-6 days. You can freeze them also by wrapping them tightly in plastic wrap for longer storage.
Look at all those berries!
I wouldn't recommend giving a kid one of these whole, but chop it up into tiny pieces and it shouldn't be a problem if your kid has some teeth.
Believe it or not I did snag a photo of BOTH my kids actually eating some baby muffins with butter and eggs on the side! BONUS!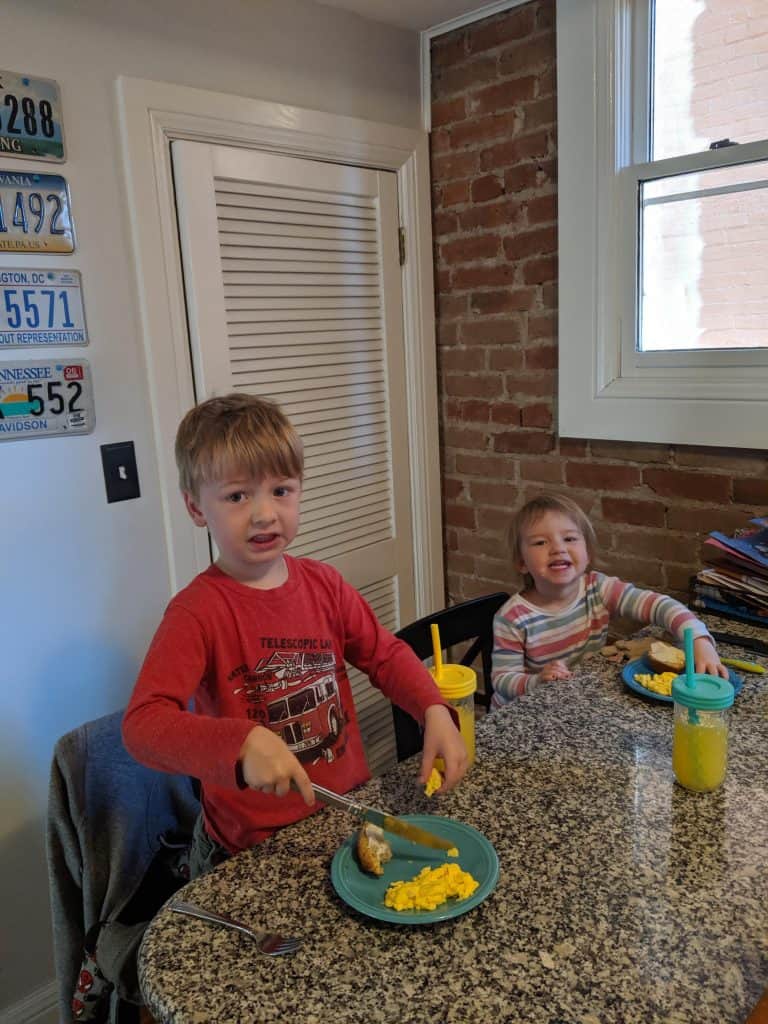 Here are a few other great meals for kiddos!