This recipe seems simple enough. I mean you just roast some potatoes, spin some chives in a food processor and you're done.
I was skeptical, but the flavors are pretty great. The awesome thing about fingerling potatoes is that they have a lot of surface area and get really crispy and delicious, but still cook faster than many potatoes. Add on the quick chive pesto and you're in business.
Betsy even went back for seconds. That may not seem like a big deal to you, but trust me. It is. She's not really a "seconds" person. She'll usually save dishes for leftovers the next day, but will very rarely hit up the same dish right away.
Not the case here. As soon as she finished serving one she said, "I need more of those potatoes." I was right behind her!
Roasted Fingerlings with Chive Pesto
Roasted Fingerling potatoes are some of the best to roast. It's hard to beat them topped with a tangy chive pesto.
Ingredients
1 ½

pounds

fingerling potatoes

2

Tablespoons

olive oil

Big pinch of salt and pepper
Chive Pesto:
1/2 Cup fresh chives

1/2

Cup

fresh flat leaf parsley

2

Tablespoons

almonds or pine nuts

,

opt.

1

large garlic clove

1/2

Cup

olive oil

1

Tablespoon

lemon juice

Pinch

of salt
Instructions
Slice potatoes in half and toss with olive oil, salt and pepper.

Lay potatoes out onto a baking sheet in an even layer.

Bake potatoes at 425 degrees for 35-40 minutes, turning every 10 minutes or so.

Meanwhile, add all pesto ingredients except olive oil and lemon juice to a food processor. Pulse a few times to combine.

Drizzle in olive oil and continue to pulse until it's a coarse paste.

Stir in lemon juice and set aside.

When potatoes come out of the oven, add to a bowl and toss with a few tablespoons of pesto.

Serve with extra pesto on the side!
Nutrition
Serving:
1
bowl
|
Calories:
435
kcal
|
Carbohydrates:
30
g
|
Protein:
4
g
|
Fat:
34
g
|
Saturated Fat:
5
g
|
Polyunsaturated Fat:
4
g
|
Monounsaturated Fat:
25
g
|
Sodium:
15
mg
|
Potassium:
762
mg
|
Fiber:
4
g
|
Sugar:
1
g
|
Vitamin A:
635
IU
|
Vitamin C:
45
mg
|
Calcium:
31
mg
|
Iron:
2
mg
Did you make this recipe?
Roasted Fingerlings
If you aren't familiar with fingerlings, they are just a varietal of potato that seems to be very popular these days. They are long and skinny and really perfect for roasting.
They cook quicker than normal potatoes and get beautifully crispy since they have more surface area.
They are more common in the Fall actually, but are pretty much available throughout the year.
To prep the potatoes, just slice them down the middle and toss them with some olive oil and salt and pepper.
Lay these out on a baking sheet and bake them at 425 degrees for about 35 minutes. Give them a turn every 10 minutes to make sure they are cooking evenly.
Chive Pesto
Normally pesto uses basil, but chives work equally well. This is the first time I've made a chive pesto, but it won't be the last. The flavors were really good.
Once you have all your ingredients, add everything but the lemon juice to a food processor and pulse them a few times. Then drizzle in the olive oil and continue to process until the pesto is a coarse paste.
This situation will smell bright and fresh.
Finishing the Dish
When the potatoes come out of the oven the should be really nicely browned all over. Honestly, these are good just like this!
Transfer the potatoes to a large bowl and toss them with about two tablespoons of the pesto. You'll probably want to add more, but its' a good idea to start light with the pesto.
Or you can drizzle the pesto right over the potatoes on the baking sheet. Whatever works!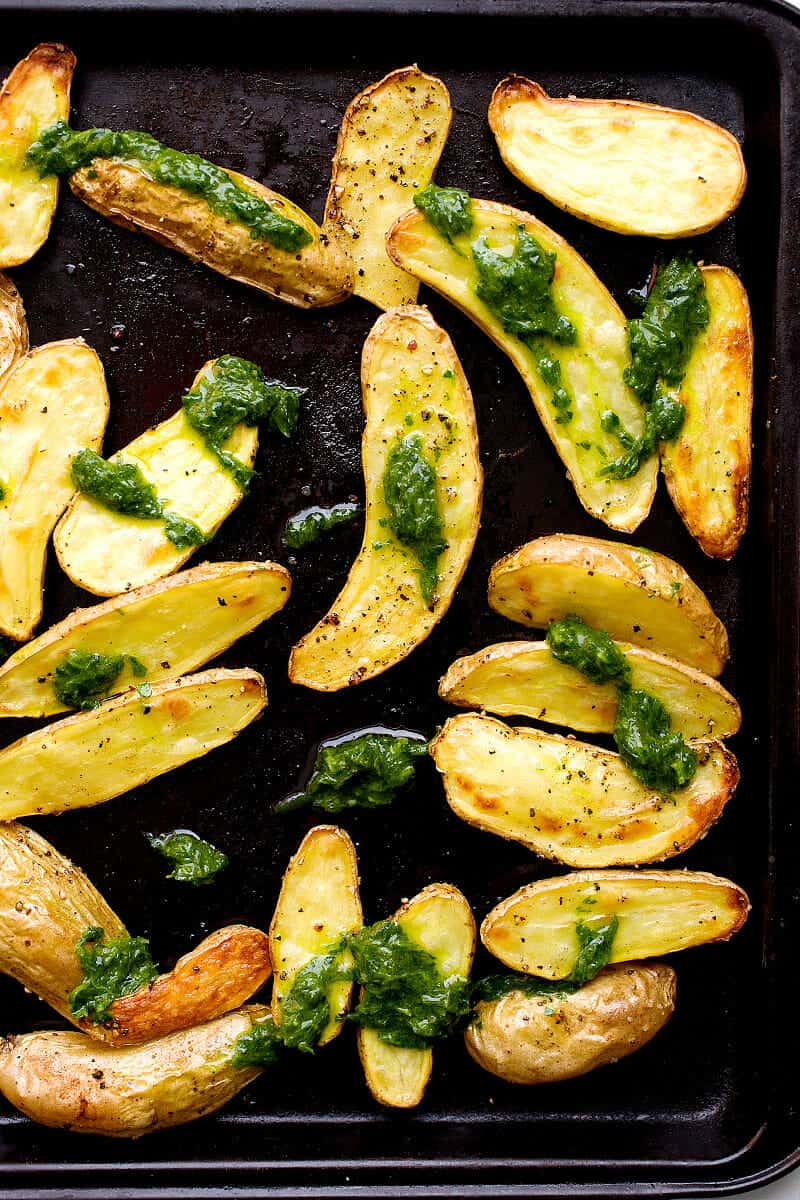 Serve these roasted fingerlings with chive pesto up in a nice big bowl!
Man these hit the spot!
I'll be honest, Betsy and I almost finished off a pound and a half of these by ourselves!