This is a guest post by Anna Rider! Anna is a food writer who documents kitchen experiments on GarlicDelight.com with the help of her physicist and taste-testing husband Alex. Garlic Delight helps millennials and super busy people learn to cook at home instead of ordering takeout with easy recipes to achieve a fatter wallet and slimmer waistline.
As someone who grew up eating gravy mix, I had no idea homemade gravy was even a thing until I met my husband Alex. He convinced me to give up gravy mix and only make homemade gravy, and I never looked back. But is homemade gravy actually better than gravy mix?

I ran a homemade trial and set up a blind taste test with my pro-homemade-gravy family to find out. Let's dive in to figure out if my in-laws are right.

In case you're new to the homemade trial series, Nick picks a food and makes it from scratch to compare it to a few popular store-bought versions in the categories of TIME, COST, NUTRITION, and TASTE.

Nick has kindly allowed me to run this homemade versus store-bought gravy trial. Let's dig in!

Anna's Version
Or more accurately, my (Anna's) father-in-law's version is a very simple oil-based gravy made with all-purpose flour and chicken broth. I like chicken bone broth and used it for my version of gravy because it has more body and flavor. But you can use traditional chicken broth or stock. To make this trial a fair comparison, we decided against roasting a chicken and using the pan drippings (because the pan drippings probably win every time).
The Most Basic Homemade Chicken Gravy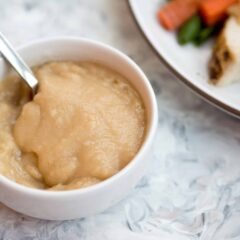 This is a basic, but delicious homemade gravy recipe. Comfort food at its best!
Ingredients
2

tablespoons

all-purpose flour

2

tablespoons

oil

1

cup

chicken broth

Salt

,

to taste

½

teaspoon

Kitchen Bouquet

,

optional
Instructions
Add the flour and oil to a saucepan over medium heat. Stir the flour and oil together until they form a smooth paste.

Cook the roux until it is golden brown and smells nutty, about 1-2 minutes.

Add the chicken broth and whisk until smooth. If you like your gravy a little darker in color, add the kitchen bouquet. Taste the gravy and season with salt if needed.

Bring the gravy to a boil and continue whisking for 3 minutes. Smooth out any lumps. When the gravy has thickened, it is ready to serve.
Nutrition
Serving:
2
tablespoons
|
Calories:
53
kcal
|
Carbohydrates:
2
g
|
Protein:
1
g
|
Fat:
5
g
|
Saturated Fat:
0.4
g
|
Polyunsaturated Fat:
1
g
|
Monounsaturated Fat:
3
g
|
Trans Fat:
0.02
g
|
Cholesterol:
1
mg
|
Sodium:
145
mg
|
Potassium:
10
mg
|
Fiber:
0.1
g
|
Sugar:
0.2
g
|
Vitamin A:
1
IU
|
Calcium:
2
mg
|
Iron:
0.1
mg
Did you make this recipe?
Tips for Making Homemade Gravy
Use your nose to guide you on how much to brown the roux. You don't want to burn it. But you want to develop a rich nutty scent and a golden brown color. Scoop up some roux with a spoon as it is browning to smell if it's nutty. If it still has a raw flour smell, you need to brown it for longer.
If you're happy with your gravy on the paler side, you can serve it without Kitchen Bouquet. My in-laws add Kitchen Bouquet because they think pale gravy looks weird (maybe it's a Midwestern thing?). You can also brown the roux for longer to develop a deeper color and skip the Kitchen Bouquet.
I like my gravy pretty thick. If you want runnier gravy, bump up the chicken broth to 1 1/4 cups.
The Competition
There is an overwhelming variety of store-bought gravy options. Alex and I decided we needed a powdered gravy mix and a premade canned gravy in this competition.

We picked the McCormick Chicken Gravy mix and Heinz Homestyle Chicken Gravy because these brands are common household names.

Time
Similar to the pancakes homemade trial, you barely save any time making powdered gravy mix compared to homemade gravy. After all, you still add liquid to dry ingredients and whisk for 3 minutes no matter what. Once you become a master at homemade gravy, you can even eyeball the measurements making the time difference zero. So, it's a TIE between homemade gravy and powdered mix.

But premade gravy in a can or jar wins the TIME category because you can put it in a bowl, zap it for 3 minutes in the microwave, and it's ready to serve.

Cost
It turns out gravy is cheap no matter what, and homemade gravy is super cheap!
As expected, the homemade gravy won easily on COST. And it could have been even cheaper if I purchased all the ingredients in bulk at Costco. Surprisingly, you don't save much on the powdered mix compared to the premade gravy in a jar.
Nutrition
The store-bought gravies were similar in nutrition except McCormick has added sugar and Heinz contains a bit more fat. The major difference was my homemade gravy had significantly more fat and a smidge of protein compared to the store-bought varieties due to the 2 tablespoons of oil.
If you wanted to cut down on the fat, you could use 1 tablespoon of oil rather than 2 tablespoons. But, at less than 100 calories per serving of gravy, I feel like the calorie count is within reason.

The powdered gravy has a pretty high sodium content. Like the spaghetti sauce homemade trial, the store-bought gravies are essentially salt sauces.

One noteworthy point that could push you towards homemade is if you are against flavor enhancers and free-flowing agents that are intended to make the gravy "tastier" and reduce lumps. The store-bought gravies contain ingredients that I have trouble pronouncing (disodium guanylate, anyone?)
Nutrition is a tough category because my homemade version is three or four times higher in fat and therefore calories. Then again, the low-carb folks don't have a problem with fat and the absolute amount of calories isn't super high per serving. Plus, the homemade version doesn't have the additives or sugar. So, I'll say the homemade version wins, but not by much, in the NUTRITION category.

Taste!
I enlisted the help of my family to do a blind gravy taste test with Thanksgiving leftovers. Here are the results.
Based on the votes, there was a TIE between the powdered gravy mix and homemade gravy. That's a lot closer than I was expecting. I assumed homemade was going to hit it out of the park.

Here's the breakdown:

The McCormick powdered gravy mix was a favorite because it had a good flavor, although everybody thought it was too salty. It tastes like chicken-flavor Top Ramen or chicken bouillon cubes.
The Heinz premade gravy in a jar was bland. It had a weird lemony and metallic aftertaste.
The homemade version tastes savory with a hint of herbs and onion due to the chicken broth.
What I learned was that the powdered gravy mix and homemade gravy taste very different. They might as well be different foods. That's probably due to the flavor enhancers in the store-bought varieties.

The TASTE category was really tough. I'm going to call it a TIE because it depends on what flavor and taste you're looking for in a gravy.

The Verdict!
If you look at the results (TIME => premade, COST => homemade, NUTRITION => homemade, TASTE => tie between homemade & powdered), I'd have to give it to the homemade gravy.

But the powdered mix isn't far behind.

That said, we've switched permanently to homemade gravy at home. And when we make it with pan drippings, there's no contest.

What do you think? Are you surprised by my nutrition and taste conclusions? Are you on team powdered mix or team homemade?

Recipes to Enjoy With Your Homemade Gravy