"I'm going to have to email your Mom…"
My wife, Betsy, replied, "Yep."
I had just made the best roasted turkey of my life and the planned Thanksgiving menu was going to have to come to a screeching halt to accommodate it.
Betsy and I normally spend Thanksgivings with her side of the family and over the years they've slowly relinquished control of most of the meal to me. There are, of course, exceptions. Betsy's mom is always in charge of mashed potatoes and gravy because I can't imagine that I could improve them in any way from her versions.
So, I'm normally in charge of the bird, stuffing, rolls, one or two sides, and maybe a pie or two if I'm feeling frisky. Normally, I just use Alton's fantastic turkey brine recipe that makes a very solid bird.
Unfortunately though, I'm not sure I can ever go back to that recipe after trying the brine in this post. Hands down, best roasted turkey I've ever had.
I just did a turkey breast for this Apple Cider Brined Turkey version, but you could easily cook an entire turkey with the same brine mixture. I intend to do just that in about 10 days.
Apple Cider Brined Turkey Breast
This is hands down the best brined turkey I've ever made. Apple cider brined turkey is definitely worth the time to make.
Ingredients
Note: If you want to do a whole turkey, just double this recipe.
1

whole turkey breast

,

5-6 pounds

1

quart

apple cider

½

cup

kosher salt

½

cup

soy sauce

¼

cup

brown sugar

1

tablespoon

black peppercorns

1

tablespoon

Szechuan peppercorns

4

whole star anise pods

3

garlic cloves

3

scallions

,

sliced

3

inches

fresh ginger

,

sliced thick

3

dried shiitake mushrooms

1

cinnamon stick

A few sprigs of cilantro

10

cups

cold water
Instructions
Mix the cider, salt, soy sauce, and sugar in a medium pot and bring it to a simmer to dissolve the salt and sugar.

Add all the other brine ingredients except the turkey and the cold water. Let the brine simmer for about 5 minutes. Then kill the heat and let the brine slowly cool to room temperature.

Mix cold water in with brine and submerge turkey breast in brine. If you don't have enough brine to cover the whole turkey breast, just make sure the actual breast meat is submerged in the brine.

Stick this in the fridge overnight to brine.

When ready to cook, preheat oven to 475 degrees. Rinse off turkey breasts with cold water and pat dry with paper towels. Discard brine.

Slice apples into ¼ inch slices. Add two slices of apple and the lemon (cut into eighths) into the cavity of the turkey.

Set turkey, breast side up, in a roasting pan on a bed of the sliced apples.

Cook turkey breast at 475 for 30 minutes. Then remove and insert digital thermometer.

Turn oven heat down to 350 degrees and cook turkey until it registered 165 degrees in the thickest part of the breast, probably about another 75-90 minutes. If you don't have a probe thermometer, I would check the temperature after 60 minutes and go from there.

Once the turkey is done, wrap it in foil and let it rest for 30 minutes.

Slice off each breast and slice them across the grain into ⅛-¼ inch slices.
Notes
Adapted from November 2011 Bon Appetit.
Nutrition
Serving:
1
Piece
|
Calories:
428
kcal
|
Carbohydrates:
56
g
|
Protein:
46
g
|
Fat:
4
g
|
Saturated Fat:
1
g
|
Polyunsaturated Fat:
1
g
|
Monounsaturated Fat:
1
g
|
Trans Fat:
0.03
g
|
Cholesterol:
105
mg
|
Sodium:
16186
mg
|
Potassium:
984
mg
|
Fiber:
4
g
|
Sugar:
42
g
|
Vitamin A:
178
IU
|
Vitamin C:
21
mg
|
Calcium:
113
mg
|
Iron:
3
mg
Did you make this recipe?
Apple Cider Brined Turkey
Preparing the Brine
I'm not going to get into the science of why brining is good, but basically it results in a cooked turkey that's much more moist than its unbrined brother due to the way that salt reacts with the proteins in the meat. Just trust me. It's good and worth the time.
I'll admit, there are a lot of ingredients in this brine. They all serve a purpose, but if you can't find them all, don't feel like you can't make this brine. At the end of the day, I'd say 80% of the flavor comes from the apple cider. As long as you have that, you can make this Apple Cider Brined Turkey happen.
The base of the brine and really all you need to make this if you're in a pinch.
Of course, if possible, any of these spices will just up the flavor complexity of the brine. Use as many of them as you can, but don't freak out if you're missing one.
Bring the cider, brown sugar, soy sauce, and salt to a simmer in a medium or large pot. Then add in all your spices and herbs. The only prep I did to my spices was to chop my garlic cloves and scallions in half and slice my ginger into coins. Then just toss everything in the pot.
Let this simmer for about 5 minutes, then kill the heat and let it slowly cool to room temperature. This will give plenty of time for the flavors to infuse into the brine.
Once the brine is room temperature, add the cold water and you're ready to brine.
Brining the Bird
If you're doing a full bird, make sure you have a large bucket or pot that can fit your entire bird. Most years, I use a small cooler for this honestly. It works great.
I was just doing a turkey breast though so I just used a large bowl and make sure that my breasts were submerged in the brine. When I do it with a full bird, I'll make sure the whole bird is submerged.
Whatever device you use, cover it well and place it in a refrigerated place overnight. Depending on the temperature, sometimes I'll just stash my turkey cooler setup outside somewhere or in a cool garage for the night. Just make sure your temperature outside is around or under 40 degrees and make sure rodents can't get to it.
Cooking the Bird
When it's time to cook, take your bird out of the brine and discard your brine. There's no reason to keep it. It's done all it can do to help us out.
Then rinse off your turkey really well with cold water. The brine is very salty and you don't want it coating the bird. There's plenty of flavor soaked into the bird. Trust me.
So rinse off the bird and then pat it dry with some paper towels.
At this point I'd recommend adding some lemons and apple slices to the cavity of the bird. This will just give it a bit more flavor and moisture as it cooks.
The next step is very far from necessary in my mind, but Bon Appetit recommended it so I tried it out. I'm not entirely sure what it accomplished. Basically you just set the turkey on a bed of apple slices in the roasting pan.
It did make it a bit easier to take the bird out of the roaster after cooking because it wasn't stuck to the pan at all.
I would call it an element of flare. It's not necessary though by any stretch.
Lately I've used Alton's technique when it comes to cooking turkey and it works really well.
Basically, you start the turkey in a super-hot, 475 degree oven for 30 minutes. Then pull the turkey out and insert your probe thermometer if you have one. Turn the oven down to 350 degrees and continue to cook it until it reaches 165 degrees internally (thickest part of the breast in my case here, or thickest part of the thigh if you're cooking a full bird).
This was my breast after 30 minutes cooking in the super-hot oven.
NOTE: If you're using a probe thermometer you can't have it in for this part of the cooking. It could melt.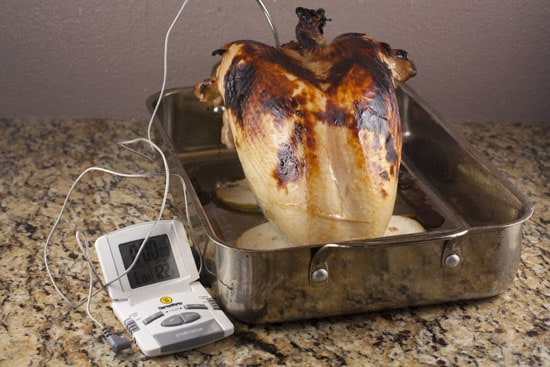 Total cooking time for your bird at this point will depend on a huge number of factors so I'm not even going to try. I'll tell you that my 5-6 pound turkey breast here took about 70 minutes to finish cooking at 350 degrees.
If you're doing a whole turkey, obviously this will be much longer, but in the past, my turkeys have finished in about 3 hours. The quick, hot cooking period at the beginning really speeds up the overall time. I can't even imagine cooking a turkey without some sort of thermometer so just rely on yours to tell you when the bird is done.
If you are cooking a whole bird though, I high recommend watching Alton's videos (sound!) to learn how to use a foil triangle to keep your breast meat from drying out. It cooks a lot faster than the dark meat so by covering it in foil, you can make sure the breast meat and dark meat are perfectly done at the same time. It's a crucial technique and easy to do.
Resting and Slicing
Once your bird hits its temperature, pull it out, cover it in foil and let it rest for at least 30 minutes. This is maybe the most important part of the whole process. If you slice right into it, all the juices will run out and you'll have a much dryer bird.
For my breasts, after they had rested I just sliced them off the breast bone so I could slice them up nicely.
Then I slice them across the grain into thick coins. This is how I carve a full turkey also. It's makes sure everyone gets some of the crispy skin and just makes it a lot easier to serve.
I know you can't smell this, but I'll hold it up really close anyway.
It has a really faint apple cider and spice taste and smell that's just out of this world.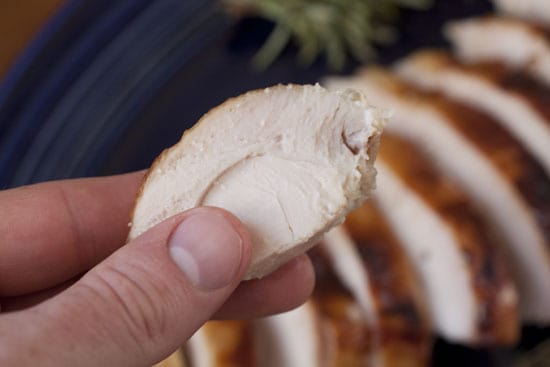 Well, this has been a long post, but it's an important one.
You still have over a week to make this happen for Thanksgiving. I highly, highly, recommend you give Apple Cider Brined Turkey a shot.
Have you brined a turkey? Have you apple cider brined a turkey? Leave a comment!