A few weeks ago when I introduced you all to the beauties of roasted cherry vinaigrette, a lovely reader (Hi Nina!) asked if I've ever made cocktail cherries. The answer was no, but it seemed like a no-brainer. After all, a good jar of cocktail cherries is super-expensive and if you buy cherries in season, they are dirt-cheap!
So it turned out to be one of my quickest turnarounds for a reader suggestion. I tried them out the same week and after a few weeks in the fridge, this is the result: Absolute cocktail cherry beauty.
Most importantly, these are super-easy to make. The hardest part is pitting the cherries and with a little patience anybody can master that.
If you're a cocktail lover (especially of the whiskey variety), having a big jar of these in the fridge is a REALLY good idea.
Homemade Cocktail Cherries
Homemade cocktail cherries using fresh cherries and a simple spiced brandy mixture. The hardest part is the waiting…
Ingredients
1

pound

fresh cherries

,

pitted

1 ½

cups

brandy

1

cup

water

¾

cup

brown sugar

1

lemon

,

juice only

1

orange

,

peel only

1

cinnamon stick

10

allspice berries
Instructions
Wash cherries well and pit them. You can leave the stems on or remove them. If you don't have a cherry pitter, you can use a chopstick to pit the cherries. Start with the smaller end of the chopstick to make a whole in the cherry, then poke the pit out with the larger end.

In a small pot, combine brandy, water, sugar, lemon juice, orange peel, cinnamon stick, and allspice berries. Bring to almost a simmer to dissolve the sugar and then remove from heat.

In a large wide-mouthed CLEAN jar, pile in all the pitted cherries. Pour over the hot brandy mixture.

Seal the jar tightly with a canning lid and let cool at room temperature. Then transfer to fridge and let sit for at least two weeks in the fridge.

Serve as a garnish on any dark liquor drink… really good in an old fashioned or any whiskey drink.
Nutrition
Serving:
1
cherry
|
Calories:
46
kcal
|
Carbohydrates:
7
g
|
Protein:
0.2
g
|
Fat:
0.04
g
|
Saturated Fat:
0.01
g
|
Polyunsaturated Fat:
0.01
g
|
Monounsaturated Fat:
0.01
g
|
Sodium:
1
mg
|
Potassium:
41
mg
|
Fiber:
0.4
g
|
Sugar:
6
g
|
Vitamin A:
16
IU
|
Vitamin C:
4
mg
|
Calcium:
9
mg
|
Iron:
0.1
mg
Did you make this recipe?
Dealing with Cherries
These are beautiful, but they are a pain in the butt.
You have to remove the pits before you can use these in a cocktail. It opens up the cherry a bit so the brandy flavor can penetrate but it makes it easier to eat!
If you are making a lot of cherry things, just buy a cherry pitter. If you are like me (stubborn) you can also use a chopstick!
I use the small end of the chopstick to make a hole in the cherry and use the wider end of the chopstick to poke the pit out.
I think "tedious" is the word I would use.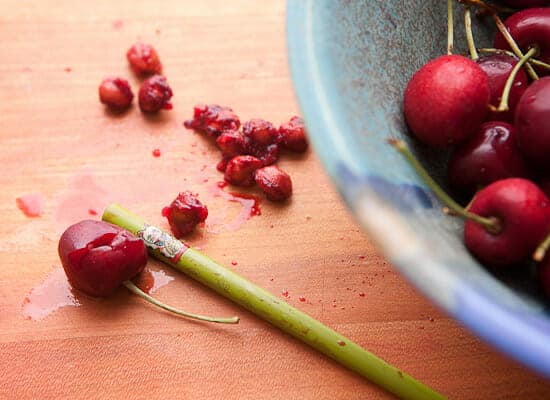 Brandy and Such
Once the cherries are pitted, this recipe is simple. Stir together the other ingredients in a small pot and bring it to a simmer until the sugar is dissolved.
I recommend removing the allspice berries after the mixture cooks just because it would be terrible if one got stuck in a cherry and you bit into it later.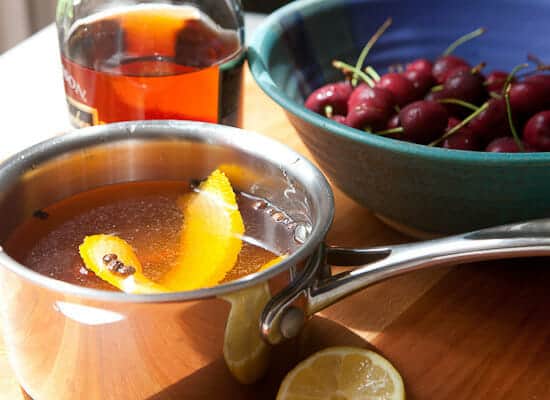 Then add the cherries to a large (quart) wide-mouth mason jar and pour in all the brandy mixture!
It'll smell really good so get ready for it.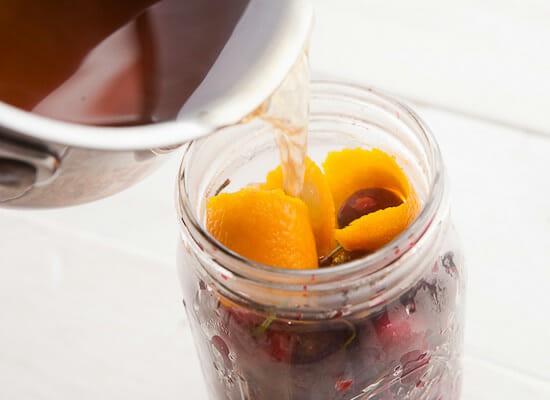 The Waiting is The Hardest Part
Time is really the hardest ingredient here. Once everything is in the jar, seal it tightly and let it cool slowly at room temperature. Then the cocktail cherries needs to chill in the fridge for at least two weeks, but longer is better!
I popped my jar open after two weeks and they were delicious. I suspect they will only get better.
Because these are being stored in alcohol, they should keep fine in the fridge for close to a year. There's no way a jar will make it through winter though at my house.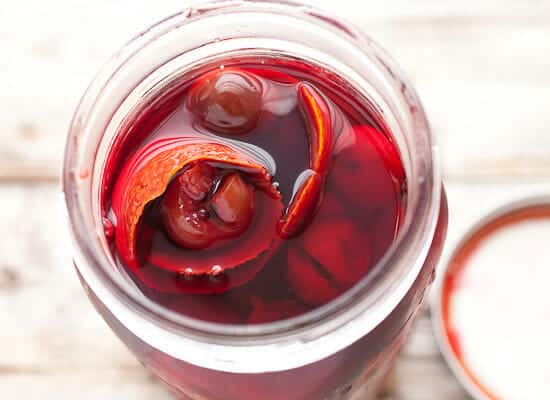 In fact, I have a hard time opening the jar without popping a few extra in my mouth.
This whole jar cost me about $8 to make and I'd guess a comparable amount of luxury cocktail cherries would cost $30.
Not bad, but most importantly, really good.