If I had to sit down and account for my recipe brainstorming time, I would guess approximately 20% of my daydreaming is allotted to breakfast sandwiches.
This is probably pretty obvious if you browse through the Macheesmo breakfast section.
Breakfast sandwiches are just the best and it's amazing to me how hard it is to find a consistently good one. Making a good hard roll breakfast sandwich is no easy task.
One of things I hate is when I get a sandwich with an enormous roll. It'll be a huge sandwich but it ends up being mostly bread. A bread bomb isn't exactly how I want to start my day (most days).
That's why this breakfast sandwich is my new favorite thing. It's a cave of deliciousness.
Looking at the sandwich from the side, it looks like nothing. Maybe you'll see a little egg hanging out or something, but until you bite or cut into it, you have no idea what's going on inside.
It's fun, easy to make, and about as good as breakfast gets without too much fuss.
Hard Roll Breakfast Sandwich
Hard Roll Breakfast Sandwich hollowed out and stuffed with a variety of delicious breakfast fixings. You'll dream of this breakfast sandwich.
Ingredients
4

tall kaiser hard rolls

,

hollowed

1

cup

grated cheese

6

ounces

ham

,

chopped

4

large eggs

,

scrambled

1

tablespoon

butter

,

for eggs
Salad Mix:
2

cups

baby arugula

1

small tomato

,

chopped

½

small red onion

,

chopped

1

tablespoon

olive oil

½

teaspoon

red pepper flakes

Salt and pepper
Instructions
Preheat oven to 350 degrees F.

In a small bowl, stir together salad mix ingredients and set aside. It's actually best if these can be at room temp so it's fine to leave them out while you make the other sandwich stuff.

Slice the rolls in half and hollow out most of the filling. In the bottom half of the rolls, sprinkle some cheese. Toast rolls for 2-3 minutes until cheese starts to melt.

Lightly saute diced ham in a tablespoon of olive oil over medium-high heat until the ham starts to brown (optional). Then add ham to the cheese half of the roll. You don't have to cook the ham first, but I like how it gets a bit crispy.

In a large skillet over medium heat, melt butter and coat the pan. Add eggs and scramble until they are just cooked through. Try not to overcook them. Season eggs with salt and pepper and split them into four even stacks (1 for each sandwich). Stack eggs on ham. Return rolls to oven for 2-3 minutes.

Stuff the top part of the roll with the salad mix.

Press the sandwiches together and eat while warm! Cut them in half to make them a little easier to eat!
Nutrition
Serving:
1
Sandwich
|
Calories:
459
kcal
|
Carbohydrates:
26
g
|
Protein:
27
g
|
Fat:
28
g
|
Saturated Fat:
11
g
|
Polyunsaturated Fat:
3
g
|
Monounsaturated Fat:
11
g
|
Trans Fat:
0.1
g
|
Cholesterol:
219
mg
|
Sodium:
1262
mg
|
Potassium:
413
mg
|
Fiber:
2
g
|
Sugar:
2
g
|
Vitamin A:
1109
IU
|
Vitamin C:
7
mg
|
Calcium:
348
mg
|
Iron:
3
mg
Did you make this recipe?
Hard Roll Breakfast Sandwich
The Hollowing
I like a good soft roll sometimes, but for a breakfast sandwich, I will frequently rip out some of the insides to stuff with other things. I do this with bagels sometimes too, but basically you just slice the things in half and scoop out most of the soft bread.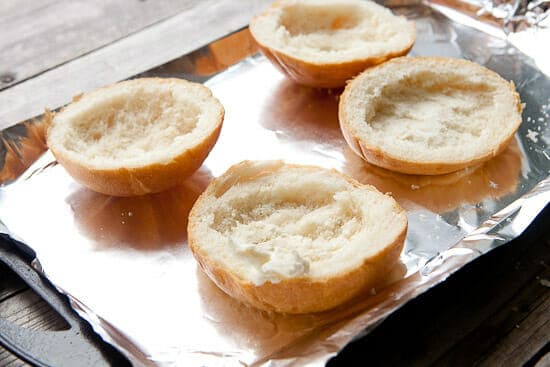 The Salad Mix
Because we have a huge cavernous hole in our bread, we can fill it with more than you would normally put on a breakfast sandwich. That's where this salad mix comes in. It has bright flavors and colors with a little spice to it. To be honest, it's my favorite part of the sandwich so make plenty and pile it high!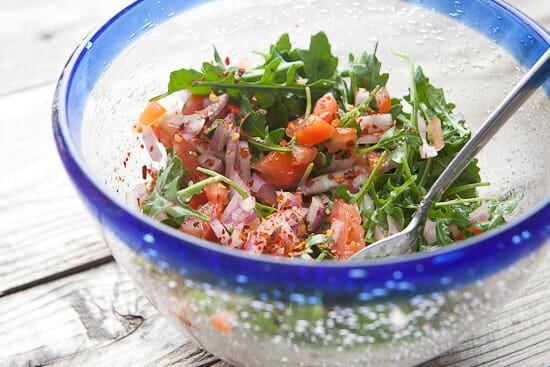 Other Sandwich Toppings
I kept it simple for the rest of the sandwich. To me, cheese and eggs are essential. I also tossed on some diced ham. It would've been great without it also though.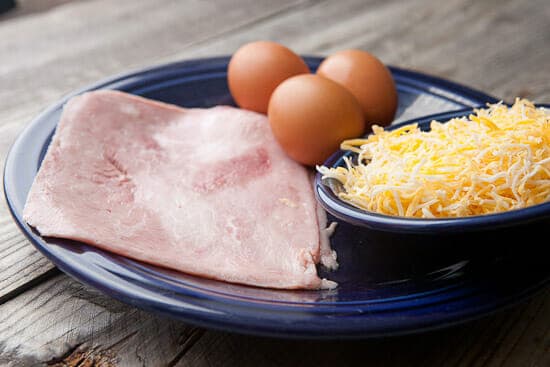 Add the cheese to the bottom of your rolls Use a heavy hand with the cheese. As it melts it will take up less space.
Bake these guys at 350 degrees F. for 3-4 minutes. You just want the cheese to melt, but you don't want the rolls to get too crispy.
Then add on the ham. I like to crisp up my ham in a skillet first, but you could also just add it with the cheese and bake it together.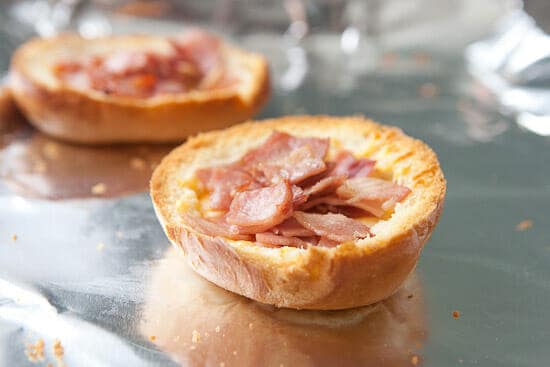 The Eggs
No need to get fancy with the eggs. I thought about soft-cooking them so the yolks were runny but for some reason scrambled seemed to fit better for this sandwich. I just lightly scrambled about 1 egg per sandwich in some butter over medium heat. Try not to cook the eggs into oblivion.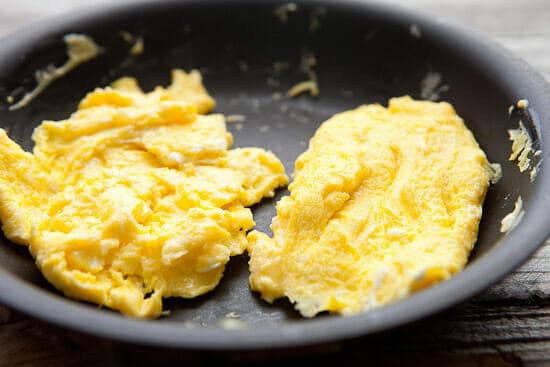 When you're ready to make the sandwiches, pile that salad mix right in the top half of each roll.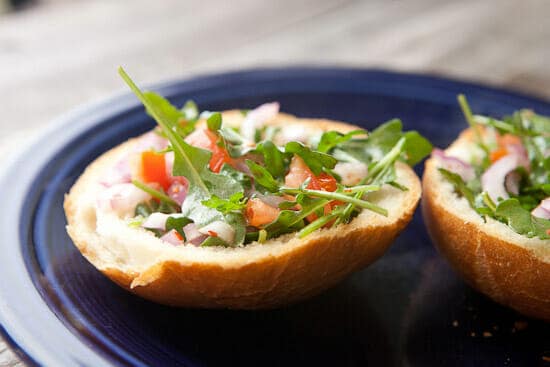 Then lay the egg on the bottom half. Pretty much everything should be pretty flat thanks to the hollowing.
Cutting the sandwich in half reveals all the goodies.
Come on. How good does that look?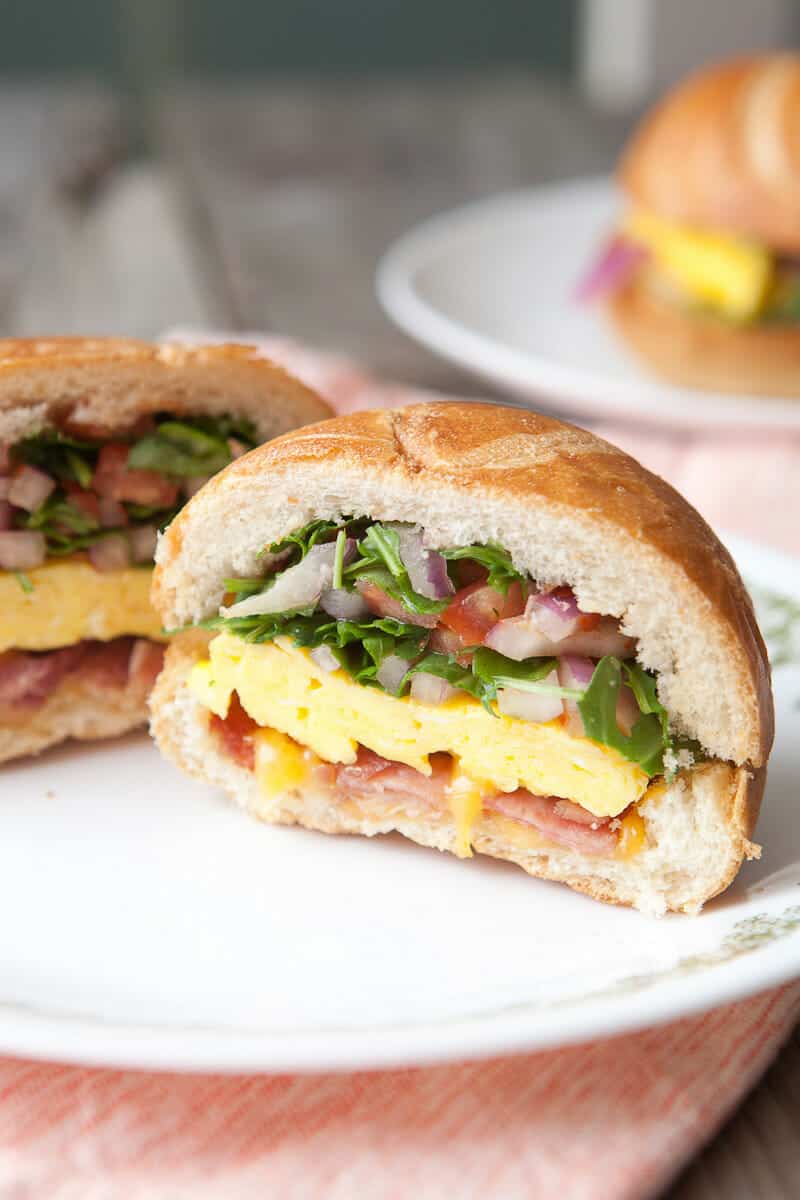 Other Breakfast Sandwich Ideas: