This Elote Corn Dip is my take on a popular appetizer from Elote Cafe Sedona, AZ. It's a simple corn dip to make that's creamy, slightly spicy, and sweet thanks to in-season corn. Serve it with a pile of tortilla chips or a stack of warm tortillas and your guests will be very happy!
I like this dip as a change-up from a classic queso recipe or something. While it's great slightly warm straight off the stove, it's great even after it has sat out on the counter for a few minutes and is at room temperature.
If you have leftovers, it's fine cold out of the fridge even!
Once you get some fresh corn in your markets, make this dip ASAP!
What is Elote?
Elote means corn in Spanish but it typically means corn on the cob. This Elote Dip is a riff on a classic South American street food that involves corn on the cob topped with crumbled cheese and spices.
Generally, when I make elote, I grill the corn right on the grill and top it with a layer of mayonnaise so the toppings stick. Then add toppings like Tajin seasoning or chili powder, cotija cheese, and minced cilantro. Those same flavors are all in this dip!
Prepping the Corn
I'm not sure what kind of corn the original recipe uses for this Elote Dip, but Betsy confirmed that the kernels were nice and big. My guess is that they use some sort of artisan corn. I didn't look too hard for this and just used plain old sweet corn which you should be able to find in the store this time of year.
You'll need about four big ears of corn to get started. If you have a grill going, grill the corn in the husk for 15 minutes over direct heat. Then let it cool and you can peel the corn and cut the corn off the cob.
If you wan to roast the corn, just lay them out on a baking sheet and roast them at 500 degrees Fahrenheit for 15 minutes, turning them once or twice throughout the roasting process.
Let the corn cool until you can handle them and then remove the husks. When it comes to cutting the kernels off, I like to do it in a large bowl. This way when the kernels come off, they won't scatter all over the place.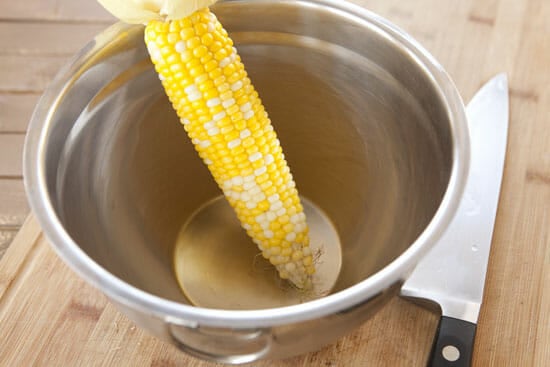 Once you have the corn roasted and shucked, the hard part of the recipe is done!
Can you use frozen corn in this recipe?
I have used frozen corn in this recipe before in a pinch. I wouldn't use canned corn though.
If you are using frozen corn, let it thaw and then saute it in a skillet with some butter and salt and pepper to give it some flavor. Then add it to your dip.
Making the Elote Dip Sauce
Let's just get this out of the way: The sauce on this Elote Dip is a mayonnaise base. I actually thought about making a homemade mayo for my version but decided that there was enough other stuff going into the dish that it probably wouldn't be noticeable.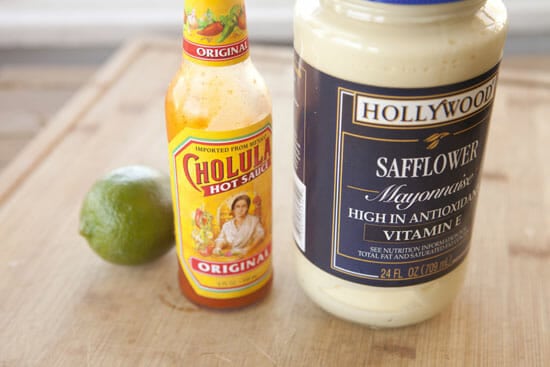 Stir together the mayo, hot sauce, salt, pepper, sugar, lime juice, and stock in a small bowl. If you don't have some stock available, I wouldn't recommend buying it just for this dish since you only need a few tablespoons. You could use water with maybe a dash of Worcestershire sauce to thin the mixture a bit.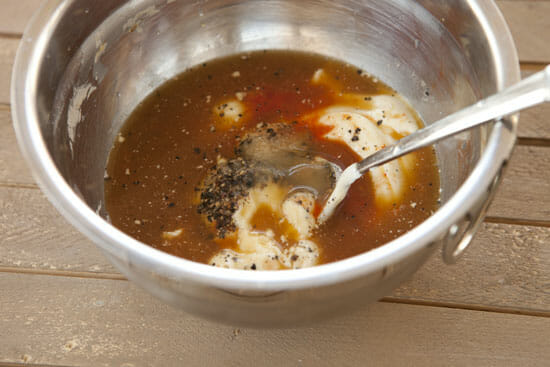 Add the sauce ingredients to a large skillet over medium heat and cook it until it starts to bubble. Then toss in all your corn kernels!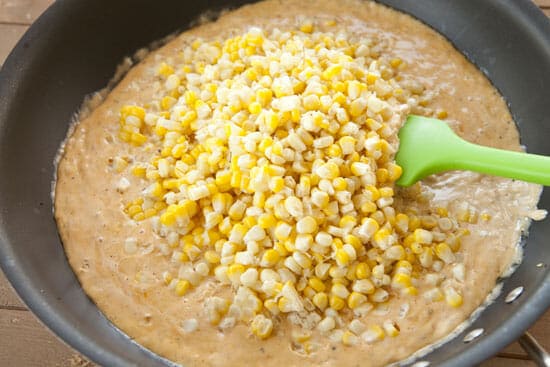 Continue to cook and stir for a few minutes until the whole mixture thickens nicely. It won't take long.
Your finished Elote Corn Dip will look something like this: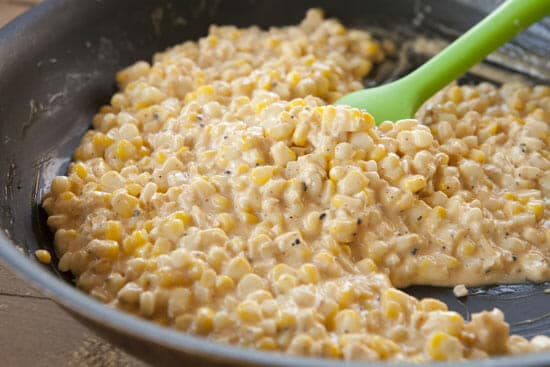 Garnishes
This Elote Dip is great as-is, but the garnishes are really important in my opinion.
When you are ready to serve, pile the corn in a serving bowl and top it with a good amount of each garnish. A good sprinkle of chili powder or Tajin seasoning is essential along with minced cilantro.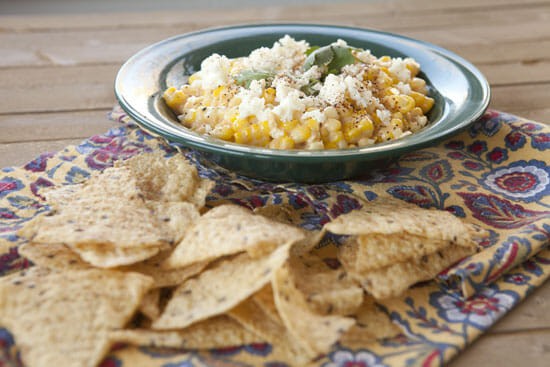 Serve this with lots of tortilla chips and dig in!
Like I said, this is a very different Tex-Mex dip and I doubt that your Cinco de Mayo friends will duplicate it if you bring it to a party. It will also disappear because it's super-addictive.
Substitutions for this elote corn dip
This is a pretty flexible dip. Here are some ideas to change it up!
Add some fresh or roasted garlic to the sauce as it simmers.
Instead of mayo, try Greek yogurt as a base. I think I prefer mayo, but I could see both working.
Use feta cheese instead of cotija cheese if you can't find it.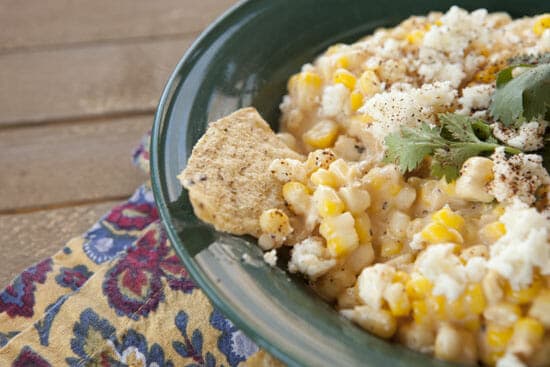 Elote Corn Dip at Home
This recipe is my take on the corn dip appetizer at Elote cafe in Sedona, AZ, that is based on the flavors of South American street corn, YUM!
Ingredients
4

ears sweet corn

⅔

cup

mayonnaise

1

tablespoon

hot sauce

1

lime

,

juice only

½

teaspoon

kosher salt

½

teaspoon

black pepper

½

teaspoon

sugar

2

tablespoons

vegetable stock

¼

cup

Cotija cheese

,

garnish

Cilantro

,

garnish

Chili powder

,

garnish

Tortilla chips
Instructions
Preheat oven to

500

°F

. Lay out corn on a baking sheet and bake for 15 minutes, turning once, until corn is well charred. You can also grill the corn over medium heat.

Let corn cool briefly and then shuck. Cut corn kernels off the cob. I find it helpful to cut kernels off in a bowl so the kernels don't scatter all over.

In a separate bowl, whisk together mayo, lime, hot sauce, salt, pepper, sugar and stock.

Add sauce to a large skillet over medium heat. Cook for a few minutes until it starts to bubble.

STir in corn and cook for 2-3 minutes until the mixture thickens and the corn is heated through.

Transfer corn to a serving bowl (or split between a few) and garnish with crumbled cheese, cilantro, and chili powder. Serve with chips!
Nutrition
Serving:
1
bowl
|
Calories:
301
kcal
|
Carbohydrates:
20
g
|
Protein:
5
g
|
Fat:
24
g
|
Saturated Fat:
5
g
|
Polyunsaturated Fat:
13
g
|
Monounsaturated Fat:
6
g
|
Trans Fat:
0.1
g
|
Cholesterol:
20
mg
|
Sodium:
705
mg
|
Potassium:
280
mg
|
Fiber:
2
g
|
Sugar:
7
g
|
Vitamin A:
257
IU
|
Vitamin C:
13
mg
|
Calcium:
57
mg
|
Iron:
1
mg
Did you make this recipe?
Here are a few other great recipes to try!