In this post you will not only learn how to make artichoke puffs, but you will also learn the trinity of puff pastry that will give you the power to make an appetizer or dessert out of whatever the heck you have in your fridge.
The equation is:
Puff pastry
Cream cheese
Literally anything
Want a savory deal, add something like, ya know, artichokes. Want something sweeter? Try jelly, fruit, nutella… The options are pretty endless and this trick is why I almost always have a puff pastry roll frozen in my fridge.
So, we are making artichoke puffs today, but if you are hunting for something to make for New Years, I'd recommend experimenting with this puff pastry equation. It's almost a guaranteed success.
Easy Artichoke Puffs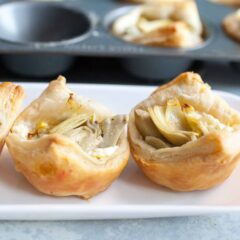 Need a last minute appetizer? Check out these 3-ingredient Artichoke Puffs! Always a hit!
Ingredients
14-16

ounces

puff pastry

1

cup

marinated artichoke hearts

4

ounces

cream cheese

Parmesan cheese

,

opt.
Instructions
Preheat oven to 375 degrees F.

Thaw puff pastry and roll it out on a lightly floured surface. Cut it into 12 even squares. Mold puff pastry squares into a muffin tin.

Drain marinated artichokes and dry them well on a few paper towels.

Add about 1/2 tablespoon of cream cheese to each puff pastry and top with a few artichoke pieces.

Optionally, sprinkle with parmesan cheese.

Bake artichoke puffs until they are golden brown and puffed, about 20-22 minutes.

Serve while warm for best snacking, but they are fine at room temperature as well. If you make them in advance, reheat them in a 350 degrees F. oven for a few minutes before serving.
Nutrition
Serving:
1
Puff
|
Calories:
210
kcal
|
Carbohydrates:
16
g
|
Protein:
4
g
|
Fat:
14
g
|
Saturated Fat:
3
g
|
Polyunsaturated Fat:
2
g
|
Monounsaturated Fat:
7
g
|
Cholesterol:
1
mg
|
Sodium:
212
mg
|
Potassium:
46
mg
|
Fiber:
1
g
|
Sugar:
1
g
|
Vitamin A:
172
IU
|
Vitamin C:
4
mg
|
Calcium:
40
mg
|
Iron:
1
mg
Did you make this recipe?
Artichoke Puffs
Puff pastry is solidly in my "just buy it" column. I know it's possible to make it at home, but I don't think I would be able to make it much better than the store-bought version, so I buy it.
The trick to working with it is to make sure it's thawed completely, but still cold. Ideally you could move it from freezer to fridge a day or two before you need it which will let it slowly thaw.
Roll it out gently on a lightly floured surface and cut it into squares. Then mold those into a muffin tin.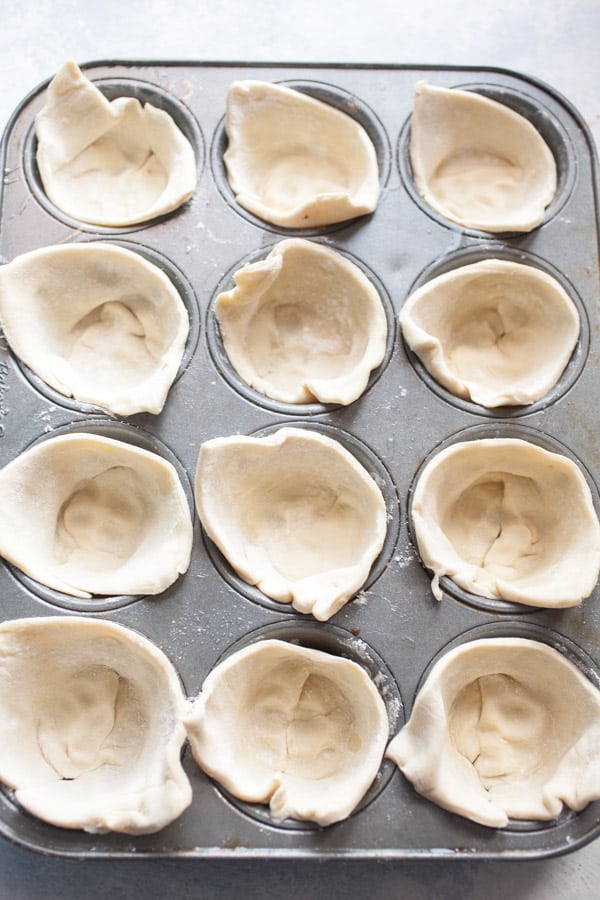 I like the marinated artichokes which have oil and spices for this recipe. I find the boiled and canned artichokes to be better for some things, but not for this recipe since there are so few ingredients.
Be sure to dry off the artichokes though. A little oil won't hurt the puffs, but a lot of it would lead to an oily puff pastry.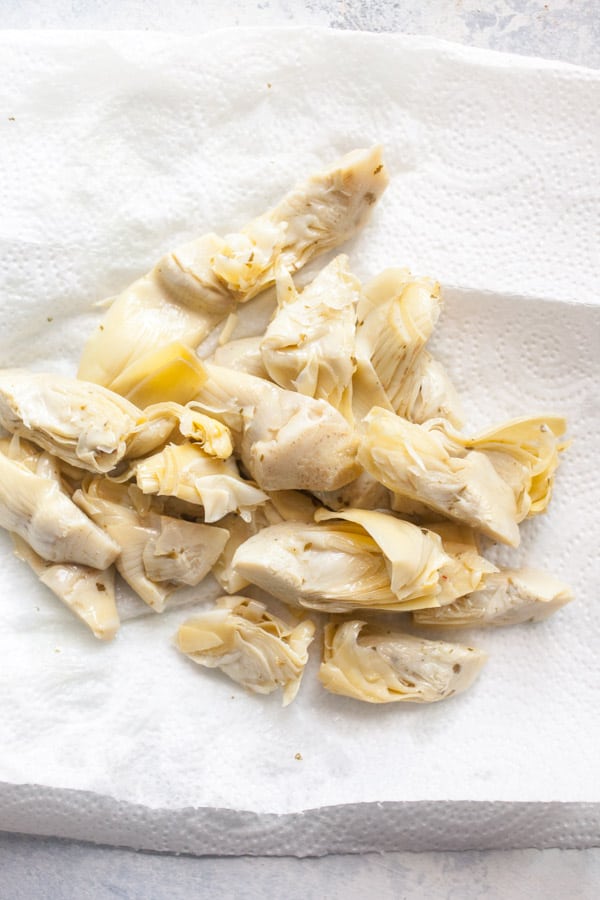 Add some cream cheese to each puff and top with a few artichoke pieces.
These should bake for 20-22 minutes at 375 degrees F. They will puff up beautifully and turn a nice golden brown.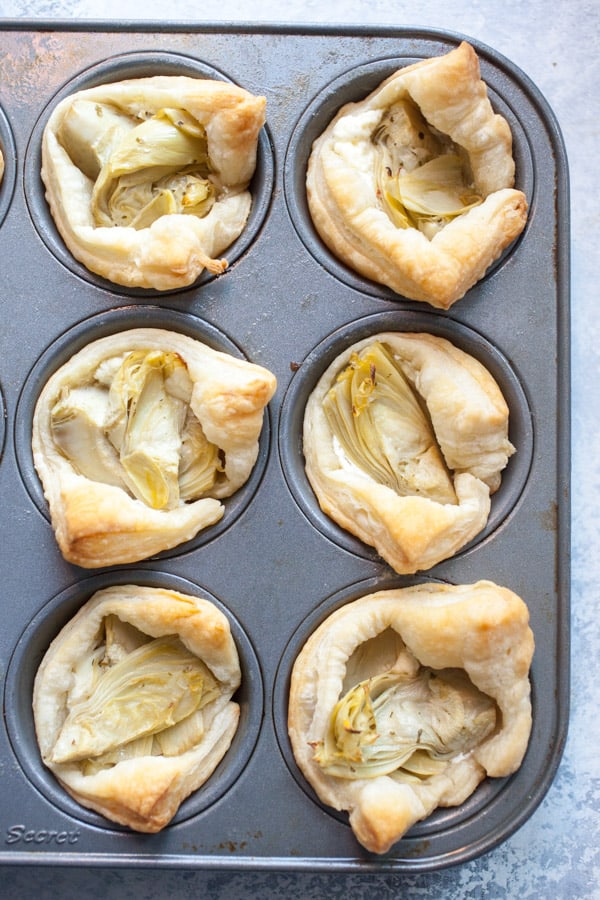 I had to chomp into one of the artichoke puffs right away!
Happy New Years everybody!
Other New Years Appetizers Options: