The Swiss Roll is something that I've always held in the back of my head as a dream dessert to master. That said, I've made exactly ONE in my days as a food blogger. That version was made over nine (NINE!) years ago and was experimental, but not exactly 100% successful.
So, I thought I would use the upcoming Easter holiday, and a celebration of spring, to try to nail down a fun idea I had of making a colorful Easter Swiss Roll!
Spoiler alert: I messed this up a FEW times before getting something I was happy with, but the final result was much easier to make once I got the right equipment and method. It was also delicious. To give my finished swiss roll some texture, I added some crumbled Easter Candy, but you could leave those out if you want a smoother, more classic version of the roll.
Happy Easter to all!
Easter Swiss Roll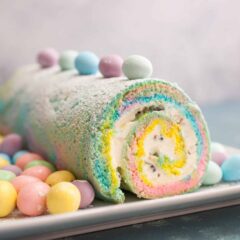 A simple and colorful swiss roll filled with crushed candies and a cream cheese frosting. Perfect for Easter!
Ingredients
Cake:
6

large egg whites

1

teaspoon

lemon juice

¼

teaspoon

salt

¼

cup

sugar

½

cup

+ 1 Tablespoon sifted cake flour

Powdered sugar

,

for dusting

Gel Food Coloring
Filling:
4

ounces

cream cheese

,

soft

¾

cup

heavy cream

1

tablespoon

sugar

Dash of vanilla

Crushed easter candies
Instructions
Spray your jelly roll pan lightly with nonstick spray and line with parchment paper. Preheat oven to 350 degrees F.

In a bowl with a hand mixer or in a stand mixer with the whisk attachment, add separated egg whites and beat with lemon juice and salt until they are foamy. Add sugar gradually and continue to beat until they hold soft peaks. Using a rubber spatula, gently fold in cake flour, being careful not to overmix.

Divide batter into three bowls and add desired food coloring to each batch. Stir gently to combine. Then stir all colored batters back into one bowl, folding a few times to create color swirls.

Pour batter onto prepared jelly roll pan. Bake at 350 degrees for 12 minutes until cake springs back in the center. Remove and let cool in the pan for a few minutes.

Cover pan with a second piece of parchment paper and flip the cake over so it comes out of the pan. Then remove the paper from the top of the cake and tightly roll the cake into a spiral. Let cool completely (you can chill in the fridge for faster cooling).

Make frosting by whipping together cream cheese, cream, sugar, and vanilla until creamy and smooth.

When cake is chilled, unroll and spread on a layer of the frosting to cover the entire cake. Top with crushed candies of your choice (I like the chocolate eggs). Roll cake into a tight spiral.

Dust cake with powdered sugar and decorate with candies before slicing and serving!
Nutrition
Serving:
1
Piece
|
Calories:
166
kcal
|
Carbohydrates:
17
g
|
Protein:
6
g
|
Fat:
8
g
|
Saturated Fat:
5
g
|
Polyunsaturated Fat:
0.4
g
|
Monounsaturated Fat:
2
g
|
Cholesterol:
27
mg
|
Sodium:
216
mg
|
Potassium:
106
mg
|
Fiber:
0.2
g
|
Sugar:
11
g
|
Vitamin A:
336
IU
|
Vitamin C:
0.4
mg
|
Calcium:
67
mg
|
Iron:
0.1
mg
Did you make this recipe?
Easter Swiss Roll
First, a look at one of my fails. My cake was much too dense to start, and I tried to do jelly and whipped cream which ended up just being a mess. Plus, I made the colors too bright. My three year old ate it without too much complaint, but it wasn't something I loved.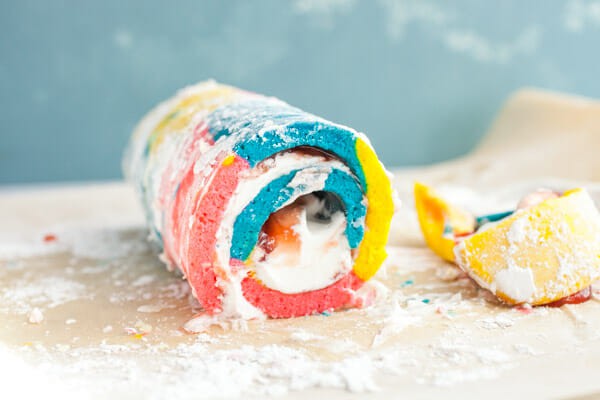 So, let's talk about the right way!
For starters, using a meringue style cake batter is really important. It's not hard to make this if you have a mixer (hand or stand), but trying to do it by hand with a whisk will make you a tired home cook.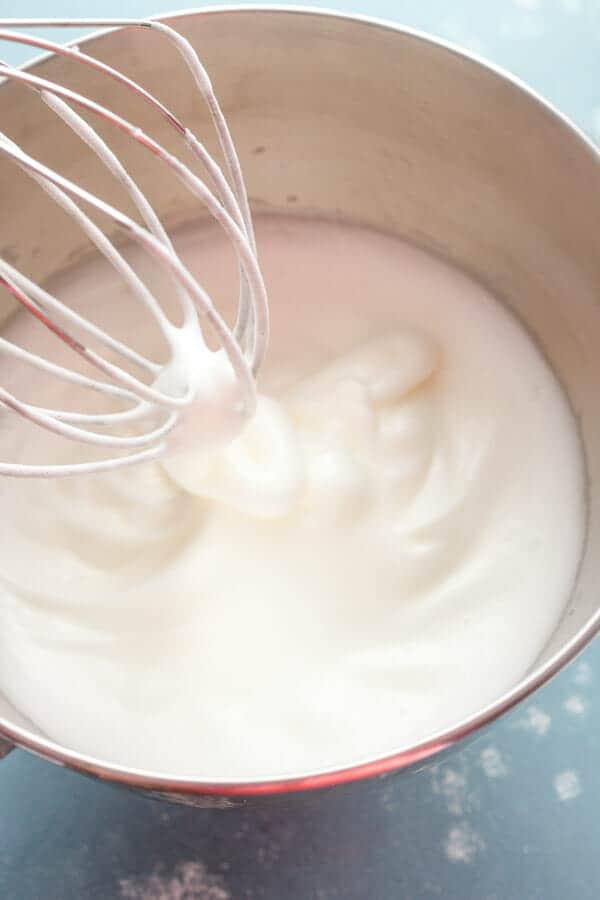 Once your egg whites, salt, and lemon juice, and sugar are forming soft peaks, switch to a rubber spatula and gently fold in the cake flour (sifted is important). The goal here is to incorporate the cake flour, but leave the batter as light and fluffy as possible.
Next let's add some color! I really like the gel colors because they won't change the consistency of the batter. Also, go light on the coloring so the colors are a pastel color.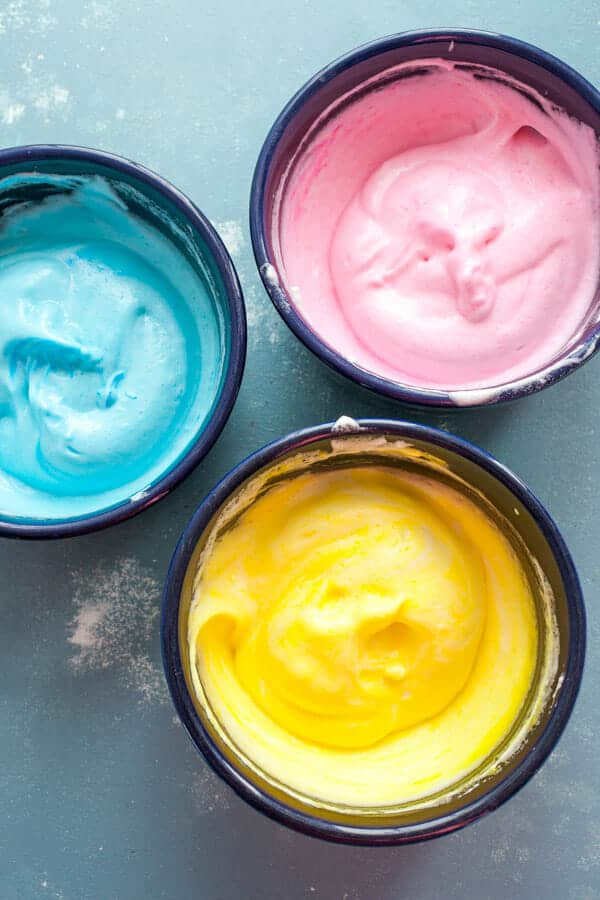 Then I mixed them back into the mixing bowl and folded them over a few times to form ribbons of color! Fun!
The first few times I tried to make this using a normal sheet pan and it was a little too big so the edges weren't as clean. I finally bit the bullet and ordered an official jelly roll pan which made my life much easier. I lined the bottom with parchment paper and it worked like a charm.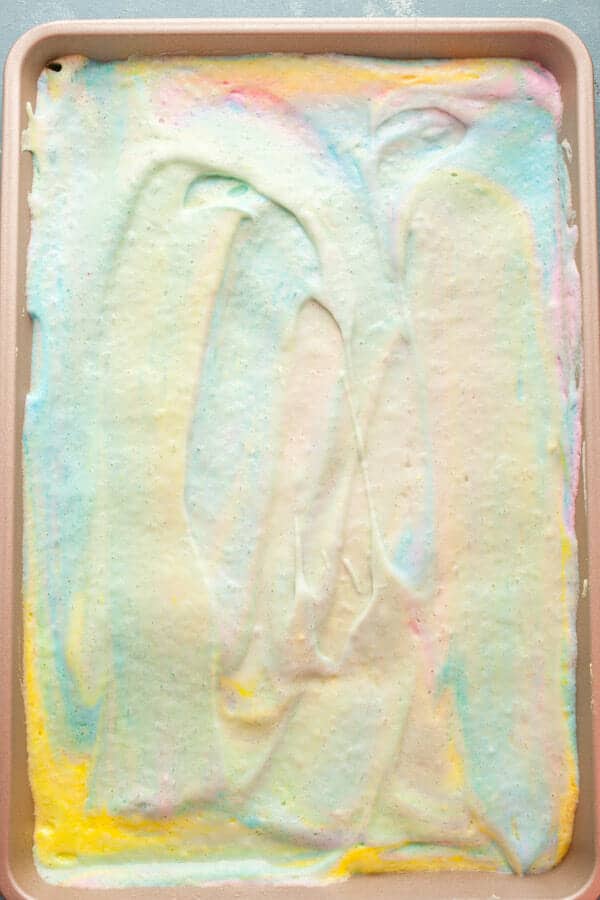 Once the cake was baked (350 degrees F. for about 12 minutes), let it cool briefly in the pan and then flip it out onto a new piece of parchment!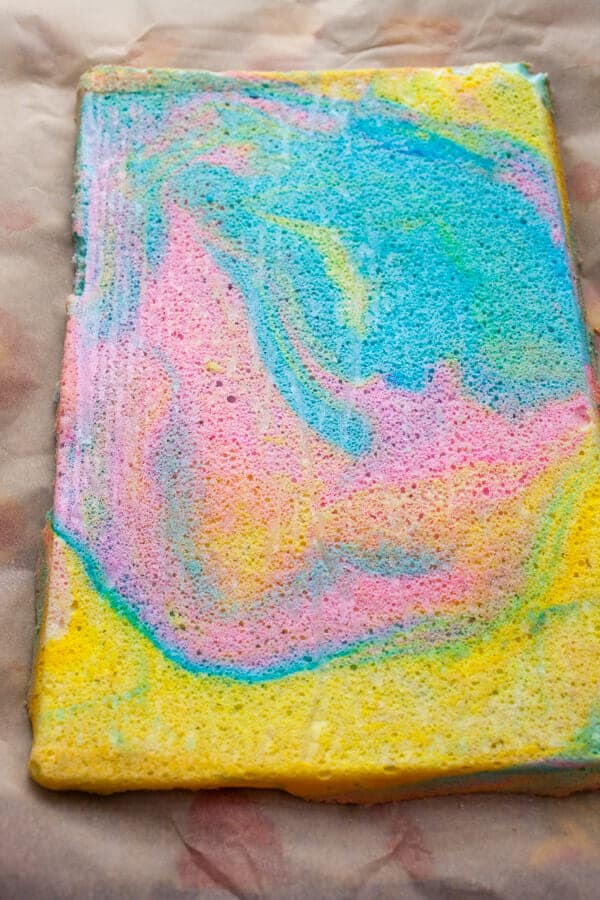 Very important! Roll the cake into a tight spiral which will help it shape into the classic swiss roll shape as it cools. If you don't do this, the cake will crack if you try to roll it later.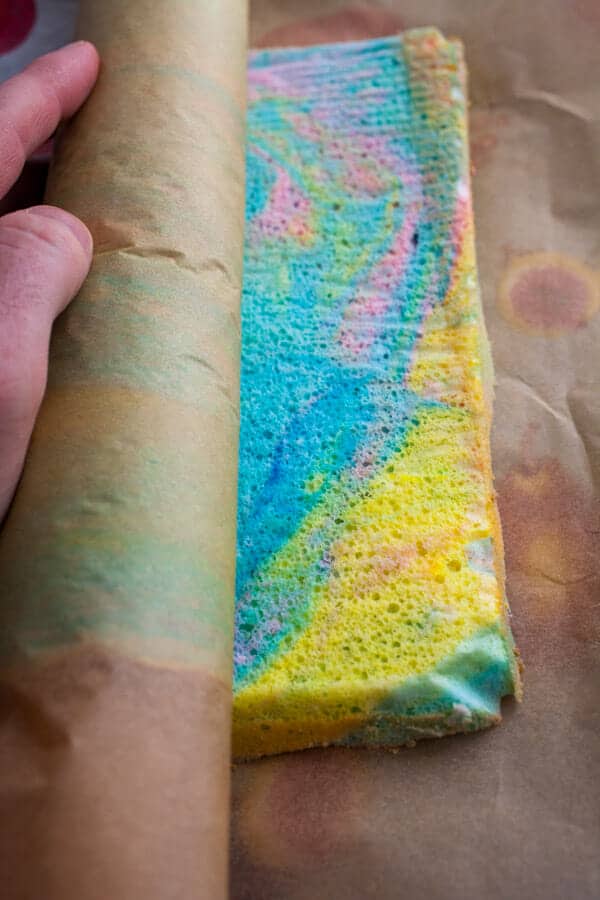 The filling/frosting for this Easter Swiss roll is a really nice mix of cream cheese and heavy cream. It's like a lighter version of cream cheese frosting. I decided to keep it white for my roll, but you could color it if you wanted.
Add a layer of it to the cake and then add some crunched candies! I used chocolate eggs! This is optional obviously as a traditional swiss roll will just have a smooth filling.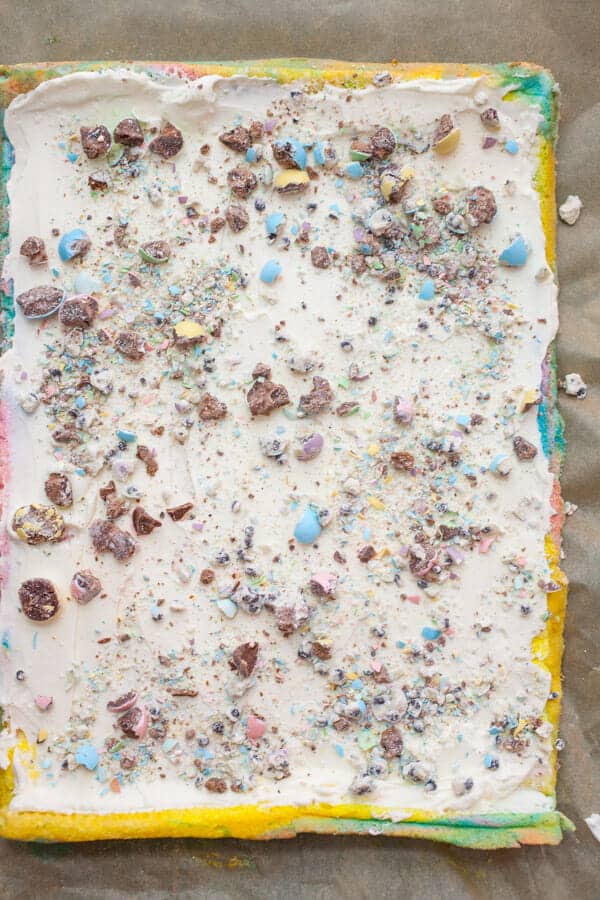 Then roll it up again and you're ready to slice and serve!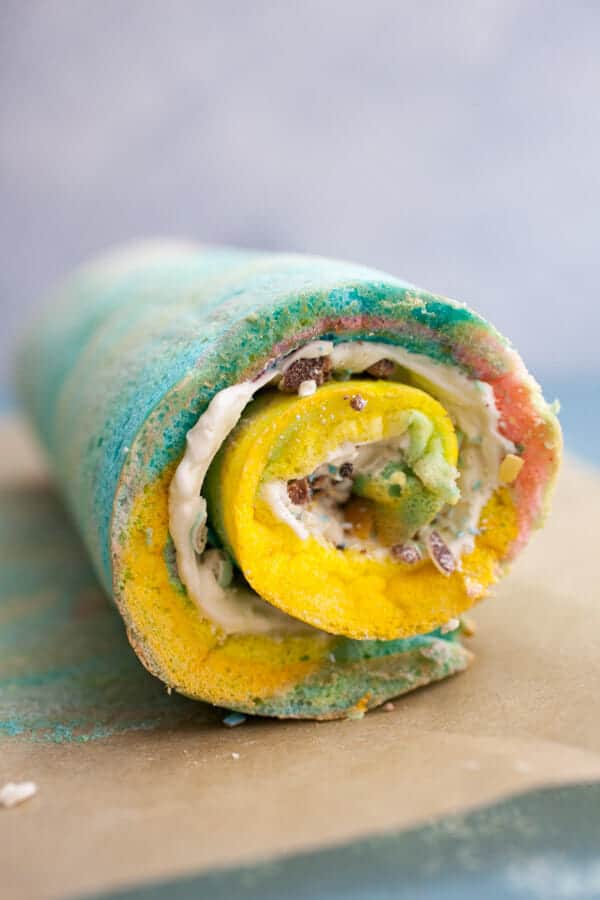 I just loved how this turned out. I don't consider myself much of a baker, but I'm getting there!
This Easter Swiss Roll turned out to cook classier then I was expecting and it wasn't that hard to make actually once I had the right pan! Who doesn't love a cool rainbow dessert right?!