These Crispy Chicken Caprese Bites are one of those truly special recipes that can 100% work as either an appetizer or a full meal, depending on what you want out of it. If you are looking for an appetizer, make the bite version like I did for this post. If you want a dinner option though, which I also tried, just fry chicken cutlets instead of nuggets, slice them and serve them topped with a caprese salad and a drizzle of the balsamic syrup.
Both are totally delicious and the flavors aren't too heavy to turn into a full meal.
But the bites are more fun, I think, which is why I wanted to feature them for the post.
The optional piece is the balsamic syrup. It's not necessarily hard and only has two ingredients but it is an extra step and you already have to fry a thing for this mini caprese bite recipe. So you might not want to deal with it and that's cool. But it does add an extra little sweetness to the skewers.
Crispy Chicken Caprese Bites
These crispy chicken bites are lightly fired and skewered with mini mozzarella balls, fresh tomato, and basil! The perfect appetizer that combines fresh flavors and crispy fried chicken nuggets!
Ingredients
¾

pounds

chicken breasts

,

cubed into about 1-inch pieces

1

cup

all-purpose flour

1

tablespoon

kosher salt

1

tablespoon

paprika

2

eggs

1

cup

milk

1 ½

cups

breadcrumbs

2

teaspoons

kosher salt

2

teaspoons

black pepper

2

cups

canola oil

,

for frying

1

quart

cherry tomatoes

½

pound

mozzarella balls

Fresh basil leaves

Toothpicks or small skewers
Quick Balsamic Syrup
½

cup

balsamic vinegar

¼

cup

sugar
Instructions
For the optional balsamic syrup: Add the vinegar to a small pot with the sugar and stir over low heat until it's simmering. Keep an eye on it and stir it for about 5 minutes until it's bubbling up and the hot syrup will coat a spoon in a thin layer. Then remove it from the heat and allow it to cool. It'll thicken a lot as it cools. Be careful not to overcook the syrup or it can burn quickly.

For the chicken, cube chicken into about 1-inch pieces. You should get about two dozen pieces. Stir together flour with salt and paprika and toss in the chicken pieces. Stir to coat with flour.

In a separate bowl, whisk together eggs and milk and then in a third bowl stir together bread crumbs with salt and pepper. Add chicken to the egg mixture and then the breadcrumbs. Coat well and then remove and let sit on a clean plate.

Preheat canola oil in a large skillet over medium-high heat until the oil is 350 degrees F. You can test it by dropping in some breadcrumbs which should sizzle immediately. Add chicken pieces and fry for about 4 minutes per side. Flip and finish frying. It's okay if the chicken bites aren't completely covered.

Remove chicken from the fry and let drain on a few paper towels.

To assemble the bites, add a chicken nugget to a small skewer or toothpick and top with a basil leaf. Then add a grape tomato and half of a mozzarella ball. Finish all the bites and then drizzle them with balsamic syrup.

Serve while warm!
Nutrition
Serving:
2
skewers
|
Calories:
277
kcal
|
Carbohydrates:
28
g
|
Protein:
15
g
|
Fat:
12
g
|
Saturated Fat:
3
g
|
Polyunsaturated Fat:
2
g
|
Monounsaturated Fat:
4
g
|
Trans Fat:
0.02
g
|
Cholesterol:
55
mg
|
Sodium:
1154
mg
|
Potassium:
417
mg
|
Fiber:
2
g
|
Sugar:
8
g
|
Vitamin A:
370
IU
|
Vitamin C:
7
mg
|
Calcium:
139
mg
|
Iron:
2
mg
Did you make this recipe?
Crispy Chicken Caprese
I kept the chicken fry pretty simple here. Cube your chicken (you can use breast or thighs but I used breasts) into about 1-inch pieces. Then make your breading station.
Add the chicken to the seasoned flour, then eggs, then breadcrumbs. Not rocket science.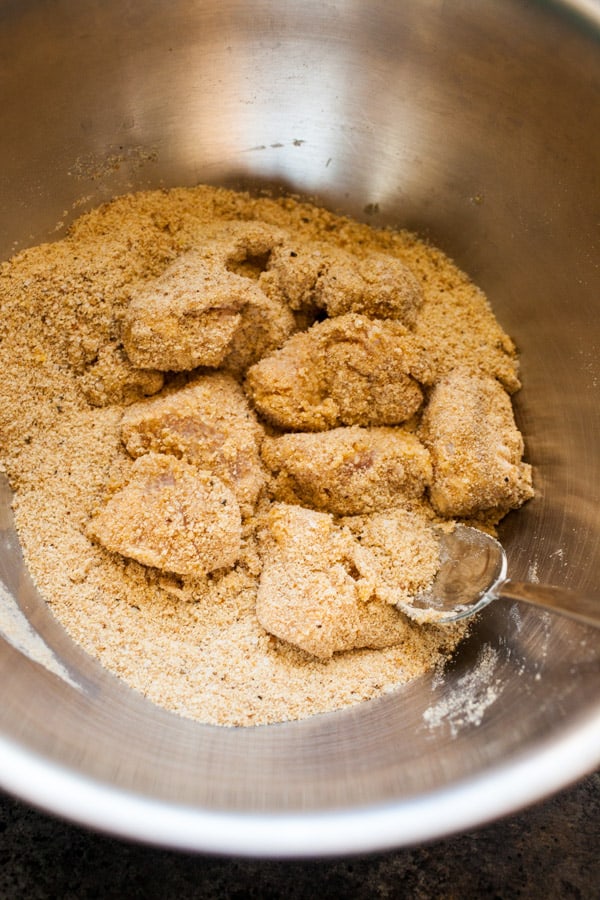 Then fry them up! There's really no need to deep fry these. I just fry them in a skillet with a few cups of oil and turn them once after 3-4 minutes of frying. Works great.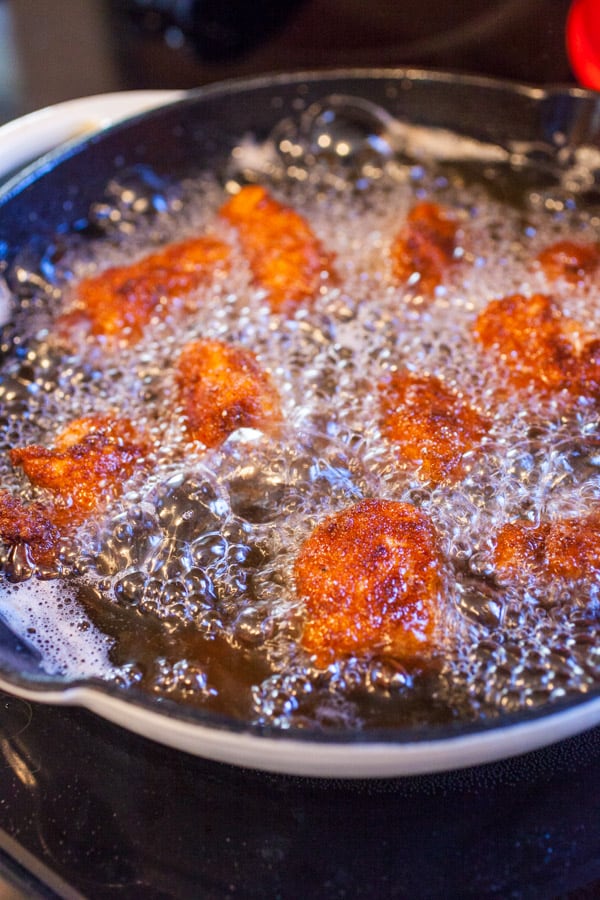 The finished nuggets are golden brown, crispy, and super juicy and tender on the inside. Yes please!
Other than that the toppings for these mini Caprese Bites are pretty standard. Snag some grape tomatoes, fresh basil, and the mini fresh mozzarella balls. I found that a full mozzarella ball was a bit much so I recommend halving them and using half per skewer.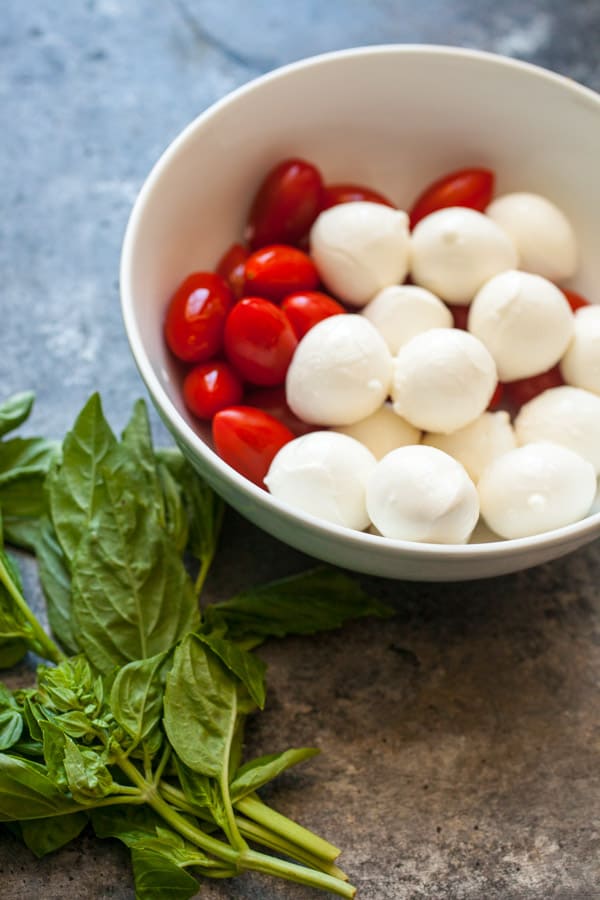 The balsamic syrup is also easy to make if you choose to do so. Stir together the vinegar and sugar over LOW heat until it's bubbling and coats a spoon, about five minutes. Then remove it from the heat and let it cool. It'll thicken as it cools!
Then you just drizzle it on. It's a bit too thick to dip (and too strong). You just want a light drizzle on each piece.
It's the perfect bite though, in my opinion!
Whether you make them as an appetizer or as a dinner, this crispy chicken caprese idea is gonna be a hit. I promise. Give it a shot!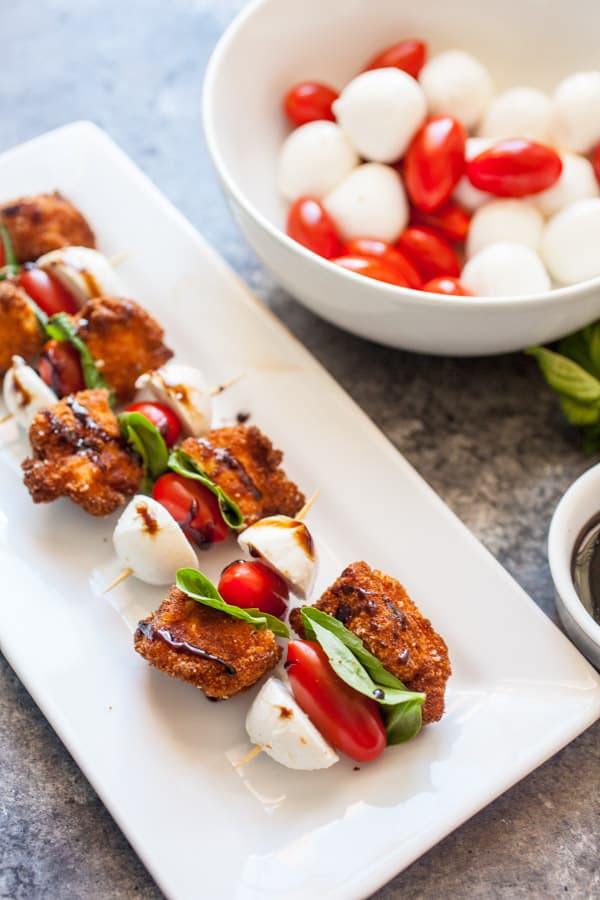 Here are a few other great skewer recipes!