Welcome to Cookie Week! Every year in December, I spend a week baking and sweet making which isn't exactly my specialty. We'll work through it together! If you want to check out previous cookie weeks, zip over to the cookie archives!
Ok. I know. I'm starting cookie week with cookie dough truffles, something that isn't actually a cookie, BUT these truffles use cookie dough which is really the best part of cookie making anyway.
I would guess that when I make a normal cookie recipe I snarf away 1-2 cookies worth of dough before even baking them. Cookie dough is just the best.
Of course, most cookie dough has egg in it which technically makes it questionable to eat raw (it doesn't stop me, but I'm a risk taker). This version though is 100% safe to eat raw. You could munch on the whole damn bowl with a spoon if you wanted.
Or you could cover them and chocolate and finish them off with some coarse salt.
The end result is some sort of delicious mix between trashy funfetti cookies and high-brow desserts.
When people comment on how fancy they look, you can tell them not to worry. It's just funfetti.
Funfetti Cookie Dough Truffles
Super easy almond no-bake cookie dough truffles are loaded with funfetti and dipped in rich, delicious chocolate. A great holiday sweet!
Ingredients
⅓

cup

butter

,

unsalted

⅓

cup

brown sugar

2

teaspoons

almond extract

1

cup

all-purpose flour

¼

cup

sprinkles

6

ounces

semisweet chocolate

1

tablespoon

unsalted butter

Coarse salt

,

garnish
Instructions
Cream butter and brown sugar together in a stand mixer or with a hand mixer until it's light and fluffy. Then add in extract and flour in 1/3 cup batches. Finally stir in sprinkles.

Line a baking sheet with parchment paper and make heaping teaspoon-sized truffles with the cookie dough. Roll the dough into balls and place them on the cookie sheet. Freeze the balls for 15-20 minutes.

Meanwhile, gently heat chocolate and butter over a double boiler until it's just melted. Ideally, you would heat it to about 120 degrees F and then remove it from the heat.

When chocolate is silky smooth and melted, roll each cookie dough ball in chocolate and return it to the lined baking sheet. Sprinkle each truffle with coarse salt and let the chocolate set. I like to keep these in the fridge, but they would be okay at room temperature for a few hours also.
Nutrition
Serving:
1
truffle
|
Calories:
102
kcal
|
Carbohydrates:
12
g
|
Protein:
1
g
|
Fat:
6
g
|
Saturated Fat:
3
g
|
Polyunsaturated Fat:
0.2
g
|
Monounsaturated Fat:
2
g
|
Trans Fat:
0.1
g
|
Cholesterol:
8
mg
|
Sodium:
21
mg
|
Potassium:
49
mg
|
Fiber:
1
g
|
Sugar:
7
g
|
Vitamin A:
93
IU
|
Calcium:
8
mg
|
Iron:
1
mg
Did you make this recipe?
Cookie Dough Truffles
The Eating of Cookie Dough
Making edible cookie dough is actually easier than making normal cookie dough. Just leave out the egg entirely. I also like to sub brown sugar for normal sugar because it makes the dough a bit softer.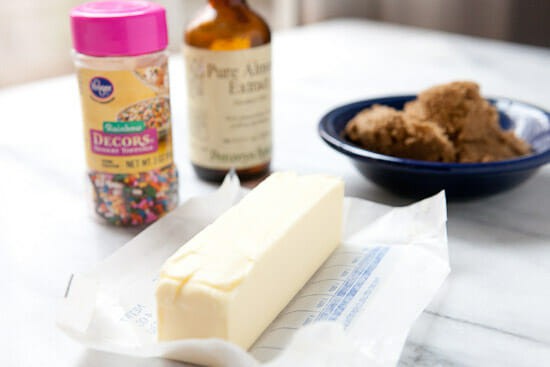 As with any cookie dough, cream together the butter and sugar until it's light and fluffy. You can use a stand mixer or hand mixer for this situation.
Looking for something like this.
Then go ahead an stir in the extract. I used almond, but vanilla would be just fine also. Add the flour in small batches and then stir in the sprinkles.
Don't be stingy on the sprinkles. It's funfetti after all.
Making the Cookie Dough Truffles
Making these little guys is pretty straightforward. The only real trick is to resist making them too big. About heaping teaspoon size is good. If you go bigger than that they will get a bit out of control after you roll them in chocolate and stuff.
Roll out the balls and freeze them for 10-15 minutes on a baking sheet lined with parchment paper.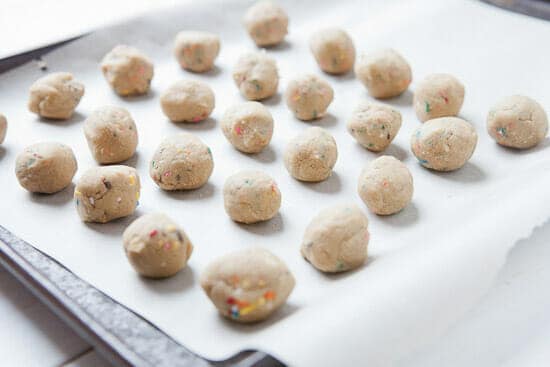 While the cookie dough balls harden up a bit, it's time to make the chocolate!
I saw a chocolate demo at D Bar in Denver a few weeks ago and it was a good reminder on why it's important to gently heat up the chocolate before using it. You obviously want it melted, but if you get it too hot (you are shooting for around 120 degrees F.) then it will seize up and turn into a solid block.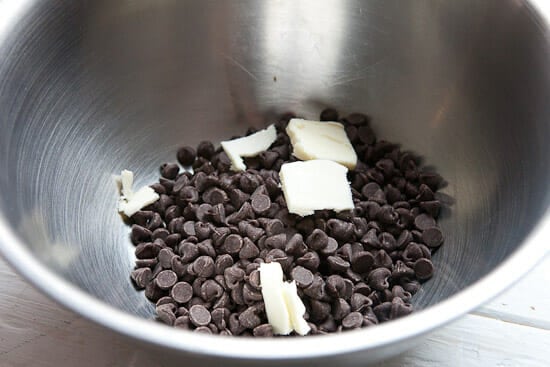 The way to prevent this is to heat it over steaming water very gently and slowly. It should take 8-10 minutes to melt completely. I like to add a tiny bit of butter also to my chocolate.
If you accidentally heat the chocolate too much and it seizes up on you, it's pretty much done if you intend to make candy out of it. That said, you can add some oil to the chocolate and get it to liquify again (I like coconut oil). Th only problem with that is that the chocolate won't firm up as well so it'll always be a bit on the soft side.
Anyway, on this day my chocolate turned out particularly good. Once it was silky smooth and melted, I started dipping my cookie dough truffles in it a few at a time.
I recommend using a fork to lift the truffles out of the chocolate and just tap them on the side of the bowl gently to let any extra chocolate drip off.
Then return them to the baking sheet and sprinkle them with coarse salt right away.
As the truffles cool, you'll see that they will turn more of a matte finish (look at the ones on the right below). That means that the chocolate is setting nicely.
These are totally fine at room temperature for a bit once they are formed, but I like to store mine in the fridge for longer storage.
These cookie dough truffles are really rich though and one or two of them is enough to conquer any sweet tooth.
I couldn't help but make a fun funfetti image for these guys!
As you might guess, my favorite part of these little treats is the sprinkle of salt. Totally makes everything work.
Cookie week project #1: Cookie Dough Truffles. Success!