Betsy's coworkers are in full-on proposal mode. In the last few months three of her coworkers have gotten engaged.
I attribute this to the fact that they hang out with us and we must just be a shining example of how much marriage rocks. So people are jumping on the bandwagon.
Anyway, to celebrate her coworkers threw a Triple Engagement Party a few weeks ago. I was on dessert duty and was told to make something chocolate and something citrus.
So I smashed the two together and came up with these delicious Chocolate Orange Cupcakes. They kind of remind me of the chocolate oranges that you get around the holidays.
Chocolate Orange Cupcakes
These light and fluffy chocolate cupcakes topped with a delicious orange cream cheese frosting are sure to be a hit!
Ingredients
Chocolate Cupcakes:
1

cup

unsalted butter

1 ⅓

cups

sugar

2 ¾

cups

cake flour

,

sifted

½

cup

cocoa powder

,

sifted

4

teaspoons

baking powder

½

teaspoon

salt

1

cup

milk

1

tablespoon

brandy

,

optional

8

Large egg whites

,

for meringue

⅓

cup

sugar (for meringue)
Orange Frosting:
16

ounces

cream cheese

,

softened

1

orange

,

zest only

8

tablespoons

butter

2

pounds

powdered sugar

2

teaspoons

vanilla extract

1

teaspoon

orange extract
Instructions
Preheat oven to 375 degrees. Weigh the ingredients to get the recipe correct. Sift cake flour, cocoa powder.

Cream the butter and sugar together until they are light and fluffy in a stand mixer with the paddle attachment. Mix all the dry ingredients together and all the wet ingredients separately.

Add about 1/3 of the dry ingredients to the butter and sugar mixture, then add half the wet ingredients, then half of the remaining dry ingredients, the rest of the wet ingredients, and then the rest of the dry ingredients. Stir batter until just combined. It should be pretty thick.
For Meringue:
Separate the egg yolks from the whites. Do this one at a time and then add the white to the rest of the whites.

Start beating these with the hand mixer until they are very fluffy and forming light peaks, then slowly pour in the sugar. After a few more minutes of beating, stiff peaks will form.

With a spatula, fold the meringue into the previous batter mixture. Fold it slowly and take your time. You want to keep as many of the bubbles in the meringue as possible.

Fill each cupcake tin with 1/3 cup of chocolate cupcake batter.

Bake at 375 for 17-18 minutes.

Cook the cupcakes before frosting.
For Frosting:
Mix together cream cheese and butter until smooth using either a stand mixer or hand mixer.

Add in the zest of one orange and extracts.

Slowly mix in two pounds of powdered sugar until the mixture is a thick frosting.

Frost cooled cupcakes generously with either a knife or a piping bag.
Nutrition
Serving:
1
cupcake
|
Calories:
255
kcal
|
Carbohydrates:
68
g
|
Protein:
7
g
|
Fat:
13
g
|
Saturated Fat:
8
g
|
Polyunsaturated Fat:
1
g
|
Monounsaturated Fat:
3
g
|
Trans Fat:
0.5
g
|
Cholesterol:
34
mg
|
Sodium:
304
mg
|
Potassium:
140
mg
|
Fiber:
1
g
|
Sugar:
18
g
|
Vitamin A:
392
IU
|
Vitamin C:
3
mg
|
Calcium:
129
mg
|
Iron:
1
mg
Did you make this recipe?
Chocolate Orange Cupcakes
The Batter
This cupcake recipe is adapted from an actual professional recipe that a friend gave me. It makes very legit cupcakes, but it is a bit finicky. First of all, if you want to nail it you'll want to make sure you weigh your ingredients.
A digital kitchen scale helps for this.
To start the batter, weigh your cake flour and then sift the flour, cocoa powder, baking powder, and salt all together.
This helps prevent clumps in the batter later. Is it absolutely essential? Probably not. But do it if you have the time.
Meanwhile, in the bowl for a stand mixer or just just a normal bowl, cream together your butter and sugar with the paddle attachment or a hand mixer.
Either will do the trick but you want to make sure your butter and sugar are very light and fluffy. They should look like this.
Now we just need to combine our wet ingredients.
That's just milk and a bit of brandy because, hey… why not?
Mix 1/3 of the dry ingredients into the butter and sugar, then add in half of the wet ingredients.
Then another 1/3 of the dry ingredients, followed by the last of the wet ingredients and then the last of the dry ingredients.
You'll be left with a really thick, rich batter.
The Meringue
You might notice that there are no eggs in the batter yet. Eggs are pretty essential in most cake recipes.
The difference is that instead of just mixing them in, for this recipe you make a meringue and then fold the meringue into the batter.
If you've never made a meringue before, it is a bit magical. The only thing to remember is to make sure you have just egg whites. No yolks allowed, not even one drop. Also, make sure you have a really clean bowl or the egg whites won't stiffen up correctly.
You can make meringue by hand, but it's pretty hard. I recommend a stand mixer or hand mixer and just beat the leaving bejesus out of it until it forms nice stiff peaks. Don't forget to add in the sugar also.
Then take your meringue and fold it into the batter.
Notice I said fold and not stir. If you stir it you'll just kill all the tiny air bubbles that are in the whites. If you take a large spatula and fold the batter over the meringue, then you'll keep most of the bubbles.
If this whole folding process doesn't make sense, watch this video (sound). There's a good demo of it around minute 1:30.
After folding in my meringue, this was my finished batter.
Baking and Frosting
Put your cupcake papers in the tins and use a 1/3 cup measuring cup to portion out the cupcakes. That should fill the tins about 3/4 of the way full.
Bake these cupcakes at 375 Fahrenheit for 17-18 minutes.
I would err on the side of 17 minutes and then test them. The last thing you want to do is over-cook these as they will get really dry.
Once these come out of the oven, let them cool until you can take them out of the tins. Then let them cool to room temperature until you frost them.
Making the frosting is really straightforward.
Beat together the cream cheese and butter. Then add the flavors including fresh orange zest! Then slowly add in the powdered sugar (yes two pounds is the right amount).
You'll be left with a thick cream cheese frosting that's really flavorful.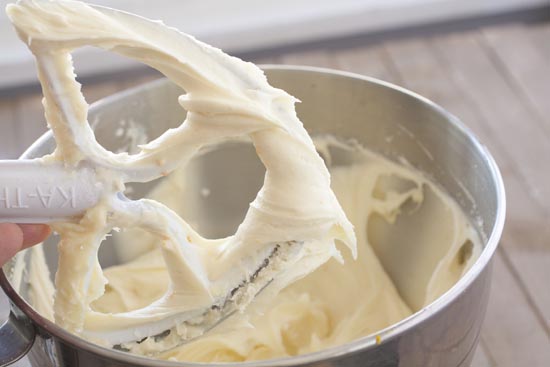 You can either use a knife to spread the frosting on or get fancy and pipe the frosting on with a pastry bag.
Then you can eat them!
These Chocolate Orange Cupcakes turned out to be some of my favorite cupcakes. The chocolate and orange flavors are made to go together.
Yes. The cupcakes are a bit on the complex side for cupcakes, but I think the results are worth it.