You know you're a food blogger when…
1) You are used to eating meals at room temperature because you had to spend 10 minutes photographing the darn thing.
2) You have the grocery store aisles memorized.
3) You bring baked goods to bars during happy hour just so you can get them out of the house.
Number three is exactly what happened with this delicious Chocolate Chip Monkey Bread. I made it, photographed it, ate more of it than I should have and then rushed out the door to catch a beer with some friends.
I was about to leave when I decided… what the heck… let's bring it to the bar! This was a good idea. People loved it because the tiny little rolls are bite-sized. Even our server snuck a few pieces!
While I was going to write that this recipe is really great for brunches, it also happens to be perfect for bars.
Chocolate Chip Monkey Bread
Small pull-apart rolls baked in cinnamon and sugar and filled with chocolate. This is about as good as monkey bread gets!
Ingredients
Dough:
2

tablespoons

unsalted butter

,

melted

1

cup

milk

,

warm

⅓

cup

water

,

warm

¼

cup

granulated sugar

1

tablespoon

instant yeast

3 ¼

cups

all-purpose flour

,

plus extra for rolling

2

teaspoons

salt

3

ounces

semi-sweet chocolate chips

,

opt.

1-2

tablespoons

butter

,

soft for bundt pan.

1

teaspoon

vegetable oil

,

for rising
Brown Sugar Coating:
1

cup

brown sugar

2

teaspoons

ground cinnamon

8

tablespoons

unsalted butter

,

melted
Glaze:
1

cup

powdered sugar

2

tablespoons

milk
Instructions
Butter pan with 2 tablespoons softened butter and set aside for later.

In a large bowl, mix together milk, water, melted butter, sugar and yeast. Meanwhile, mix flour and salt in standing mixer fitted with dough hook. Turn machine to low and slowly add milk mixture. After dough comes together, increase speed to medium and mix until dough is shiny and smooth, 6 to 7 minutes. If at any point dough is very sticky, add more flour by the tablespoon.

If you don't have a mixer, just mix the ingredients in a bowl with a wooden spoon until the dough forms a rough ball. Then turn out onto a floured surface and knead the dough until it forms a smooth ball, about 5-6 minutes.

3)Turn dough onto lightly floured counter and knead briefly to form smooth, round ball. Coat large bowl with vegetable oil or nonstick spray. Place dough in bowl and coat surface of dough. Cover bowl with plastic wrap and let rise until dough doubles in size, about an hour.

For the sugar mixture, mix brown sugar and cinnamon together in a bowl. Place melted butter in second bowl.

To finish bread, remove the dough from the bowl, and pat into a rough 10-inch square. Sprinkle chocolate chips on half of the dough and fold it over. Then roll out again to a square. Using a bench scraper or knife, cut dough into tiny 1/4-1/2 inch pieces.

Roll each piece into a rough ball and dip into the melted butter, allowing excess butter to drip back into the bowl. Roll in the brown sugar mixture, then layer balls in the Bundt pan. Try to stagger the balls so they form a single thing.

Cover the Bundt pan tightly with plastic wrap and let rise for another hour until the balls are about 2 inches from the top of the pan.

Preheat oven to 350 degrees. Unwrap the pan and bake until the top is deep brown, about 35-40 minutes. Cool in the pan for 5 minutes, then turn out onto a late and allow to cool slightly, about 10 minutes.

While the bread cools, whisk the confectioners' sugar and milk in a small bowl until the lumps are gone. Using a spoon, drizzle the glaze over the monkey bread. Serve warm.
Notes
Adapted from a Brown Eyed Baker recipe.
Nutrition
Serving:
1
bowl
|
Calories:
433
kcal
|
Carbohydrates:
76
g
|
Protein:
6
g
|
Fat:
18
g
|
Saturated Fat:
10
g
|
Polyunsaturated Fat:
1
g
|
Monounsaturated Fat:
5
g
|
Trans Fat:
1
g
|
Cholesterol:
37
mg
|
Sodium:
494
mg
|
Potassium:
171
mg
|
Fiber:
2
g
|
Sugar:
31
g
|
Vitamin A:
435
IU
|
Vitamin C:
0.02
mg
|
Calcium:
73
mg
|
Iron:
3
mg
Did you make this recipe?
Chocolate Chip Monkey Bread
The Dough
This dough is basically a cinnamon roll dough. It's pretty much the easiest kind of dough to work with in my opinion. It's really easy to mix and knead. It's very soft and stretchy. It's really easy to roll out and shape!
Start it by mixing all the dough ingredients except the salt and flour in a small bowl. Stir them together and let them sit for a minute or two to make sure the yeast is dissolved and active. It should start foaming a bit.
In a mixing bowl, combine your salt and flour and add in the liquid stuff. If you have a stand mixer, just mix this all together with the dough hook on low-medium speed until it comes together in a soft ball, about 5 minutes.
This is a really easy dough to make without a mixer though. Just stir the ingredients together with a wooden spoon and once they are all together, knead the dough on a floured surface until it's a nice smooth and soft ball.
Mixer or no mixer, if the dough ever gets sticky, add more flour.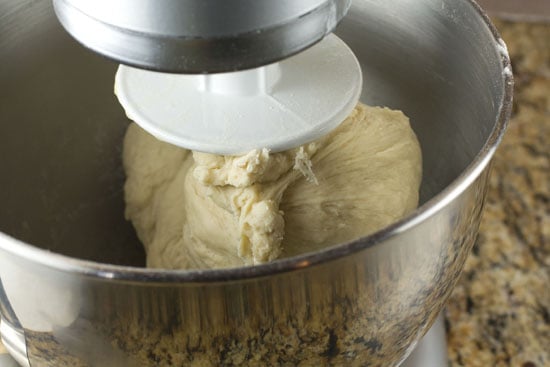 Once your dough ball is formed, add it to a bowl that's been lightly oiled. I just used some vegetable oil and coated the inside of the bowl. Turn the dough ball over in the bowl so it gets nice and coated and then cover the dough and let it rise for about an hour. It should double in size.
This was my finished dough ball.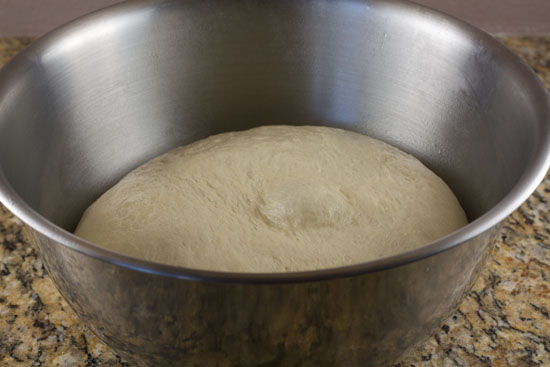 Making the Balls
Now for the fun part. Scoop the dough out onto a lightly floured surface and roll it out into a large square. Then sprinkle your chocolate chips on half of the square.
The chocolate is optional, but I thought it worked perfectly in the recipe. You can use almost any chocolate chip. I just used some semi-sweet chips that I had in my pantry.
You only need a few ounces to get some nice chocolate flavor.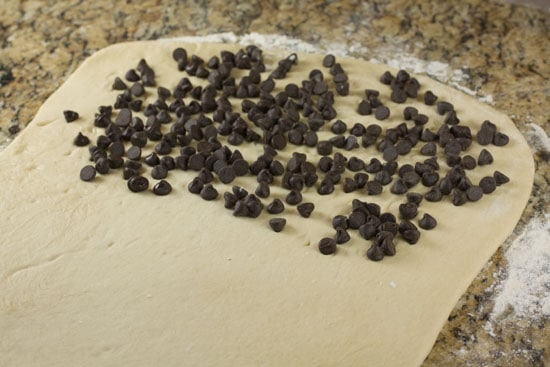 Fold the dough over and pack it down so the chocolate chips are more or less enclosed in dough.
Then use a knife or a dough scraper to chop up the dough into bite-sized pieces. You should shoot for 60-70 little pieces. About 1/2 inch squares is a good goal.
It's actually good to have different sizes though so don't worry about them all being totally even.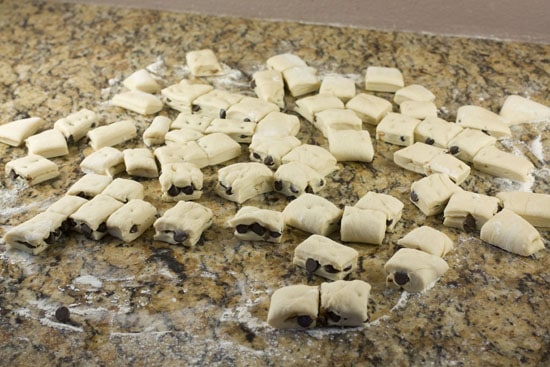 Filling the Pan
In a small bowl, mix together the brown sugar and cinnamon. Also use a separate small bowl and gently melt some butter in the microwave.
Working with a few pieces of dough at a time, roll them into rough balls and dunk them in the melted butter.
Then toss them in the sugar and cinnamon mixture and roll them around. A light coating is all you need.
Then toss the finished balls in a bundt pan that has been pretty heavily buttered.
Keep going until you use all your dough. If you have a normal sized pan you'll probably about half fill the pan which is perfect.
If you don't have a bundt pan, I don't see why you couldn't make this in a normal baking dish. It might not be quite as attractive, but it would still be delicious.
Regardless of the pan you choose, after you finish stacking all the balls of dough, cover the pan and let them rise a second time. About another hour should give you a great puffy dough.
While it might not look like these have risen much, keep in mind that they are also expanding to fill a bunch of little cracks that are in between all the dough balls. This second rise is really important.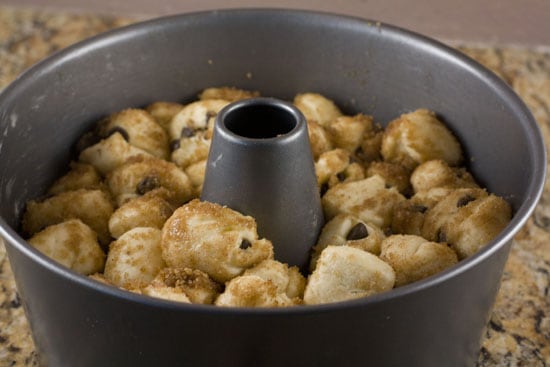 Baking and Glazing
Once your dough has risen a second time, bake them at 350 degrees for about 35-40 minutes. They should be a nice golden brown and you might also notice some brown sugar bubbling up around the edges. That means it's done!
This was my finished Chocolate Chip Monkey Bread and it not only looked great, it smelled amazing!
Let this cool in the pan for a few minutes and then invert it on a plate or platter.
Meanwhile, just stir together the powdered sugar and milk to make a very simple glaze.
Once the bread has cooled for 10 minutes or so, go ahead and drizzle the glaze all over it.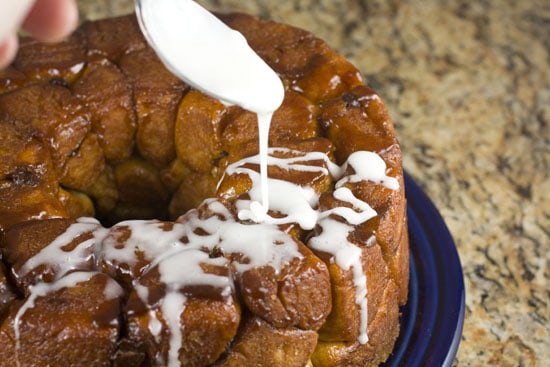 You could slice this, but I actually preferred serving it with toothpicks so people can just pick off the bread piece that they want.
Some people prefer the outer ones that get kind of crispy. Some like the inside ones that are soft.
For the delicious and show-stopping dessert that is produced, this thing really isn't that hard to make. The dough is really easy to bring together and then it's just a matter of rolling it, dunking it in butter and sugar and baking it.
In other words, you make do this Chocolate Chip Monkey Bread. Anyone can make this.
And everyone should.