I had never even heard of chess pie until about two years ago. Betsy and I were picking out a caterer for our wedding and when we finally selected one, we told him that we were going to make our own desserts.
He was totally cool with this, but he did recommend that we at least try his chess pie. Considering I had never even heard of chess pie, I was pretty skeptical.
After taking one bite, we ordered a bunch of them. I had no idea what was in it, but it was good. Some sort of deep rich custard mixture in a pie shell. I had to immediately apologize for eating half of the poor man's pie before he even knew what happened.
While traditionally chess pie has a lemon base, I decided to change it up a bit and try one with a chocolate and orange flavor. It kind of turned out like one of those chocolate oranges you can get over the holidays, except in pie form.
In other words, freakin' good.
It's a really rich pie and one could easily serve 10-12 people. Orange Chess Pie would be a great and unique pie for the holidays!
Chocolate Orange Chess Pie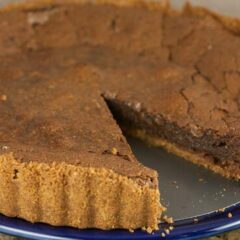 A rich fudge-like pie with a delicious chocolate and orange filling. This recipe is a fun twist on the classic Chess Pie recipe.
Ingredients
Crust:
3

cups

graham crackers

,

crushed

8

tablespoons

unsalted butter

,

melted

1

tablespoon

sugar

1

pinch

of salt
Filling:
8

tablespoons

unsalted butter

4

ounces

semi-sweet or bittersweet chocolate

1

cup

sugar

1

tablespoon

cornmeal

1

teaspoon

vanilla extract

1

orange

,

zest only

¼

cup

orange juice

4

large eggs

1

pinch

of salt
Instructions
For crust, crush graham crackers until they are finely ground. The easiest way to do this is to pulse them in a food processor, but you can break them up by putting them in a plastic bag and rolling them with a rolling pin also.

Mix melted butter in with graham crackers and add sugar and salt. Mix well.

Press crust mixture into a 10 inch tart pan with a removable bottom. You can also use a normal pie pan if you don't have one of these.

Bake the crust at 350 degrees for 10 minutes. Then let it cool.

For filling, melt butter and chocolate in a pan over low heat.

Stir in sugar, cornmeal, vanilla, salt and orange ingredients. Make sure mixture is roughly room temperature and then beat in the eggs.

Pour filling into prepared crust and bake the pie for 40-45 minutes at 350 degrees.

Let pie cool on a wire rack for 15-20 minutes before serving.
Nutrition
Serving:
1
Slice
|
Calories:
397
kcal
|
Carbohydrates:
46
g
|
Protein:
4
g
|
Fat:
23
g
|
Saturated Fat:
12
g
|
Polyunsaturated Fat:
1
g
|
Monounsaturated Fat:
6
g
|
Trans Fat:
1
g
|
Cholesterol:
95
mg
|
Sodium:
179
mg
|
Potassium:
152
mg
|
Fiber:
2
g
|
Sugar:
31
g
|
Vitamin A:
585
IU
|
Vitamin C:
8
mg
|
Calcium:
42
mg
|
Iron:
2
mg
Did you make this recipe?
Orange Chess Pie
Making the Crust
I used my standard graham cracker crust for this Orange Chess Pie recipe. When you're crushing up your graham crackers, you can use a food processor or take it as an opportunity to get some aggression out!
Just stick all the crackers in a large plastic bag and whack them with a rolling pin until they are finely ground.
Then mix them with your other crust ingredients. Be sure to measure out your 3 cups of graham crackers after you crush them into bits.
I used a cool tart pan with a removable bottom for this pie, but you could use any pie dish that you have.
Just add your graham cracker mixture to the pie dish and pack it evenly around the bottom and up the edges of the dish. I use a combination of my hands and a measuring cup to make sure the crust is really packed in evenly. Take your time with this step. You want a nice even crust.
Once you're happy with your crust, bake it at 350 degrees for about 10 minutes and then let it cool.
Meanwhile, you can…
Make the Filling
This filling is really close to fudge. It doesn't have flour in it though so it's more custard-like I guess. Whatever you want to call it, it's very rich and perfect for a pie.
Start by melting your chocolate and butter together in a pan over low heat. I actually use a metal bowl over some boiling water (double boiler) just to make sure my stuff doesn't burn.
Once it's melted, there's a few key ingredients that need to get whisked in to the filling. You can take it off the heat after everything is melted.
Sugar, vanilla, and salt are all pretty standard ingredients, but one that really makes this filling is orange zest.
You'll need a zester for this obviously.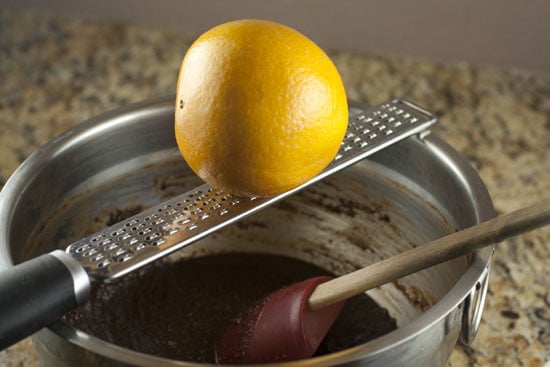 When you're zesting, try to just get the orange part of the zest. If you get a lot of the white part of the peel, then it starts to get a bit bitter.
You will only be able to get a teaspoon or so of zest off of one orange, but the zest is really flavorful. It will be plenty to flavor the filling.
I also stirred in a small amount of orange juice just to round out the orange flavors.
The other secret ingredient that you might not think about is cornmeal. One tablespoon will do the trick, but it just gives the filling some body.
It's the ingredient that will give the filling a texture that people won't expect. You could leave it out and the filling would still work, but it's a nice touch.
Finally, make sure that your filling has cooled down to around room temperature and then mix in your eggs.
Stir this all together and your Orange Chess Pie filling is done!
Baking the Pie
Pour your filling into your prepared pie crust. Keep in mind the filling will puff up as it cooks so make sure you have 1/2 inch of space at the top. Don't fill the pie all the way up even if you have enough filling to do so.
Bake this Orange Chess Pie for 40-45 minutes at 350 degrees.
It'll come out of the oven puffed and beautiful.
Chess pie is really just fudge pie in my opinion. The top of the pie gets a bit crunchy, but the filling is just like a delicious fudge.
This should go without saying but the chocolate and orange flavors are awesome together. That was just a no brainer!
If you're sick of the classic pumpkin pie every year, try out chess pie. It's rich just like a pumpkin pie and can be served with whipped cream.
I was really happy with how this turned out.
Any chess pie fans out there? Leave a comment!