The pinwheels of my childhood were stuffed with cream cheese and not much else. But, we can do better! These spicy Bacon Ranch Pinwheels are so stuffed with filling that they are walking that line of just being a burrito.
But I do like to roll them up very tightly and slice them into pinwheel chunks to serve as appetizers. You could eat a whole one, for sure, but the filling is pretty flavorful and it may be a bit much for a whole wrap.
It's perfect as a bite-sized appetizer though!
This is a great appetizer to make with really ripe tomatoes, sliced very thin. If you wanted to make these in an off-season month (say in March), I would use grape tomatoes and just slice them up so they lay flat in the pinwheels.
These pinwheels are a fun twist on the classic cream cheese pinwheel and will be a welcome appetizer at any BBQ or party. Make a double batch. They go quick!
How to cook bacon for these pinwheels
It's very important that your bacon is crispy and mostly flat for these pinwheels. For that reason I highly recommend baking the bacon in an oven so it cooks evenly and gets very crispy.
Baking bacon is my generally preferred method for bacon because it's pretty hands-off and also results in very crispy and delicious bacon. If you are cooking other things, it also frees up your stovetop so that's a bonus.
Depending on your bacon, you might need to vary the time, but generally baking it at 350˚F for 15-20 minutes will get you to crispy bacon. Baking it on a baking sheet lined with parchment paper or foil will help with clean up as well.
Making and slicing a bacon ranch pinwheel
Let's start with the sauce. This is nothing fancy, people. It's ranch dressing and some chopped up chipotle peppers. I recommend buying the ones in the can that are stored in Adobo sauce. Cut out the stems and seeds from the peppers before you stir them in. Also add a few spoonfuls of the sauce in the jar!
Mix it all together! Obviously, if you want it spicier, you can add more but two of these plus some sauce packs a pretty good kick.
Other than that this recipe is pretty basic. Crispy bacon (bake it at 350 for about 15-20 minutes and make sure not to use the thick cut stuff). Then you add on the sliced tomatoes and crisp lettuce.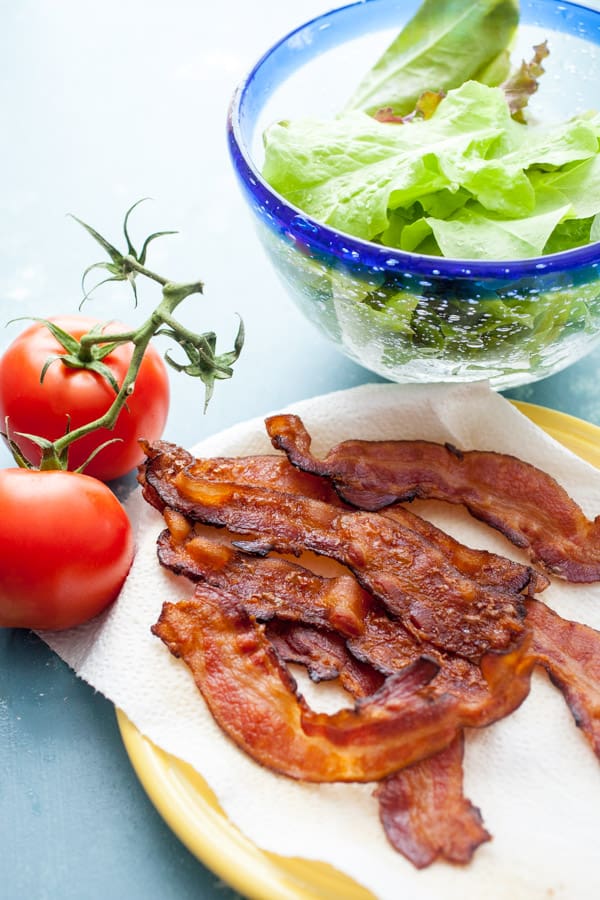 Make a bacon ranch pinwheel by smearing thin layer of the sauce on a large flour tortilla. Stack on some lettuce to cover the whole tortilla.
Then add a single row of tomato slices and crispy bacon.
Roll up the tortilla into a tight cylinder. If you do it right, you might have some ranch dressing get squirted out. That's okay!
If you're serving these immediately, chop them up! Use a serrated knife for clean slices and you'll probably get six pinwheels from each tortilla. You need to make these a bit thicker than normal pinwheels so they don't fall apart.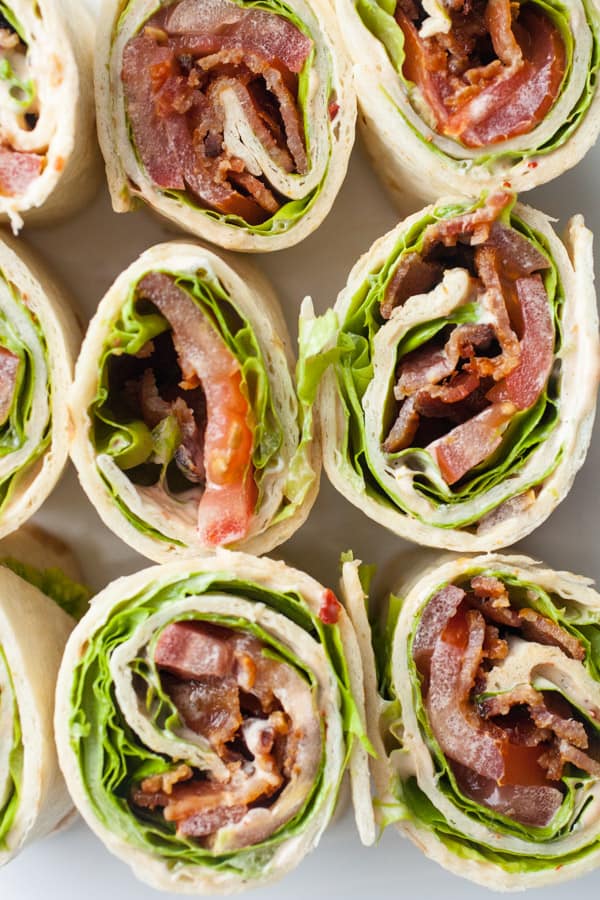 Substitutions and ideas for these pinwheels
As you might imagine, there are a million variations you can make for these bacon ranch pinwheels. Here are a few ideas!
Make these not spicy. Leave out the chipotle peppers and you have a very standard bacon ranch pinwheel.
Make these creamy by mixing some dry ranch seasoning into cream cheese and spreading that onto the tortillas.
Change up the protein by using deli turkey for turkey pinwheels or shredded cooked chicken breast.
Instead of pinwheels, use these same ingredients to make a great sandwich with some good sourdough bread.
Amp up the veggies in these pinwheels with spinach or scallions.
Storing these pinwheels for later
If you aren't serving these Bacon Ranch Pinwheels right away, wrap them up in plastic wrap but keep them whole. Slice them right before serving.
I wouldn't recommend making these more than a day or two in advance as the tortillas can get kind of soggy and the bacon will lose its crispiness.
Happy pinwheeling!
Bacon Ranch Pinwheels
These quick pinwheels are so packed with filling that they are almost a burrito. But slice them into pieces and serve them as an appetizer. They have a nice spicy kick, great crunch, and addictive flavors!
Ingredients
4

large flour tortillas

1/2

cup

ranch dressing

2

chipotle peppers

,

in adobo

1

tablespoon

Adobo sauce

,

from pepper can

12

strips bacon

,

baked until crispy

2

ripe tomatoes

,

sliced thin

Fresh lettuce
Instructions
Line a baking sheet with foil and lay out bacon in an even layer. Bake bacon at 350 degrees until it's crispy, maybe 15-20 minutes. Then remove bacon strips and let drain on a few paper towels.

Meanwhile, mix together ranch and chopped chipotle peppers (remove stem and seeds) and a few spoonfuls of the Adobo sauce from the chipotle can.

Slice tomatoes very thin and wash lettuce.

Make a pinwheel wrap by spreading a few spoonfuls of the ranch dressing mix onto a tortilla all the way to the edges. Top with lettuce across the entire tortilla. Then add a row of tomatoes and bacon in the middle of the tortilla. Roll the tortilla up into a tight cylinder.

If you aren't serving the pinwheels immediately, store the pinwheel wraps whole wrapped in plastic wrap.

When ready to serve, use a serrated knife to slice thin pinwheels into slices about 1 1/2 inches thick. You should get about 6 from each wrap.
Nutrition
Serving:
6
pinwheels
|
Calories:
350
kcal
|
Carbohydrates:
15
g
|
Protein:
8
g
|
Fat:
29
g
|
Saturated Fat:
8
g
|
Polyunsaturated Fat:
9
g
|
Monounsaturated Fat:
10
g
|
Trans Fat:
0.1
g
|
Cholesterol:
34
mg
|
Sodium:
1135
mg
|
Potassium:
228
mg
|
Fiber:
2
g
|
Sugar:
3
g
|
Vitamin A:
372
IU
|
Vitamin C:
6
mg
|
Calcium:
45
mg
|
Iron:
1
mg
Did you make this recipe?
Here are a few other recipes to try!