Years ago if I would've worked on this recipe I simply would've called it Chicken Shawarma Bowls, but I'm working hard to title recipes correctly moving forward and update some old ones.
After all, chicken shawarma is a very specific thing and has a very specific meaning to certain cultures. Claiming that this bowl is that thing is, at best, disingenuous and I'm working to get better!
But, the flavors and chicken in this bowl of wonderfulness is definitely inspired by the traditional dish.
The finished bowl is packed to the brim with marinated chicken, LOADS of wonderful vegetables, and a creamy roasted garlic sauce that is kind of its own genius.
Whether you are making this for a healthy weeknight dinner option or packing them up for quick lunches, I cannot express enough how delicious this recipe is. We ALL loved it at House Macheesmo and I think you will also!
What is Chicken Shawarma
Chicken Shawarma is a traditional Middle Eastern dish that involves stacking up marinated chicken on a spit, normally with onions, and roasting it vertically. Then the meat is sliced off into pita or various other applications.
It's almost impossible (and impractical) to replicate this cooking technique at home so it's really hard to say that you can make true chicken shawarma without that method.
But, of course, that doesn't mean we can't use the dish as inspiration for this version!
Making the Creamy Garlic Sauce
Before we dive into the chicken, let's take a brief detour through the sauce. In theory you don't need a sauce for these bowls. They are pretty flavorful without it, but if you have the time it adds a lot to the finished recipe.
I just roasted a whole head of garlic at around 325F for about 30 minutes until they were very tender. Adding a drizzle of oil and a pinch of salt is a good idea.
Then I added the roasted garlic cloves to some yogurt with olive oil, lemon, and salt. Blend it together and it's a wonderful little homemade sauce!
If you don't have an immersion blender, you can use a traditional blender or just mash the cloves up and whisk the other ingredients into the cloves.
Making the Shawarma Inspired Chicken
I used chicken thighs for my version because they have a little more fat and will stay juicier while roasting. You can use whatever cut you like though. If you use chicken breasts, I would butterfly them so they cook evenly and quickly.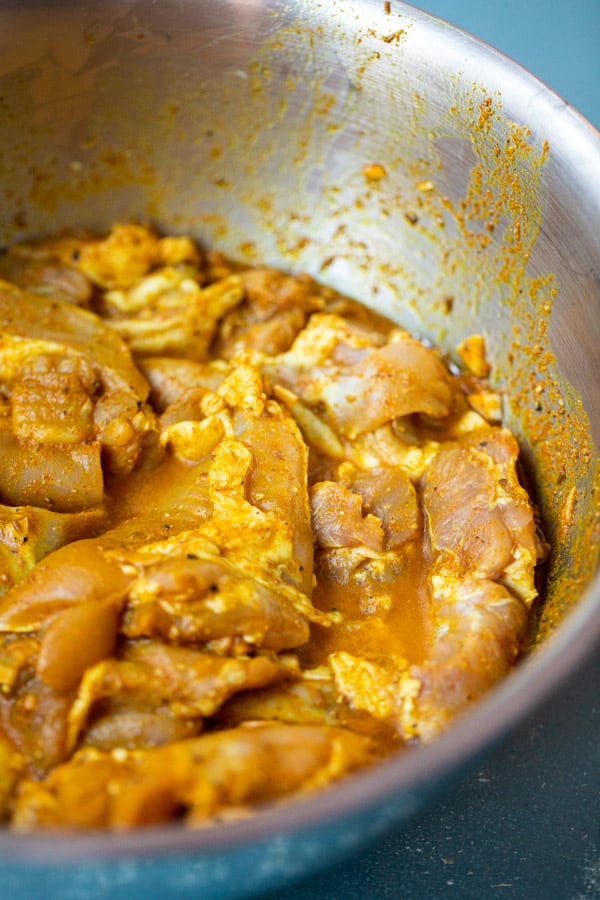 The marinade for this chicken is a wonderful mix of spices. I let my marinate for about two hours, which was great. At a minimum I'd let it hang out for 30 minutes.
Then spread it out and roast it on a baking sheet until the chicken is cooked through, about 25 minutes.
Finishing the Bowls
These chicken shawarma bowls are finished off with LOADS of veggies. It can be kind of a fridge-clean out meal. I used tomatoes, cucumbers, onions, peppers, olives, and roasted chickpeas in my version.
To cut down on the carbs, I didn't use rice, but my kids wanted rice. It works great with or without rice so make it yours.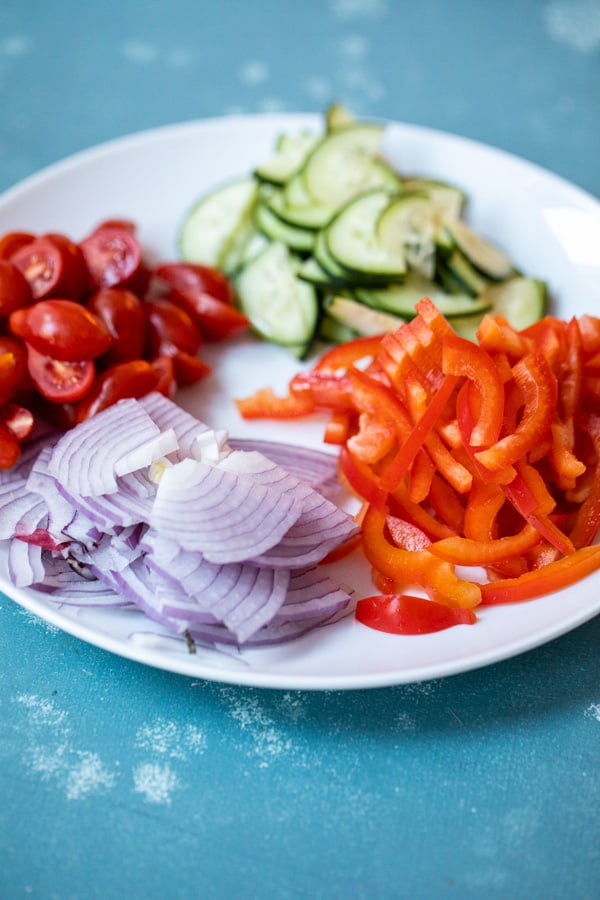 Once you pack everything in the bowl, drizzle on the dressing or serve it on the side. YUM.
This Chicken Shawarma Inspired Bowl was a great, healthy way to kick off 2021. We will be making it again for sure!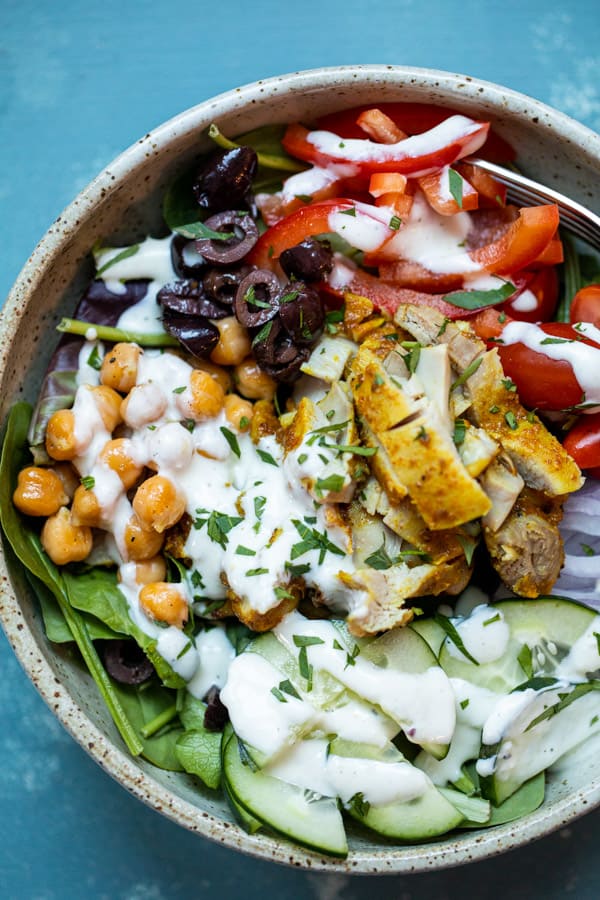 Chicken Shawarma Inspired Bowls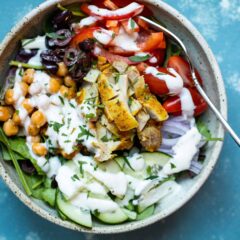 Inspired by traditional chicken shawarma, these bowls are packed with veggies, marinated roasted chicken, and a creamy roasted garlic sauce! The perfect healthy dinner or lunch option!
Ingredients
Roasted Shawarma:
3

pounds

chicken thighs

⅓

cup

olive oil

2

teaspoons

kosher salt

4

cloves

garlic

½

lemon

,

juice

1

tablespoon

ground cumin

2

teaspoons

paprika

1

teaspoon

ground coriander

1

teaspoon

turmeric

¼

teaspoon

ground cinnamon
Roasted Garlic Sauce:
1

cup

Greek yogurt

1

head garlic

,

roasted

½

lemon

,

juice only

3

tablespoons

olive oil

Salt and Pepper to taste
Bowl Ingredients:
Mixed Greens and/or cooked rice

Roasted Chickpeas

Cherry Tomatoes

Sliced red onions

Sliced red peppers

Cucumbers

Kalamata Olives

Parsley

,

garnish
Instructions
For dressing:
Slice the end off the head of garlic and drizzle with a little olive oil and a pinch of salt. Wrap tightly in foil and roast garlic head at 325˚F for 25-30 minutes until garlic is very tender.

Remove garlic from oven and let cool slightly. Then open and pop out the cloves which should be mashable.

Add all garlic cloves to a large cup along with other dressing ingredients and blend with an immersion blender until smooth. Alternatively, you can blend in a traditional blender or mash cloves well and whisk together dressing ingredients.

Store dressing in the fridge until ready to serve.
For Chicken Shawarma Bowls:
Mix together olive oil, salt, garlic, cumin, coriander, lemon juice, turmeric, and cinnamon. Add chicken thighs and coat well. Allow to marinate for at least 30 minutes but up to overnight is fine.

When ready to cook, preheat oven to 400˚F and spread chicken thighs on a baking sheet lined with parchment paper. Roast the chicken thighs until they are cooked through and register 170˚F in the thickest part. This should take around 25 minutes.

Optionally, drain chickpeas and spread them out on a baking sheet. Drizzle with oil and a pinch of salt and pepper and roast alongside the chicken.

While chicken roasts, prepare veggies.

Assemble bowls by adding a few handfuls of greens to a bowl (you can add rice if you would like). Then add sliced chicken shawarma to the middle of the bowl and spread the vegetables around the outsides. Customize the bowls to your liking! Drizzle with dressing and garnish with fresh parsley.

Leftover chicken stores great in the fridge for around 5 days. Assemble bowls in advance for quick lunches.
Nutrition
Serving:
1
Bowl
|
Calories:
702
kcal
|
Carbohydrates:
6
g
|
Protein:
41
g
|
Fat:
57
g
|
Saturated Fat:
13
g
|
Polyunsaturated Fat:
10
g
|
Monounsaturated Fat:
30
g
|
Trans Fat:
0.2
g
|
Cholesterol:
224
mg
|
Sodium:
965
mg
|
Potassium:
593
mg
|
Fiber:
1
g
|
Sugar:
2
g
|
Vitamin A:
524
IU
|
Vitamin C:
11
mg
|
Calcium:
80
mg
|
Iron:
3
mg
Did you make this recipe?
Here are a few other delicious Weeknight Chicken Dinner Recipes!