I can identify the exact date that I stopped regularly using dried beans in my cooking and switched to canned beans: January 10, 2015. That's when my first child was born and ever since then it's like… WHO HAS THE TIME?! But, if you have a slow cooker or pressure cooker, you can use dried beans (and you should) for this Chesy Pinto Bean Dip!
Whether you are using a pressure cooker, slow cooker, or just a plain old pot, this pinto bean dip is truly delicious and is great with chips, warm out of the pot, and the leftovers are delicious as a nacho topping the next day! YUM!
Why it's worth using dried beans for this dip
There really is something special about using dried beans for a dip like this. I find they have more flavor and you can better control the texture on the dip. They are also, frankly, just cheaper! But cans of beans aren't crazy expensive either. Once you try the dip with the dried bean version though, you'll be hard-pressed to go back to using cans.
How to cook dried beans in a pressure cooker
I've learned to love cooking dried beans again thanks to pressure cookers. Using most modern pressure cookers, you can make a batch of dried beans in about 20 minutes which is much faster than if you used a standard pot!
Even better though, if you have a multi-cooker device like an Instant Pot or Crockpot Multi-cooker, you can finish the entire dip and keep it warm in a single pot. Yes please!
Given all the different features, the Multi-cooker is a steal for under $100.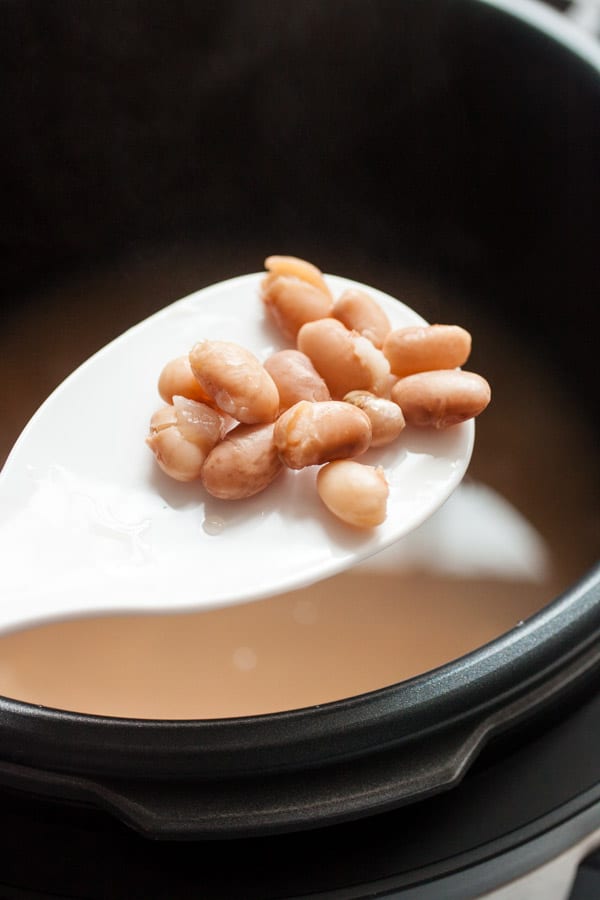 How to cook dried beans in a slow cooker
You can make this Cheesy Pinto Bean Dip in a standard Crock-Pot slow cooker or a standard pot. If you start with unsoaked beans in your slow cooker covered by about 2 inches of water, and you will need to cook them for 5-6 hours until they are tender. When you can mash the beans easily with a fork, then they are ready to use in this pinto bean dip!
How to finish this Cheesy Pinto Bean Dip
If you are using a pressure cooker, you can add your onions and garlic to the beans and lock the lid for pressure cooking and 12 minutes is all you need. The machine will automatically heat to pressurize the cooker. (this assumes you soaked your beans – if you didn't then go with 20 minutes of cooking time).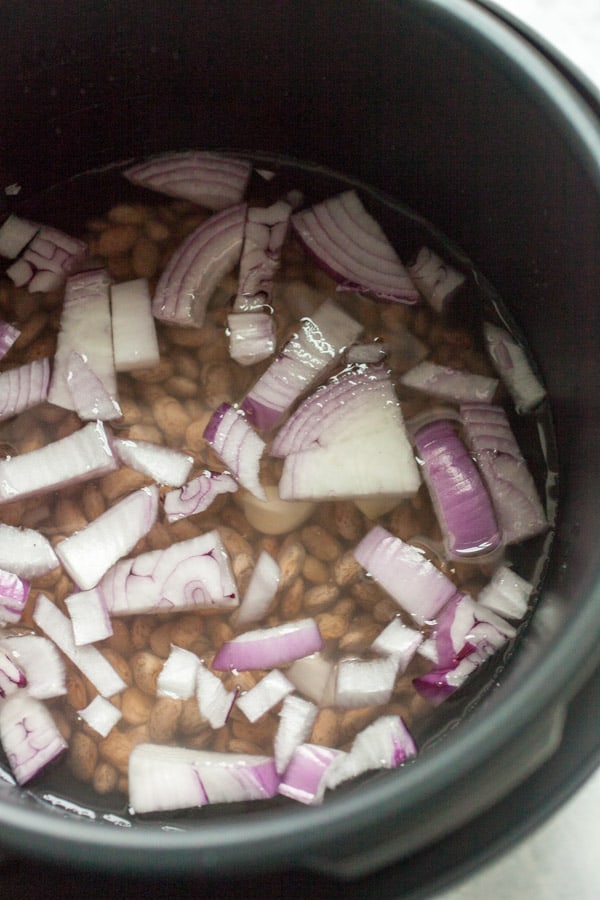 When the timer goes off, it's a good idea to let the cooker just sit for five minutes to let the steam settle a bit. This is recommended in the instruction booklet so I did it. Then you can use a spoon to release the pressure using the nifty pressure valve. (Seriously don't use your hands. It's very hot.)
The beans will be beautifully tender. If you were just simmering pinto beans, it would probably take around 2 hours to get them to this tender, which is what you want for a blended dip.
Next add the butter and spices into the cooker and turn the heat on sautee. If you have an immersion blender, you can blend the dip right in the cooker, or you can transfer the bean mixture to a blender and then return it to the pot.
As a last resort you can mash the beans with a fork or potato masher, but you won't be able to get them as creamy and smooth.
Don't forget the cheese! I used cheddar cheese but monterey jack or pepper jack would be nice as well.
If your device has a Keep Warm setting, you can use it to keep the dip hot until you're ready to serve. I recommend tasting it and seasoning it with salt and pepper to your liking.
When you are ready to serve, I like to transfer this Cheesy Pinto Bean Dip to a big bowl and garnish it with cilantro and chili powder. YUM.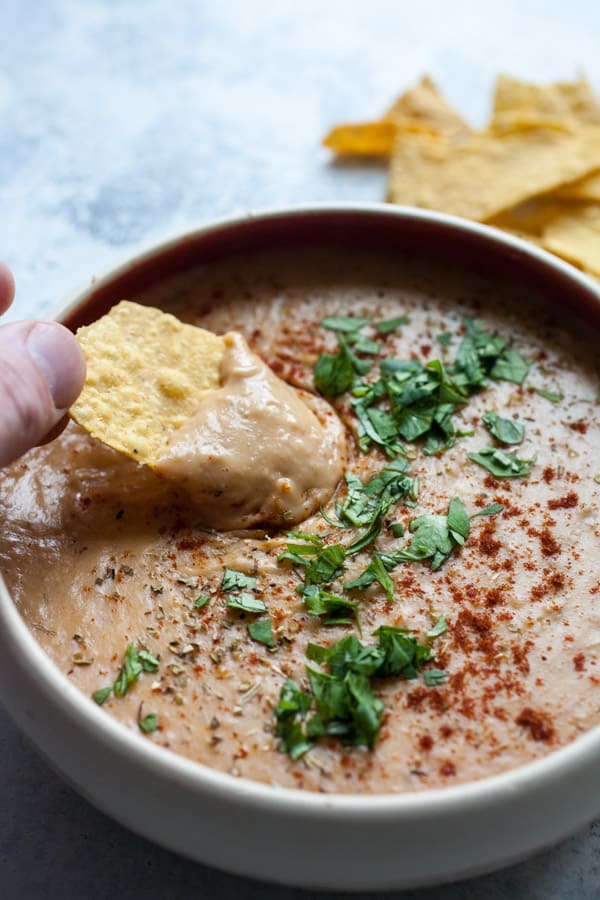 How to use leftover pinto bean dip
When this dip gets cold, it will solidify, but that's okay. It's best used as a leftover for nacho toppings! You can add a dollop of the dip to chips and microwave them with some cheese or bake them in a 350˚F oven with cheese until warmed through and melted.
These will be some of the best bean nachos you'll eat! Honestly, it's worth making a batch just for nacho possibilities!
Cheesy Pinto Bean Dip
This Cheesy Pinto Bean Dip is ready in no time and is perfect for game day. Also great as a nacho topper!
Ingredients
8

ounces

about 3 cups soaked pinto beans

6

cups

water

½

red onion

3

cloves

garlic

¾

cup

vegetable stock

2

tablespoons

butter

1 ½

teaspoons

chili powder

1

teaspoon

dried oregano

¼

teaspoon

salt

¼

teaspoon

black pepper

2

cups

shredded cheddar cheese

Cilantro

,

garnish

Tortilla chips

,

for serving
Instructions
Soak pinto beans overnight in cold water. Drain beans before cooking.

Add soaked pinto beans to Crock-Pot Express Crock Multi-Cooker along with water, garlic and red onion. Seal Multi-cooker and lock it for pressure cooking and press the BEANS setting. Set the time for 12 minutes.

When beans are done cooking, turn off Multi-cooker and let sit for a few minutes to let the pressure settle a bit, then use a spoon to release steam using the pressure release valve. Then open the lid and drain off the water.

Return the beans with onions and garlic to the Multi-cooker and add in butter, stock, and seasonings. Turn multi-cooker onto the sauté setting and let cook for a minute. Then puree the dip with an immersion blender. If you don't have an immersion blender, you can actually mash this dip with a fork. The beans will be very tender and mashable.

Finally, stir in cheddar cheese and keep the dip warm until serving. Season with salt and pepper and garnish with fresh cilantro right before serving. Serve with tortilla chips.
Nutrition
Serving:
1
bowl
|
Calories:
255
kcal
|
Carbohydrates:
19
g
|
Protein:
10
g
|
Fat:
16
g
|
Saturated Fat:
8
g
|
Polyunsaturated Fat:
2
g
|
Monounsaturated Fat:
4
g
|
Trans Fat:
0.1
g
|
Cholesterol:
36
mg
|
Sodium:
423
mg
|
Potassium:
198
mg
|
Fiber:
4
g
|
Sugar:
1
g
|
Vitamin A:
534
IU
|
Vitamin C:
1
mg
|
Calcium:
263
mg
|
Iron:
1
mg
Did you make this recipe?
Here are a few other great recipes to try!