Comfort food at its best usually takes time to make. When making a classic red beans and rice dish, it's not uncommon for the beans to simmer for hours and hours. Even for this pressure cooker red beans and rice version, it requires about 45 minutes of high-pressure cooking to get the right texture on the beans – creamy smooth. But it's oh-so worth it and SO much faster than simmering them on the stove.
While some versions of this recipe will ask you to cook the red beans and rice together for a seemingly quicker preparation, I think that just kind of muddies the dish. It's better to cook the beans correctly and then ladle them over the rice for serving. Plus, then guests can take as much (or as little) beans and rice as they want. Personally, I'm a little rice and A LOT of beans kinda guy.
The finished beans and rice is an unassuming, but wonderfully classic, dish. It's a little spicy, but mostly just has a rich, savory taste. I can eat it for lunch, dinner, or breakfast (maybe with a few eggs on top).
Dry Beans or Canned Beans
I like to keep both canned beans and dry beans in my pantry for a variety of recipes. For a pressure cooker recipe like this though, you do really need dry beans.
If you use canned beans, which have already been cooked, then the beans will be complete mush by the time you cook them a second time.
The good news is that dry beans tend to be cheaper anyway, so you'll be saving money by using dry beans over canned!
Do you have to soak beans before cooking them?
Normally, for dry beans, I would recommend soaking them overnight. This just really reduces the cooking time and you'll end up with a more tender and delicious finished bowl of beans.
But, the good news about using a pressure cooker is you can throw that advice right out the door.
The nice thing about using a pressure cooker for the beans is that you don't have to soak them overnight. If you want to, you can, but if you do then take 10 minutes off the cooking time. If you don't soak them, at least give them a good rinse and be sure to sort them for any little pebbles that can find their way in with the beans (it happens!).
What kind of pressure cooker works for this?
I have a wide variety of pressure cookers and you can make this dish in pretty much any pressure cooker. You will sometimes see similar recipes called Instant Pot Red Beans and Rice, but I like to be a little broader. Any pressure cooker will work great. I've also used the Crockpot Express Cooker with great success for this and other pressure cooker recipes!
Instructions for pressure cooker red beans and rice
To start the red beans, turn your multi cooker onto saute mode and add the olive oil and andouille sausage. Then add the trinity of Cajun seasoning – green peppers, onions, and celery!
Once that has cooked together for a few minutes and the vegetables have softened, you can add the ham hock, dried beans, dried thyme, tomato paste, Cajun seasoning, and bay leaves to the pot and stir it together!
I like to just use water for my red beans because there is already a lot of flavor going on here. Using stock is kind of a waste, but if you wanted to use a chicken stock or vegetable stock, you definitely could.
Anyway, seal the cooker and set it for 45 minutes on high pressure! Note: My photo says 35 minutes. That's probably not enough time unless you pre-soak your beans. 45 minutes is the right amount of time if you start with dried beans.
When the time is up, turn off the cooker and let the pressure release naturally for 15-20 minutes. Then you can use the valve to vent off any extra pressure and pop open the cooker. Beautifully tender beans!
If you want the sauce to be a bit thicker with the beans, just turn the cooker onto simmer mode and simmer the beans for another 10 minutes or so and the sauce will thicken up perfectly.
Optional: Toast Dippers!
This is a really fun step. Slice up some bread and toss it with olive oil and coarse flaky salt. Then layer those on the crisper tray. Place the crisper lid on top and turn on the air fry cook setting for five minutes!
Look at these fun little toast dippers! And I cooked them literally on top of my red beans. How cool is that?!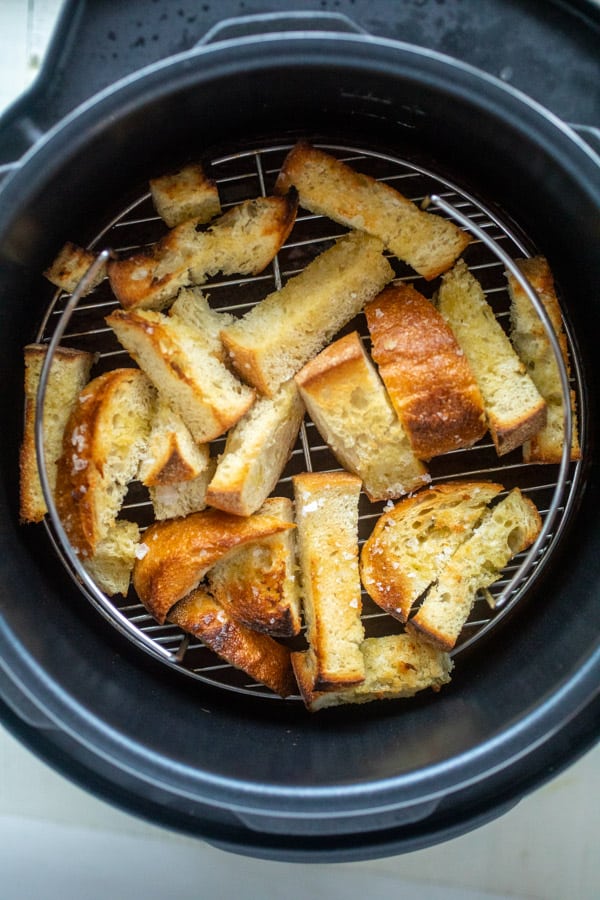 You could obviously crisp up these toast dippers in the oven as well!
Serving the red beans and rice
To serve this flavorful red beans and rice dish, ladle the beans over white rice and garnish it with fresh scallions and a dash of hot sauce. It needs nothing else. Pure comfort food perfection!
Storing leftovers
If you have leftovers (you probably will unless you are feeding a neighborhood), it keeps well in the fridge for 5 days or so or you can freeze it for up to three months. Reheat the red beans with a splash of water in a pot over low heat.
YUM!
Substitutions and other ideas
Here are some ideas for substitutions!
Make this vegetarian by leaving out the sausage and ham hock. You could use vegetable broth for the cooking liquid to add a little extra flavor.
Make this spicier by adding creole seasonings and a dash of cayenne pepper.
Instead of ham hocks, try smoked turkey as a base for the red beans.
For a change up for breakfast, try my White Beans on Toast recipe!
For leftovers, you could use the red beans for these Pinto beans Molletes!
Once that has cooked together for a few minutes and the vegetables have softened, you can add the other stuff to the pot and stir it together!
Pressure Cooker Red Beans and Rice
This classic red beans and rice recipe is comfort food at its best! It has rich, deep flavors and while it normally would take all day to simmer, it's done in about an hour thanks to the pressure cooker!
Ingredients
2

tablespoons

extra virgin olive oil

1

pound

andouille sausage

,

sliced

1

yellow onion

,

chopped

1

green pepper

,

chopped

3

stalks celery

,

chopped

3

cloves

garlic

,

chopped

1

smoked ham hock

,

optional

2

tablespoons

tomato paste

1

pound

dried red kidney beans

,

rinsed

1

teaspoon

dried thyme

1

teaspoon

Cajun spice

1

teaspoon

kosher salt

3

bay leaves

8

cups

water

Fresh scallions

,

garnish

Hot sauce

,

garnish

White rice

,

for serving
Crusty Bread:
3

slices

bread

1

tablespoon

extra virgin olive oil

Coarse Salt
Instructions
Add olive oil to your container for the multi cooker and turn on the saute function. Add sausage slices and saute for 3-4 minutes until they start to brown slightly. Add onions, celery, green pepper, and garlic. Continue to cook for 3-4 minutes until vegetables soften.

Add tomato paste, ham hock (optional), red beans, thyme, salt, Cajun spice, bay leaves, and water. The water should cover everything by at least an inch.

Stir everything together really well to combine. Put on the pressure cooker lid and cook the beans on manual high pressure for 45 minutes. After the timer goes off, let the pressure release naturally for 15 minutes. Then release any remaining pressure using the valve. Test beans to make sure they are very tender.

Taste red beans and season with salt to taste. Turn cooker onto the simmer function and simmer red beans for another 5-10 minutes to thicken the sauce.

Serve red beans over white rice garnished with fresh scallion. Optionally add hot sauce for extra spice.

Leftover red beans and rice can be stored in the fridge for up to a week or frozen for up to 3 months. Reheat red beans over low heat on the stove with a splash of water.

To make crusty toast dippers, chop bread slices into sticks. Toss with olive oil and sprinkle with coarse salt. Arrange the dippers in the top rack of the cooker. Air fry for 5 minutes to crisp up or crisp up the toast in a

400

°F

Oven.
Notes
If you don't have a multi-cooker and have a different pressure cooker model, you can saute the ingredients in a skillet and then transfer everything to the pressure cooker.
Nutrition
Serving:
1
bowl
|
Calories:
535
kcal
|
Carbohydrates:
44
g
|
Protein:
31
g
|
Fat:
27
g
|
Saturated Fat:
8
g
|
Polyunsaturated Fat:
4
g
|
Monounsaturated Fat:
13
g
|
Trans Fat:
0.1
g
|
Cholesterol:
72
mg
|
Sodium:
899
mg
|
Potassium:
1159
mg
|
Fiber:
10
g
|
Sugar:
4
g
|
Vitamin A:
277
IU
|
Vitamin C:
17
mg
|
Calcium:
115
mg
|
Iron:
6
mg
Did you make this recipe?
Here are a few other great Pressure Cooker Recipes!