When Betsy and I were hiking the Incan trail last fall we had a pretty amazing group of cooks in our porter group. By far the most impressive thing they made, in my opinion, was on the last day when they baked a freakin' cake. At about 10,000 feet. Without an oven.
And it was perfect.
I had this feeling that their baking method probably involved a dutch oven of some sort because that's the only way I could think of to get even heat.
A few weeks ago, Betsy and I went camping with some friends and they wanted to try making Campfire Cinnamon Rolls. I realized that this would be basically the same method as baking a cake! We gave it a shot and it worked like a charm. Or at least, as well as one can expect if you're baking with coals.
Campfire Cinnamon Rolls
This post will teach you how to make cinnamon rolls at home that you can cook later over a campfire!
Ingredients
DOUGH:
1

package active dry yeast

,

2.25 teaspoons

¼

cup

warm water

2

tablespoons

honey

1 ¼

cups

warm milk

,

100-110 degrees F.

4

tablespoons

unsalted butter

,

melted and cooled

2

large eggs

2

teaspoons

kosher salt

5 ½

cups

all-purpose flour
FILLING:
6

tablespoons

unsalted butter

,

soft

1 ½

cups

brown sugar

1

tablespoon

cinnamon

1

cup

raisins

1

cup

chopped pecans
GLAZE:
2

cups

powdered sugar

1-2

tablespoons

water
Instructions
At home directions:
Combine yeast with water and honey. Let sit for five minutes until bubbling. Add melted butter, salt, eggs, and milk. Then gradually mix in five cups of flour using the dough hook of a stand mixer or a wooden spoon. Mix until dough is smooth and elastic, about 10 minutes.

Lightly butter a mixing bowl and add the dough to the bowl. Let rise at room temp until doubled, about an hour.

Punch dough down and roll out onto a lightly floured surface to a large rectangle, about 12x24in.

For filling, combine brown sugar, cinnamon, pecans, and raisins.

Spread softened butter over dough and sprinkle filling on evenly. Lightly pack filling into dough.

Roll dough up starting with the long end into a tight cylinder, then cut in half. Oil a large freezer bag and add logs to freezer bag. Freeze overnight.
WHEN CAMPING:
Transport frozen dough in a freezer to camp a day before cooking. While logs are still nice and firm, slice each into 6 even rolls.

Butter a large dutch oven and arrange rolls in the pot. Let them rise at least 3 hours. I found that letting them rise overnight is fine as long as it gets cold at night (40-50 degrees).

In the morning, build a fire and add some charcoal to it which will result in more even heat. Scoop about 12-15 coals out to the side of the fire and place your dutch oven on the coals. Then place 6-8 coals on the top of the dutch oven.

Bake until rolls are cooked through, about 35-40 minutes. Maybe check them halfway through to make sure they aren't burning.

Remove pot from fire and let cool, then serve rolls with glaze. It's possible that some of the outside parts of the rolls will be slightly burned, but you can easily cut those parts off.
Nutrition
Serving:
1
Roll
|
Calories:
542
kcal
|
Carbohydrates:
109
g
|
Protein:
9
g
|
Fat:
18
g
|
Saturated Fat:
7
g
|
Polyunsaturated Fat:
3
g
|
Monounsaturated Fat:
7
g
|
Trans Fat:
0.4
g
|
Cholesterol:
55
mg
|
Sodium:
422
mg
|
Potassium:
296
mg
|
Fiber:
4
g
|
Sugar:
31
g
|
Vitamin A:
381
IU
|
Vitamin C:
1
mg
|
Calcium:
87
mg
|
Iron:
4
mg
Did you make this recipe?
Campfire Cinnamon Rolls
Making the Dough (at home)
The good part about these Campfire Cinnamon Rolls is that you actually do almost all of the work at home. Once you make the dough and filling, you just roll it up, freeze it, and then it transports perfectly to camp and slowly thaws until it's baking time the next morning!
I used my stand mixer for the dough but you could also just mix the ingredients with a wooden spoon and then knead the dough until it's smooth.
Start by adding the yeast, warm water, and honey to the bowl and let it sit until it's foaming, about five minutes. This just makes sure that your yeast is alive and well. Then you can stir in the milk, salt, and eggs. Once that's combined, slowly add in the flour until the dough is soft, smooth, and elastic.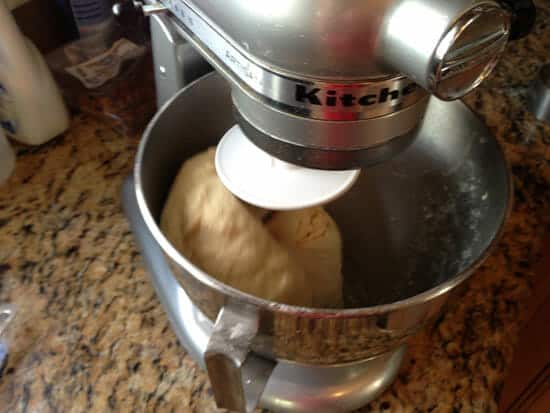 Once the dough is mixed, add it to a lightly oiled bowl and let it rise for about an hour. It should easily double in size.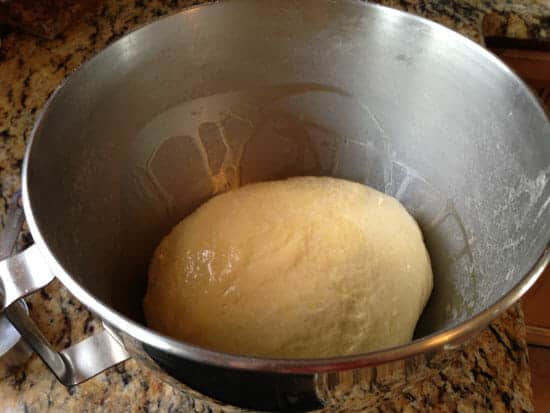 Meanwhile, you can make the filling. I recommend chopped pecans, raisins and lots of brown sugar!
Next, roll the dough out into a large rectangle on a lightly floured surface. You'll also need about 6 tablespoons of soft butter. My rectangle ended up being about 12 inches by 24 inches.
Spread the butter out on the dough and then sprinkle on the filling. Distribute it evenly and lightly press on the filling so it sticks to the dough.
Then roll op the dough tightly to form a cylinder. Cut this in half and you should see the magic of the cinnamon roll!
Place your two cylinders in a lightly oiled bag and stick them in the freezer!
Freezing them will make sure that they thaw slowly as you work your way to camp and then they will be ready to go the next morning.
Camping Time
Obviously, this recipe only works if you are car camping. It's not really realistic to bring a cooler, cast iron Dutch oven, and frozen logs of dough if you are backpacking.
Once you get to camp though, your dough should be thawed. Right before bed, just cut each of the thawed, but still somewhat firm cylinders into 6 pieces each. So, you should have 12 rolls total. Put those in a buttered dutch oven, cover it, and let them rise overnight.
This assumes that you are camping in a place that gets at least 40-50 degrees at night. If you are camping in the desert or something you'll want to do this in the morning and just let them rise in the pan for an hour or two before baking.
Overnight is best though and that's what I did.
Baking on Coals
Since you already have a car full of stuff, throw in a bag of charcoal also. It will make it much easier to control an even heat around your pan while the cinnamon rolls bake. Just let the coals get very hot and then make a bed of 10-12 charcoal pieces and place the dutch oven right on top. Also cover the dutch oven with 6-8 coals. It should look something like this!
Believe it or not, this should be plenty hot to bake your rolls. They will probably need to bake for 35-40 minutes and I recommend turning the dutch oven a few times while they bake to ensure even heating. Also, it's probably not a bad idea to check on them after 25 minutes or so just to make sure they aren't cooking too fast.
After they bake, just let them cool for a bit and then serve them up! You can make a quick glaze with powdered sugar and water if you're feeling ambitious, but also baking cinnamon rolls in a fire is pretty ambitious on it's own.
These Campfire Cinnamon Rolls came out pretty much perfect honestly. There was one side of the pan that was a bit hotter and some of the rolls were a bit charred on that side, but it was easy to just cut off those parts and dig in.
Everything tastes better while camping but these tasted really good.