I didn't really know cabbage salsa was a thing until we moved to Colorado. One of the very first times we went out to grab Mexican food here the server brought out a big basket of warm chips with standard salsa and also a small bowl of cabbage salsa.
I didn't think I would like it. After all, it's kind of a weird idea. After I tried it though, I knew the server would need to be bringing me a larger bowl!
There's a lot to like about cabbage salsa when you think about it. The flavors are fantastic but it costs almost nothing to make because cabbage is a lot cheaper than tomatoes. Also, just like traditional salsa, you can adjust the spice levels to your tastes.
Cabbage Salsa
My recipe for traditional cabbage salsa. This variation of classic salsa is perfect for snacking and really cheap and easy to make.
Ingredients
6

cups

chopped cabbage

2

cups

diced white onion

,

about 1 large onion

2

green jalapenos

,

diced

2

red jalapenos

,

diced

1

cup

diced radish

1

can

14.5 ounce can diced tomatoes

¼

cup

fresh cilantro

,

minced

2

limes

,

juice only

1

teaspoon

kosher salt

,

or to taste

Tortilla chops for serving
Instructions
Chop cabbage very finely. You can use a food processor for this, but it only takes about five minutes by hand and gives you more control.

Stir cabbage with onion, jalapenos, radish, tomatoes (with juice), cilantro, and lime juice.

Season with salt and let sit for 20-30 minutes before serving so flavors can meld.

Serve with tortilla chips and store leftovers in fridge for up to a week.
Nutrition
Serving:
1
cup
|
Calories:
25
kcal
|
Carbohydrates:
6
g
|
Protein:
1
g
|
Fat:
0.1
g
|
Saturated Fat:
0.03
g
|
Polyunsaturated Fat:
0.03
g
|
Monounsaturated Fat:
0.02
g
|
Sodium:
210
mg
|
Potassium:
142
mg
|
Fiber:
2
g
|
Sugar:
3
g
|
Vitamin A:
86
IU
|
Vitamin C:
23
mg
|
Calcium:
27
mg
|
Iron:
0.4
mg
Did you make this recipe?
Cabbage Salsa
The Basics
Most of the ingredients in this salsa are pretty standard salsa ingredients. Basically, I just replaced the tomatoes for a huge head of cabbage and some radishes for extra crunch.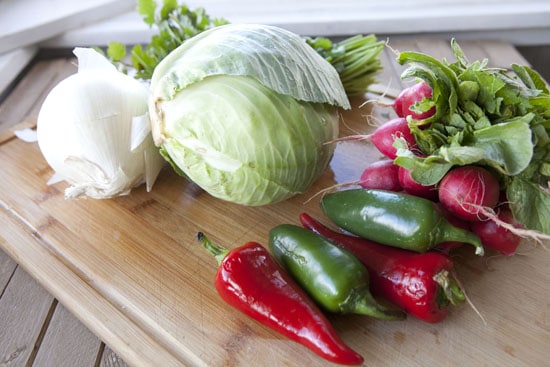 The most important part of this salsa is to make sure you take the time to get your cabbage really well shredded. I used a knife for this and it took me about five minutes, but you could also use a food processor.
Personally, I like a knife because it lets you get the cabbage to the exact size you want. I've had this salsa with large chunks of cabbage and also versions with very tiny strands of cabbage. It is totally up to you. For my homemade version, I ended up with a middle of the road shred. Not too thin and not too thick.
I used about six cups of shredded cabbage for my salsa, but you can definitely just eyeball it. It'll be fine if you use five or seven cups.
Once the cabbage is shredded, take some time to dice up your other ingredients. I used a few jalapenos along with a large white onion.
The diced radish adds a small amount of spice but also gives the salsa great crunch and color. They aren't the most important flavor in the salsa so you could leave them out, but if you have a chance toss them in.
A small can of diced tomatoes gives the salsa some acid. In the finished salsa you can almost not even see the tomatoes, but a few canned ones help even out the flavors. Don't bother draining them. Just pour in the juice and everything.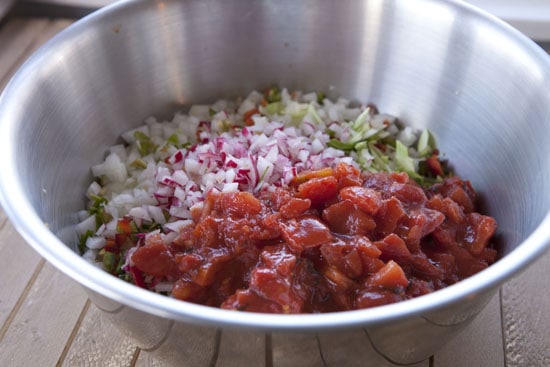 Season the salsa with a big pinch of salt, a lot of fresh cilantro, and lime juice.
Lime juice is very important. Don't skimp on it!
Stir this all together and let the flavors mingle for thirty minutes or so before serving.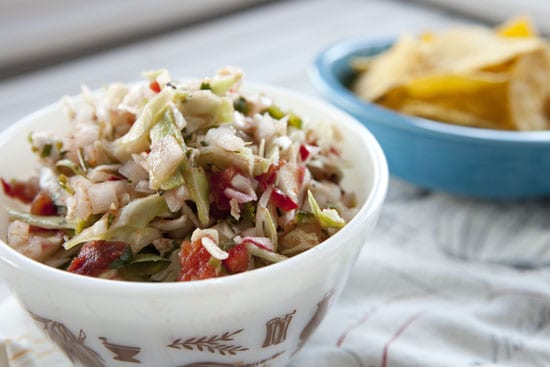 The nice thing about this Cabbage Salsa is that it gets better as it sits in the fridge. I think it's at its best on day two or three. After that it starts to degrade a bit and by day six or seven the cabbage starts to taste off.
This is way different than traditional salsa obviously, but I think most people will be surprised by how wonderful it turns out.
Has anyone had cabbage salsa before? I'm obsessed with the stuff!