Did you all think I was going to let the big football game this weekend just roll by without posting a good game recipe? Absolutely not! This Buffalo Blue Cheese Bread should be on everybody's appetizer spread.
In most sports games, the game is almost always over-hyped. The commercials are usually okay, but also over-hyped. But the food. The food is never over-hyped. It's always good. Cheesy things. Saucy things. Meaty things. You really can't go wrong with the food during the game.
This blue cheese bread recipe is something I made on special occasions, not because it's hard, but because I'll eat it all anytime I make it. It combines some traditional buffalo flavors like Blue Cheese and hot sauce on nicely toasted french bread which is easy to slice up and pass around!
Just as a warning, I wouldn't exactly call it healthy, but seriously. It's a once-a-year thing. If there was ever a day to let the old belt out a notch, it's on game day.
Prepping the cheese mixture
While some recipes will use dairy substitutions, mayonnaise is the best for this recipe as a base. There's just nothing else that can give the right texture to this dish. I think you could substitute the light stuff if you want, but it's pretty essential in my opinion.
This cheese mixture recipe only takes a few minutes to throw together. Stir the mayo with the other ingredients including sour cream, butter, scallions, and garlic in a medium bowl. Mash up the butter really well so it's not all in one big chunk. Since we're going to be spreading this on bread, you want to make sure it's an even mixture.
After it's all mixed together, grate the mozzarella and toss that into the bowl also.
This is pretty serious stuff.
The Right Bread
Bread choice is pretty important for this recipe. I went with a big French loaf which is nice and airy, toasts nicely, and will hold up to lots of toppings.
I recommend a good french bread loaf, but I guess you could slather this stuff on all kinds of different breads. You could use a baguette or a focaccia loaf also which would work well topped with this delicious buffalo mixture.
Preparing the blue cheese bread
The key part of this recipe is to toast the bread before you put on toppings. You don't need to toast it for long, but you want to make sure that it has crisped up a bit on the top and bottom.
I cut my loaf down the middle and place it on a baking sheet. Then toast the bread at 425 degrees for about 5 minutes.
Don't forget this or your final bread will be kind of soggy which isn't good at all.
Once your bread is done toasting, turn on your broiler on high to heat up. That's how you finish the bread.
Then take your hot sauce and spread it all over the bread surface. I like to use Franks hot sauce but any buffalo-style hot sauce will work. You want the bread pretty much covered in hot sauce. Frank's is the perfect hot sauce for this.
Then take your topping mixture and spread it evenly over the bread.
The key thing here is to not overfill the bread. Don't worry about using all the filling, you might have some leftovers. Just make sure there's a nice even layer over the bread. It's a pretty rich layer so no need to pile it super high.
As a final touch, and the thing that makes this all really buffalo is to sprinkle on some blue cheese right on top.
Again, no need to overdo it.
Broiling the Cheese Bread
To finish this guy off, BROIL the bread on high in your oven for about 2-3 minutes until the cheese is just starting to brown and the edges on the bread are good and toasted and golden brown around the edges.
Once it comes out of the broiler, let it rest for a minute and then slice it up into sticks which makes it easier to serve.
One or two of these blue cheese breadsticks is an awesome snack. They are spicy and cheesy and crunchy and just pretty amazing bite. Regardless of the team you are rooting for, you'll make friends with this stuff.
Buffalo Bread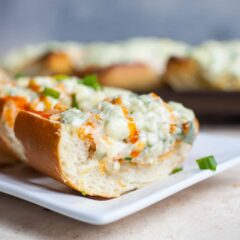 A quick and easy toasted bread that packed on traditional buffalo flavors: Hot sauce and blue cheese. Great for a party!
Ingredients
1

Loaf French bread

½

Cup

mayonnaise

¼

Cup

unsalted butter

2

Tablespoons

sour cream

8

ounces

low-fat mozzarella

,

shredded

4

ounces

blue cheese

½

Cup

hot sauce

,

Frank's is the best

1

Cup

scallions

,

chopped

4

cloves

garlic

Fresh ground pepper
Instructions
Mix mayo, sour cream, garlic, scallions, and butter in a medium bowl. Combine well.

Grate mozzarella and stir it into the mix.

Slice French bread horizontally down the middle and toast it in the oven until it's crispy, about 5 minutes at 425 should do the trick.

Spread hot sauce on bread. Make sure it's a nice even layer.

Next, pile on the mozzarella topping. This layer is really rich so there's no need to pile it too high. Just a nice even layer will do the trick.

Sprinkle blue cheese on top of bread.

Broil on high for 2-3 minutes until cheese is lightly browned and bubbling and bread edges are toasted.

Let the bread cool for a minute and chop it up for serving!
Nutrition
Serving:
1
Piece
|
Calories:
418
kcal
|
Carbohydrates:
29
g
|
Protein:
16
g
|
Fat:
27
g
|
Saturated Fat:
11
g
|
Polyunsaturated Fat:
7
g
|
Monounsaturated Fat:
7
g
|
Trans Fat:
0.3
g
|
Cholesterol:
52
mg
|
Sodium:
1129
mg
|
Potassium:
189
mg
|
Fiber:
2
g
|
Sugar:
3
g
|
Vitamin A:
599
IU
|
Vitamin C:
14
mg
|
Calcium:
341
mg
|
Iron:
2
mg
Did you make this recipe?
Here are a few other great recipes!