I had grand visions of calling this dip "Bronco Dip" because it's orange and blue (cheese).
This dip is no longer called Bronco dip after their devastating loss to the Ravens on Saturday. It is now called Tears of Loss Dip.
If you're not a football fan, hang with me. The Broncos were a huge favorite in the playoff game against the Ravens. They had won 11 straight games, they were playing at home, and they have Peyton Manning! What could go wrong?
Turns out everything can go wrong, but mostly the Broncos just played to lose. And, while I hate to admit it, they deserved to lose. They gave up the chance to win the game at the end and settled to go to overtime.
So this dip is now dedicated to all those fans out there that have to watch the rest of football season without cheering for their team (I'm looking at you SEATTLE).
Even if your team is no longer in it, we can all still collectively root against the Patriots (because they always win), and eat this Buffalo Blue Cheese Dip while we do so!
Bluffalo Blue Cheese Dip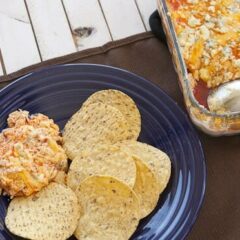 Shredded chicken simmered in tangy hot sauce and baked with lots of gooey cheese. A perfect dip for game day!
Ingredients
1½

pounds

chicken

,

poached and shredded

1

12-ounce

jar Franks hot sauce

,

buffalo is best

4

tablespoons

unsalted butter

8

ounces

cream cheese

8

ounces

cheddar cheese

,

grated

4

ounces

blue cheese

,

crumbled

Tortilla chips for serving
Instructions
Poach chicken in simmering water until it's cooked through, about 10-15 minutes. Let cool, then drain and shred. Preheat oven to 350 degrees Fahrenheit.

Return shredded chicken to medium pot with butter and hot sauce. Heat and simmer for 5-10 minutes until flavors meld.

In an 8×8 square baking dish (or 2½ quart baking dish) spread cream cheese evenly on bottom of dish.

Top cream cheese with shredded chicken mixture and top with grated cheddar and blue cheese.

Bake for 30 minutes until dip is melted and bubbly.

Serve immediately with tortilla chips!
Nutrition
Serving:
1
Cup
|
Calories:
571
kcal
|
Carbohydrates:
4
g
|
Protein:
40
g
|
Fat:
43
g
|
Saturated Fat:
21
g
|
Polyunsaturated Fat:
5
g
|
Monounsaturated Fat:
13
g
|
Trans Fat:
0.4
g
|
Cholesterol:
162
mg
|
Sodium:
2694
mg
|
Potassium:
399
mg
|
Sugar:
2
g
|
Vitamin A:
935
IU
|
Vitamin C:
2
mg
|
Calcium:
514
mg
|
Iron:
1
mg
Did you make this recipe?
Buffalo Blue Cheese Dip
Starting the Dip
This dip has some serious flavor and packs a real punch thanks to a whole bottle of hot sauce. At the same time, it's very easy to make.
For this particular version, I just used some chicken strips, but if I'm making this for a big crowd, I'll actually just poach a whole chicken and shred it which is better, in my opinion, because you get a nice mix of white and dark meat.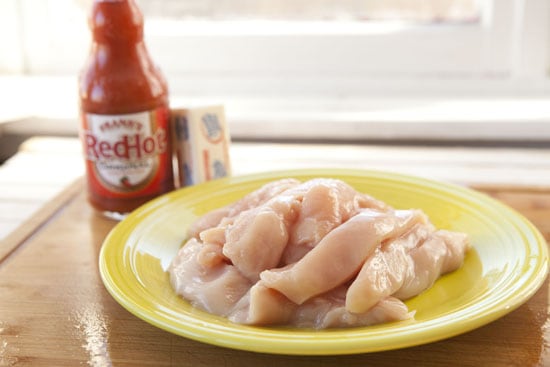 Obviously if you are using a whole chicken, you would want to double all the other ingredients in the recipe and upgrade the baking vessel to a 9×13 baking dish.
As-is though, just poach the chicken in a few inches of simmering water for 10-15 minutes until it is just cooked through. Then drain the chicken and let it cool briefly.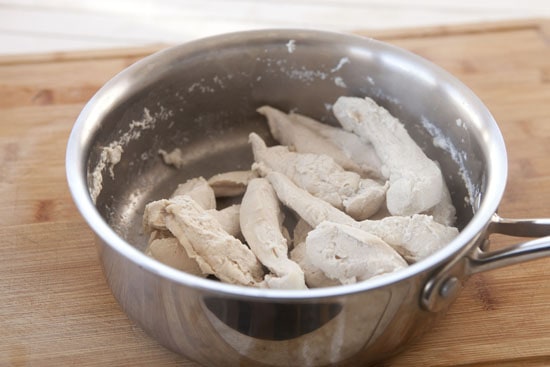 When the chicken is cool enough to handle, shred it with a few forks and add it back to the pot with some butter.
Okay, kind of a lot of butter.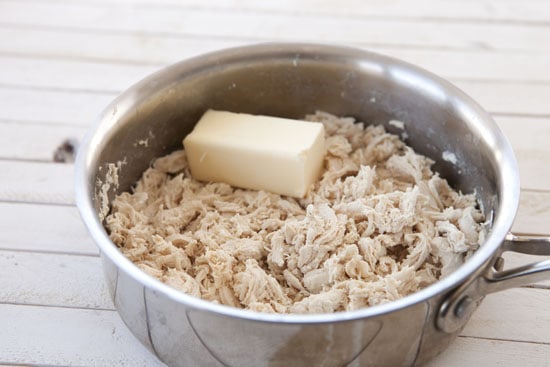 And a whole bottle of hot sauce! I really prefer Frank's for this recipe. Their standard recipe or their buffalo sauce blend both work great for this recipe.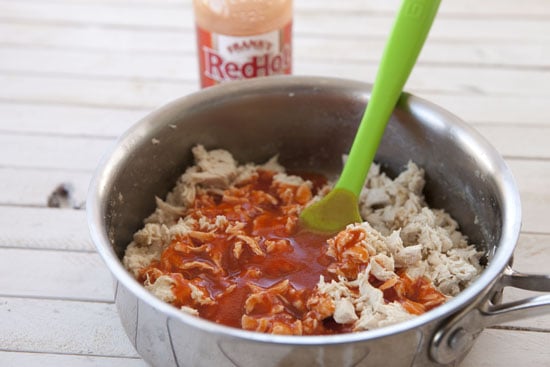 Stir the sauce in with the shredded chicken and let it simmer for about five minutes so the flavors can blend nicely and the chicken gets seasoned well.
Finishing the Dip
In your baking dish, spread out the cream cheese in the bottom of the dish. This kind of becomes a hidden layer in the final dip, but it makes a big difference.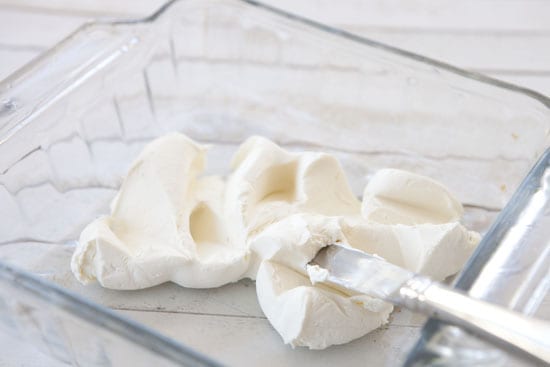 Next, pile in your spicy shredded chicken.
You should have a nice thick layer of chicken on the cream cheese.
Now you just need a few different cheeses. Honestly, I've made this with just shredded cheddar and it's great, but the blue cheese adds a great kick.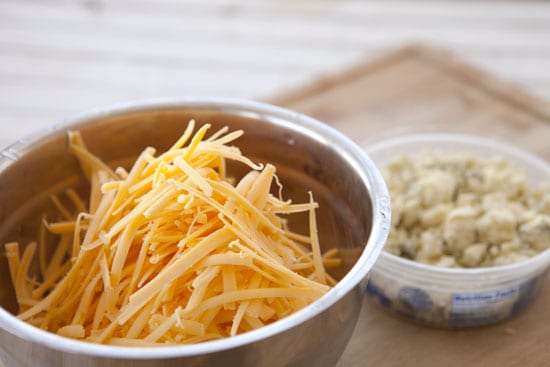 Pile on the cheeses and the dip is ready to bake!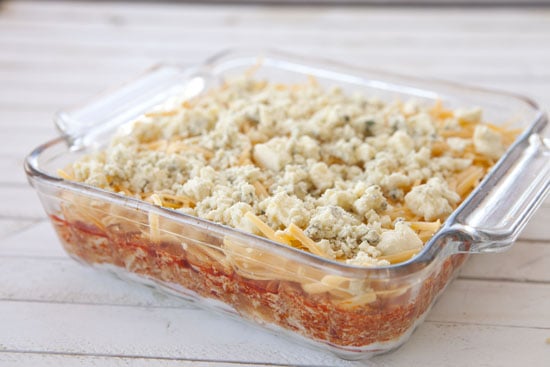 Bake this sucker for about 30 minutes at 350 degrees Fahrenheit until it's melted and bubbly.
This Buffalo Blue Cheese Dip will cure any sports fan remorse.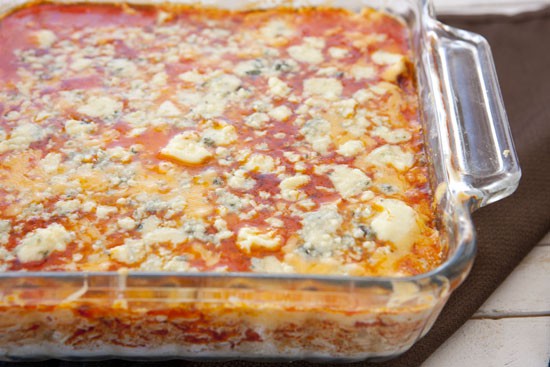 Serve it with lots of tortilla chips and cold beer.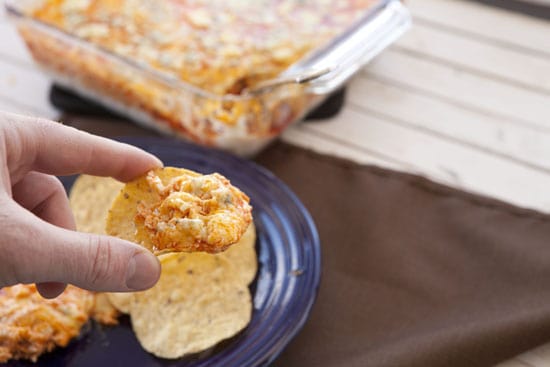 If your team loses a game that they should've one, remember: There's always next year and there's always more dip!