In the late summer months, I usually try to eat between 1 million and 100 million BLT sandwiches. That's a rough estimate but pretty close.
This year, though, I slacked a bit on my BLT quota during prime tomato season.
To make up for it, I decided to put a BLT twist on a simple Tex-Mex quesadilla. I'm not going to promise that you'll like BLT quesadillas more than a classic BLT sandwich but they do feel like more of a complete meal and you'll probably like it more than a classic BLT sandwich because MELTY CHEESE.
Summer is rapidly closing and the end of good tomato season isn't far behind it. If you're going to make these, the time to make them is like… TODAY.
BLT Quesadillas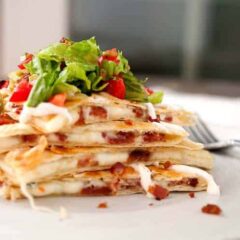 BLT Quesadillas filled with crispy bacon and spicy cheese and topped with a fresh tomato salad. A delicious twist on the classic Tex-Mex quesadilla.
Ingredients
6

strips bacon

,

crispy (save grease)

6-8

ounces

pepper jack cheese

,

grated

4

medium

,

8-10 inch flour tortillas

1

large ripe tomato

1

cup

chopped Romaine lettuce

¼

cup

sour cream

1

lime

,

juice only

Salt and pepper
Instructions
In a medium bowl, stir together chopped lettuce and chopped tomato. Season with salt and pepper and set aside until needed. Stir together sour cream and lime juice in a small bowl.

Cook bacon in a skillet over medium-low heat until the fat has rendered out and it's very crispy. Remove bacon and drain off grease. Save grease.

Wipe the skillet out and add a teaspoon of bacon grease back in. Place skillet over medium heat and add one tortilla. Top with half of the cheese and crumbled bacon. Top with second tortilla. Cook for 3-4 minutes per side until quesadilla is crispy and cheese is very melted.

Remove quesadilla from skillet. Chop and serve immediately with a drizzle of sour cream sauce or keep warm in a 200 degree F. oven while you make more quesadillas.
Nutrition
Serving:
1
Quesadilla
|
Calories:
682
kcal
|
Carbohydrates:
11
g
|
Protein:
31
g
|
Fat:
58
g
|
Saturated Fat:
28
g
|
Polyunsaturated Fat:
5
g
|
Monounsaturated Fat:
20
g
|
Trans Fat:
0.1
g
|
Cholesterol:
136
mg
|
Sodium:
962
mg
|
Potassium:
475
mg
|
Fiber:
2
g
|
Sugar:
4
g
|
Vitamin A:
3433
IU
|
Vitamin C:
19
mg
|
Calcium:
692
mg
|
Iron:
2
mg
Did you make this recipe?
The Lettuce Tomato Part
What I didn't want to do here was put the lettuce and tomato in the quesadilla. That seemed a bit silly because the lettuce would just wilt and the tomatoes would water down the filling and make a bit soggy mess.
Instead, keep the veggies nice and fresh. Chop them up and season them with some salt and pepper. That's all they need! Set this simple mix aside and top your BLT quesadillas with it later.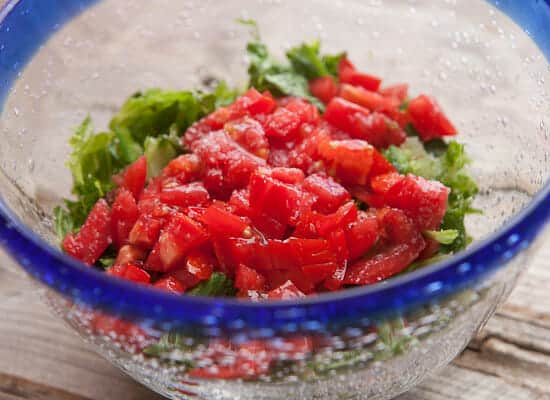 BLT Quesadillas
The "B" stands for bacon and you'll need it. You don't actually need a ton of it though to make these great. You actually need less than I would normally put in a sandwich.
I think three strips, cooked crispy and crumbled is more than enough for a single quesadilla. So if you are cooking 2 'dillas, you'll need six strips. Math.
Cook it over medium-low heat in a skillet so the fat renders out and the bacon gets really crispy. You could also bake the bacon if you want.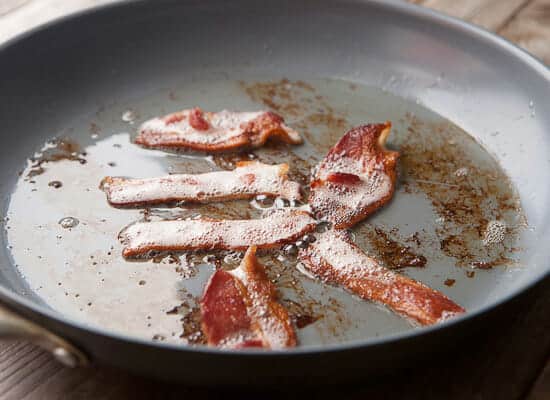 Most importantly, save the bacon grease after the bacon is done cooking. You won't want all of it, but a little bit of it will add some excellent flavor to our BLT quesadillas later.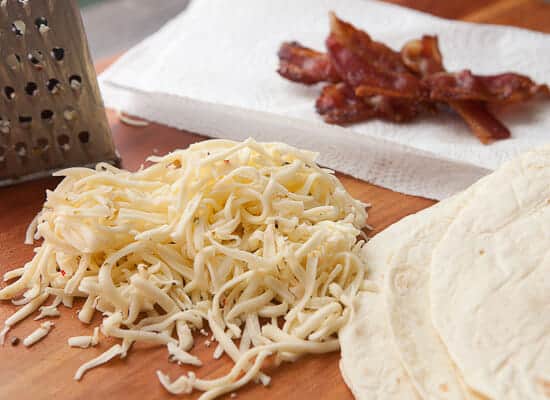 To start a 'dilla, add about a teaspoon of bacon grease in a skillet over medium heat. Rub a medium tortilla in the grease to coat it. Then pile in the cheese and bacon. A big handful of cheese is usually enough. No need to get crazy. But you can get crazy if you want, I guess.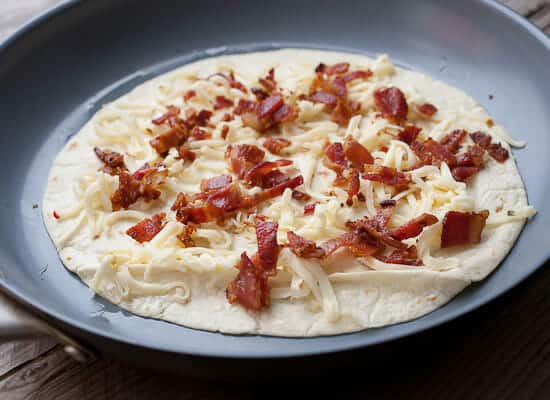 Top this sucker off with a second tortilla and cook it over medium heat for 3-4 minutes per side. The cheese should be completely melted and the tortilla nice and crispy on both sides.
Temperature control is important for these. If you cook them too hot, the tortillas will burn and the cheese will be unmelted. Not ideal. So take your time and let them cook slowly.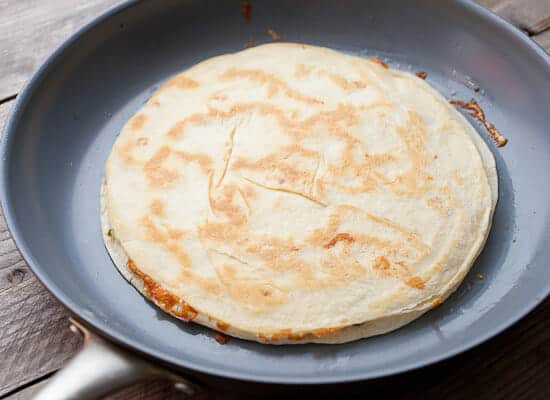 You can serve these immediately when they come out of the skillet or keep them warm in a 200 degree F. oven while you make more.
Top each quesadilla with big scoops of the tomato mixture and a drizzle of sour cream sauce (sour cream + lime juice).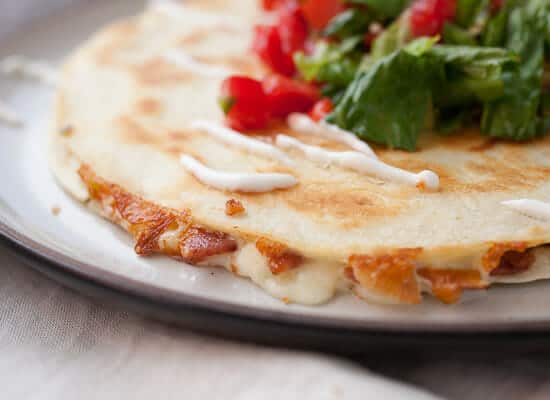 I kind of like to chop mine up so you can see the filling.
BLT Quesadillas are good stuff.
PS. If you want to make these in non-prime-tomato season, use grape tomatoes and chop them up. That'll work just fine!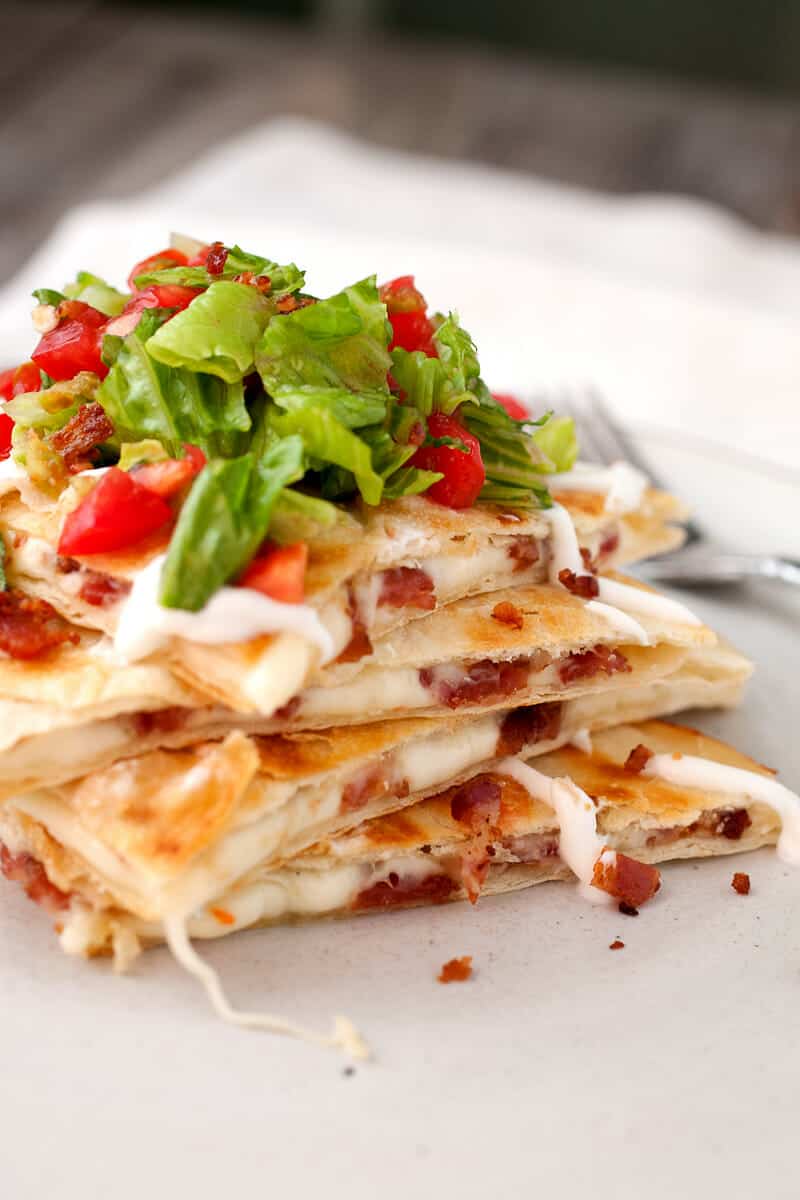 Need more Tex-Mex?