This post is sponsored by Suriny Rice Bran Oil.
There are a few keys to a good savory griddle cake.
First, I like my griddle cakes to have some crunch to them. I want a nice crust on the outside that's lightly browned and can hold up any toppings I decide to pile on.
Second, I like to freshen up the flavors of the traditional cake with a slightly spicy salsa. You can practically make a meal out of these corn griddle cakes by topping them with some sour cream (or Greek yogurt) and a few big spoonfuls of the salsa in this recipe.
Adding sweet corn and green chiles to the batter? Well, that just makes sense. Let's dig in!
Corn and Green Chile Griddle Cakes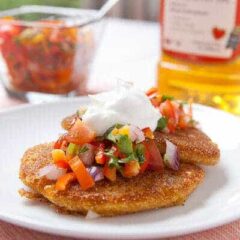 Slightly spicy and sweet green chile and corn griddle cakes pan fried rice bran oil and served with a fresh sweet pepper salsa.
Ingredients
¾

cup

cornmeal

¼

cup

all-purpose flour

1

teaspoon

baking powder

1

teaspoon

sugar

½

teaspoon

baking soda

½

teaspoon

salt

½

teaspoon

chili powder

¾

cup

buttermilk

1

large egg

3

tablespoons

unsalted butter

,

melted

1

cup

sweet corn

4

ounces

green chiles

¼-⅓

cup

rice bran oil

,

for cooking

Sour cream

,

for serving
Salsa:
½

red onion

,

chopped

1

cup

sweet peppers

,

chopped

1

cup

cherry tomatoes

,

chopped

2

scallions

,

chopped

2

tablespoons

cilantro

,

chopped

½

teaspoon

salt

1

lime

,

juice only
Instructions
For salsa, combine chopped ingredients in a medium bowl and add lime juice. Season with salt and set aside until needed.

Stir together dry ingredients for griddle cakes in a medium bowl.

Add buttermilk, egg, and melted butter. Stir until combined and then fold in sweet corn and green chiles.

In a large cast iron skillet, heat rice bran oil over medium heat. Once hot, add batter in ¼ cup amounts. Let fry for about 3 minutes per side. Gently flip.

When cakes are done frying, remove and let dry on a paper towel.

Serve griddle cakes with sour cream and big spoonfuls of pepper salsa.
Nutrition
Serving:
1
Griddle Cake
|
Calories:
230
kcal
|
Carbohydrates:
24
g
|
Protein:
5
g
|
Fat:
14
g
|
Saturated Fat:
5
g
|
Polyunsaturated Fat:
3
g
|
Monounsaturated Fat:
5
g
|
Trans Fat:
0.2
g
|
Cholesterol:
34
mg
|
Sodium:
500
mg
|
Potassium:
251
mg
|
Fiber:
3
g
|
Sugar:
5
g
|
Vitamin A:
910
IU
|
Vitamin C:
32
mg
|
Calcium:
72
mg
|
Iron:
1
mg
Did you make this recipe?
Corn Griddle Cakes
The Salsa
Before we get too deep in the griddle cake situation, let's talk about the salsa. It involves some chopping, sure, but is so very worth it. The flavors are really fresh and delicious. To be honest, I could eat this almost like a salad or with some chips.
It goes so awesomely with the sweet corn and green chiles.
The peppers I used for this salsa are the tiny little sweet peppers that come in a bag. If you can't find them though, just use a mix of red, orange, and yellow peppers. Probably 1/2 a pepper of each would do the trick just fine.
Griddle Cake Time
This is a really simple batter to mix up. Start by stirring together your dry ingredients in a bowl.
Then add the wet stuff (buttermilk, butter, and egg). Finally fold in the delicious add-ins. Try not to over-mix the batter.
What's Rice Bran Oil?
To be honest, I had never used or heard of rice bran oil before the people at Suriny contacted me and asked me if I wanted to try it out. I said sure, why not?
Rice bran is the coating between a rice kernel and the rice husk. It's frequently discarded when making white rice so it's great to have a use for it.
I cooked with it for a few weeks and found it to be a really great oil to use in all kinds of things. It emulsifies easily and has a light, almost sweet flavor so it's great in salad dressings and stuff.
Because it has a high smoke point, it's also great for frying. Much better than olive oil and I found that my food absorbed less oil (unscientific observation).
I added a few glugs of the oil to my cast iron skillet and fried my corn griddle cakes for about 3 minutes per side until they were a perfect golden brown.
Here's the problem with Suriny oil: It's so new in the US, that you might have a hard time finding the stuff!
You have two options if you want to give it a go:
1) Ask your grocer to carry it! If you give your grocer this info, they can order it:
2) If you just can't wait though, you can order it online!
When you get to the Pay screen on the order, click "ADD" to add a special instruction and enter "Refund 50% Code: 0214" like this:
Note because of the way Paypal works, your card will be charged for the full amount and then they will refund you the 50% back on your card as soon as possible. This offer excludes shipping costs and is valid until November 30, 2014.
I know it's a bit of extra work to get the discount, but it's a great small company making a really interesting product so do try them out if you're interested!
Ok. But seriously though.
How good do these griddle cakes look?
Leave a comment if you've ever cooked with rice bran oil!
It's a new thing for me, but I love cooking with it so far and have no idea why it isn't more popular here in the US.