Someone can disagree with me if they so choose, but I'm fairly certain that French sauces are the most intimidating thing in the cooking universe. They sound complicated. They look difficult. They taste delicious and therefore must be difficult. This Asparagus with Bearnaise Sauce is a classic example. Simple ingredients, but incredible flavors.
Unless you go to culinary school it's damn hard to get someone to actually explain how to make a sauce like this correctly.
Since I've made Bearnaise like three times (Bearnaising .1000), I will take a stab at explaining how I made it. I was really happy how it turned out and found myself tasting it and re-tasting it not to change the flavors but just to eat as much of it as possible.
Then I drowned some roasted asparagus with the sauce and ate all of it , and let me tell you, this Asparagus with Bearnaise is good stuff!
Roasting the Asparagus
Before we talk about the sauce, let's talk about the vegetables. For this Asparagus Bearnaise recipe, I just roasted it very simply with a few spices and seasoning. If you don't cook with asparagus a lot, the trick to cleaning it is to hold the larger end in your hand and press on it with your thumb. The asparagus will naturally snap where hard part meets the soft part.
If you are in a hurry, you could probably just chop off the bottom 2 inches of all of the asparagus and get close. I like the snap method though.
Once you have your asparagus cleaned and snapped, just toss them with some olive oil, salt, pepper, and red pepper flakes. Then toss them all on a baking sheet.
Bake these guys at 400 degrees F for about 12 minutes until they are bright green, slightly soft, but still have some crunch to them. They shouldn't be completely soggy.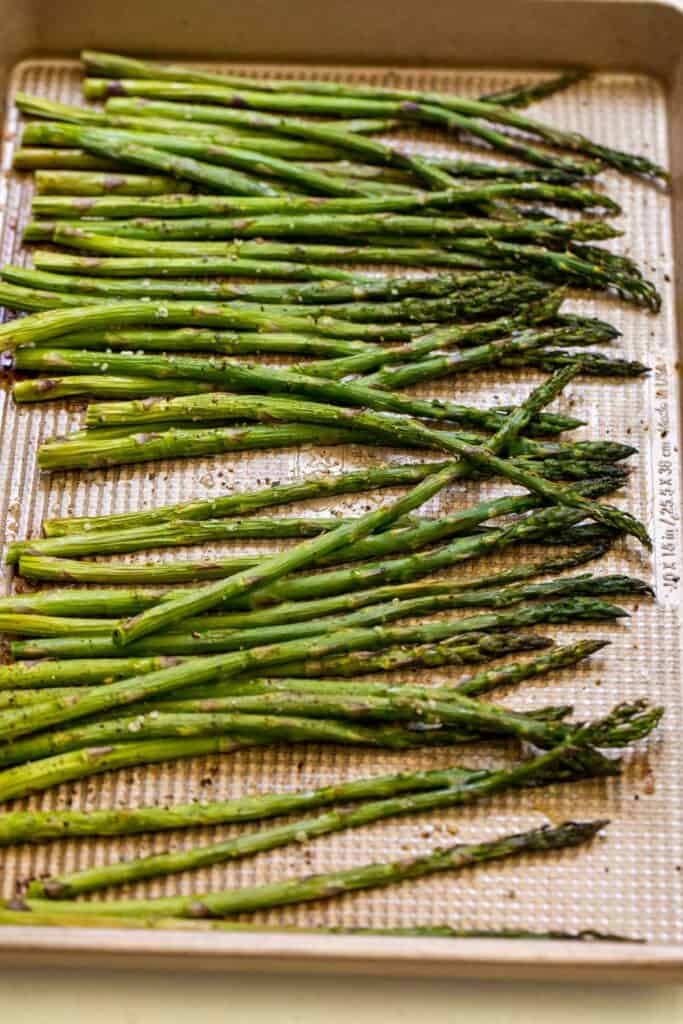 If you're good, it should almost take the same amount of time to roast the asparagus as make the sauce, but if it's your first time, the sauce will take you more time. At least, it took me more time…
Keep the asparagus warm in the oven (but turn off the heat) until the sauce is done.
Making the Bearnaise Sauce
If you've ever made a hollandaise sauce for eggs benedict, then this will look very familiar. It's essentially the same technique but has some extra flavors in it, most importantly tarragon.
Start the recipe by adding the vinegar, shallot, crushed peppercorn, and 2 tablespoons of the tarragon to a small saucepan.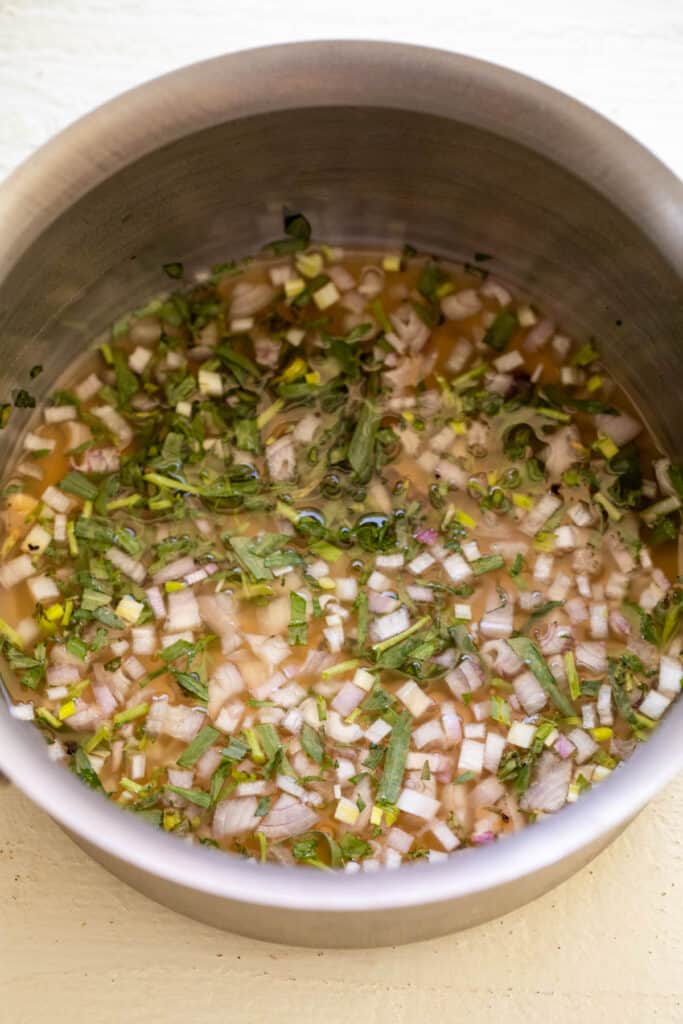 Traditionally, you should use half vinegar and half white wine for this recipe but I used all vinegar because it's what I had. It still tasted delicious. Also, I'm not sure that apple cider vinegar is the traditional choice, but whatever.
French chefs are hating me right now and I haven't even started the sauce.
Put this saucepan over medium heat and let it cook down until it reduces by half. All of the flavors will be concentrated in a very tiny amount of liquid.Lots of flavor here.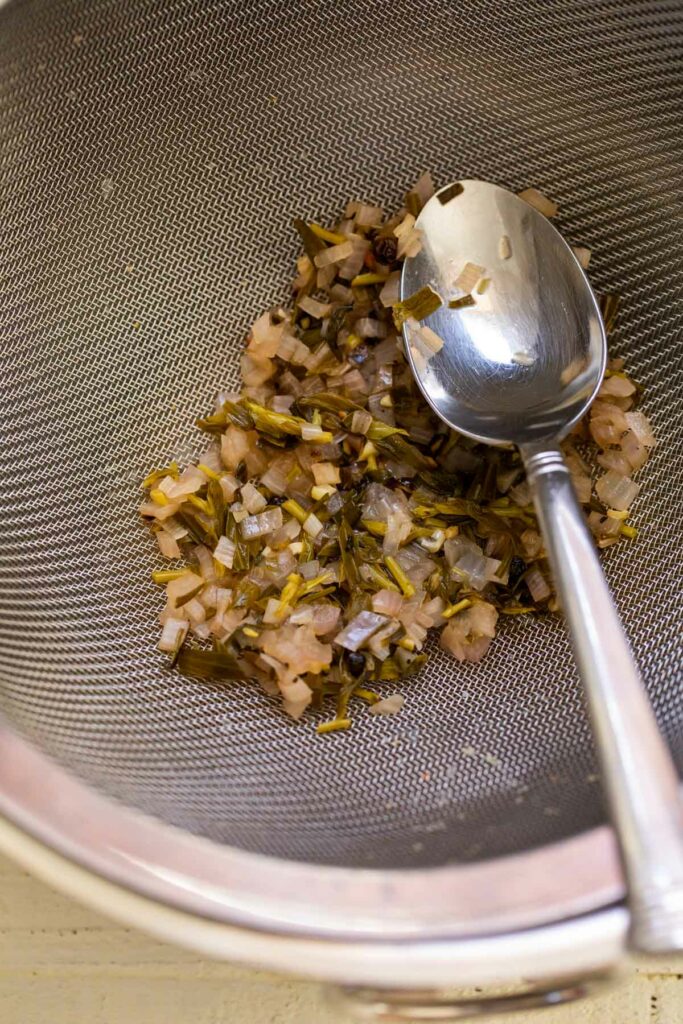 In a medium mixing bowl, whisk together the lemon juice, water, and salt and then strain this vinegar mixture into that liquid. Use a spatula to really press the liquid out of the shallots. You don't want to actually add the shallots to the sauce though. That would be way too much onion flavor.
From here on out, it is basically like a hollandaise sauce! Melt the butter in a microwave (no need to clarify it) and whisk the egg yolks into the vinegar/water mixture.
Then place the yolks over a double boiler (I just use a small pot with simmering water) and whisk like crazy. As the yolks heat and combine with the water, they will start to foam and basically double in size. When this happens, it's time to start adding the melted butter. If you happen to have an instant read thermometer, don't let the egg mixture get above 150˚F or the eggs will start to cook. I usually stop mine around 140˚F just to be safe.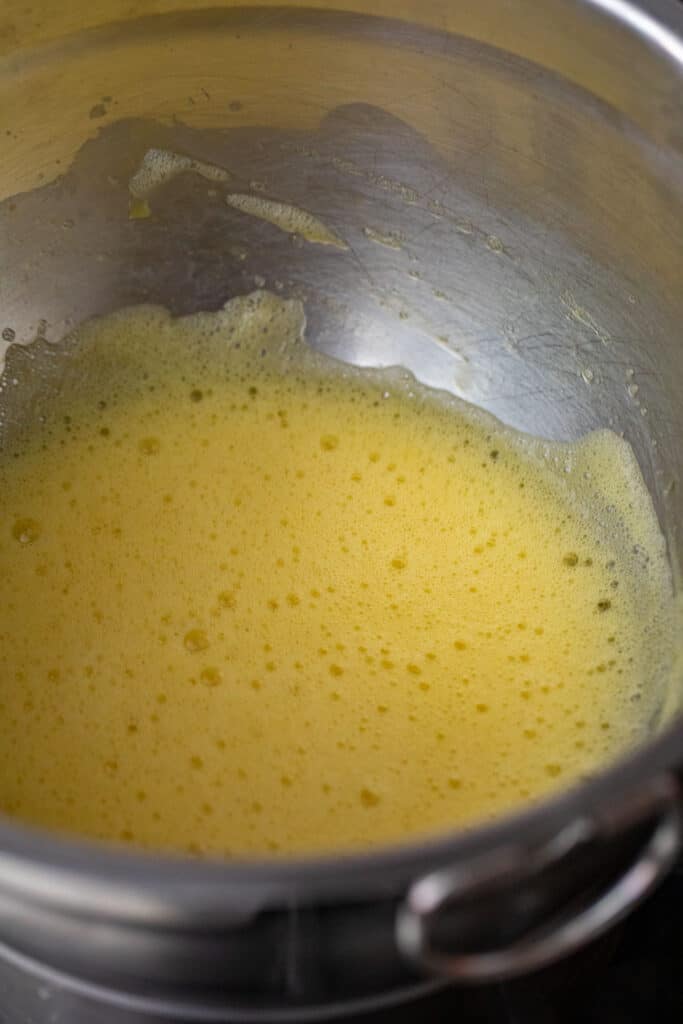 Note: Don't do other stuff during this process. It's very easy to over-cook the eggs. If they harden because they get too hot, you basically have to start over.
When you start adding the butter, add it just a few drops at a time to start.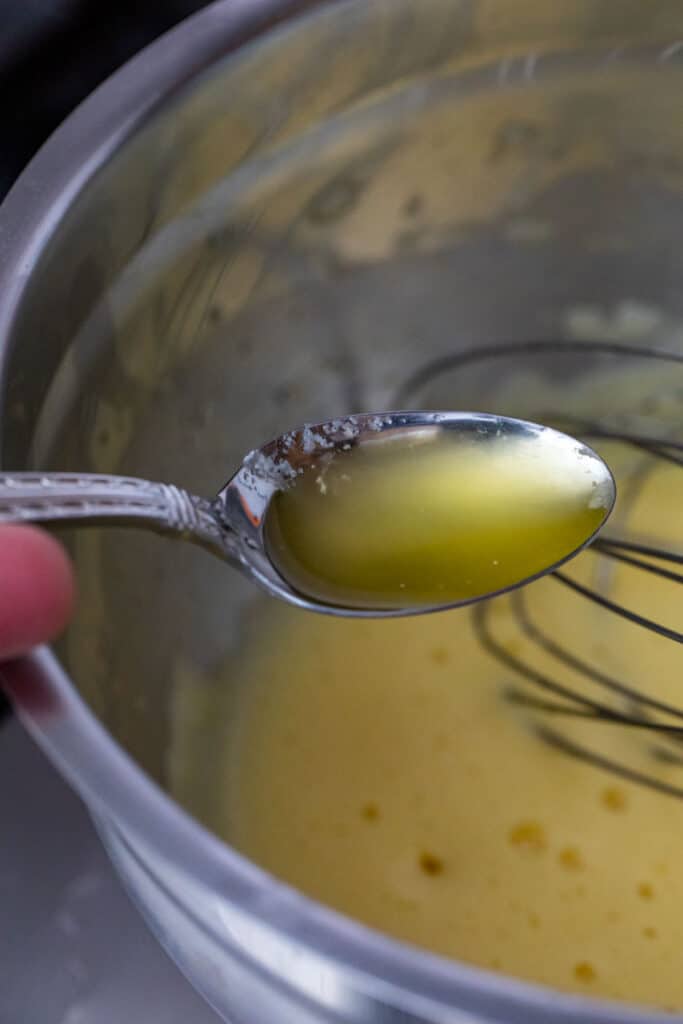 As you whisk in the drops of butter, the sauce should start to turn smooth and silky. After a few rounds of drops of butter, you can start to whisk the butter in using a thin stream. Don't just dump it in, but pour it in slowly as you whisk furiously. If you're fast, you can do this while the yolks are over the double boiler, but frankly, I like to take mine off so I can just focus on the whisking. It's important to return it briefly to the heat source as you whisk though.
After all the butter is incorporated, whisk in fresh tarragon if you want. Even if you don't use the fresh tarragon, it'll have lots of tarragon flavor.
Your sauce is done!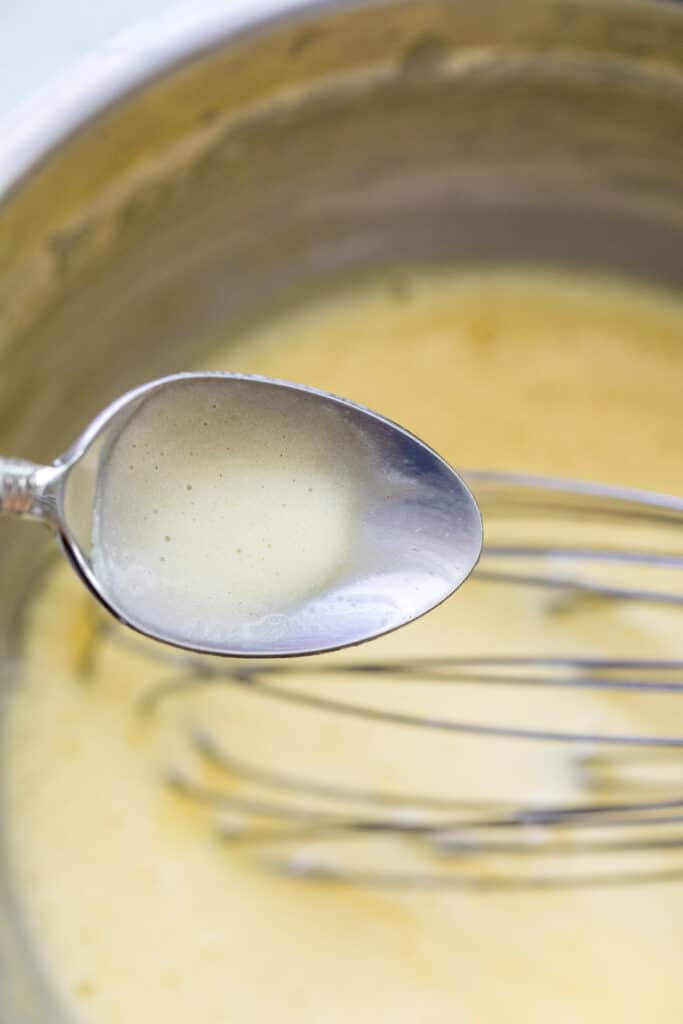 You should use it immediately for asparagus bearnaise or cover it with some plastic wrap on the surface of the sauce. It'll keep okay for an hour or two, but won't keep much longer than that. I've heard that it's possible to store and reheat the sauce, but I've never tried it and I have my doubts that the sauce would be as good on day two.
That said, you can freeze the sauce if you let it cool and vacuum seal it and then reheat it slowly while whisking.
What Can Go Wrong?
Three things I think.
1) You over cook the eggs. You're screwed. Start over.
2) The sauce is too thick. This can happen if you don't have enough water in the sauce. As you whisk the butter in, it will turn very thick (think mayonnaise). If this happens, whisk in a teaspoon of cold water and it should normalize.
3) The sauce breaks. If the butter separates out and it looks gross, don't fret. It will look like a disaster but is actually salvageable. Just whisk together a fresh yolk and a tablespoon of water in a separate bowl. Then slowly whisk the broken sauce into the fresh yolk over the heat source. It should blend perfectly. (This happens to me like 20% of the time when I make hollandaise and this is how I fix it.)
For how few times I've made Bearnaise, I really thought it turned out great. If I'm being very critical, it was maybe a tiny bit on the thin side, but held well and had great flavor. It was awesome with the asparagus.
One extra note: This bearnaise recipe makes more than you'll need for the asparagus alone. Maybe make a steak for the extra? It's kind of a hard recipe to half honestly, so I would just make a few extra things you can slather in the sauce.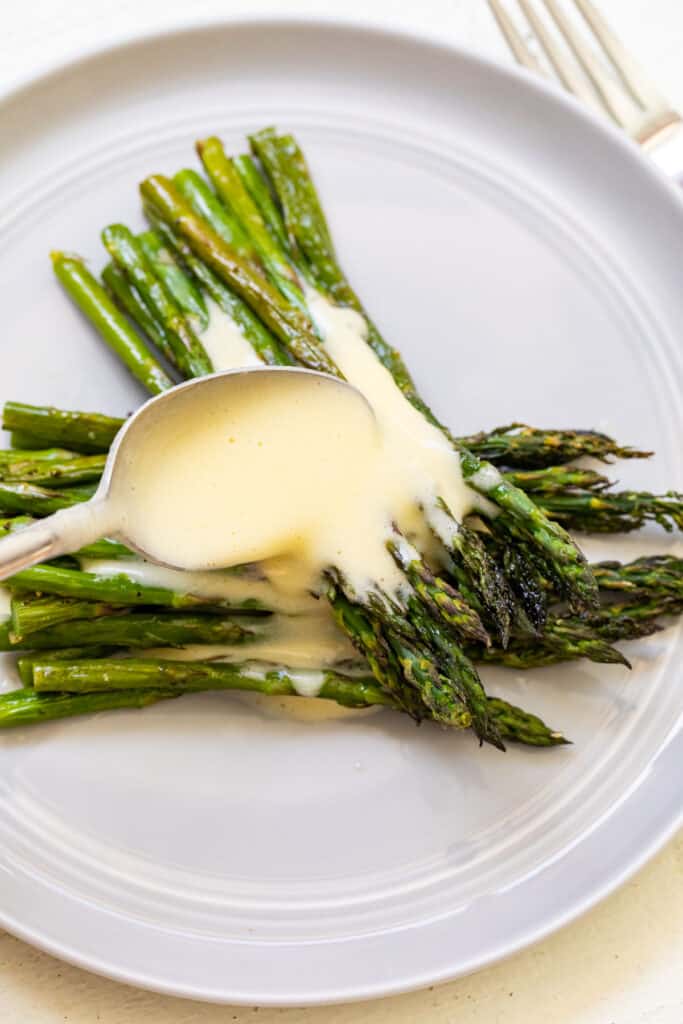 Asparagus with Bearnaise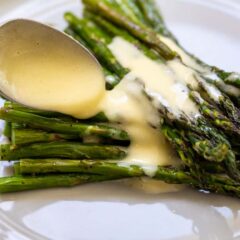 Spicy Roasted asparagus covered with a classic homemade French Bearnaise sauce. This is the perfect spring side dish!
Ingredients
2

large bunches asparagus

2

tablespoons

olive oil

½

teaspoon

kosher salt

½

teaspoon

black pepper

¼

teaspoon

red pepper flakes
Classic Bearnaise Sauce:
¼

cup

apple cider vinegar

¼

cup

fresh tarragon

,

minced and divided in half

6

black peppercorns

,

crushed

1

tablespoon

minced shallot

4

teaspoons

water

2

teaspoons

lemon juice

½

teaspoon

salt

3

large egg yolks

1 ¼

cups

unsalted butter

,

melted
Instructions
For the Asparagus:
Snap off hard ends of asparagus and toss with olive oil, salt, pepper, and red pepper flakes.

Lay out asparagus on a baking sheet and bake at 400 degrees Fahrenheit for 10-12 minutes until they are bright green, slightly crunchy still, but cooked through. Keep warm until serving.
For the Bearnaise sauce:
Combine vinegar, 2 tablespoons fresh minced tarragon, shallot, and crushed peppercorns in a small saucepan. heat over medium heat until the mixture reduces by half.

In a medium mixing bowl, whisk together water, lemon juice, and salt. Strain in the vinegar mixture and use a spatula to press the liquid through the mesh strainer.

Whisk yolks into the mixture. Place yolk mixture over a double boiler (I just use a small pan with simmering water). Whisk the yolks constantly as they heat until the yolks are doubled in size and foaming. Be careful not to cook the eggs!

Once the yolks are foaming, start whisking in melted butter. Start with just a drop or two of butter and whisk it in. Once the emulsion starts to hold, you can whisk in the rest of the butter in a steady stream though. If it looks really thick at any point, whisk in a teaspoon of cold water.

Once the sauce is made, serve immediately or store the sauce with some plastic wrap on the surface for up to an hour or two.

Serve asparagus with the bearnaise sauce.
Nutrition
Serving:
1
Side
|
Calories:
632
kcal
|
Carbohydrates:
3
g
|
Protein:
4
g
|
Fat:
68
g
|
Saturated Fat:
39
g
|
Polyunsaturated Fat:
4
g
|
Monounsaturated Fat:
22
g
|
Trans Fat:
2
g
|
Cholesterol:
298
mg
|
Sodium:
601
mg
|
Potassium:
174
mg
|
Fiber:
1
g
|
Sugar:
1
g
|
Vitamin A:
2201
IU
|
Vitamin C:
3
mg
|
Calcium:
78
mg
|
Iron:
2
mg
Did you make this recipe?
Is anybody a homemade Bearnaise fan or expert? Leave a comment!
What to serve with Asparagus Bearnaise
This recipe was made to serve alongside a good brunch dish like maybe this Sheetpan Quiche or my Quiche Florentine. It's also a nice side dish for hearty grilled fare like this Chile Grilled Steak or this sous-vide flank steak. I can see it being really great with these Twice Baked Breakfast Potatoes from Spoon Fork Bacon also!