This time of year I'm itching for cooler temperatures, the holidays, and fall recipes! This Apple & Brie Grilled Cheese is one of my favorites to bring in some quick fall flavors. It's a great sandwich to make for a quick weekend lunch and kids and adults love it.
Apples are a big part of fall for most people. We don't really have an apple-picking culture in Colorado, but I remember it from when Betsy and I lived in DC and I still sort of miss it. Bringing home more apples than you could ever conceivably eat was about as Americana as it gets.
This Apple & Brie Grilled Cheese is the perfect intro to fall and to apple season. The trick to making it work is to sautee the apples with a little sugar and cinnamon first, basically creating a pie filling without the pie. Then add those to bread with a thick layer of brie cheese.
Brie works well with grilled cheese, but you have to be careful not to cook it too long or the brie will actually get too melty if you can imagine such a thing.
I don't think I need to tell you how well all these flavors go together. Raise your hand if you're ready for fall!
Cooking the Apples for this Grilled Cheese
I've made this grilled cheese a few different ways over the years. If you are making a bunch of these sandwiches, it makes sense to actually bake the apple slices sprinkled with cinnamon sugar, but that takes longer than tossing them in a skillet.
If you are just making a few sandwiches and need one apple, peel the apple and add the slices to a skillet with some butter. Cook the apple slices over medium heat with a sprinkle of cinnamon sugar.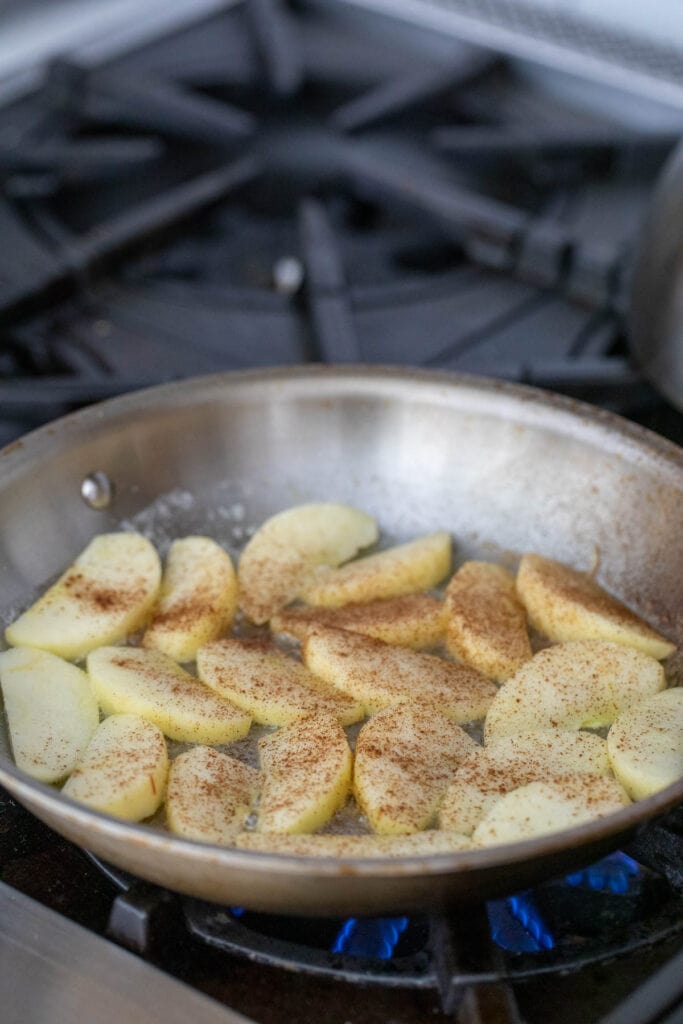 Cook the apples until they are tender and soft and even slightly browned on the edges. But, don't cook them so long that they turn mushy. They should still be in distinct slices.
NOTE: If you want a crispy apple in your sandwich, that's fine! Just toss the apple slices with some cinnamon and sugar and add them to the sandwich. Slice then thin and they will be crunchy in the sandwich, which some people prefer.
What apples work best for grilled cheese?
I would say any apple that you could use for a pie filling will work well for these sandwiches. I've used honeycrisp apples, gala apples, and even a granny smith apple and they all work well depending on what you have and what flavors you like.
I would stay away from the larger red delicious apples, which can get a bit mushy if you cook them.
What bread works well for these sandwiches?
I used a sturdy sandwich bread on this particular day, but I've used a variety of breads for this grilled cheese.
A good sourdough bread works well or I think something like pumpernickel would work really well also.
You want a bread that toasts well and can hold up to the filling without falling apart.
Instructions for the Apple & Brie Grilled Cheese
Spread softened butter on each slice of bread and place them in a skillet or on a griddle over medium-low heat. Make sure your heat isn't too high or the bread will burn before the cheese is melted.
Add the brie and the apples! You can slice the rind off the brie but some rind left on is fine.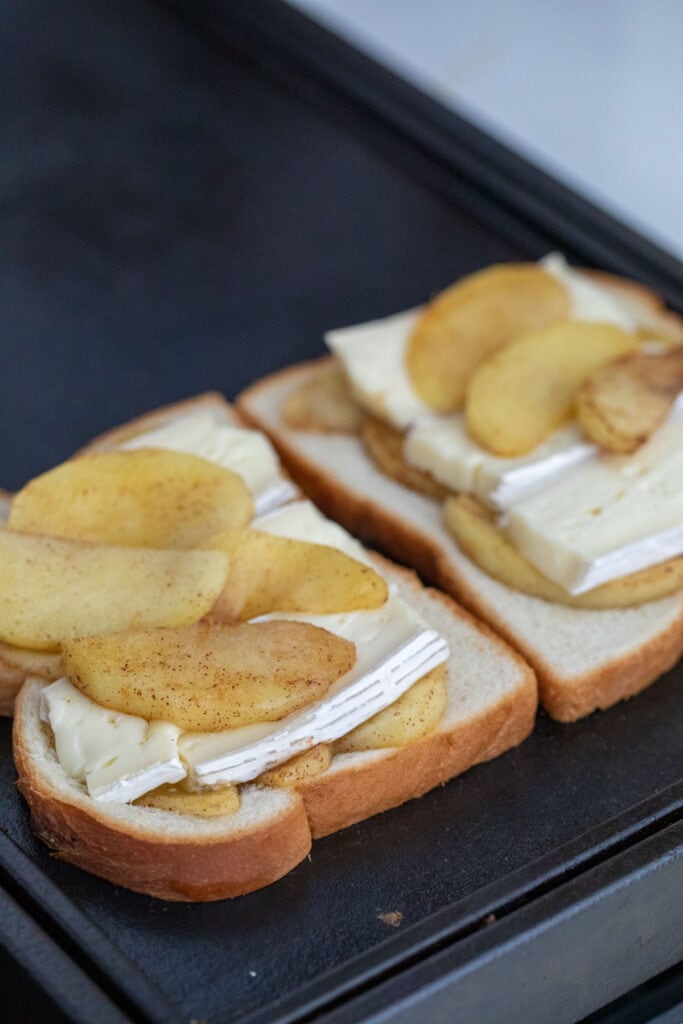 Sprinkle the butter with cinnamon and sugar on each side of the sandwich. Cook the sandwiches for about 3-4 minutes per side until the bread is golden brown. Brie melts really easily and can actually get too melted if you overcook the sandwiches.
Assuming you don't do that though, you're left with a real treat of a grilled cheese sandwich.
These are fall comfort food at its best!
Make these apple brie grilled cheese sandwiches happen, team!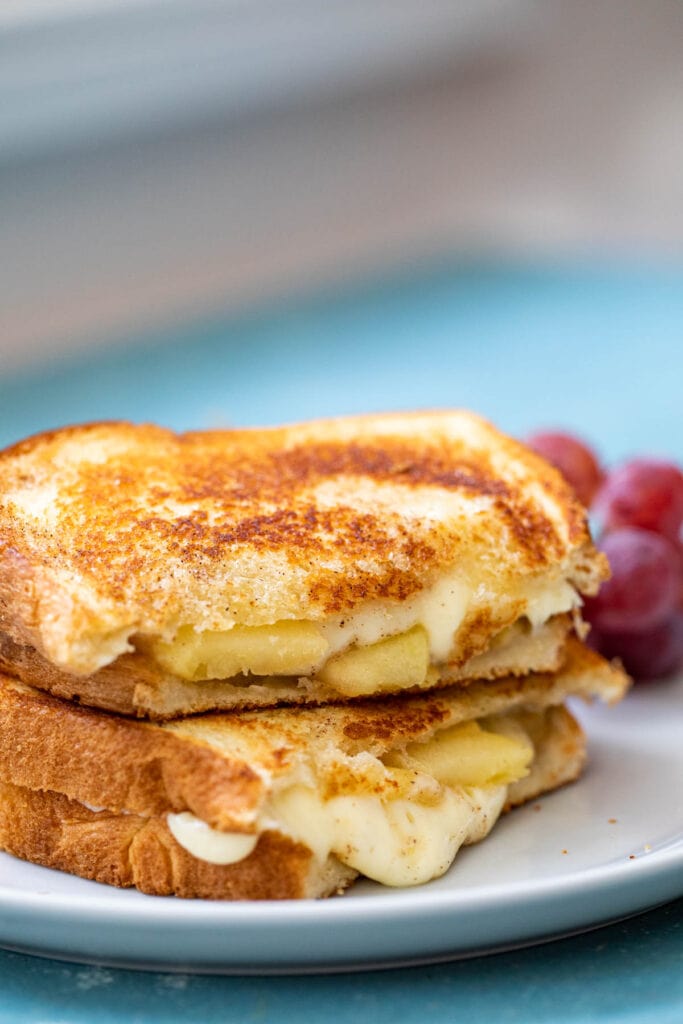 Substitution ideas
This sandwich has just a few ingredients at its most basic, but here are some ideas to change it up!
Change out the apple slices for pears for a switch up to another classic fall fruit.
Add some caramelized onions or fig jam to the sandwich for a flavor boost.
Add some sharp cheddar to the sandwich for a different cheese profile.
Add some sliced ham and/or honey mustard to the sandwich for a more substantial sandwich.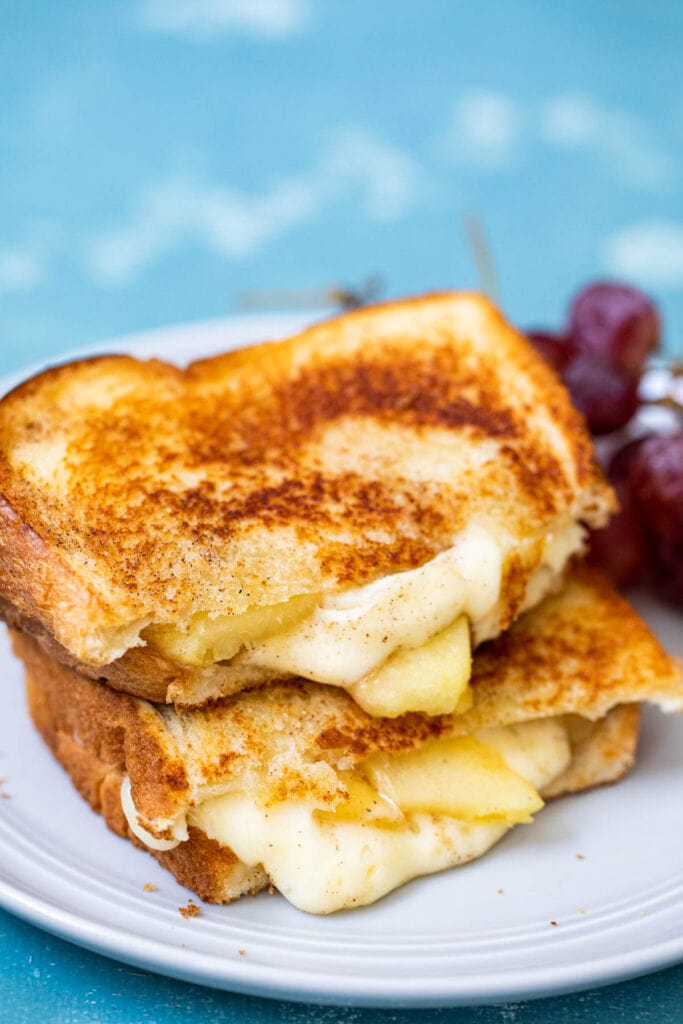 Apple and Brie Grilled Cheese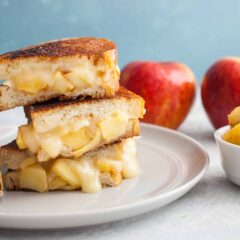 A quick and simple sandwich that is just in time for apple season! You could use many cheeses, but brie is my favorite!
Ingredients
1

apple

,

peeled and sliced thin

2

tablespoons

sugar

½

teaspoon

cinnamon

3

tablespoons

softened butter

,

divided

5-6

ounces

brie cheese

4

slices

sourdough bread
Instructions
Slice apples and add them to a skillet with 1 tablespoon of butter. Cook over medium heat until apple slices are softened. Sprinkle with half of the cinnamon and sugar mixture as they cook. Remove from heat when apples are tender.

Prepare brie by slicing off most of the rind and cutting into slices.

Prepare bread by smearing about 1/2 tablespoon butter on each bread slice.

Place a sturdy skillet over medium-low heat. Place bread in the skillet, butter side down. Top with brie and half of the apple mixture. Then top with second piece of bread.

Cook sandwiches for 3-4 minutes per side, being careful not to burn the bread, until brie is melted and bread is browned and toasted.

Serve while warm.
Nutrition
Serving:
1
sandwich
|
Calories:
841
kcal
|
Carbohydrates:
94
g
|
Protein:
29
g
|
Fat:
40
g
|
Saturated Fat:
24
g
|
Polyunsaturated Fat:
2
g
|
Monounsaturated Fat:
11
g
|
Trans Fat:
1
g
|
Cholesterol:
116
mg
|
Sodium:
1352
mg
|
Potassium:
362
mg
|
Fiber:
5
g
|
Sugar:
30
g
|
Vitamin A:
995
IU
|
Vitamin C:
4
mg
|
Calcium:
213
mg
|
Iron:
6
mg
Did you make this recipe?
What to serve with this sandwich?
This is a pretty rich grilled cheese sandwich so think about lighter options like this arugula salad with pears or this buttery tomato soup. I also love the look of this Butternut Squash Salad from Eating Bird Food.
It would also be nice as a half sandwich served beside this white bean soup or this hearty ultimate fall salad.