Welcome to Spring Cookbook Week on Macheesmo! I'll be posting recipes from five cookbooks this week and giving away copies! All winners will be announced next Friday (06/05).
There are some (Okay. A lot.) cookbooks out there that are all about practicality. They focus on reducing the time it takes to cook or using just a few ingredients to make dinner. In other words, shortcuts.
There's a time and place for these books, but on the other end of the spectrum are books like FRANKLIN BARBECUE. If you're unfamiliar with Franklin Barbecue, you've probably never been to Austin. It's an institution there and people will wait for hours to try their barbecue. I was lucky enough to get to eat there a few years ago and it was undoubtedly the best barbecue I've ever had.
Well, Aaron Franklin finally wrote a cookbook, but I'm not even sure cookbook is the right word. He (and his co-author Jordan Mackay) call it a manifesto and I think that's closer.
Instead of the shortcut world, this book emphasizes the importance of honing a craft. It's all about doing one thing well and with care. It's not only a beautiful book and a fun read, but an inspiring look inside a specialized world.
To be honest, I wasn't able to actually cook many of the recipes in this book because I didn't want to do them halfway. I don't have access to a proper smoker yet (although he gives photo instructions on how you can weld your own.)
So I made one of the few that I could out of the book: BARBECUE SAUCE.
Ancho Fig BBQ Sauce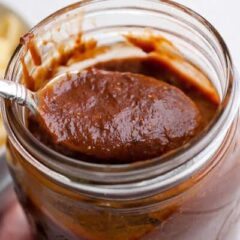 Aaron Franklin's recipe for ancho fig BBQ sauce. Not available at the restaurant but so good on a variety of things. I like it on macaroni and cheese!
Ingredients
4

dried ancho chiles

,

rehydrated in hot water

12

figs

,

fresh (and grilled) or dried

½

yellow sweet onion

,

chopped

4

tablespoons

unsalted butter

1 ½

cups

brown sugar

1

12 ounce bottle stout beer

1

cup

ketchup

½

cup

white vinegar

½

cup

apple cider vinegar

¼

cup

fig preserves

,

or any fruit preserves

1

tablespoon

honey

1

tablespoon

kosher salt

1

tablespoon

coarse black pepper
Instructions
In a large skillet over medium heat, add the rehydrated and chopped chiles, chopped figs, onions, and butter. Cook for about 10 minutes.

Transfer those items to a blender along with sugar, beer, ketchup, vinegars, preserves, honey, and salt and pepper. Puree until smooth.

As the blender runs, add as much water from the chiles as needed to get the consistency you like. I added about 1 cup of reserved water, but it's personal preference. Also, depending on the size of your blender, you might have to work in batches.

This recipe makes A LOT. It will keep fine in the fridge for two weeks or you could freeze it. You can also pretty easily halve the recipe.
Nutrition
Serving:
4
Tablespoons
|
Calories:
130
kcal
|
Carbohydrates:
28
g
|
Protein:
1
g
|
Fat:
2
g
|
Saturated Fat:
1
g
|
Polyunsaturated Fat:
0.3
g
|
Monounsaturated Fat:
1
g
|
Trans Fat:
0.1
g
|
Cholesterol:
5
mg
|
Sodium:
393
mg
|
Potassium:
232
mg
|
Fiber:
3
g
|
Sugar:
24
g
|
Vitamin A:
1692
IU
|
Vitamin C:
3
mg
|
Calcium:
29
mg
|
Iron:
1
mg
Did you make this recipe?
Ancho Fig BBQ Sauce
Apparently they don't serve this sauce in the restaurant, but use it for catered events occasionally. After trying it, I kind of want to put it on everything I eat.
After all, it starts with two of my favorite ingredients: Ancho chiles and figs. I wasn't able to find fresh figs so I just used dried figs and they worked fine.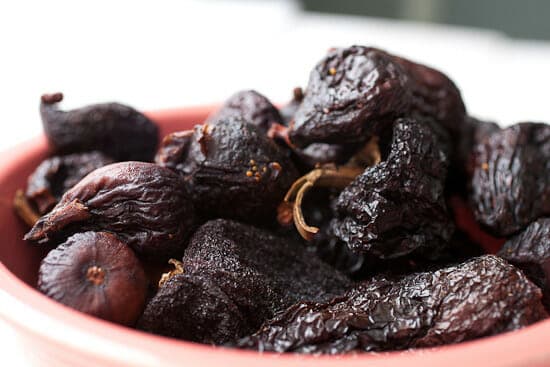 Add the peppers to a few cups of hot water to rehydrate them. You'll also use the soaking water to help the sauce blend later so don't toss it.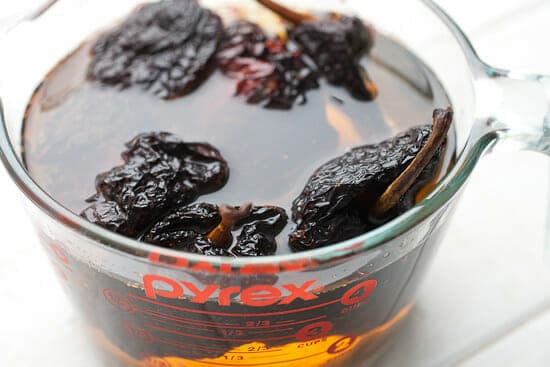 Once the peppers are rehydrated, remove the seeds and chop them up. Then add them to a skillet with some chopped onion and the figs. Oh, and butter. This will smell good. Very good.
Let that all cook together for about 10 minutes and that's all the cooking this recipe requires. Everything else is just blended together so it's actually much faster than many slow simmer bbq sauce recipes.
While the skillet things cook, you can add all the other ingredients to a blender.
They recommend using Left Hand milk stout and that happens to be my favorite stout so I was happy to oblige.
One for the blender and one for me.
Blend this up until it's the consistency you like. Add enough of the reserved soaking water until it's how you want it. There's a pretty wide range of acceptable consistencies in my book. You could make it really thick so people have to spoon it on or thin it out so it's easily squeezable.
Either way, the recipe makes about 6 cups so you might have to blend in batches. It'll keep fine in the fridge for a few weeks or you could freeze it. You could also just half the recipe though if you don't need almost half a gallon of sauce.
As you might guess, this is delicious on any sort of meat. But, I made a big batch of homemade mac and cheese and that worked really nicely.
The Franklin Barbecue Cookbook Giveaway!
This cookbook isn't for everyone. In fact, I think it's pretty specifically geared for two types of readers: First, if you just love reading cookbooks and peeking into a specialized world, you would love this book. The book is an easy and fun read and there are lots of anecdotes about early mornings and running a finicky restaurant. Second, if you have any interest at all in learning how to correctly smoke meat, then this is pretty much a must have. Everything from building a smoker to choosing wood to trimming and cutting briskets is included. At times it's intimidating, but also makes me want to smoke something!