A good friend (Hi Elsa aka Smelsa!) sent me an email with the subject "Blog It" recently. To be honest, I get more than a few emails with this subject every week but most of the emails involve trying to get me to sell some sort of black market prescription meds.
Luckily, Elsa isn't in the business of slinging meds, but she is in the business of sending me good ideas. Sending me good ideas is a business that I always encourage.
In all honesty though, this is one of my favorite things I've made this summer. It's probably the most refreshing beverage I've ever made. You take a sip and then it's like, "Screw you, heat."
The hardest part about this delicious stuff, called Agua de Jamaica, is finding the main ingredient.
Agua de Jamaica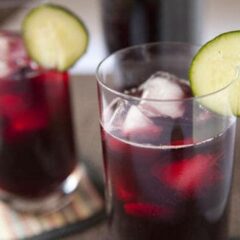 Agua de jamaica, or chilled hibiscus tea, is one of the most refreshing drinks I've had. Here is my recipe for this delicious drink, you will love it!
Ingredients
1 ¼

cups

dried hibiscus flowers

3

cups

water

,

for steeping

4

cups

water

¾

cup

agave syrup

,

or 1/2 cup sugar

Cucumber slices

,

garnish
Instructions
Add dried hibiscus to a medium pot with three cups of water. Bring to a simmer and simmer for a few minutes. Then kill the heat and let steep for at least two hours.

Strain flowers out with a mesh strainer. Pour four cups of fresh water over the flowers to rinse them off.

Stir agave syrup (or sugar) into the hibiscus tea.

Chill and serve over ice with cucumber slices as a garnish.
Nutrition
Serving:
1
drink
|
Calories:
85
kcal
|
Carbohydrates:
21
g
|
Protein:
0.02
g
|
Fat:
0.1
g
|
Sodium:
6
mg
|
Potassium:
11
mg
|
Fiber:
0.1
g
|
Sugar:
19
g
|
Vitamin A:
146
IU
|
Vitamin C:
5
mg
|
Calcium:
43
mg
|
Iron:
0.1
mg
Did you make this recipe?
Agua de Jamaica
The Hardest Part: Hibiscus
There are a lot of different refreshing Mexican-style beverages that start with Agua de (water of…). To be honest, I find most of them to be a bit on the sweet side. I've tried watermelon and strawberry and can barely make it through a full glass without feeling like I'm watching myself getting diabetes.
The thing about hibiscus is that it's naturally pretty bitter so you can add some sweetener to it and the flavors balance really nicely.
The hard part about the recipe is finding dried hibiscus. It's almost a guarantee that no mainstream store will carry it. Even the Whole Foods staff stared at me like I was making up an ingredient when I asked for it. They actually recommended that I call a flower shop. I tried to explain to them that it's an ingredient and not potpourri.
Anyway, some Latin markets will have them which is a good place to start, but also call around to gourmet shops although they will probably overcharge you for them. I eventually found some at Sprouts in the bulk section. It cost me about $5 for the hibiscus I needed for this Agua de Jamaica recipe.
This Agua de Jamaica is basically a tea so it's probably not surprising that step one is steeping the dried flowers.
Just add them all to a medium pot with about three cups of water and bring it to a simmer. Simmer it for a few minutes and the flowers will soften and the tea will turn an awesome red color.
Then kill the heat and let these steep for at least two hours. The original recipe actually recommended four hours or overnight but I did mine for two hours with great results.
It actually thickens a bit as it steeps because the flowers absorb some water. If you happen to be a special effects technician and are looking for a good fake blood base, I highly recommend the hibiscus flower tea. It's seriously blood red.
Finishing the Tea
Once you've steeped the tea, strain them through a mesh strainer so you just have the liquid.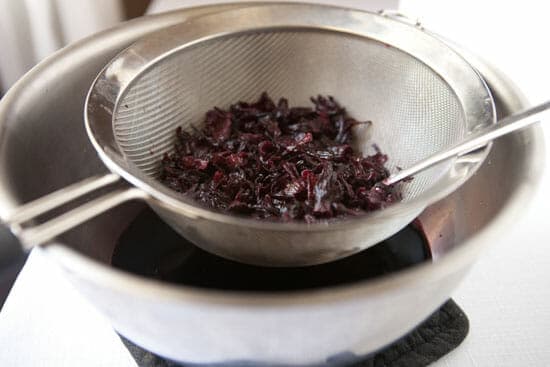 You might notice that there are two different amounts of water in the recipe. You need the first amount to steep the flowers and then the second amount to rinse the flowers. There is all kinds of delicious juice stuck to the flowers so rinse them off well with a few cups of fresh water.
The Sweetener
If you've made it this far, I recommend trying a spoonful of just the tea without any sweetener. It's intensely bitter but has awesome flavor. Some people might be into it without sweetener, but for me it needed some sweetness for sure.
The original recipe used sugar, but I went with something a bit more subtle: Agave syrup.
You can absolutely use sugar, but I find agave to have a more mellow sweetness. I like it in teas like this.
Once you sweeten it to your tastes, just chill it and serve it over ice.
The fancy cucumber slices are definitely optional.
That's all there is to it. Make this Agua de Jamaica and tell the summer heat to take a hike.
Adult note: If you added a splash of vodka or gin to this drink, it wouldn't be the worst idea in the world. Just sayin'.