Since I'm doing mostly one (or maybe two) pot meals for the next few weeks, Sloppy Joes was one of the first things that came to mind. Real Sloppy Joes (not the canned stuff) are really filling and flavorful and not actually all that bad for you!
They are the perfect meal for a chilly fall day and you can make a good Sloppy Joe mix from scratch in under 30 minutes.
I decided to try my hand at a vegetarian version so I substituted tofu for what would normally be ground beef. I'm not sure that I could've passed off my sandwich to a true meat-loving carnivore, but I think I might have been able to pass it off to a drunk meat-loving carnivore.
Which is to say that the sandwich ended up with great flavor, but the texture is more tofu-like than beef-like. I found them to be very delicious but Betsy wasn't such a fan.
Vegetarian Sloppy Joes
Tofu instead of beef makes these vegetarian sloppy joes a bit healthier. Don't worry though. They are still packed with flavor and messiness.
Ingredients
1

pound

extra-firm tofu

,

drained, pressed, and crumbled

2

Tablespoons

neutral oil

,

like grape seed oil or canola oil

½

white onion

,

diced

1

cup

carrots

,

diced

2

stalks celery

,

diced

3

cloves

garlic

,

minced

½

red pepper

,

diced

1

Cup

tomato sauce

½

Cup

ketchup

3

Tablespoons

brown sugar

2

Tablespoons

Worcestershire sauce

2

Teaspoons

whole cumin seeds

1

Teaspoon

chili powder

Salt and pepper

4

Hamburger Buns
Instructions
For tofu, place the block of extra-firm tofu between a few layers of paper towels and place a large cutting board or plate on top. Add something heavy to press out water in tofu. Let sit for 5 minutes. Then crumble the tofu.

Add a small drizzle of oil (1 Teaspoon) to a nonstick stillet and add the crumbled tofu. Cook until browned, about 10 minutes.

In a medium sauce pan over medium-high heat, add a few Tablespoons of neutral oil and then add all your chopped veggies. Cook until soft, about 5 minutes. Season with salt and pepper.

Add tomato sauce, ketchup, brown sugar, and spices to veggies. Stir and reduce heat to medium. Bring mixture to a simmer.

Add tofu and stir to combine. Simmer until thick, about 10 minutes. Taste frequently and adjust for wanted spiciness or sweetness.

Serve on toasted buns and bring a fork!
Nutrition
Serving:
1
sandwich
|
Calories:
359
kcal
|
Carbohydrates:
52
g
|
Protein:
15
g
|
Fat:
11
g
|
Saturated Fat:
2
g
|
Polyunsaturated Fat:
6
g
|
Monounsaturated Fat:
2
g
|
Trans Fat:
0.04
g
|
Sodium:
994
mg
|
Potassium:
769
mg
|
Fiber:
4
g
|
Sugar:
25
g
|
Vitamin A:
6408
IU
|
Vitamin C:
30
mg
|
Calcium:
157
mg
|
Iron:
5
mg
Did you make this recipe?
Prepping the Tofu
My goal with the tofu was to get it as browned as possible which I was hoping would mimic the texture of browned ground beef. Turns out that it doesn't really do that very well, but that's not to say that it's bad. It's just not a perfect sub.
Anyway, the best thing to do is to set your block of tofu between a few paper towels and then set a cutting board on top of it along with something heavy. Let this sit for a few minutes to press out some of the extra water from the tofu.
Then just crumble it into bits on a plate!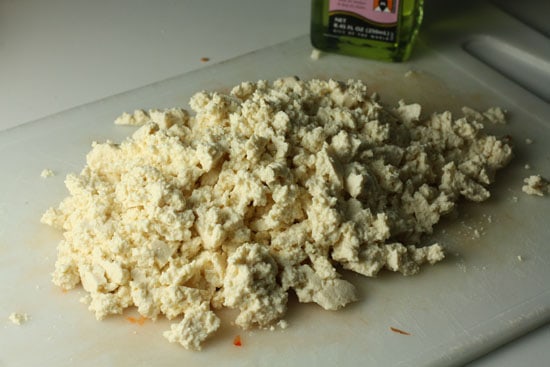 Next I added a few drizzles of oil into a non-stick pan and added all my tofu crumbles. Tofu has a tendency to stick to pans so I didn't want to brown it in the same pot as the sauce, which is why this meal is a two pot meal.
Anyway, after a few minutes in the nonstick pan, the tofu should brown up pretty nicely.
The darker the better in my opinion.
As an aside, this also goes for if you're using ground beef. Get that beef really nice and caramelized to give the Sloppy Joes good texture. If you were using beef you should definitely do this all in one pot though too keep all the flavors.
Meanwhile, chop up some veggies! I somehow managed to pack all my cutting boards so I had to borrow one from a neighbor…
Making the Sauce
To start the sauce just add a small amount (1-2 Tablespoons) of oil to your pan over medium-high heat and, once hot, add your veggies all at once! Cook until they are soft, about 5 minutes, and hit them with a small pinch of salt and pepper while they cook.
Then add the tomato sauce, ketchup, brown sugar, and spices and give it a good stir.
Let this simmer for a minute or two. If it's cooking too fast, turn your heat down. You want just a light simmer. Then add in your tofu (or beef) and continue to cook until the mixture is thick.
Taste it regularly and adjust for any spices you want to add. If you want it spicier, maybe add some extra chili powder or maybe even a small pinch of cayenne. If it needs to be sweeter, hit it with another pinch of brown sugar or maybe some honey.
Just taste it and adjust it until it tastes realllly good.
This was my final slop.
The important part
Besides making sure your sloppy joe mix is really flavorful, thick, and sloppy, the most important part of the sandwich is to make sure you toast the bun!
Then pile it high and enjoy!
One of these was actually a pretty good meal for me along with a salad. You'll need a fork to pick up the dropped bits though as it really is a sloppy situation.
Anyone else have any thoughts on a vegetarian sloppy joe? What changes would you make?!