I've always been skeptical of the lettuce wrap. This is how it usually goes down when I try to eat something wrapped in nothing more than lettuce:
1) I pick up the lettuce wrapped thing.
2) The lettuce rips into a million tiny pieces spilling stuff all over the place.
3) I look like an idiot.
Somehow that didn't happen with these Turkey Lettuce Wraps. I tried not to over-fill them which is sometimes the problem and I also used the sturdiest lettuce out there (Romaine).
And yes… I realize that sturdy lettuce is an oxymoron. Just go with it.
Turkey Lettuce Wraps
Ground turkey simmered with tons of flavorful spices and stuffed inside crisp lettuce wraps, topped with a tomato and avocado salsa.
Ingredients
1

pound

ground turkey

1

jalapeno

,

diced

1

clove

garlic

,

minced

2

teaspoons

cumin

,

ground

1

teaspoon

coriander

,

ground

1

teaspoon

red pepper flakes

½

teaspoon

cinnamon

1

tablespoon

Braggs or soy sauce

1

tablespoon

olive oil

Salt and pepper

Romaine lettuce leaves
Tomato/Avocado Topping:
1

cup

tomatoes

2

scallions

,

minced

1

avocado

,

diced

½

lime

,

juice only

2

tablespoons

cilantro

Pinch

of salt
Instructions
For the avocado topping, dice the tomatoes, scallions, and avocado. Stir together with lime juice, cilantro, and a pinch of salt. Set aside for later.

If you're using whole spices (cumin, coriander, red pepper flakes), toast them in a dry pan over medium heat until fragrant, a few minutes. Then grind.

Mix ground spices with ground turkey, minced garlic, and the diced jalapeno. Stir in Braggs or soy sauce and cinnamon.

Add olive oil to a skillet over medium heat. Cook turkey mixture until it's well browned and cooked through, about 8 minutes. Season with salt and pepper.

Rinse and dry your romaine lettuce leaves. About 10-12 leaves should be enough for the pound of turkey mixture.

When turkey is cooked, scoop some into each lettuce leaf. Don't over-fill them. Then top with a spoonful of the tomato/avocado mixture. Serve immediately!
Nutrition
Serving:
1
Wrap
|
Calories:
349
kcal
|
Carbohydrates:
12
g
|
Protein:
39
g
|
Fat:
18
g
|
Saturated Fat:
3
g
|
Polyunsaturated Fat:
3
g
|
Monounsaturated Fat:
11
g
|
Trans Fat:
0.03
g
|
Cholesterol:
83
mg
|
Sodium:
435
mg
|
Potassium:
999
mg
|
Fiber:
7
g
|
Sugar:
3
g
|
Vitamin A:
919
IU
|
Vitamin C:
24
mg
|
Calcium:
53
mg
|
Iron:
3
mg
Did you make this recipe?
Turkey Lettuce Wraps
A Salsa Topping
My goal with these Turkey Lettuce Wraps was to make sure the turkey tasted like something. I hate bland turkey more than anything ever.
So I knew I was going to add a lot of wonderful spice to the turkey.
I figured a simple tomato and avocado topping would help balance out the flavors a bit.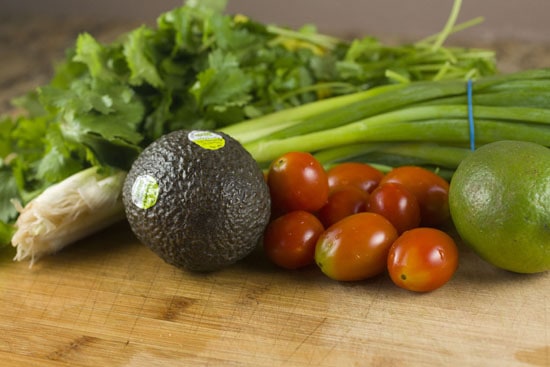 This isn't really a salsa and isn't really guacamole, but it's really good.
Basically just chop up all the stuff and stir it together with s squeeze of lime and some salt. It's pretty hard to go wrong here.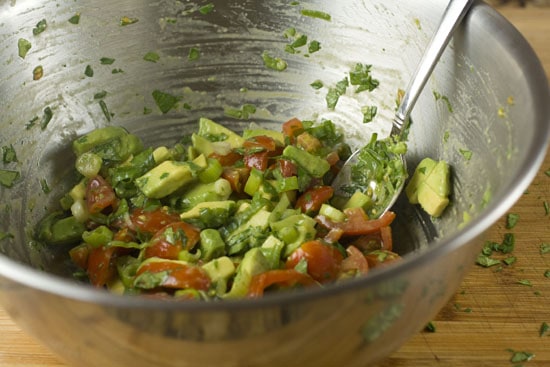 Turkey with Flavor
Ground turkey is super bland on its own.
To fix this problem, I toasted some whole spices like coriander, cumin, and red pepper flakes until they were fragrant and then ground them. I figured this would solve the flavor problem.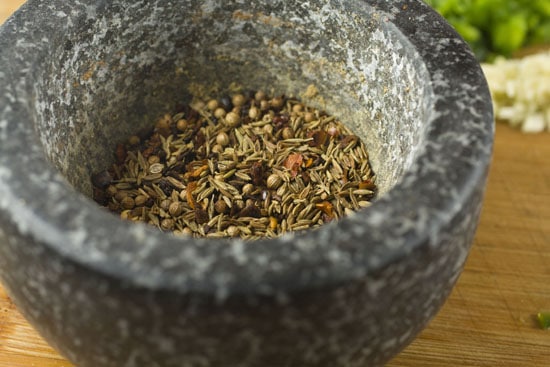 I also tossed in a spoonful of my new favorite ingredient: Bragg Liquid Aminos. The stuff is kind of like soy sauce, but without the sodium. It basically just adds a lot of umami richness to the turkey. (Thanks to readers Maeve and Sean for the Braggs tip.)
A secret ingredient
Besides the ground spices, some minced jalapeno and garlic, and the Braggs I also added in a small pinch of something that you might not expect to see in this recipe: cinnamon.
It almost gives the filling some sweetness and just makes all the flavors more interesting.
You might not be able to pick it out as an ingredient if you didn't know it was in there, but it is definitely a good idea.
Then you just stir everything up!
Cooking the turkey is pretty straightforward. Just add a drizzle of olive oil to a skillet and cook the turkey mixture over medium heat until it's browned and cooked through.
It should take around eight to ten minutes.
A Lettuce Dilemma
I've never found a lettuce that works for wrapping as well as Romaine. Everything else I've ever tried just falls apart.
These guys hold up pretty well though even to a hot filling like this.
I think you know the rest of the story. Add a few spoonfuls of the turkey mixture to a piece of lettuce and top it with a spoonful of the avocado topping.
Just be careful not to overfill the lettuce cups. That's how spills happen!
If you're good, you can eat these with your hands, but I recommend keeping a fork handy just in case.
I found these Turkey Lettuce Wraps to be a completely delicious dinner. About four of these was more than enough to fill me up.
They would be great if you're trying to do the low-carb thing!
Also, if you aren't into the lettuce wrap idea, you can use the turkey mixture for all kinds of stuff. It would be great in tacos or even in burger form!