The after-Thanksgiving turkey sandwich is an American institution, but might I be so bold as to suggest a change up this year?
It involves a chopped, savory, slightly sweet turkey with a spicy sriracha mayo and lots of pickled spicy veggies.
This Turkey Banh Mi will have you questioning your turkey sandwich roots!
Turkey Banh Mi
My favorite twist on a classic turkey sandwich. This banh mi uses leftover turkey in place of pork, simple to make and really delicious!
Ingredients
8-10

inch

baguette

,

toasted

1

cup

cooked turkey meat

,

chopped

1

teaspoon

soy sauce

2

tablespoons

water

1

teaspoon

fish sauce

1

teaspoon

brown sugar

2

tablespoons

mayonnaise

1

tablespoon

sriracha

Shredded carrots

Shredded cucumber

Sliced red onion

Sliced peppers

2

tablespoons

rice wine vinegar

Pickled jalapenos

Fresh cilantro

Salt and pepper
Instructions
Shred all the crunchy veggies (carrots, peppers, cucumber, and pepper) and toss with rice wine vinegar and a pinch of salt. Let sit for 10 minutes.

Slice baguette in half horizontally and toast it in a 400 degree oven for a few minutes until it's golden brown.

For sauce, stir together mayo and sriracha and the smear the dressing on the toasted baguette.

Combine chopped turkey, water, fish sauce, soy sauce, and brown sugar in a small pot. Simmer over low heat until turkey is warmed through and liquid is mostly evaporated.

Spread cooked turkey over half of the baguette and top with lots of sliced veggies.

Garnish sandwich with jalapenos and cilantro. Top sandwich with top part of baguette and cut sandwich in half for easier eating. Serve immediately!
Nutrition
Serving:
0.5
Sandwich
|
Calories:
214
kcal
|
Carbohydrates:
7
g
|
Protein:
17
g
|
Fat:
12
g
|
Saturated Fat:
2
g
|
Polyunsaturated Fat:
7
g
|
Monounsaturated Fat:
3
g
|
Trans Fat:
0.03
g
|
Cholesterol:
53
mg
|
Sodium:
810
mg
|
Potassium:
207
mg
|
Fiber:
0.3
g
|
Sugar:
3
g
|
Vitamin A:
41
IU
|
Vitamin C:
5
mg
|
Calcium:
27
mg
|
Iron:
1
mg
Did you make this recipe?
Turkey Banh Mi
Simmering the Turkey
Don't bother making this Turkey Banh Mi unless you have some leftover turkey that's already been cooked. It would be too involved to start from scratch. Luckily, you will almost certainly have some leftover turkey in the next 72 hours.
When you're ready to make this bad boy, just roughly chop the turkey into bits.
In a small pot, simmer the turkey with the water, soy sauce, fish sauce, and brown sugar. Just simmer these ingredients over medium-low heat until the turkey has absorbed all those flavors.
Whatever you do, don't leave out the fish sauce! It's the most important ingredient.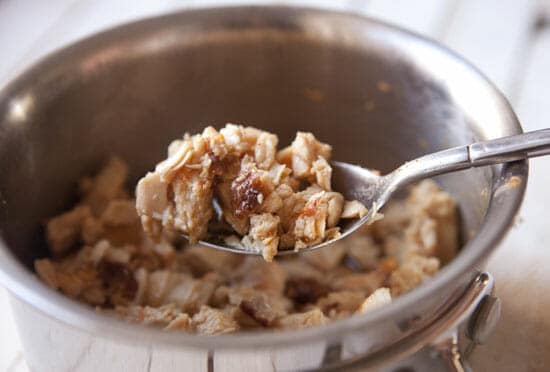 The Fixins
While the turkey is simmering, you can prepare the other toppings for your Turkey Banh Mi. I used some shredded carrot, cucumber, onions, and peppers that I had. It wouldn't take long to shred a few crunchy veggies though if you don't have any left over.
You can use a box grater to make quick work of them and then just toss them with a few tablespoons of rice wine vinegar and a pinch of salt to quickly pickle them. Because they are so thin, you only need to let them sit for a few minutes.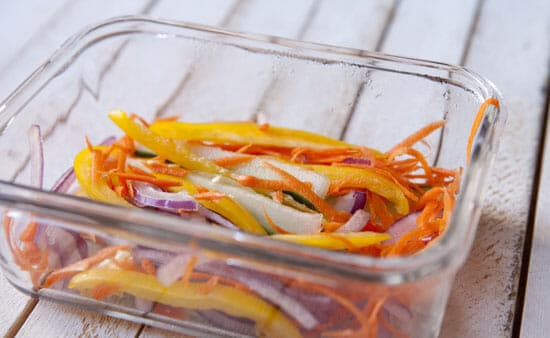 Other toppings you'll need:
Sriracha mayo, cilantro, jalapenos.
I literally just stirred a tablespoon of Sriracha into a few tablespoons of mayo. Done deal.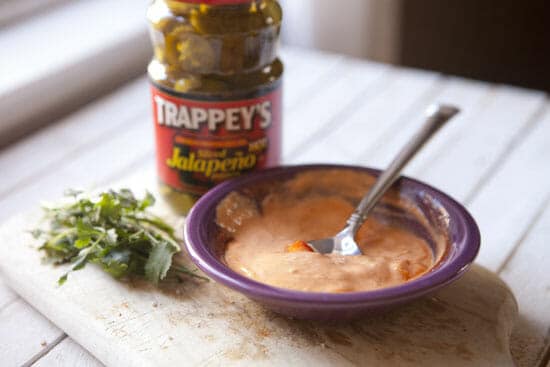 Making the Sandwich
There's not much too it at this point. Slice your baguette in half and then toast it in a hot oven until it's nicely browned.
Then slather it with the sriracha mayo. Don't go light on this stuff!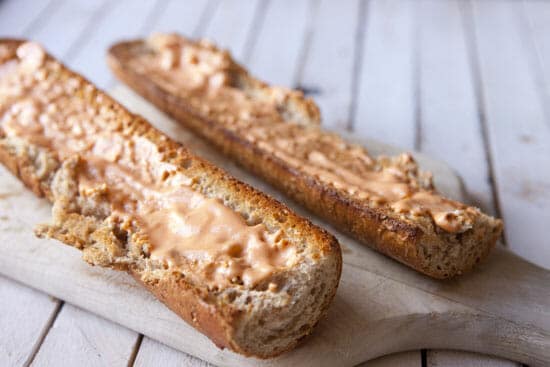 Then pile on your simmered turkey, shredded veggies, pickled jalapenos and a few sprigs of cilantro.
The Turkey Banh Mi, it's a thing of beauty!
Cover the sandwich with the top half of the baguette and cut it in half to make it easier to eat.
To be honest, I can easily eat both of these by myself, but maybe you could share with someone.
I know it's asking a lot to change up the traditional turkey sandwich but I think this Turkey Banh Mi is worth it.
Save a few cups of turkey and make this guy on Friday!