I been watching a fair amount of Kitchen Nightmares recently (the British version). Actually, what I mean is that I've watched all of them, some more than once.
I like trying to guess when Gordon Ramsey is going to disrobe. He does so at least once an episode.
I also like hearing people say "Bullocks!"
Anyway, there's a pretty solid theme for the restaurant fixes that he puts in place and the strategy usually involves: A) serving quick, but tasty lunches B) simplifying the hell out of the menu C) "taking the piss" out of people.
On one episode his fix for the restaurant was to make the best club sandwiches in town which made sense since the restaurant was near a golf club. He was showing the chefs how to make a proper club sandwich and it made me really want a club sandwich.
I tried to make this sandwich as traditional as possible. You can, of course, jazz this thing up, but this is the classic way to do a Traditional Club Sandwich.
Traditional Club Sandwich
This is the right way to make the delicious traditional club sandwich including my easy recipe for homemade mayo!
Ingredients
6

pieces

of sandwich bread

,

lightly toasted

4-5

strips thick bacon

,

crispy

6

ounces

roasted turkey

,

sliced thin

1

tomato

,

sliced thin

4

leaves

Romaine lettuce

Mayonnaise

,

homemade is best

Salt and pepper
Homemade Mayo:
1

egg yolk

Pinch

of salt

1

tablespoon

water

1

teaspoon

lemon juice

½

cup

olive oil

½

cup

Canola or safflower oil

1

teaspoon

Sriracha

,

optional
Instructions
To make the mayo, whisk the egg yolk in a bowl with water, lemon, and a pinch of salt. Whisk over a double boiler until yolk is steaming and hot to the touch. This will kill any bacteria that is in the egg. (Note: If you want to be 100% sure, you need to hold the egg at 138 degrees Fahrenheit for 3 minutes.)

Once the egg is off the heat, very slowly start whisking in oil. Start with just a drop of oil and slowly add more. If the egg has curdled at all from the double boiler, whisk in a few drops of water. Keep whisking oil in slowly until it's all incorporated and the mayo is a very thick consistency. Season with Sriracha if you want.

Season bacon strips with lots of fresh black pepper and bake at 350 degrees for 15-20 minutes, flipping once while cooking.

Lightly toast bread.

Start sandwich by slathering one piece of bread with mayo and topping with a few turkey slices. Top turkey with lettuce and add your second piece of bread.

Slather second piece of bread with mayo and top with tomato slices and bacon. Slather top piece of bread with mayo and top sandwich.

Stick sandwich with skewers, one per corner.

Cut sandwich into four pieces, each piece being held by a skewer. Serve club with chips.
Nutrition
Serving:
1
Sandwich
|
Calories:
1286
kcal
|
Carbohydrates:
11
g
|
Protein:
21
g
|
Fat:
131
g
|
Saturated Fat:
19
g
|
Polyunsaturated Fat:
25
g
|
Monounsaturated Fat:
84
g
|
Trans Fat:
0.3
g
|
Cholesterol:
153
mg
|
Sodium:
1385
mg
|
Potassium:
565
mg
|
Fiber:
2
g
|
Sugar:
4
g
|
Vitamin A:
5539
IU
|
Vitamin C:
13
mg
|
Calcium:
56
mg
|
Iron:
2
mg
Did you make this recipe?
Traditional Club Sandwich
The Bacon Part
I had never really thought about it before, but a traditional club sandwich is basically just a BLT with sliced turkey and an extra piece of bread.
Nothing fancy, but every piece of the sandwich is really important.
For the bacon, make sure to get some good thick bacon and season it really well with fresh black pepper.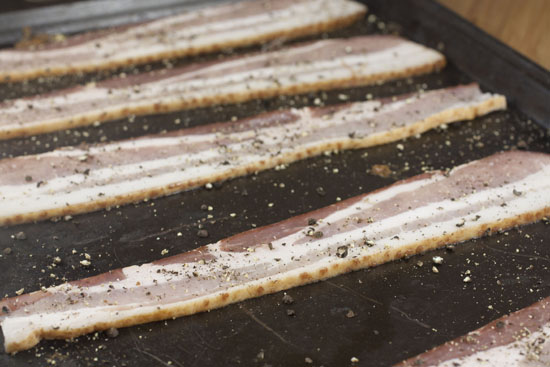 I like to bake mine in the oven at 350 degrees for about 15-20 minutes.
I normally like to make my bacon super-crispy, but for sandwiches I sometimes like to have the pieces be not totally crispy. Basically, I take them out just a step before totally crisp.
It's personal preference though so cook them however you want and if you need help with bacon, here's how to make the perfect bacon.
These were my finished strips.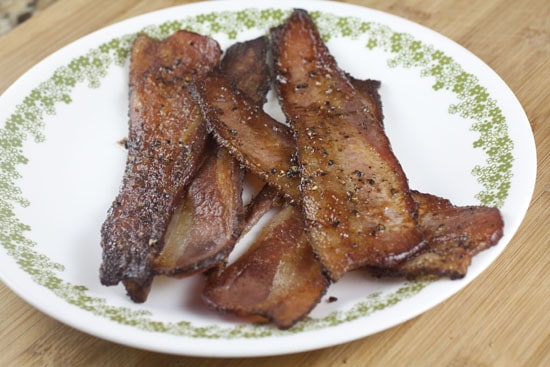 The Mayonnaise Part
I honestly think the most important step to a great club sandwich is the mayonnaise. Good mayonnaise can take the sandwich from a standard thing to something really amazing.
I doubt most restaurants make their own mayo these days, but you can at home and you'll be glad you did. It's easily my favorite part of this sandwich.
I got a lot of flack for my homemade mayo post because I used a raw egg yolk for the recipe. There is, of course, a small risk of salmonella from doing so.
The way to prevent that is to cook your egg yolk over a double boiler to raise the temperature and kill any bacteria. That's what I did for this version and it worked great.
Basically, you just add some lemon juice, water, and salt to the yolk and put it over a double boiler. Whisk it constantly as it heats up and when it is steaming and hot to the touch, it's probably safe.
Lawyer Speak: If you want to be 100% sure that you have killed all the bacteria, you need to get the temperature of the egg yolks to 138 degrees Fahrenheit and hold it there for 3-4 minutes.
When the yolks are steaming and you've whisked them like crazy for a few minutes to keep them from curdling, then you are probably in good shape.
You can read my homemade mayo post for more thorough steps on the mayo process, but basically you just want to start whisking oil into the egg yolk very slowly. Start with literally one drop of oil and then gradually increase that amount.
You can see the different steps in the bottom two photos. The bottom left photo is after I've whisked in about 1/3 of a cup of oil and then the bottom right photo is the finished version.
This might seem like a ridiculous thing, but if you do this once or twice, you get good at it quickly. It takes me about five minutes to make a batch of mayo now which is less time than it takes to cook the bacon so you might as well.
Other Toppings
Besides the bacon and mayo, you just need some sliced deli turkey and some lettuce and tomato. Romaine lettuce is the way to go here. You want something super-crispy.
Assembly
The only thing I haven't talked about is the bread. You definitely want to toast the bread, but you want to toast it very lightly. It should barely look like it has been toasted. You don't want croutons on your sandwich.
Take your first piece of bread, spread it with a good layer of mayo and then top it with some turkey.
To the turkey, add the lettuce and your second piece of bread.
Spread the top of the second piece of bread with mayo.
Then add your tomato slices and bacon.
Top that whole thing with your third piece of bread with, you guessed it, more mayo on it.
Then skewer the corners of the sandwich to hold everything together.
You can buy fancy toothpicks for this, but I just used some leftover bamboo skewers I had.
Cut the sandwich into four pieces so each piece is held tightly by a skewer and you are ready to rock.
The best way to serve the the sandwich is to set the sandwich quarters around the outside of the plate and pile chips or fries in the center.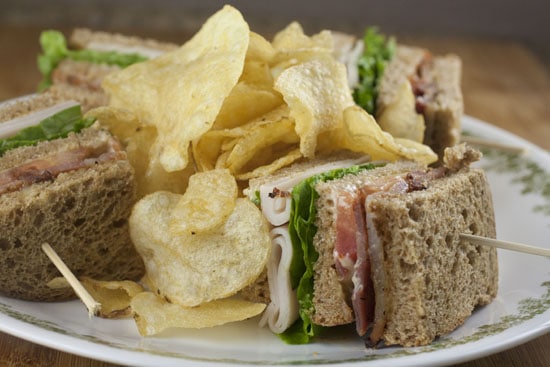 This Traditional Club Sandwich is classically a lunch dish, but Betsy and I had this for dinner one night and thought it was just perfect.
Sometimes things only get worse with alterations. This sandwich is a classic for a reason!