This tempeh scramble is an updated recipe from one of my favorite breakfast scrambles!
The first time I saw tempeh in the store I thought that whoever first made it must have been very hungry. It doesn't look too appetizing.
The first time I ate tempeh I thought that whoever first made it was a freakin' genius.
I think it's one of the most under-rated foods around. Trust me. It's not just for vegetarians and health nuts. It's for anyone who likes really good food that easy to make.
Tempeh has more flavor and texture than tofu and is about ten times easier to make.
In fact, one of my favorite tacos to this day is my crispy tempeh tacos. This is actually kind of a riff on that dish made as a breakfast instead of a dinner. I ate this breakfast two days in a row which is pretty rare for me. It was just that good.
The Tempeh Scramble
Tempeh Scramble is a quick and delicious Tex-Mex dish made with browned tempeh and loaded with veggies and cheese. Perfect for breakfast or brunch!
Ingredients
4-6

ounces

tempeh

,

crumbled

½

red or orange pepper

,

diced

1

jalapeno

,

seeded and minced

2

scallions

,

diced

4

large eggs

,

scrambled

1

teaspoon

vegetable oil

3

ounces

pepper jack cheese

,

grated

1

avocado

,

sliced

2

tablespoons

salsa

Cilantro

Tortillas

Salt and pepper
Instructions
Crumble tempeh and dice all your veggies. Dice veggies fine.

Add the small amount of vegetable oil to a cast iron skillet and get it hot over medium-high heat.

Add the tempeh and cook until it's well browned, about 5-6 minutes.

Stir in veggies and season with salt and pepper. Cook for a minute or two until veggies are soft.

Scramble eggs and add eggs to skillet. Stir vigorously so eggs mix with other ingredients. Cook until eggs are almost all cooked, probably just a minute or two.

Add on grated cheese and cover skillet with a plate. Turn heat down to low. The steam will melt the cheese.

Serve scramble with warm tortillas, cilantro, salsa and avocado!
Nutrition
Serving:
1
Scramble
|
Calories:
593
kcal
|
Carbohydrates:
19
g
|
Protein:
35
g
|
Fat:
45
g
|
Saturated Fat:
15
g
|
Polyunsaturated Fat:
7
g
|
Monounsaturated Fat:
19
g
|
Trans Fat:
0.1
g
|
Cholesterol:
365
mg
|
Sodium:
501
mg
|
Potassium:
1031
mg
|
Fiber:
8
g
|
Sugar:
4
g
|
Vitamin A:
2152
IU
|
Vitamin C:
59
mg
|
Calcium:
458
mg
|
Iron:
4
mg
Did you make this recipe?
The Tempeh Scramble
Tempeh Tempeh
I've already raved in this post about my love for tempeh, but the reality is that it might be kind of hard for you to find. I only know of one health food store in my town that sells it.
Most grocery stores don't carry it unfortunately. Maybe the demand isn't quite there yet. But call around to a few places and you should be able to find it somewhere.
If you're curious what tempeh is, it's basically just fermented whole soy beans that have been mixed with other flavors like flax seeds or, in this case, random vegetables.
The nice thing about tempeh is that you can prepare it a million different ways. You can slice it thinly or just crumble it up. I thought for a scramble like this, it would be better to just slice it up and crumble it in the pan.
The Veggies
While I listed specific vegetables in the recipe, I'd just encourage you to use what you have in your fridge. Some kind of pepper is good and something like an onion or scallion is a good idea.
It's pretty flexible though… kind of like an omelet.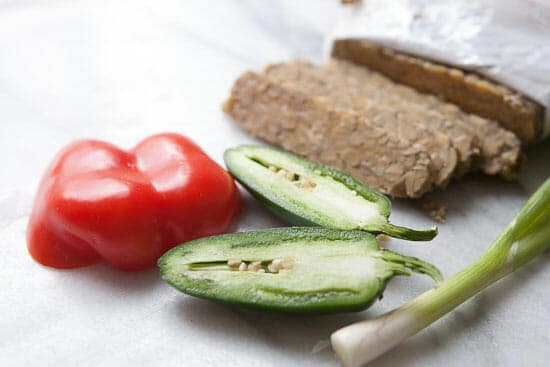 Dice these up pretty finely so they scramble up well.
Cooking the Tempeh Scramble
I used my cast iron skillet for this dish, but you could use any large skillet really. I do recommend using one that is oven-safe so you can transfer the pan to the oven at the end and melt the cheese quickly.
The first step is to brown the tempeh. Add a small drizzle of oil to the pan and then add all the tempeh. Over medium-high heat, it'll take 5-6 minutes to brown nicely. It's pretty hard to burn this stuff. It's very sturdy.
Once the tempeh is browned, add in the veggies and cook for another minute or two until the veggies are soft.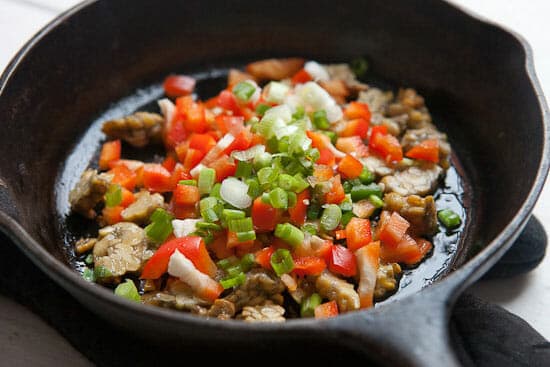 Before you add your eggs, make sure you have all your toppings ready to go because the tempeh scramble will cook really quickly at this point.
When you're ready to go, just stir in the eggs and mix it all together and let it cook until the eggs are almost completely cooked.
This is about perfect. It looks like a hot mess, but it'll smell great.
Top the whole tempeh scramble with some cheese and cover the skillet with a plate and the steam will melt the cheese.
You could just eat this as-is or serve it as a side. If you want to make a really good meal out of it though, serve it with some tortillas (flour or corn), avocado, salsa, and maybe some fresh cilantro.
There's a lot of nice things about this meal. For one, I guarantee you that you won't miss the meat. The tempeh is very flavorful, filling, and has a great texture.
The other nice thing is that this whole thing takes less than 30 minutes to make. You could also easily double or triple it and feed a crowd.
This is a great introduction to tempeh if you've never tried it before so hunt some down and give it a go!