Sometimes I think that my job as a food blogger boils down to one function:
Remind people that there is probably a more delicious way to eat.
I would like to think that this is true for a lot of things that I post but I guarantee you it's true for this particular thing. You see, there are approximately a gazillion places that will happily take your money for some sort of meat coin mashed between salty dough with an eggish thing involved.
In fact, I would venture to say that you are probably within a few miles of a place that will serve you such a thing as you read this.
But it's my job to convince you that there's a more delicious way to eat this sandwich. Sure, I can talk about how homemade biscuits are really good and how they are especially good when you add cheese to them. I can tell you about how sausage is actually super easy to make at home and you can spice it to your liking.
But in short, you just need to look at that photo. It hasn't been photoshopped by some marketing department. I made that Sausage Egg Biscuit and I ate that sandwich and so can you.
Sausage and Egg Biscuit Sandwich
Homemade sausage and egg biscuits with cheddar cheese biscuits and a sweet and spicy sausage. A delicious breakfast sandwich!
Ingredients
Cheddar Biscuits:
4

cups

all-purpose flour

1 ½

teaspoons

salt

1

tablespoon

baking powder

2

teaspoons

baking soda

1

cup

unsalted butter

2

cups

buttermilk

2

cups

grated cheddar cheese
Spicy Maple Sausage:
1

pound

ground pork

2

tablespoons

maple syrup

1

tablespoon

fresh sage

1

teaspoon

fresh thyme

½

teaspoon

red pepper flakes

1

teaspoon

onion powder

½

teaspoon

kosher salt

½

teaspoon

black pepper

4

large eggs

,

scrambled
Instructions
For the biscuits:
Preheat oven to 375 degrees F. Stir together flour, salt, baking powder, and baking soda in a medium bowl. Cube the cold unsalted butter and use your fingers to rub it into the flour mixture until it is in pea-sized pieces.

Stir in grated cheddar cheese so it is mixed well. Finally add in buttermilk and stir until just combined.

Turn the dough out onto a floured surface and fold it over itself a few times. Try not to overwork the dough. Use a biscuit cutter to cut out large round biscuits. You should get at least 8 and probably closer to 12 biscuits.

Move biscuits to a baking sheet lined with parchment paper and bake them at 375 degrees for about 30 minutes until they are golden brown.
For the Sausage:
Stir together all ingredients in a bowl. Portion out sausage into 8 even patties (about 2 ounces each).

Add patties to a large skillet over medium-high heat and cook for about 4-5 minutes per side until the sausages are well browned.
For the egg:
Scramble egg and pour into a nonstick pan or a pan with some oil or butter over medium heat. After about 90 seconds fold the egg over itself a few times so the egg is nice and light and cooked through.
For each sandwich:
Split a biscuit in half and add half of the cooked egg. Then top with sausage and serve while warm!
Storage:
If you want to freeze these, let them cool to room temperature and then wrap them well in foil. Freeze them and then store them in a freezer bag for up to 2-3 months. I prefer to reheat them in a 350 degree oven for 20-30 minutes so the biscuits don't get soggy.
Nutrition
Serving:
1
Sandwich
|
Calories:
781
kcal
|
Carbohydrates:
56
g
|
Protein:
28
g
|
Fat:
49
g
|
Saturated Fat:
26
g
|
Polyunsaturated Fat:
3
g
|
Monounsaturated Fat:
15
g
|
Trans Fat:
1
g
|
Cholesterol:
219
mg
|
Sodium:
1332
mg
|
Potassium:
392
mg
|
Fiber:
2
g
|
Sugar:
6
g
|
Vitamin A:
1265
IU
|
Vitamin C:
1
mg
|
Calcium:
407
mg
|
Iron:
4
mg
Did you make this recipe?
Sausage Egg Biscuit
Biscuits
I wrote a whole post on whether or not it's worth it to make biscuits from scratch (Hint: yes), so I won't spend a huge amount of time going over the joys of fresh out of the oven biscuits.
Making homemade biscuits is very easy though and if you have even a half-stocked pantry, you probably have everything you need. Start by mixing together your dry ingredients and then add in your cubed butter.
I like to use my clean hands to mash the butter into the flour mixture until it's in pea-sized pieces. It doesn't have to be perfect.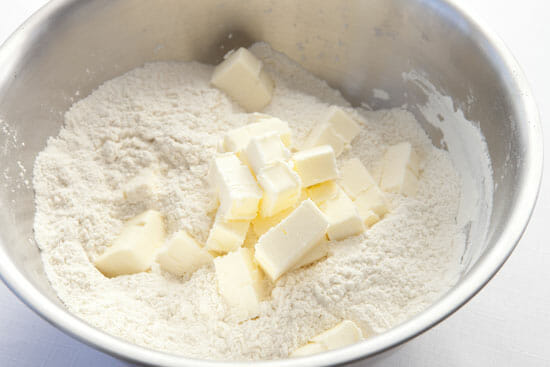 Then go ahead and add in some cheese! I eyeballed about two cups of grated cheese.
Some sausage sandwiches will put actual sliced cheese on the sandwich, but I think that can be overkill sometimes so I prefer to add my cheese flavor to the biscuit.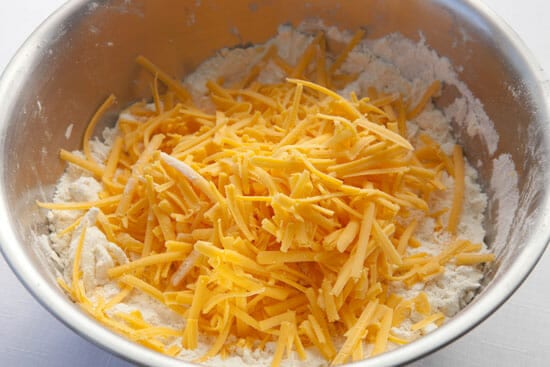 Once the cheese is mixed in, stir in the buttermilk and your dough is done!
Then roll it out onto a lightly floured surface and use a biscuit cutter to poke out your biscuits.
Normally, I would just make square biscuits, but because I was making sandwiches, round biscuits made more sense.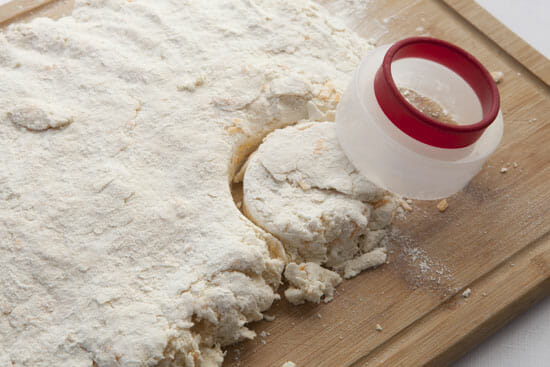 You should be able to get 12 biscuits out of the dough. You'll probably only have enough sausage for eight sandwiches but having extra biscuits is never a bad thing.
Bake these guys on parchment paper for 30 minutes at 375 degrees Fahrenheit until they are flakey and golden brown.
That's the hardest part of the recipe.
Maple Sausage
You could use any sausage for this, but I was feeling particularly frisky on this day so I whipped up a quick bowl of homemade sausage. Basically, I just mix in a bunch of various spices with some ground pork and it's pretty much guaranteed to be good eats.
My secret weapon is a drizzle of maple syrup which gives the sausage some sweetness and also helps it get a nice crust in the pan.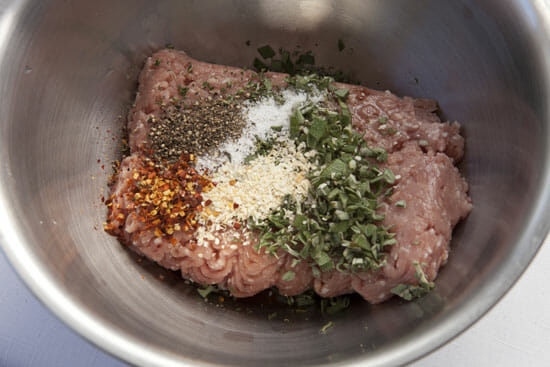 Stir this all together and divide the mixture into eight even patties (about 2 ounces each).
Then just cook them in a large skillet over medium-high heat for about five minutes per side. They should get nicely browned on both sides and it's probably a good idea to cut into one just to make sure they are cooked through.
The Egg
The final piece of this Sausage Egg Biscuit puzzle is the egg! You don't need or want a full egg on these sandwiches. It would be too much. One egg is good for two sandwiches.
Basically just scramble your egg(s) and then add them to a nonstick skillet over medium-high heat. Add a dab of butter to the pan and let it melt before you add the scrambled eggs, just to make sure the eggs don't stick.
This will cook in literally a minute. As the egg cooks you can use a spatula to push the cooked egg to the center, tilt the pan slightly, and let the uncooked egg flow out and come in contact with the hot pan.
After the egg cooks for a minute or so, you can kind of fold it over itself which makes it perfect for sandwiches. This was one egg that I cooked which I split in half for two sandwiches.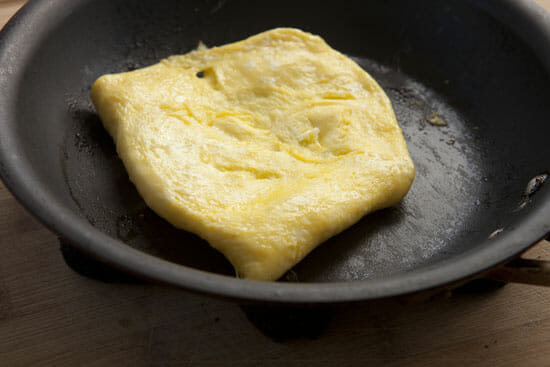 Pile these things on top of each other and you have yourself a winner.
I don't know if this Sausage Egg Biscuit is cheaper or healthier than versions you can buy from any number of fast food places.
Frankly, I don't care. All I know is that I couldn't eat these fast enough. They were just perfect.
If you do want to store these for later or make a big batch, I think they would freeze just fine. Just cook them and assemble them and then let them cool to room temperature. Wrap them in foil and freeze them solid and then store them in freezer safe bags. Reheat in the oven for 20-25 minutes or so to keep the biscuits from getting soggy.