Warning: Some people are going to read this post and think that either A) this requires too much work or B) sweetbreads are gross.
That's fine.
I pretty much guarantee though that if I were to sell you one of these Sweetbreads Po Boys for $5 out of my street cart you would say it's the best sandwich you've ever had. That's because sweetbreads are delicious and maybe the most under-rated offal of all time.
Much like the oysters that are typical for a po' boy, these little bites just melt in your mouth. And for those of us who live in the mainland and can't get fresh oysters easily, sweetbreads are a wonderful (and much cheaper) substitute.
Sweetbread Po' Boys
Spicy fried sweetbreads on a hoagie bun with a pickled slaw and a tangy walnut mayo. An awesome twist on a classic sandwich!
Ingredients
Sweetbreads:
1

pound

sweetbreads

1

quart

buttermilk

3

cups

all-purpose flour

3

tablespoons

paprika

1

tablespoon

kosher salt

1

tablespoon

black pepper

1

quart

vegetable oil

,

for frying
Pickled Slaw:
½

cucumber

,

peeled, seeded, and chopped

¼

red onion

,

diced

¼

red pepper

,

diced

½

cup

carrots

,

grated

3

tablespoons

olive oil

3

tablespoons

tarragon vinegar

2

tablespoons

red wine vinegar

Pinch

of salt
Walnut Mayo:
1

cup

mayonnaise

¼

cup

walnuts

,

toasted

1

lemon

,

zest and ½ lemon juice
Other Sandwich Ingredients:
4

Hoagie buns

,

toasted

Lettuce

Sriracha hot sauce

,

opt.
Instructions
Soak sweetbreads overnight in cold water.

Poach sweetbreads in simmering water for 4 minutes. Remove and cool.

Slice sweetbreads into 1 inch bites. As you go, discard any tough tendons on the sweetbreads.

Soak sweetbread bites in buttermilk for at least a few hours.

When ready to make sandwiches, heat about 1 inch of oil in a large high-walled frying pan or in a heavy pot. Heat to 350 degrees.

Toss all-purpose flour with paprika, salt, and pepper. Drain sweetbreads and add to flour mixture. Coat well with flour.

Fry sweetbread bites for about 4-5 minutes until they are golden brown. Remove and let drain on a paper towel. Add sweetbreads to sandwich while still warm.
To Make Slaw:
Combine slaw ingredients in a large bowl. Toss with vinegars and oil and season with salt.

Ideally, make this a few hours before so the ingredients have some time to pickle. You could make the night before without a problem.
To Make Mayo:
Toast walnuts in a dry pan for a few minutes until fragrant.

Pulse with lemon zest and juice from 1/2 a lemon and mayo. Pulse until smooth.

Store in the fridge for up to a week.
To Make Sandwich:
Toast bread and slather with walnut mayo. Add a piece of crispy lettuce.

Top lettuce with fried sweetbreads. Add slaw to top of sweetbreads and drizzle with hot sauce if you want.

Slice the sandwich in half and serve immediately.
Nutrition
Serving:
1
Sandwich
|
Calories:
3630
kcal
|
Carbohydrates:
181
g
|
Protein:
38
g
|
Fat:
311
g
|
Saturated Fat:
50
g
|
Polyunsaturated Fat:
168
g
|
Monounsaturated Fat:
74
g
|
Trans Fat:
2
g
|
Cholesterol:
50
mg
|
Sodium:
3197
mg
|
Potassium:
932
mg
|
Fiber:
13
g
|
Sugar:
26
g
|
Vitamin A:
5965
IU
|
Vitamin C:
27
mg
|
Calcium:
487
mg
|
Iron:
21
mg
Did you make this recipe?
Sweetbreads Po Boys
Planning and Prep
Unfortunately, this isn't a sandwich that you're just going to toss together on a whim. It requires a bit of planning.
For starters, the sweetbreads which we'll get to in a minute, require at least a day of prep. You need to soak them overnight to clean them well.
Besides the sweetbreads, I also recommend making the slaw for the sandwiches in advance as well. The quick pickled slaw will just taste better on day two.
So, while none of the individual steps for this sandwich are super-hard, it does require some planning to pull it off.
If I can do it, you can do it.
The Slaw
The sweetbreads and mayo on this sandwich are really buttery and creamy so I thought it would be a good flavor addition to add something acidic. This quick slaw that I came up with was literally from leftovers in my fridge. It worked great though.
Just dice up all the ingredients pretty finely and toss them in a bowl with the vinegars and oil. Season this with a pinch of salt and let it sit for at least an hour or two.
Like I said, it would be best if you could make this the day before, but it's not completely necessary.
Walnut Mayo
Any good sandwich worth its bread will have some sort of dressing. I started by thinking that a spicy mayo would work well with this sandwich. I still think that it would. So if you wanted to make a chipotle mayo, it would also work well.
I ended up going a slightly different route though for these Sweetbreads Po Boys. For this mayo, I just toasted a handful of walnuts in a dry pan until they were fragrant (about 3 minutes), then pulsed them with some lemon zest and lemon juice and mayo until it was relatively smooth.
This is really good stuff and would be awesome on a bunch of different sandwiches actually.
Ok. Enough with the condiments. Let's get down to business.
The Sweetbreads
Sweetbreads, if you've never used them, are from the thymus gland or pancreas gland of a cow. The ones I'm using for this post are the pancreas.
While they look intense, they have a super-mild flavor. Once they are fried, they melt away in your mouth. Like butter.
One of the hardest parts about sweetbreads is just finding them! Most likely, your grocery store won't carry them. They just aren't popular enough to keep in stock. You'll have to ask around at butchers and farmer's markets and you can normally get your hands on some.
The good news is that they won't be very expensive if you can find them. They are, after all, a gland that most people just throw away…
I was pretty nervous about prepping these guys, but it turned out to be pretty straightforward.
To start, soak the sweetbreads in cold water overnight. This will help flush out any blood or liquid in the glands. It's probably a good idea to change the water at least once also. (top left)
Next, you need to lightly poach the sweetbreads. This really just makes them easier to work with because they firm up a bit when they are poached. I cooked mine for about 4 minutes in simmering water.
After the sweetbreads are poached, slice them into 1 inch bites. While you do this, remove any tough tendons that are attached to the sweetbreads. It'll be pretty obvious what you should be removing as it will be very tough while the actual sweetbread material is very tender. (top right)
Once the sweetbreads are soaked and poached, soak them in buttermilk for a few hours. You could do this a day or two ahead of time though if you wanted. I just soaked mine for two hours before frying them. (bottom left)
When you're ready to fry, drain the sweetbreads and toss them in the flour mixture (all-purpose flour, salt, pepper, paprika). Now they are ready to fry!
Frying the Sweetbreads
You don't need a lot of oil to fry these guys. Just about an inch of oil in a large pan with high edges is more than enough.
I did a test run with just one sweetbread bite to make sure these were going to work.
I can't really explain how delicious this was. Golden brown and slightly spicy on the outside with a really creamy and delicious center. So good!
I fried my sweetbreads in two batches at 350 degrees.
As always, I highly recommend using a deep fry thermometer to make sure your temperature is in a safe range.
Just a few minutes will do the trick.
When the sweetbread bites are done, let them drain briefly on a paper towel.
I can't get over how good these were.
Making the Po' Boys
Ok. Now for the easy part.
Toast your sandwich bread and slather both sides with some of the walnut mayo (or spicy mayo if you went that route).
Then lay down a piece of crispy lettuce and add a good thick row of the fried sweetbreads.
Top with the slaw and, as an optional step, add a good drizzle of sriracha hot sauce.
How could you not want this?!
These Sweetbreads Po Boys are messy, but man are they good. I sliced mine in half to make it a bit easier to eat.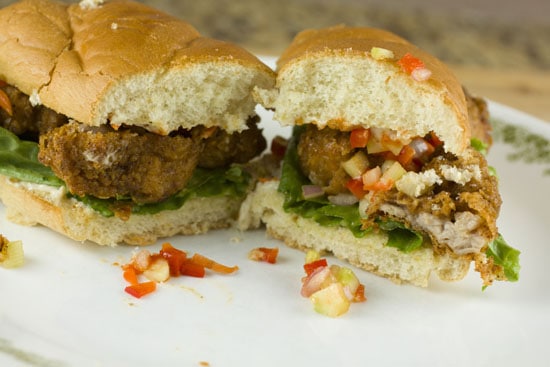 This is an adventurous meal. No doubt about that.
But the payoff is awesome. Definitely one of the most unique and interesting sandwiches I've ever made.
If you love sweetbreads, hate sweetbreads, or have questions about sweetbreads, leave a comment!