The Maple Syrup Association (a real thing) emailed me yesterday and expressed outrage that I would post a pancake recipe without syrup.
I apologized but stuck by my guns. I did tell them that I would make it up to them by using real maple syrup in something other than pancakes.
Okay. That didn't really happen, but I do like maple syrup and it's especially good on this slightly spicy maple popcorn. It almost ends up being like caramel corn, but the sauce doesn't harden quite as much which makes the snack a bit more messy (Read: delicious).
Spicy Maple Popcorn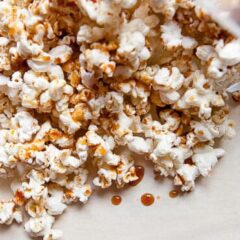 Light air popped popcorn tossed with a delicious spicy maple butter sauce. Perfect for snacking!
Ingredients
10

cups

popped unseasoned popcorn

¼

cup

unsalted butter

¼

cup

real maple syrup

½

teaspoon

cinnamon

½

teaspoon

cayenne pepper

Big pinch of kosher salt

Pinch

of chili powder
Instructions
Cook popcorn using your desired method. These days I air pop my popcorn, but you can also do it in a heavy pot with oil.

In a small pot combine butter, syrup, and spices over medium low heat. Heat until the mixture is bubbling heavily, maybe 3-4 minutes. Stir occasionally. Remove from heat once the sauce is combined, bubbling, and slightly thickened.

Let the sauce cool briefly and spread popcorn out in an even layer on a baking sheet lined with parchment paper. Drizzle sauce over the popcorn evenly.

Let popcorn cool briefly so sauce can stick to the popcorn. It will be a bit wet on the popcorn, but really tasty.
Nutrition
Serving:
2
cups
|
Calories:
264
kcal
|
Carbohydrates:
35
g
|
Protein:
4
g
|
Fat:
13
g
|
Saturated Fat:
7
g
|
Polyunsaturated Fat:
1
g
|
Monounsaturated Fat:
3
g
|
Trans Fat:
0.5
g
|
Cholesterol:
31
mg
|
Sodium:
6
mg
|
Potassium:
145
mg
|
Fiber:
4
g
|
Sugar:
12
g
|
Vitamin A:
513
IU
|
Vitamin C:
0.2
mg
|
Calcium:
30
mg
|
Iron:
1
mg
Did you make this recipe?
Spicy Maple Popcorn
The Popcorn
I picked up some fancy multi-colored popcorn at the local farmer's market a few weeks ago and have been slowly working my way through it.
It looks beautiful, but actually pops and tastes pretty much the same as standard grocery store popcorn.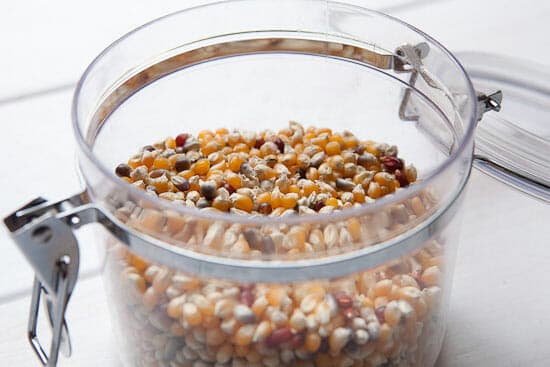 When I did my homemade trials on popcorn a while ago, many people commented that I should invest in an air popper. Embarrassingly, I didn't even know they made these for home use… let alone how cheap they are!
You can get a decent one for $20-$30 and it makes homemade popcorn so easy without all the oil and stuff. Then you can season it to your liking once it's popped.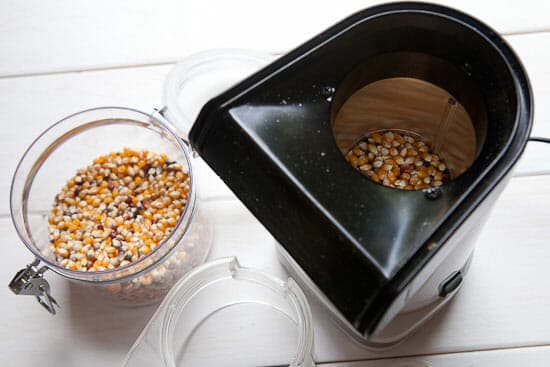 About 1/2 cup of unpopped popcorn turns into about 10 cups of fluffy popped stuff after a few minutes in the air popper.
Sometimes if I'm eating this as a snack, I'll drizzle on a tiny bit of melted butter and season it with seasoned salt and grated Parmesan cheese. Today I have bigger plans though – Spicy Maple Popcorn.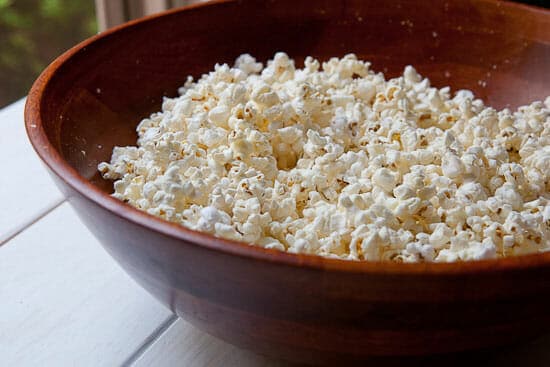 Spicy Sauce
This is an amazing sauce. It doesn't quite harden on the popcorn but is essentially a cross between a maple glaze and a caramel sauce. Please, please use real maple syrup for this sauce. The sugary fake stuff just won't do.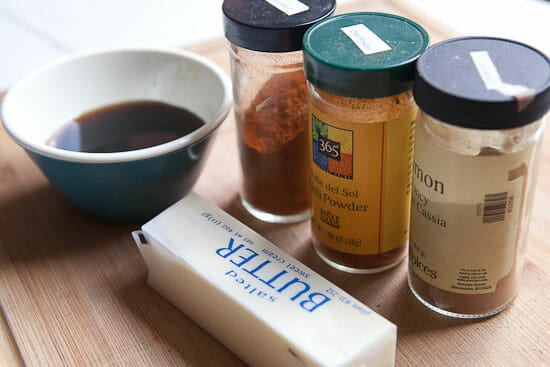 Combine all the sauce ingredients in a small sauce pan and gently heat it over medium-low heat.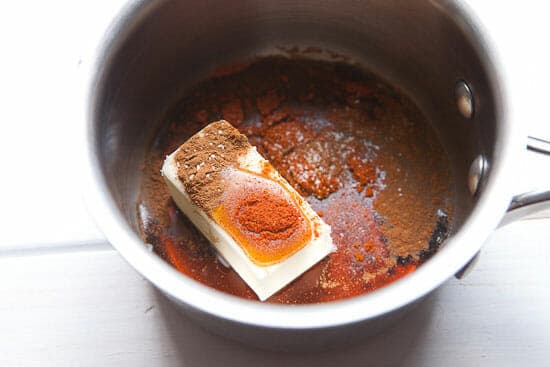 Once the butter melts the sauce will start to bubble and simmer. Let this happen for a few minutes and stir regularly to make sure the spices are mixed in well.
Then remove this from the heat or it will actually burn.
Spread the popcorn out on a baking sheet lined with parchment paper and drizzle the whole thing with all the sauce. Use a heavy hand. It won't hurt.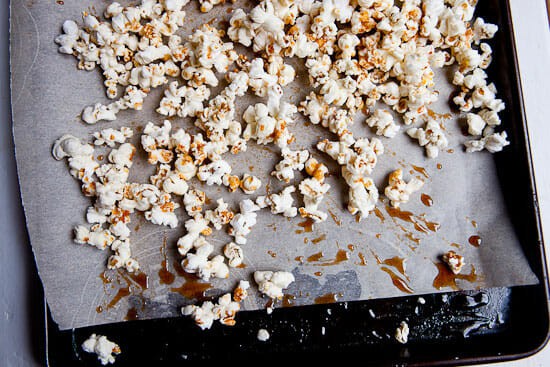 Once this cools the sauce will stick to the Spicy Maple Popcorn and be a delicious, addicting mess.
Make it. Eat it. Share it (or not).