Have you ever had an idea so great that you're positive that someone else must've also had the exact same idea? That happened to me when I originally came up with this recipe. While I was walking home one day, I came up with an idea for an open-faced spanakopita. The obvious mash-up name: Spanakopizza!
Of course, I'm not the first person to think of this kitschy combo of pizza and spanakopita. What I wasn't expecting was that the other person who's well known for it was Rachel Ray. I just had a freakin' Rachel Ray moment: Take two things that have similar names and stick them together. It might not be tasty, but it'll be super-cute.
Luckily, my spanakopizza was also extremely tasty. Like… maybe better than either of its parts.
Let it ring throughout the Internet world, if Rachel Ray wants to have an official spanakopizza challenge, she can bring it. Her version is way more pizza than spanakopita. If fact, it looks like a pizza with spinach and stuff on it. It doesn't even have feta on it! How can you steal the spanakopita name without phyllo dough or feta?!
So I'm claiming the name because my version is, I think, superior.
Spanakopizza
It's spanakopita and it's pizza. It's more spanakopita than pizza, but trust me, it's delicious. You've gotta try this!
Ingredients
1

package frozen phyllo dough

½

Cup

olive oil

,

for brushing

1

pound

fresh spinach

,

or 1 10 ounce box of frozen spinach

10

ounces

feta cheese

,

crumbled

2-3

tablespoons

fresh dill

,

chopped

8-10

ounces

low-moisture mozzarella cheese

,

grated

¼

large red onion

,

sliced

1

roasted red pepper

,

diced

½

Teaspoon

crushed red pepper

,

optional

Salt and pepper
Instructions
Preheat oven to 400 degrees F. Blanch fresh spinach in salted water until it's wilted or thaw frozen spinach in microwave. Either way, be sure to press out liquid with paper towels. You don't want a lot of liquid in the spinach.

Roughly chop the spinach and add it to the feta and dill.

Line a baking sheet with parchment paper. Layer pieces of phyllo dough on top of each other, brushing each piece with olive oil. Use about 8 pieces of phyllo dough.

Take a few single sheets of phyllo dough and brush them with oil. Roll them up and place them around the edge of the baking dish to mimic a pizza crust.

Brush the top of the dough with olive oil and poke a few holes in the surface so steam can escape.

Crumble the feta-spinach mixture in the bottom of the baking sheet. Spread it evenly.

Next add mozzarella cheese and finally sprinkle on onions and roasted red peppers. Season with red pepper flakes and salt and pepper

Before you cook the pizza, cut it into pieces. It will be way to flaky to cut after cooking.

Bake the spanakopizza for 30 minutes at 400 degrees or until the crust is lightly browned and the cheese melted.

Let it cool briefly and serve!
Nutrition
Serving:
1
piece
|
Calories:
802
kcal
|
Carbohydrates:
50
g
|
Protein:
37
g
|
Fat:
52
g
|
Saturated Fat:
17
g
|
Polyunsaturated Fat:
4
g
|
Monounsaturated Fat:
25
g
|
Cholesterol:
75
mg
|
Sodium:
1592
mg
|
Potassium:
781
mg
|
Fiber:
4
g
|
Sugar:
4
g
|
Vitamin A:
11114
IU
|
Vitamin C:
37
mg
|
Calcium:
520
mg
|
Iron:
6
mg
Did you make this recipe?
Spanakopizza Recipe
The Spinach Topping
I didn't make a filling that's quite as complicated as a real spanakopita filling. I wanted something really clean in flavor and also easier to make. You can use fresh or frozen spinach. If you want to use fresh though, just steam it for about 1 minute until it's wilted and then remove it.
After it cools (or thaws if you're using the frozen), be sure to wrap the spinach in a towel or a few paper towels and wring out as much liquid as possible. You'll be shocked how much water comes out. That would definitely mess up a pizza so make sure to do that. Then give your spinach a rough chop and mix it with your crumbled feta and chopped dill.
Prepping the crust
Instead of using pizza dough, I wanted to layer phyllo dough on a baking sheet to make a crust for the pizza. Hopefully, it'd be really flaky and resemble both pizza and spanakopita. The one change I made between this and the spanakopita I made was to use olive oil instead of clarified butter. I just figured olive oil was a bit more pizza-ish.
For the crust, I used 8 sheets of phyllo, brushing each sheet with olive oil and layering one on top of the other on a baking sheet lined with parchment paper. Try to keep them lined up but don't worry if you get a small rip or bubble. The multiple sheets will cover any minor problems.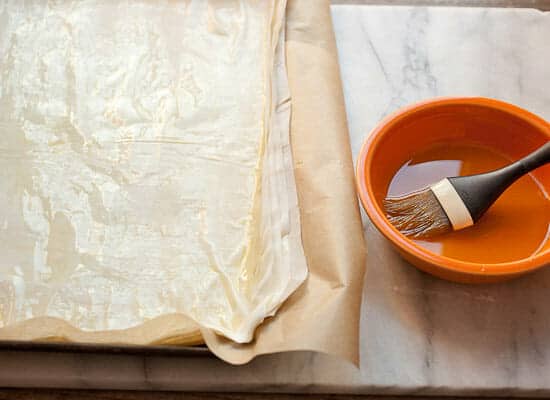 Also, I kind of wanted to mimic an edge of crust around the edge of a pizza, so I took some single sheets of phyllo dough, brushed them on one side with olive oil and then rolled them up!
If you have any edges overhanging, don't chop them off! Just kind of roll them inside the dish to make the crust a bit thicker. If you're using the rolled edge thing above, line the edge of the pan with those rolled phyllo sheets.
Brush the entire thing (including the edges) with olive oil and then poke some holes in the dough with a fork to let steam escape.
At some point, you'll need to prep your other ingredients like slicing your onion, chopping the roasted pepper and grating the cheese!
Finishing the Spanakopizza
After you brush your crust with olive oil, crumble all of your spinach mixture in the bottom. Try to spread it out evenly, but you probably won't have enough to cover the entire surface. That's fine! Think of it more like a topping rather than a filling.
Next, add your mozzarella. I only used 1/2 pound of mozzarella for my entire pizza. You could definitely do more if you want, but I thought it was a good light amount of cheese.
Then sprinkle on your onions and roasted red peppers. Sprinkle on some red pepper flakes if you want a bit of heat also.
Important Part
Make sure to cut your pizza BEFORE you cook it. The phyllo dough is very flaky and it's a lot easier to cut it prior to cooking it.
Bake this for about 30 minutes at 400 degrees or until the crust is lightly browned and the cheese melted. The phyllo dough will take some time to brown nicely though.
Then let it cool and serve it up!
You can see that each piece is nice and thin and it really is like both a slice of pizza and a piece of spanakopita!
I was most worried about the crust, but honestly I think I'm going to start using phyllo dough on more occasions for pizza. It turns out beautifully crispy and golden brown.
Betsy and I ate this with some salad for dinner, but you could chop it into smaller pieces and serve it as an awesome party appetizer. I liked it because it was lighter than your normal spanakopita. It didn't feel filling at all. But it still had that spanakopita flavor.