A huge event is happening next week. And no, I'm not talking about Thanksgiving. I'm talking about the first time that Betsy and I host our very own Thanksgiving! It's a big deal because it plants us firmly in the you're-all-grown-up world.
As you might imagine, I'm taking the whole thing a bit seriously even though, in actuality, we are only hosting three people. It's still a big deal though! A big enough deal that I ordered a 20 pound turkey.
What? Four pounds per person? Betsy thought that was a bit ambitious, but let me just say: "Mother, if you're reading this, BRING TUPPERWARE."
On the subject of Thanksgiving, it's been my experience though that while a poorly cooked bird can sometimes ruin the meal, really delicious side dishes can 100% make the meal very memorable. So I want to devote this week on Macheesmo to those side dishes.
I'm starting with one of the most abused side dishes in Thanksgiving history: Cranberry sauce. I'll just be blunt. If you're going to spend all day making a huge feast of a meal, put down the can opener and make some real cranberry sauce. You can even do it in advance. It's stuff like this though that will stand out on the table.
Roasted Cranberry Sauce
This cranberry sauce might be more of a relish than a sauce, but whatever you call it, it's really tasty.
Ingredients
1

pound

fresh cranberries

1

Cup

sugar

3

Tablespoons

neutral oil

1

Tablespoon

fresh rosemary

,

minced

1

Teaspoon

fresh thyme

,

minced

1

Teaspoon

fresh sage

,

minced

¼

Cup

Triple Sec

3

Tablespoons

apple cider vinegar

½

Cup

currants

,

you could sub raisins, but chop them roughly so they aren't so big

Pinch

of salt
Pecans:
1

Cup

pecans

,

roughly chopped

¼

Cup

Triple Sec

2

Tablespoons

apple cider vinegar

2

Tablespoons

water

¼

Cup

sugar

1

Teaspoon

fresh rosemary

,

sage, and thyme, minced
Instructions
Mix sugar, cranberries, herbs, and oil in a large bowl and then spread out on a heavy baking sheet.

Roast at 425 degrees for about 15-20 minutes until the cranberries are deflated and most of the liquid is cooked out. Stir once, half way through.

Meanwhile, combine Triple Sec, apple cider vinegar, and currants in a pot over medium-low heat. Simmer for 10 minutes while the cranberries roast to let currants soak up liquid.

When cranberries are done, add them to pot with currants and stir well to combine.

Let this mixture chill until cold. It's best to make it the day before.

For the pecans, add sugar, triple sec, and vinegar in a small pan and bring to a simmer. Cook until sugar is dissolved and mixture is thick, a few minutes.

Add chopped pecans and stir so they are coated. Then pour pecans onto a baking sheet lined with parchment paper.

Roast at 425 degrees until pecans are lightly browned, about 8-10 minutes.

Let cool and then break up the pecans.

Serve cranberries with pecans on top.
Notes
Pretty heavily adapted from a Bon Appétit recipe.
Nutrition
Serving:
0.5
Cup
|
Calories:
484
kcal
|
Carbohydrates:
82
g
|
Protein:
1
g
|
Fat:
15
g
|
Saturated Fat:
2
g
|
Polyunsaturated Fat:
6
g
|
Monounsaturated Fat:
6
g
|
Trans Fat:
0.05
g
|
Sodium:
83
mg
|
Potassium:
176
mg
|
Fiber:
4
g
|
Sugar:
73
g
|
Vitamin A:
80
IU
|
Vitamin C:
12
mg
|
Calcium:
37
mg
|
Iron:
1
mg
Did you make this recipe?
Roasting the cranberries
Roasting the cranberries really intensifies their flavor but also mellows out the bitterness a bit. The sugar helps with that also. It looks like a lot of sugar, but you'll lose some of it in the roasting pan. Also, who cares? It's Thanksgiving. Just go with it.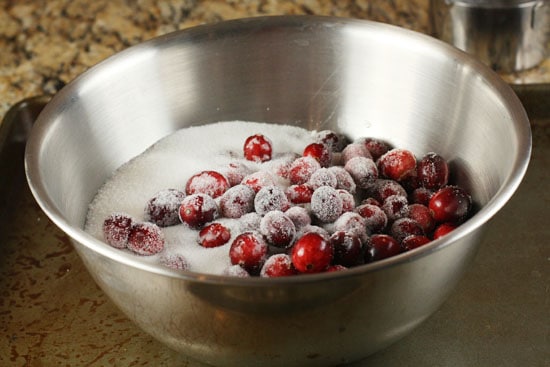 It shouldn't surprise you to see the Thanksgiving trio of herbs in this dish. You'll need them for both the cranberries and the pecans and probably for every other dish you make for Thanksgiving.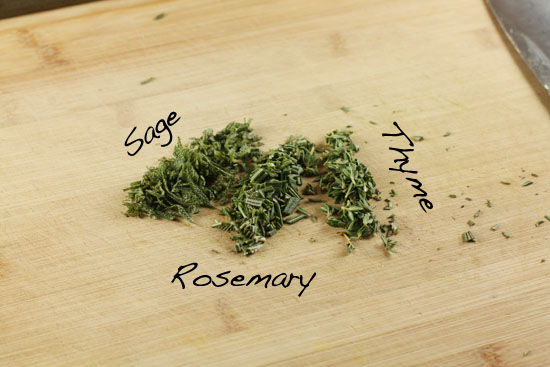 Stir the cranberries, sugar, oil, and herbs in a big bowl and then lay them out on a large baking sheet.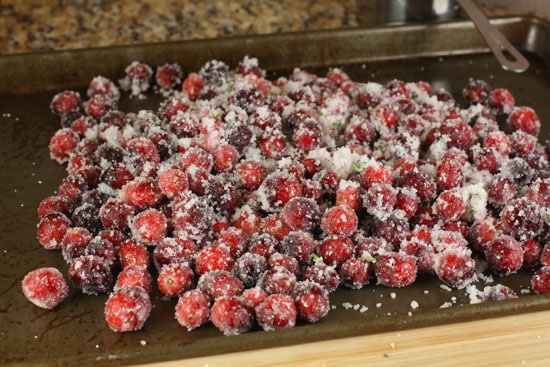 Bake these at 425 degrees for about 20 minutes. After 10 minutes, take the cranberries out and stir them well. Push them toward the center of the pan.
Meanwhile, you'll need some of these guys (NOT PICTURED: apple cider vinegar).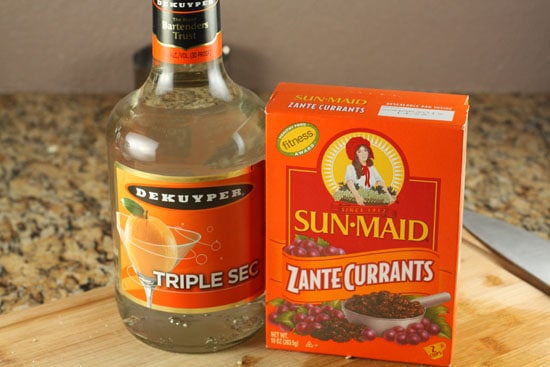 The original recipe called for red wine, but I wanted an orange flavor, hence triple sec. The problem that I quickly realized was the Triple Sec is really sweet and I worried that my final sauce would be way too sweet. So I added some apple cider vinegar to the mix and it worked like a charm.
Mix the triple sec, currants, and vinegar in a medium sauce pan over medium heat until it simmers. Simmer it so the currants absorb a lot of the flavors. Simmer for about 10 minutes while your cranberries roast.
Keep a close eye on the cranberries so they don't burn. You might have some burned syrupy sauce around the edges of the baking pan, which is fine. Just don't use that.
Your cranberries are done when they are mostly deflated and a lot of the liquid is cooked off. This is about perfect. I didn't use any of the blackish sauce around the edges.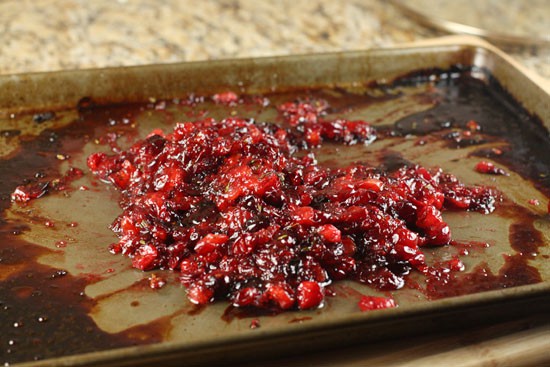 Move the cranberries to the pot with the currants and simmer for another minute. Add a pinch of salt and combine well.
Let this cool completely before serving. This means that it's probably best to make the day before which is nice anyway.
This stuff is really good though.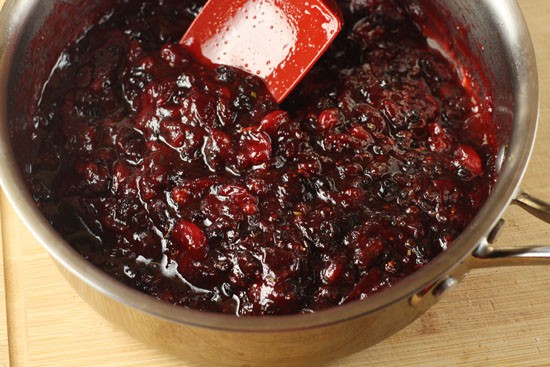 Making the Pecans
Texture is very important on a dish like this and as is, the cranberry sauce is kinda of mushy. Adding some roasted, candied pecans to the mix gives it a fantastic crunchy topping. It brings the dish from good to great. You could leave out the pecans though if you don't have time.
To make them, combine the sugar, triple sec, and apple cider vinegar in a small pan and bring to simmer. Simmer until thick (a few minutes), then add the herbs and pecans. Stir well to coat the pecans with the syrup mixture and lay them out on a baking sheet lined with parchment paper.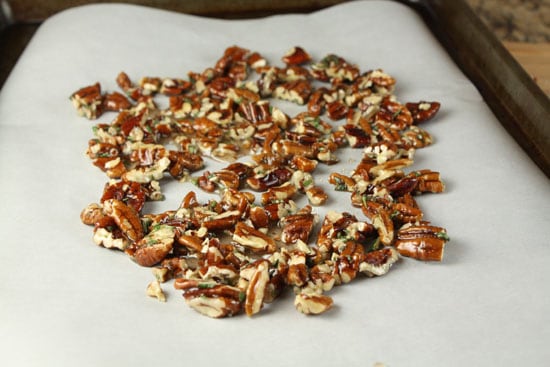 Bake these guys at 425 degrees for about 10 minutes or until they are lightly browned.
Let them cool for a minute and then break them up into small pieces.
You could make a huge serving of these and have them around as a snack also. They're awesome to munch on.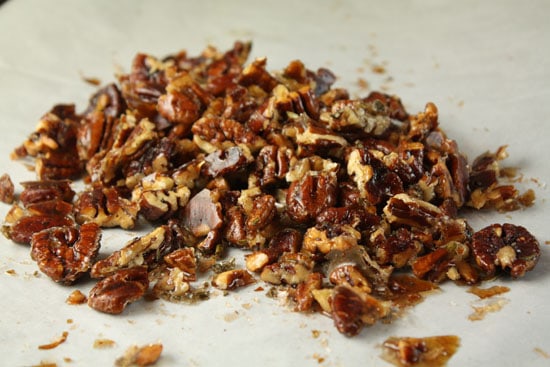 When you're ready to serve it, just sprinkle the pecans on the cranberry and you're all set.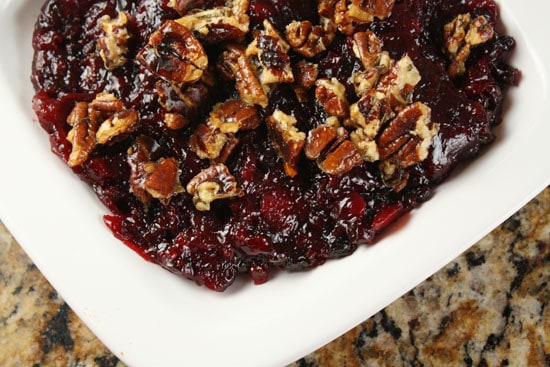 I know that cranberry sauce seems like a small part of the meal, but trust me. If you take the time to make something like this, people will remember it.