I'm always quick to tell people that I'm not a great baker. I don't really try to do complicated doughs or loaves, but biscuits are solidly in my wheelhouse and they should be in yours! Even if you've never made a dough before, these Pumpkin Biscuits are a thing you can make.
Because are a nice starter baking project because they don't have yeast, don't involve complicated layering or rolling, and are flexible enough that even if you kind of mess up biscuits, they will probably still be delicious!
While I've made many kinds of biscuits over the years, in the fall there is something about these pumpkin biscuits, folded with pecans and seasoned with maple syrup, that just hits the spot.
So, try them out, even if you've never tried biscuits before!
Previous Pumpkin Biscuit Attempts
So I got the idea for this recipe from a sweet potato biscuit recipe in Bon Appetit. That recipe also sounds good but the pumpkin idea is even easier because you can just use the canned pumpkin puree. The original recipe called for cornmeal, which I used the first time but didn't like. So I took it out and replaced it with flour for my final version.
The original recipe also calls for pecans, which for some unknown reason, I just completely left out of one version I tried for these biscuits.
It seemed like too much work. The pecans are not optional. The chopped pecans make the biscuits kind of hold together. I left them out the first time and my dough was really soggy and not the right consistency.
I also made some small adjustments to the recipe for a higher altitude version including:
– Reducing the baking powder by 1/8 Tablespoon
– Adding an extra 2 Tablespoons of all-purpose flour
– Baking them hotter for a shorter amount of time
I didn't do that the first time around and the biscuits ended up a bit flat.
Note that the recipe, as written, will work for any altitude. If you are baking at a high altitude, you might try the above changes.
Making the Pumpkin Biscuit Dough
This is a really quick dough to pull together if you have a food processor. If you don't, then you can still make it but expect a few extra minutes of prep time.
Start by combining your pumpkin puree, buttermilk, and maple syrup in a bowl. You want to have this stuff ready because after you add it to the dry stuff you want to waste no time getting the biscuits rolled out and in the oven.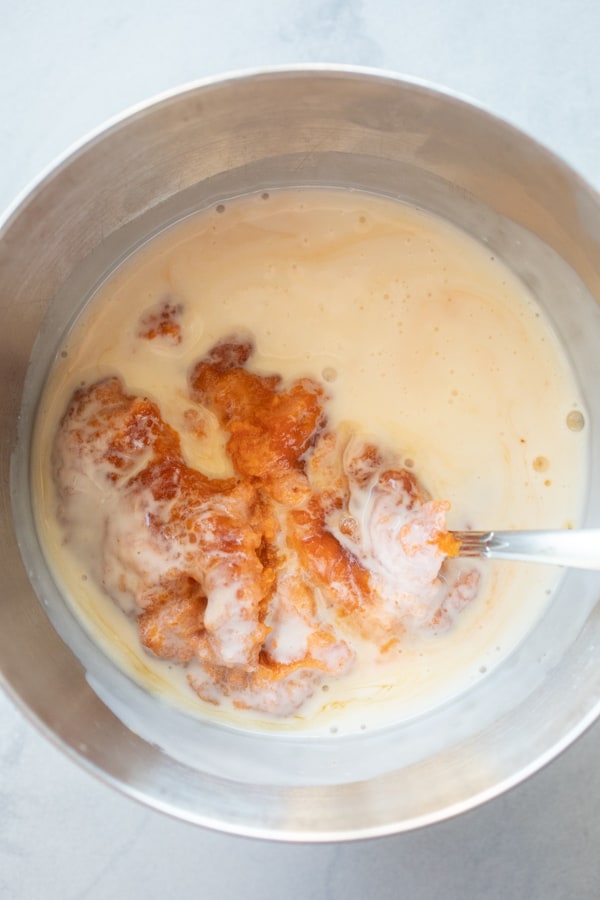 In a food processor or large bowl, combine the flour, baking powder, salt, chopped pecans, and butter.
Pulse this a few times to cut the chilled butter into the flour if you are using a food processor. If you don't have a food processor, this is the step that'll take a few extra minutes because you'll need to cut the butter into the flour using your fingers.
Once you get the butter cut into the flour it should be in coarse crumbs, add the wet ingredients and pulse a few times or just stir it together with a spoon until the dough comes together.
After some quick stirring, this was my finished dough. It is a really soft dough and you'll have to have a floured surface as you roll it out.
ANYWAY, assuming your dough is the right consistency (soft, but not sticky), turn it out onto a floured surface and quickly roll it out to a medium rectangle. The dough should be about 1/2 inch thick.
Remember, the key to good biscuits is to work quickly because time works against you once you add the liquids in with the dried stuff.
Drop Biscuits vs. Shaped
If you don't want to bother cutting your biscuits, these biscuits would work really well as drop biscuits. Just drop big spoonfuls of the dough onto a greased baking sheet! They will have a more rustic feel to them, obviously, but will be very delicious and easier than rolling and cutting!
If you want to roll them out, Use a cutter to cut out biscuits to your size, or you can just slice them up and make square biscuits.
Set the biscuits on a baking sheet (I recommend lining it with parchment paper). Then bake them in a 425˚F oven for about 18 minutes.
Before baking these, I brushed them with some extra buttermilk and sprinkled them with coarse sugar. This just adds a nice crust to the biscuits.
These finished Pumpkin Biscuits have a nice crust on them but also have really flakey layers and are super soft and fluffy on the inside. The pumpkin flavor is subtle, but definitely a change from traditional buttermilk biscuits.
This was one of the first baking attempts I ever made at high altitude, many years ago, and I've tweaked the recipe a bit for these since then. As far as biscuits go, these Pumpkin Biscuits with Pecans will always be on my list. Quick to stir together and very unique!
Substitutions and Ideas
Biscuits are always a flexible baking project in my mind. Here are a few substitution ideas!
Add other spices to the ingredients like ground cinnamon, nutmeg, or allspice.
Switch out the maple syrup for honey or another sweetener.
Make these biscuits have a spicy kick with some chilis or chili powder. Pumpkin and chili go really well together.
Add some grated cheddar cheese to the dough for a cheesy biscuit
Instructions for reheating these pumpkin biscuits
These biscuits keep really well for a few days in the fridge. I wouldn't reheat these in the microwave as they will get soggy.
Instead, pop them in a toaster oven for a few minutes or in a 350˚F oven for a few minutes until warmed through.
Pumpkin Biscuits with Pecans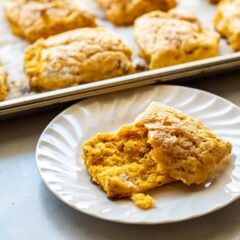 Crispy on the outside, soft, fluffy and moist in the middle, these Pumpkin Biscuits with Pecans will make your house smell good when they bake.
Ingredients
2

cups

all-purpose flour

1

tbsp

baking powder

¾

teas

salt

½

cup

unsalted butter

,

chilled and cubed

½

cup

buttermilk

¼

cup

maple syrup

½

cup

pecans

,

chopped

1

cup

pumpkin puree

Coarse sugar

,

garnish
Instructions
Preheat oven to 425˚F. Add flour, salt, baking powder, and pecans in a food processor and pulse a few times to get the pecans chopped. If you don't have a food processor, just chop the pecans finely and then stir everything together in a bowl.

Add cubed chilled butter to flour mixture and pulse a few times or cut butter into flour with fingers or a fork until there are pebble sized bits of butter throughout the flour.

Mix pumpkin, buttermilk, and syrup together in a seperate bowl.

Add pumpkin mixture to flour and pulse a few times to combine or stir until dough comes together. The dough should be really soft, but not sticky at all.

Working quickly, turn dough out onto floured surface and roll until it's 1/2 inch thick. Use cutters to cut out biscuits or slice dough to make square biscuits. You can also drop the biscuits onto a baking sheet directly.

Place biscuits on baking sheet lined with parchment paper. Optionally, brush biscuits with buttermilk and sprinkle with coarse sugar. Bake at 425 for 18-20 minutes.

Let cool briefly before serving.
Nutrition
Serving:
1
biscuit
|
Calories:
150
kcal
|
Carbohydrates:
19
g
|
Protein:
2
g
|
Fat:
8
g
|
Saturated Fat:
4
g
|
Polyunsaturated Fat:
1
g
|
Monounsaturated Fat:
2
g
|
Trans Fat:
0.2
g
|
Cholesterol:
16
mg
|
Sodium:
212
mg
|
Potassium:
72
mg
|
Fiber:
1
g
|
Sugar:
5
g
|
Vitamin A:
2573
IU
|
Vitamin C:
1
mg
|
Calcium:
69
mg
|
Iron:
1
mg
Did you make this recipe?
Here are a few other Easy Breakfast Breads!