While this post isn't about pizza, I want to start it by talking about pizza. As everybody knows, there's the thick crust crew and the thin crust crew. Personally, I tend to favor thin crust because I like a good crispy crust.
But it doesn't really matter what camp you fall into, the point is that there are options. For some reason though, for other dishes these options get harder to find. Take frittata, for example. They are almost exclusively served in pie dishes which leads to a pretty thick frittata.
I figured I might try to apply my love of thin crust to a frittata! Instead of making a huge crust to cover an entire sheet pan, I just used some frozen puff pastry sheets which worked surprisingly well!
Puff pastry frittatas are the thin-crust pizza of breakfast.
Puff Pastry Frittata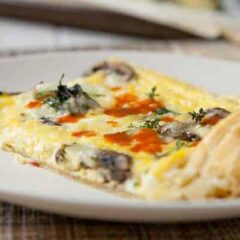 Puff Pastry Frittata baked with mushrooms, baby spinach, and spicy cheese is a great brunch dish for a crowd. I like to bake mine in a sheet pan!
Ingredients
2

sheets

puff pastry

,

thawed

9

large

eggs

,

whisked

1

cup

whole milk

8

oz.

crimini mushrooms

,

sliced

5

oz.

baby spinach

4

oz

white cheddar

2

cloves

garlic

,

minced

2

tablespoons

olive oil

1

teaspoon

fresh thyme

½

teaspoon

red pepper flakes

½

teaspoon

kosher salt

¼

teaspoon

black pepper

Hot sauce

,

garnish
Instructions
Thaw puff pastry according to package. Preheat oven to 375 degrees F. In a medium bowl, whisk together eggs with milk.

In a large skillet or cast iron pan, add a drizzle of oil over medium heat. Once hot, add mushrooms and cook until they have lost their moisture and shrunk down. Then add garlic, thyme, red pepper flakes, and spinach. Cook for a minute or two until spinach is just wilted. SEason with salt and pepper and set aside.

Line a 13×9 sheet pan with parchment paper. Gently roll out puff pastry sheets on a lightly floured surface. Transfer sheets to sheet pan and crimp together in the middle to form a uniform piece of crust. Press edges of the crust up the sheet pan to form a thin crust for the fillings.

Spread out half of the grated cheese on the puff pastry, then sprinkle the mushroom/spinach mixture over the puff pastry. Top with the rest of the cheese.

Pour the egg mixture into the crust and use a spatula to distribute eggs evenly.

Bake the frittata until the eggs are just set in the center and the edges are golden browned and puffed, about 20 minutes.

Let frittata cool briefly and then slice into big pieces. Serve garnished with fresh thyme and hot sauce.
Nutrition
Serving:
1
piece
|
Calories:
639
kcal
|
Carbohydrates:
42
g
|
Protein:
18
g
|
Fat:
44
g
|
Saturated Fat:
12
g
|
Polyunsaturated Fat:
6
g
|
Monounsaturated Fat:
24
g
|
Trans Fat:
0.03
g
|
Cholesterol:
284
mg
|
Sodium:
543
mg
|
Potassium:
526
mg
|
Fiber:
2
g
|
Sugar:
4
g
|
Vitamin A:
2753
IU
|
Vitamin C:
7
mg
|
Calcium:
135
mg
|
Iron:
4
mg
Did you make this recipe?
Puff Pastry Frittata Filling
This post is almost more about the concept than an actual recipe and you can probably guess that you could change up the fillings to almost anything. For my money though, mushrooms and spinach will almost always get the job done.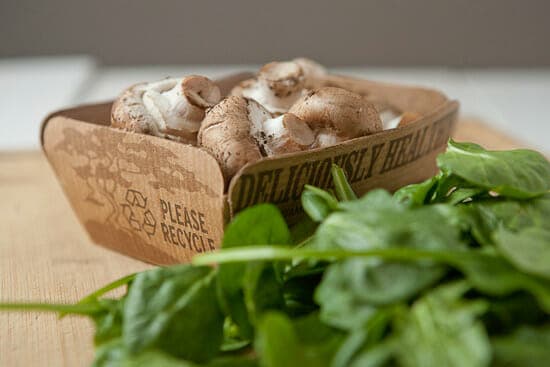 I just slice up the mushrooms and cook them over medium heat with a drizzle of oil until they are cooked down and browned a bit, 6-8 minutes. Then I add some minced garlic, red pepper flakes, thyme, salt and pepper.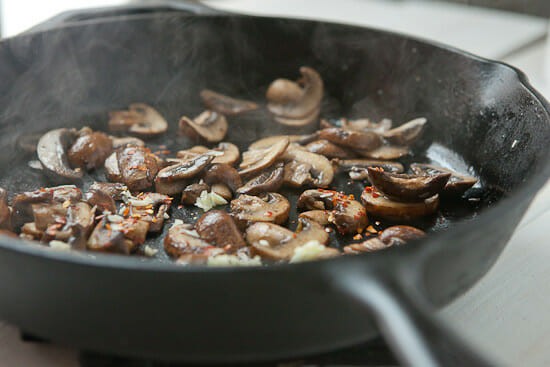 Oh… and a huge container of baby spinach. It'll almost overflow out of the skillet but after a minute it'll wilt down to about this much.
Making the Puff Pastry Frittata
For any frittata, you need eggs obviously. This is actually about the same amount of eggs as I would use for a pie crust version so it's just going to be spread out into a much thinner layer.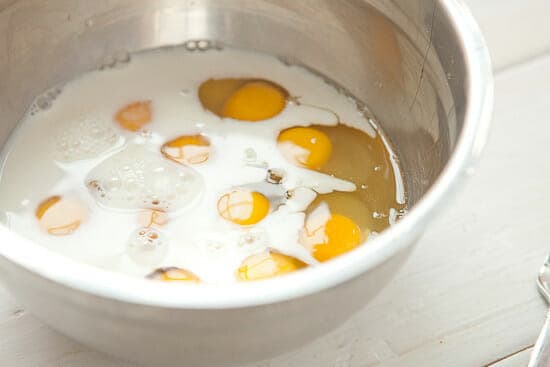 To actually make the crust, thaw the puff pastry sheets slowly and then roll them out a bit on a lightly floured surface. Each sheet should fit in half of the sheet pan. Then you can crimp them together in the middle.
I recommend lining your baking sheet with parchment paper before doing this which makes for very easy removal later.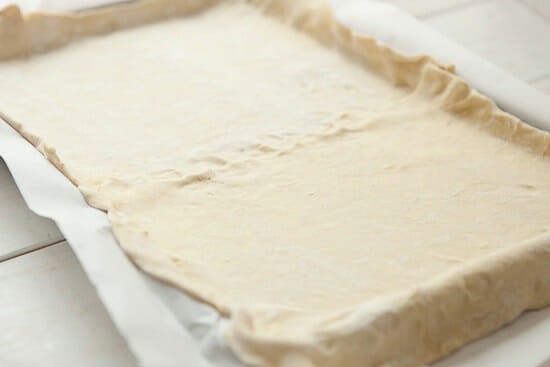 Press the sides of the crust up the sides of the sheet pan. If you have extra on the edges, you can just let it overhang. It'll puff and get nice and crispy.
Then add the fillings! I did half of the grated cheese, then the mushrooms and spinach, then more cheese. Get it?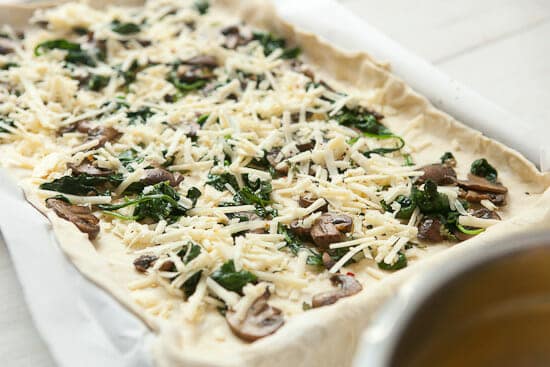 Now for the fun part. Pour in the eggs! It might look like there isn't enough, but good news: Eggs are liquid. So move around the fillings if you need to so the eggs can flow over the entire crust. It'll be a pretty thin layer in parts, but that's good!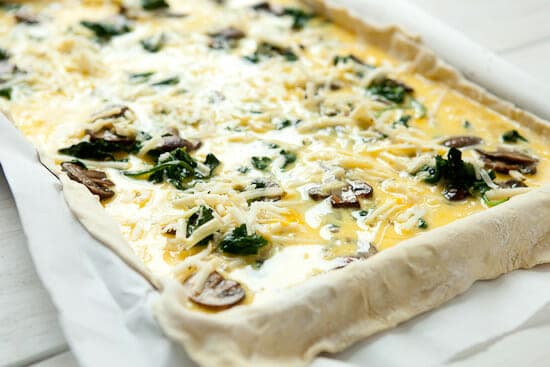 Baking the Puff Pastry Frittata
Bake this beauty at 375 degrees F. for about 20 minutes. I would check it around 18 minutes. It's done with the eggs are set completely in the center and the puff pastry crust is nicely browned around the edges.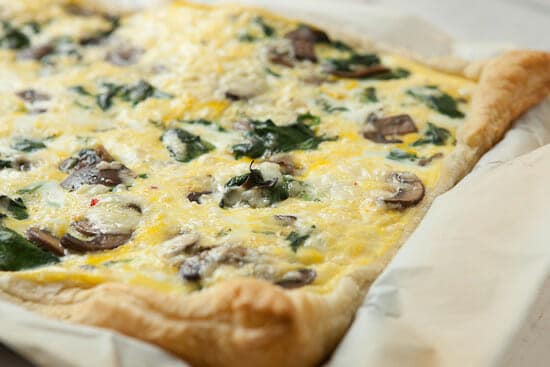 I like to serve big squares of this garnished with dashes of hot sauce and fresh thyme.
It's my new favorite thin-crust thing.