There are approximately as many breakfast casserole recipes on the Internet as there are cat videos. Okay… maybe not. Actually it's not even close. According to Google, six million breakfast casserole recipes versus 167 million cat videos. Even though it's impossible, I feel like I've seen every cat video and tried every breakfast casserole recipe. But even still, I felt like this potato breakfast pie was worth posting.
It has the perfect ratio of ingredients and ends up being perfectly crispy where it should be but still soft and tender on the inner parts. I hesitate to call a recipe perfect because I think things can always be improved, but this one is pretty darn close. I can't think of anything I would easily change.
Given how delicious it is, this recipe also isn't finicky and doesn't have a lot of ingredients and spices. It's basic stuff stirred together in a bowl and baked. One important step, as you can see, is to line the baking dish with parchment paper so you can literally lift the pie out and peel back the layers. YUM.
Potato Breakfast Pie with Bacon and Kale
An all-in one Brunch masterpiece, this pie is everything you want in a breakfast dish. Shredded potatoes, bacon, veggies, and just enough cheese and egg to hold it together.
Ingredients
1

pound

bacon

,

chopped

1

pound

hash browns

2

tablespoons

bacon grease

1

small bunch kale

,

chopped

1

large leek

,

chopped

2

cups

grated cheddar cheese

6

large eggs

½

teaspoon

red pepper flakes

Salt and pepper
Instructions
Preheat oven to 350 degrees F. Chop bacon and add it to a large skillet over medium-low heat. Cook bacon until the fat is rendered out and the bacon is nice and crispy, maybe 10 minutes.

Wash kale and leek well. Cut off any thick stems of the kale and chop into slivers. Half leek and chop it up into coins. When bacon is done, remove it from the skillet and drain off bacon grease, leaving 2 tablespoons in the skillet (you can eyeball it). Add kale and leeks and cook for 3-4 minutes. Season with salt and pepper.

In a medium bowl, stir together packaged hash browns (or you can grate fresh potatoes, rinse them and dry them well), bacon, kale mixture, cheddar, eggs, and red pepper flakes.

Line a 2 qt baking dish (or an 8×8 baking dish) with parchment paper. Spoon in the pie mixture and sprinkle with salt and pepper.

Bake breakfast pie for about an hour until the pie is very crispy around the edges. Remove and let cool for 5 minutes.

Carefully lift the breakfast pie out of the dish and peel back the parchment paper. Slice and serve!
Nutrition
Serving:
1
Piece
|
Calories:
649
kcal
|
Carbohydrates:
18
g
|
Protein:
26
g
|
Fat:
52
g
|
Saturated Fat:
21
g
|
Polyunsaturated Fat:
7
g
|
Monounsaturated Fat:
20
g
|
Trans Fat:
0.1
g
|
Cholesterol:
256
mg
|
Sodium:
844
mg
|
Potassium:
518
mg
|
Fiber:
2
g
|
Sugar:
1
g
|
Vitamin A:
1889
IU
|
Vitamin C:
17
mg
|
Calcium:
336
mg
|
Iron:
2
mg
Did you make this recipe?
Potato Breakfast Pie
This recipe starts with bacon. I started thinking that a full pound of bacon would be too much, but after it renders down into crispy little bites, it's the perfect amount. More would definitely be overkill in my opinion and less would leave you hunting and pecking for it in the pie.
Render the bacon in a large skillet over medium-low heat. After about 10 minutes, it should be nice and crispy. Then you can remove the bacon and pour off most the bacon grease. Leave a few tablespoons though so we can cook the leeks and kale!
The only tip with the veggies is to make sure you chop them into thin shreds. This way they kind of almost dissolve into the final breakfast pie. Season them with salt and pepper as they cook.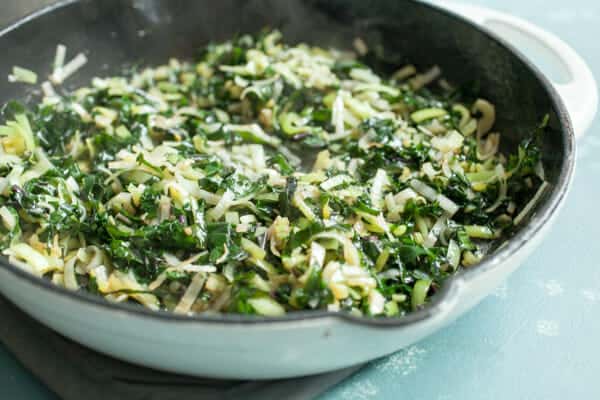 Now toss everything together in a bowl! Bacon, hash browns, kale, and cheese. You can either use packaged hash browns or you can peel and shred a pound of fresh ones. Just be sure to rinse them and dry them well if you use fresh ones.
Stir in the eggs and transfer it to a baking dish lined with parchment paper. It already looks good!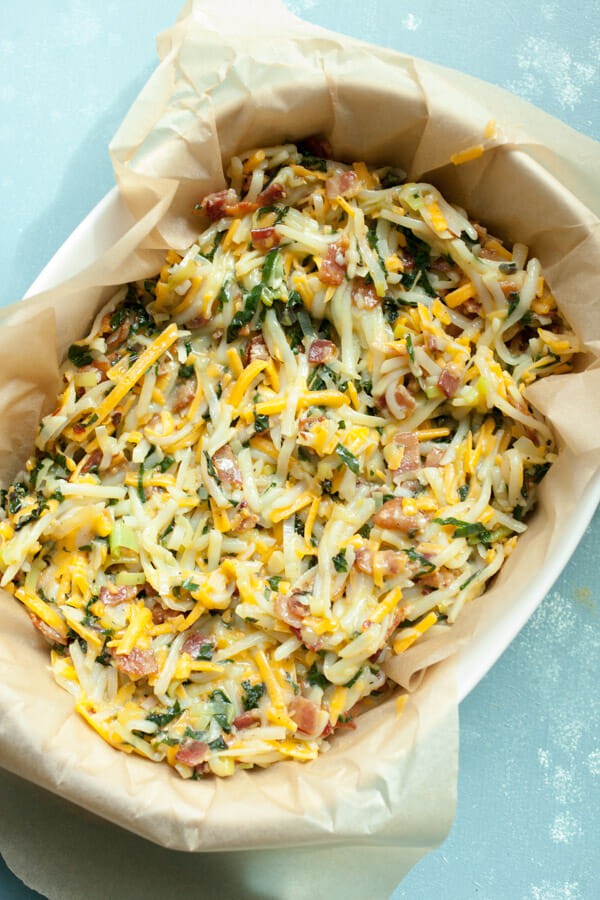 Bake the breakfast pie at 350 degrees F. for about hour until it's crispy and delicious around the edges. Honestly, it'd be pretty hard to overcook this. I think you could bake it for an extra 20 minutes or so if you wanted it very crispy and it would be fine!
Once the potato breakfast pie cools for a few minutes, you can literally lift it out of the baking dish, peel back the parchment, slice it and serve it!
If you happen to have leftovers, you can store them in the fridge or you can also wrap it tightly and the pie freezes beautifully for a few months.
Sorry to add to the huge list of breakfast casseroles on the Internet, but you all needed this one. Trust me.