This is a rule: You have to use PBR for this Beer Waffles recipe.
Will you be able to make this waffle using any sort of light beer? Why certainly.
Will it be light and fluffy on the inside and crispy and delicious on the outside? Probably.
Will it go equally well with whipped cream, berries, and maple syrup? Yes, of course.
But PBR is awesome and there's no better way to impress your friends then by cracking a can of it open at 9AM.
PBR Waffles
Quick and easy recipe for homemade crispy and light Belgium waffles made with PBR or any light beer of your choice! Delicious!
Ingredients
2

cups

all-purpose flour

1

tablespoon

baking powder

1

12 ounce can Pabst Blue Ribbon

½

cup

unsalted butter

,

melted

¼

cup

milk

2

large eggs

1

tablespoon

honey

1

teaspoon

vanilla

1

pinch

salt

Whipped cream

Berries

Maple syrup
Instructions
Stir together flour with baking powder and salt.

Stir in beer. Then stir in milk, eggs, honey, vanilla, and melted butter. Let batter sit for a few minutes.

Pour batter into hot waffle maker and cook according to instructions.

Repeat until waffles are done. Top with berries and whipped cream. Serve with butter and maple syrup.
Nutrition
Serving:
1
Waffle
|
Calories:
328
kcal
|
Carbohydrates:
36
g
|
Protein:
7
g
|
Fat:
17
g
|
Saturated Fat:
10
g
|
Polyunsaturated Fat:
1
g
|
Monounsaturated Fat:
5
g
|
Trans Fat:
1
g
|
Cholesterol:
96
mg
|
Sodium:
246
mg
|
Potassium:
88
mg
|
Fiber:
1
g
|
Sugar:
4
g
|
Vitamin A:
569
IU
|
Vitamin C:
0.02
mg
|
Calcium:
149
mg
|
Iron:
2
mg
Did you make this recipe?
Beer Waffles
Making the Batter
Waffle batter is pretty simple to whip up. Besides the dry ingredients (flour, baking powder, salt) you need just a few other things.
A whole can of PBR being the most notable.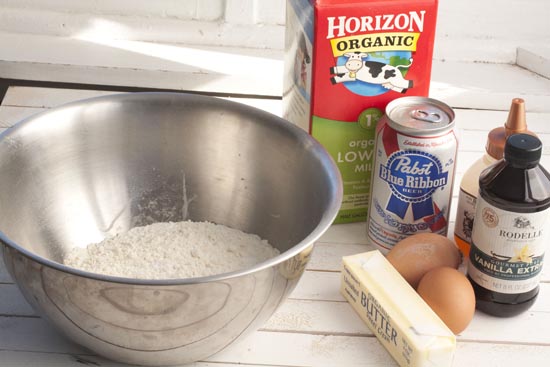 If you happen to have friends over (or a significant other) do not be concerned if they stare at you strangely while you pour a whole can of beer into a bowl of flour.
If you happen to be married to a particularly snarky person, they may make a comment like:
"Our house smells like a frat house."
Simply ignore them and know that they will be forgiving you when you serve them the best waffle they've ever had.
But yes. Pour the whole can of beer into the bowl.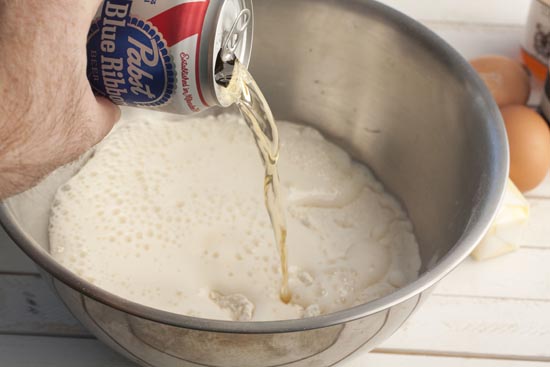 Then stir in the eggs, milk, vanilla, honey, and melted butter and your batter is done!
If you're in a rush, you can use this right away, but it'll be best if you let it sit for 15-30 minutes.
The Equipment
I'm not really into kitchen devices that only do one thing. Don't even get me started on the avocado slicer.
But, if you want to make waffles, you pretty much have to have a waffle maker. I recently upgraded my waffle maker to this beautiful double-sided waffle maker from Waring. It's pretty professional and makes killer waffles.
It's also the easiest clean up of any waffle maker I've seen.
It's a beast of a machine and a bit on the expensive side, but it does what it's supposed to do very well.
Toppings
Waffles are all about the toppings in my mind. Good maple syrup and butter go without saying, but some other stuff doesn't hurt.
I made some quick whipped cream with vanilla and chopped up a few berries.
For those that think homemade whipped cream is a lot of work, you can get really good at it. Using a cold metal bowl, cold whipping cream, and a good whisk, I can make homemade whipped cream in under a minute.
Depending on the waffle maker that you are using, you'll probably have to vary the batter amount and cooking time, but for my waffle maker, I used about 2/3 cup of batter per waffles and cooked them for about 4-5 minutes.
They turned out really nice and crispy and light and fluffy on the inside.
And no… you can't taste the beer in the final product. Although you could probably taste it if you used something really heavy which I advise against.
It's a really simple waffle recipe and, of course, you can use any beer you want.
It's hands down the best basic waffle recipe I've ever used though.
Give Beer Waffles a shot if you're a waffle lover! You'll never go back!