This is an updated post from the Macheesmo Archives!
I've never at all had a problem eating vegetables. In fact, I usually crave them. That said, I do have a few friends (Hi Scott) that absolutely will not touch vegetables. Especially green ones that rhyme with Choccoli.
For those people that do not under any circumstances eat vegetables, let me introduce you to something: The Broccoli Gratin.
I don't understand how anyone could not like this Broccoli Gratin. It is cheesy and delicious! If a broccoli-hater were forced to eat this blind-folded, I imagine they might say: "Oh wow. That tastes like pure cheesy Heaven!" And then they would open their eyes and see all that green and probably pretend they don't like it, but secretly sneak some into their backpack.
Broccoli Gratin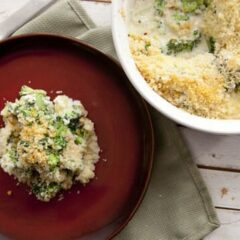 This recipe for my broccoli gratin will change the mind of any veggie hater. Even if you've never liked broccoli, you'll like this.
Ingredients
1

bunch broccoli

,

about 1 1/2 pounds

1

Cup

whole milk

½

Cup

heavy cream

1

Cup

grated Parmigiano-Reggiano

,

I wanted to beef this up a bit so I used 3/4 cup Parm and 3/4 cup Gruyere.

2

large eggs

½

teaspoon

red pepper flakes

1

Cup

bread crumbs

1

Tablespoon

extra virgin olive oil

Salt and pepper
Instructions
Chop off broccoli florets. Peel stems with a veggie peeler or knife and cut stems into ½-inch sections.

Mix up all ingredients except broccoli, bread crumbs, and oil in a bowl.

In some lightly salted boiling water, blanch the broccoli for 4-5 minutes until it's tender. Then drain and move the pieces to a 8×8 baking dish.

Pour cheese sauce over broccoli.

Stir bread crumbs and oil together and top casserole with it.

Season with salt and pepper and bake at 350 degrees F. For 30-35 minutes. Then broil on high for 3 minutes to brown the bread crumbs.

Let cool for five minutes before digging in.
Nutrition
Serving:
1
Side
|
Calories:
305
kcal
|
Carbohydrates:
23
g
|
Protein:
15
g
|
Fat:
18
g
|
Saturated Fat:
9
g
|
Polyunsaturated Fat:
1
g
|
Monounsaturated Fat:
6
g
|
Trans Fat:
0.01
g
|
Cholesterol:
93
mg
|
Sodium:
477
mg
|
Potassium:
474
mg
|
Fiber:
4
g
|
Sugar:
6
g
|
Vitamin A:
1248
IU
|
Vitamin C:
91
mg
|
Calcium:
350
mg
|
Iron:
2
mg
Did you make this recipe?
Broccoli Gratin
We are going to use both the florets of the broccoli and the stems in our Broccoli Gratin. Be sure to peel the stems with a veggie peeler or knife and then cut the stems into 1/2 inch sections.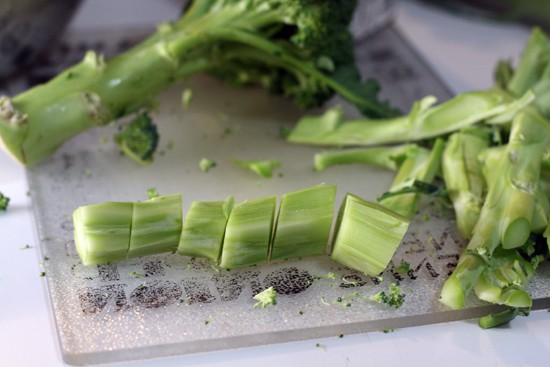 If the above caption is lost on you, this video is what you want to watch.
I think this video is actually impossible to watch and not laugh at. I've tried around 100 times. Impossible.
To prep the broccoli for the casserole, blanch it for about 3 minutes in salted, simmering water. It should be bright green and still have a slight crunch to it. If it's completely tender and soggy, you screwed up.
Ok. Back to the Broccoli Gratin recipe. Mix up all of your other ingredients except the broccoli, bread crumbs and oil in a bowl.
Once your broccoli pieces are blanched, move them to a 8×8 (or similar sized) casserole dish.
Then pour your cheese sauce over the broccoli. It's that simple! Just try to make sure the sauce and cheese is evenly distributed.
Then in a separate bowl, toss your bread crumbs in your olive oil and then coat the dish with that mixture. Also sprinkle with a pinch of salt and pepper.
Bake this bad boy at 350 for 30-35 minutes and then broil it on high for about 2 minutes. You'll end up with something lovely like this.
Be sure to let the Broccoli Gratin cool for 5 minutes before ripping into it. You need to give the custard time to set just a bit. I served this with some toasted bread and it was very good. You could also serve it with a side of rice or just a salad. It's a hearty side item for sure.
So if you happen to know, or be, a broccoliphobe, put this Broccoli Gratin on the menu sometime. It is about as un-broccoli as broccoli can get.