This post is sponsored by Superior Farms! I used a Superior Frenched Style Leg of Lamb for this recipe. Be sure to follow them on Instagram to learn more about how they raise American lamb!
Even though this holiday season will be different, it's still important to celebrate with those that you love. This Panko Leg of Lamb is the perfect showstopper main dish for your holiday table.
Even if you are just feeding a few people, the leftovers from this leg of lamb keep well for a while and make for delicious sandwiches for days! You will be eating well, for sure!
While this is a stunning dish, it's shockingly easy to make and I swear you can do it. You just mix together the topping and pack it on the lamb. Then roast it until it reaches your desired temperature, let it rest, slice and serve!
Finding good quality, sustainably-raised meat in specialty cuts like this can be hard, but Superior Farms has great options. It will be delivered to your door and includes a range of delicious lamb cuts. You will eat well over the holidays – for sure!
Make something special for the holidays this year. Everybody deserves a great meal for making it through this year!
Panko Leg of Lamb
Panko Leg of Lamb with Herbs is the perfect holiday show-stopper main dish! The secret is that it's also really easy to make.
Ingredients
1

Frenched-style Leg of Lamb

2

cups

panko style breadcrumbs

4

cloves

garlic

,

minced

¼

cup

minced parsley

2

tablespoons

minced rosemary

1

teaspoon

kosher salt

1

teaspoon

black pepper

2

tablespoons

olive oil
Instructions
Preheat oven to 400˚F. In a medium bowl, stir together panko breadcrumbs, garlic, parsley, rosemary, salt, and pepper.

Rub leg of lamb with olive oil and pack on panko mixture on all sides. Place the leg of lamb, fat side up on an elevated roasting dish – a roasting rack or similar so it isn't resting directly on a baking sheet.

Roast the leg of lamb at 400˚F for 30 minutes, then reduce the heat down to 350˚F and continue to roast for 15-20 minutes per pound. For a 6 pound leg of lamb, I would start checking the temperature after an hour and 45 minutes. The leg of lamb is done when it reaches 135-140˚F in the thickest portion of the leg. That will end up being a medium-medium rare lamb with the edges being cooked slightly more.

Remove the leg of lamb and let rest for 10 minutes before slicing and serving.

The leg of lamb is great with hearty sides like mashed potatoes, roasted vegetables, or rice pilaf. Leftovers (which you will almost certainly have) are great in sandwich form, sliced thin, with arugula and mustard.

Leftovers will keep for up to a week in the fridge and keep better if you store the leg of lamb unsliced.
Nutrition
Calories:
322
kcal
|
Carbohydrates:
12
g
|
Protein:
39
g
|
Fat:
12
g
|
Saturated Fat:
4
g
|
Polyunsaturated Fat:
1
g
|
Monounsaturated Fat:
6
g
|
Cholesterol:
114
mg
|
Sodium:
513
mg
|
Potassium:
565
mg
|
Fiber:
1
g
|
Sugar:
1
g
|
Vitamin A:
159
IU
|
Vitamin C:
3
mg
|
Calcium:
45
mg
|
Iron:
4
mg
Did you make this recipe?
Holiday Lamb Pack
This was an absolutely epic package in the mail. I could only fit like half of the stuff in the photo. It's a perfect freezer-packer for the winter and gives you some truly special cuts for the holidays.
I knew I had to do something with this French Carved Leg of lamb. It was calling to me!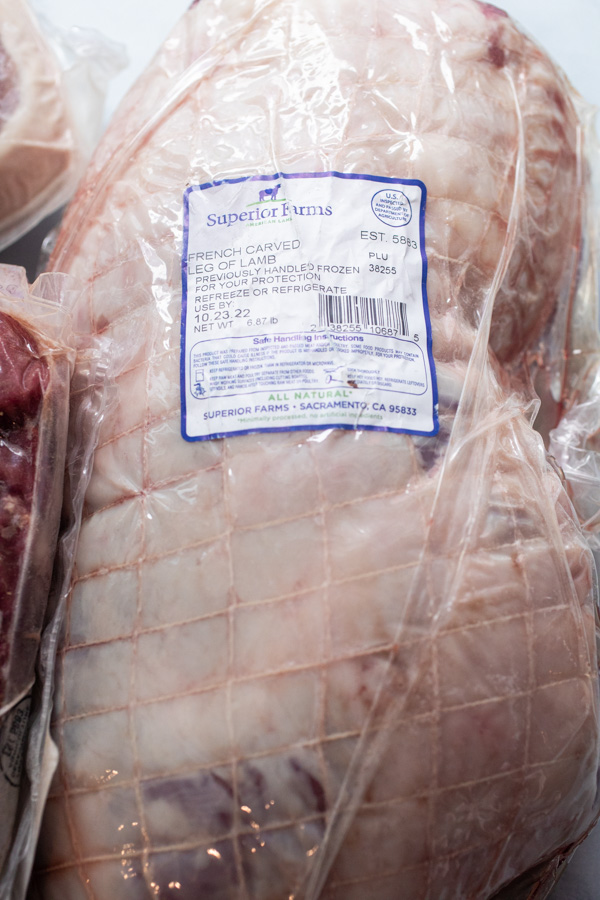 How to Make Panko Leg of Lamb
This leg of lamb feels very fancy, but it couldn't be easier to make. I started by mixing together the panko with all the herbs in a bowl.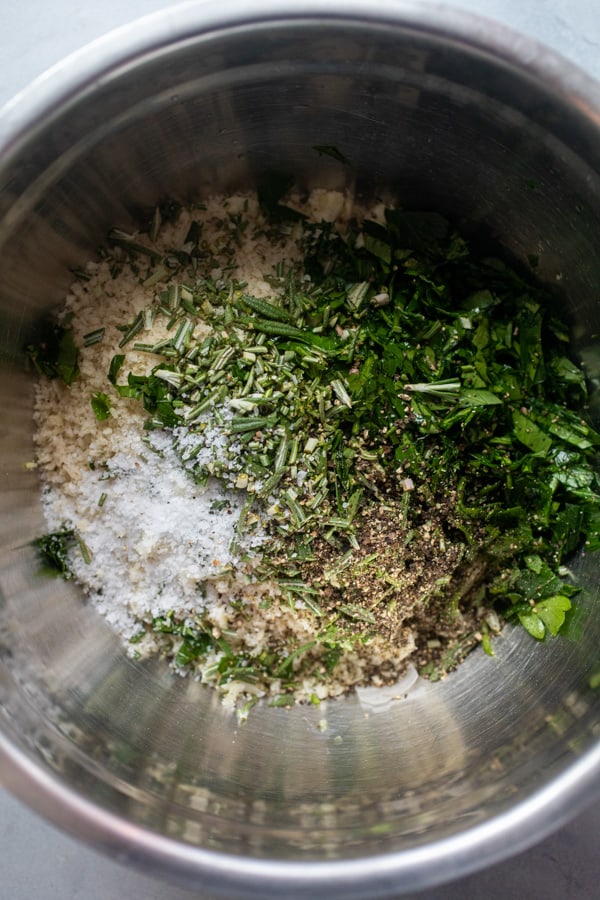 Then place the thawed leg of lamb on a baking sheet. I recommend elevating the leg of lamb using a wire rack or something similar. This will keep the bottom from getting soggy.
You can really pack on the panko mix! Use it all!
Bake the leg of lamb at 400˚F for 30 minutes. This will jump-start the browning process. Your lamb will still be essentially raw in the middle but that's okay.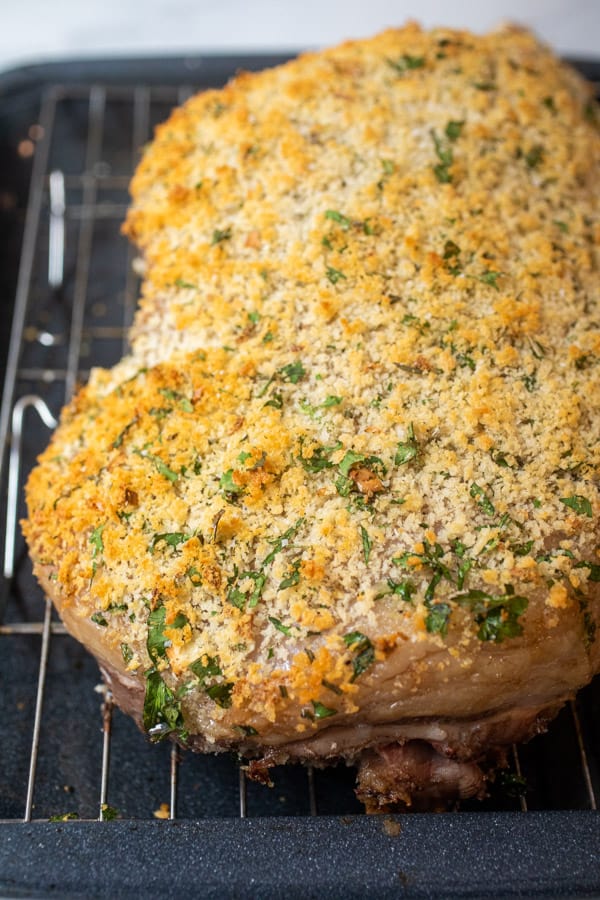 Now turn the heat down to 350˚F and continue to roast the lamb for at least another hour and a half. It might take up to two hours. I would start checking the lamb with a meat thermometer after an hour and a half or an hour and 45 minutes. The worst thing you could do is overcook this beauty!
It will most likely need some extra time to really get to a safe 135-140˚F in the thickest part of the leg.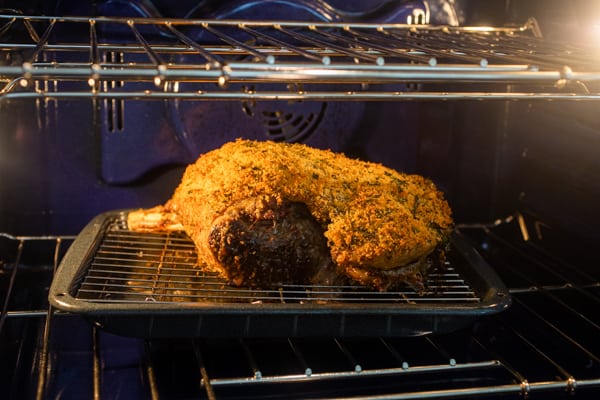 When it has reached the temperature you are looking for, remove it from the oven but don't just cut into it. Let it rest on the counter for 10 minutes. That will allow the juices to redistribute in the lamb and the temperatures to even out.
Then slice it with a very sharp carving knife!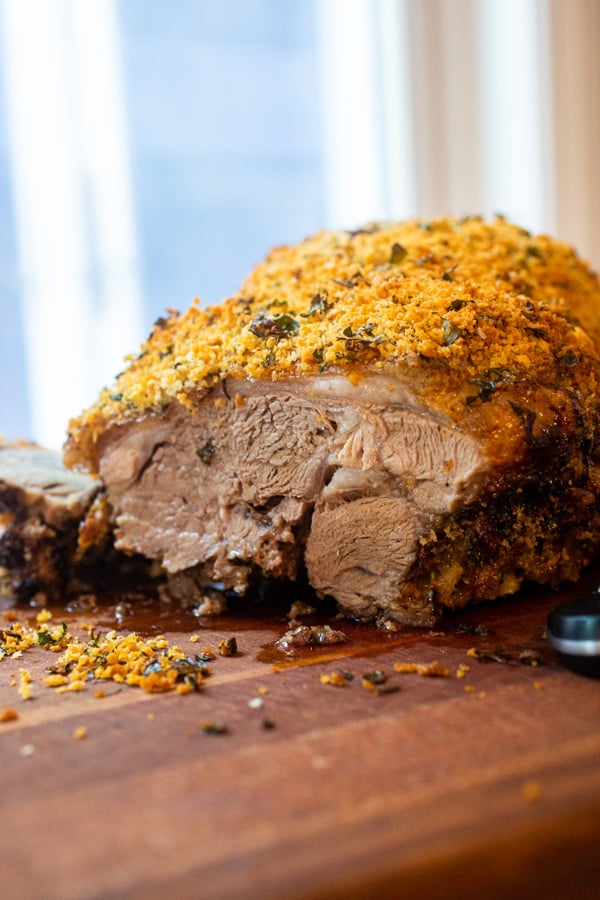 Leftovers and Storage
You can serve this with almost any side under the sun.
You will also almost certainly have leftovers. The leftovers keep best if you don't carve them and will keep fine in the fridge for a week. You could freeze this as well if you wrapped it tightly in plastic wrap.
Personally, we used it for a week for all sorts of things from sandwiches, to quick lunch wraps. I even thought about making a fried rice with some of it, but ran out before we got to it!
Of course, I thought it was best on day one, right out of the oven. It doesn't need any sauce or anything. it's incredibly tender and wonderful and perfect for a holiday.
Here are a few other great lamb recipes!