This was my first loaf of no knead bread in at least a few months. I've been busy testing recipes for the new book and trying to keep up with some other work so store-bought bread has made a huge comeback in our kitchen.
I was excited that you guys voted for it though because I knew I needed a reminder of why I love it so much.
This Oat No Knead Bread recipe is only slightly adapted from my basic no knead bread recipe that I used to make about once a week. The one new addition does add some nice texture to the loaf, but in reality this is just a reminder that bread can be easy to make at home.
If I can do one thing as a food blogger, I hope it is to convince bread lovers to try this method.
Oat No Knead Bread
Delicious and crusty homemade no knead bread made with stone cut oats for extra texture. Wonderful as sandwich bread.
Ingredients
3

cups

bread flour

½

cup

steel-cut oats

1

teaspoon

salt

¼

teaspoon

active dry yeast

2 ⅓

cups

lukewarm water

Extra flour

,

for shaping

Ground flaxseed

,

for shaping (optional)
Instructions
Stir together flour, oats, salt, and yeast in a large bowl.

Add in water and stir to combine. The dough should be very wet. Much too wet to work with.

Cover dough and let it rise at room temperature for 12-16 hours.

After rise, turn dough out onto a heavily floured surface and fold the dough over itself a few times, using lots of flour, until the dough holds its shape in a ball. You might need a cup or two of flour to get it to hold its shape.

Line a clean dish towel with flour and flaxseed if you're using it. Transfer dough ball to the towel with the seam of the dough facing down toward the towel. Cover loosely and let rise a second time for 30 minutes.

Preheat oven to 500 degrees Fahrenheit for 30 minutes with the bottom part of a large cast iron dutch oven in the oven so it gets very hot. Don't preheat the lid.

After 30 minutes pull out pan and carefully roll dough ball into pan so now the seam is facing UP. Cover pot and bake at 500 degrees for 30 minutes.

Remove lid carefully after 30 minutes (steam will rush out so be careful) and return to oven uncovered for 18-20 minutes until dough is nicely browned.

Carefully remove bread from pan and let cool for 30 minutes before slicing.

Let bread cool completely before storing in bags. You can store on the counter for a day or two if you are going to use it immediately or store in the fridge for 7-10 days.
Nutrition
Serving:
1
Piece
|
Calories:
208
kcal
|
Carbohydrates:
41
g
|
Protein:
7
g
|
Fat:
1
g
|
Saturated Fat:
0.2
g
|
Polyunsaturated Fat:
0.3
g
|
Monounsaturated Fat:
0.1
g
|
Sodium:
295
mg
|
Potassium:
48
mg
|
Fiber:
2
g
|
Sugar:
0.1
g
|
Vitamin A:
1
IU
|
Calcium:
14
mg
|
Iron:
1
mg
Did you make this recipe?
Oat No Knead Bread
The Dough
Before I started making this method of bread, I thought it of bread baking as something that dedicated bakers do at 3AM. So much kneading and rising. Who has all that time?
But this method is so simple and requires maybe fifteen minutes of active time (maybe). Plus it requires just a few simple ingredients. If you try this though, do try to find bread flour as it makes a big difference in the final texture.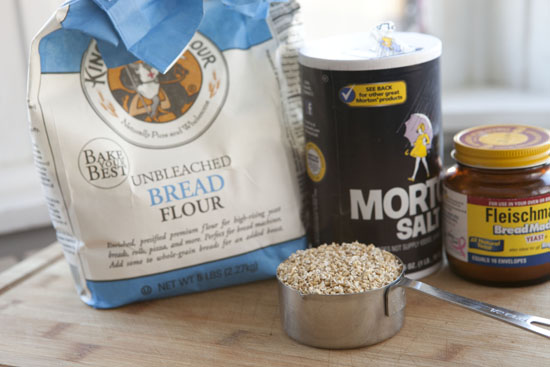 Toss together the dry ingredients in a large bowl.
I was a bit hesitant about using steel cut oats as they are very thick and I wasn't sure that they would soften, but the long rise time gets the job done.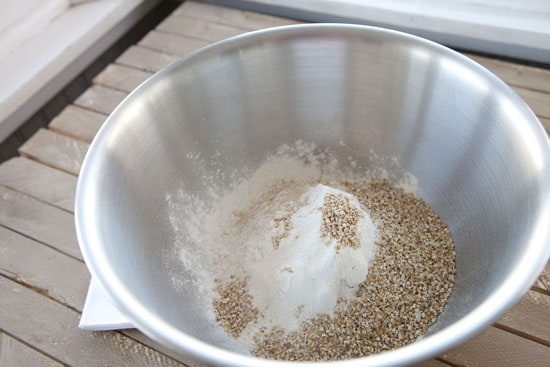 Stir the dry ingredients together and then add in the water.
If you are a regular no knead dough maker, you'll need a bit more water than normal for this version because the oats will really suck up some water.
After you add the water, the dough should almost be soupy. This will be bread later. I promise.
The Rise
Once you've made your flour soup, just cover it and stick it on the counter for 12-16 hours. I usually make my dough in the afternoon on Saturday and then bake my loaf Sunday morning.
After a night of rising, the dough will still be very wet, but it'll have a lot more texture to it. You'll be able to stretch it a bit like this.
Making the Loaf
The tricky part is getting this very wet dough into a ball that you can bake. The only tip I can give is use lots of flour!
I throw down at least a cup of flour on a clean surface and then scoop out the dough. Start folding the dough over itself so it's nicely coated with flour. Keep doing this until the dough holds its shape.
After five or six folds, my dough started to hold its shape nicely so I knew I was ready to go.
Grab a clean dish towel and cover it liberally with flour and ground flaxseed if you're using that. I like the texture that the flax gives, but it's not necessary.
Carefully place your dough ball on this towel with the seam side down. By seam, I mean the crease that you'll create as you fold the dough over itself. So the top of the dough on the towel should look nice and even.
The Heat
Cover the dough loosely at this point and let it rise for another thirty minutes.
Meanwhile, preheat your oven to a blazing hot 500 degrees Fahrenheit. Also, as the oven preheats, stick your cast iron pot in the oven so it gets as hot as possible.
Almost any large dutch oven will work for this. You just need something large enough to hold the dough and also cast iron so it can handle the heat. Don't preheat the lid along with the pot as sometimes lids have handles that can't get super hot for very long.
After thirty minutes of pre-heating, remove the pot and carefully roll your dough ball out of the towel and into the pot. Now the seam on the dough is facing up! This allows steam to escape as it bakes.
A NOTE ON KNOBS: Many cast iron dutch oven weirdly come with knobs on the lids that are hard plastic. Most of these are temperature rated to only 400 degrees. While rare, I've heard of some people that have had their knobs melt if they are exposed to high heat. This is an easy fix! They make stainless steel replacement knobs for the lids or you can go to a hardware store and by a metal knob for a few bucks.
Cover the pot with a heavy lid and bake it at 500 degrees for 30 minutes.
Baking the dough in the dutch oven like this creates a mini-oven of sorts that's very hot and has a high humidity which is exactly what you want.
After thirty minutes, carefully remove the lid. And seriously folks, be careful. When you pull that lid off lots of hot steam will rush out and it can really burn you.
Now add the pot back to the oven without the lid which will brown the bread nicely. Bake it for another 18-20 minutes uncovered.
Then carefully remove the loaf from the pan and let it cool for about 30 minutes before slicing it.
This bread had a fantastic crust and crumb. Check that out.
Betsy and I have devoured this loaf of bread this week. I sort of forgot how much better it is than store-bought loaves.We have used it for sandwiches and some great garlic bread also.
Are you a no knead bread fan? How good does this look?!