I think when most Americans think of yeast, they think of baking bread (or possibly beer), but nutritional yeast is probably not a commonly known thing in most U.S. households.
So let's try to change that. Here's the deal with this stuff. It's basically a dietary supplement that is completely vegetarian and happens to be delicious. That's what I had heard about it before I tried it for the first time.
What I wasn't ready for though was how completely savory and addictive this stuff is. It's commonly described as having a cheese-like flavor, and I think that's pretty accurate, but it also has some strong umami notes that remind me of soy sauce or really good mushrooms.
Once you have a bag of nutritional yeast in your pantry, you'll find yourself sprinkling it on all kinds of things from soups and salads to even adding a pinch to your standard tomato sauce. For me though, I had to make crackers. I wanted something crispy and snack-worthy. Crackers also let me go a little crazy and add as much of this stuff as possible so I could really maximize the flavor.
Can't-Stop Nutritional Yeast Crackers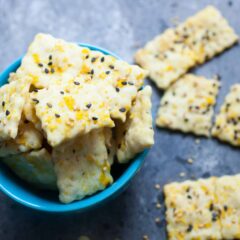 These nutritional yeast crackers are savory, crispy, and SO addictive. Make a double batch because they going to go fast.
Ingredients
1 ½

cups

all-purpose flour

2

tablespoons

Bob's Red Mill Nutritional Yeast

1

teaspoon

sugar

½

teaspoon

kosher salt

¼

cup

olive oil + extra for drizzling

½

cup

water

Sesame seeds

,

topping

Nutritional yeast

,

topping
Instructions
Preheat oven to 450 degrees F.

In a medium bowl stir together all-purpose flour, sugar, salt, and yeast. Drizzle in olive oil and water and stir together until the mixture forms a dough. If it's sticky, add more flour by the tablespoon. If the dough is cracking and dry, add an extra drizzle of water.

Knead the dough in the bowl a few times to smooth it out. No need to knead it more than a few minutes. Then let the dough rest for 5-10 minutes.

Roll dough out on a clean surface into a large rectangle about the size of a baking sheet. The dough should be very thin, but not quite translucent. Transfer dough to a baking sheet lined with parchment paper.

Brush dough with olive oil and sprinkle it with any toppings you want. Extra nutritional yeast is a must, but I also recommend sesame seeds and even a pinch of salt and/or pepper.

Poke a bunch of holes in the dough with a fork and cut the dough into cracker sized pieces using either a knife or a roller.

Bake the crackers at 450 degrees F. for 13-15 minutes, rotating them once halfway through. Let cool before breaking apart and serving.

Store extras (yea right) in an airtight bag at room temp for a few days.
Nutrition
Serving:
6
Crackers
|
Calories:
81
kcal
|
Carbohydrates:
10
g
|
Protein:
1
g
|
Fat:
4
g
|
Saturated Fat:
1
g
|
Polyunsaturated Fat:
0.4
g
|
Monounsaturated Fat:
3
g
|
Sodium:
79
mg
|
Potassium:
25
mg
|
Fiber:
0.5
g
|
Sugar:
0.4
g
|
Vitamin A:
0.3
IU
|
Vitamin C:
0.002
mg
|
Calcium:
3
mg
|
Iron:
1
mg
Did you make this recipe?
Can't-Stop Crackers
Okay, let's take a look at this stuff. While you can buy this in a few places, I think it's important to get "large flake" nutritional yeast because the texture is almost as important as the flavor. It's not as crunchy as flaky salt, but it has some texture to it for sure.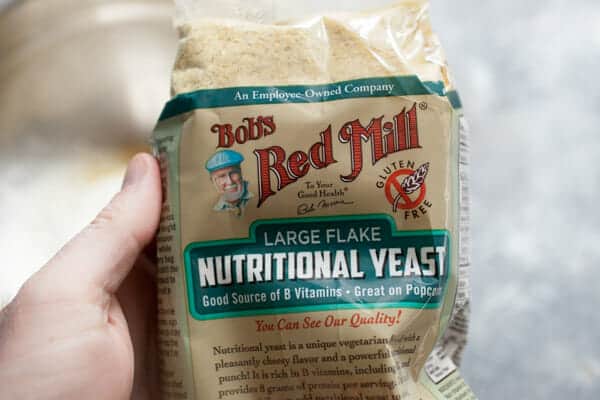 This stuff is ridiculously good for you also. In one serving size, there are 3 grams of fiber and 8 grams of protein.
The first thing I noticed when I read the label though, wasn't the nutrition. It was that popcorn was specifically called out.
Popcorn break!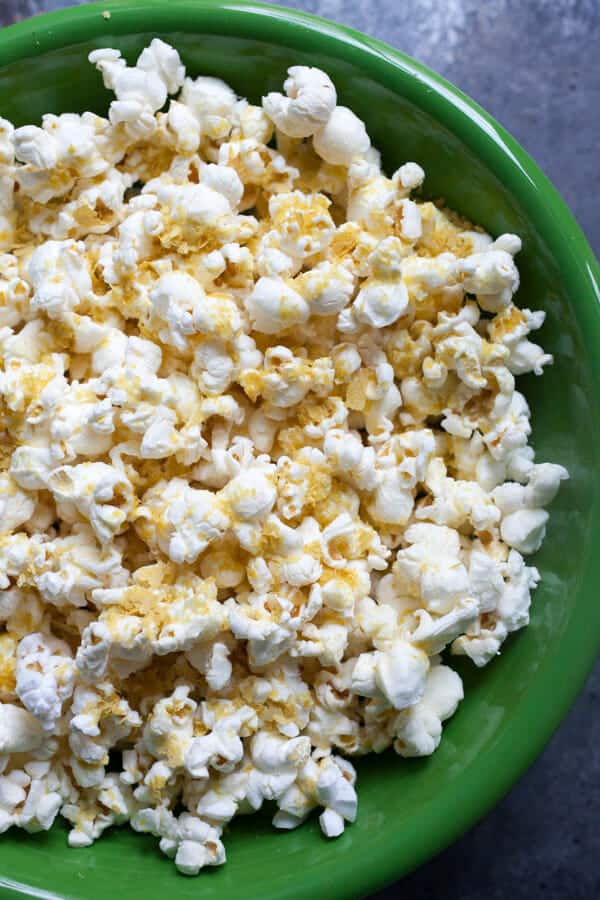 WARNING: Nutritional yeast will ruin other popcorn for you. Once I popped my kernels, i just added a drizzle of butter to it to help the flakes stick and then poured on very generous spoonfuls of nutritional yeast.
It tastes ridiculously good. Like some sort of classy cheesy popcorn, but somehow more mouthwatering and addictive.
Okay, back to crackers!
This is an easy dough to mix up. Add the flour, sugar, salt, and yeast to a bowl and stir it up.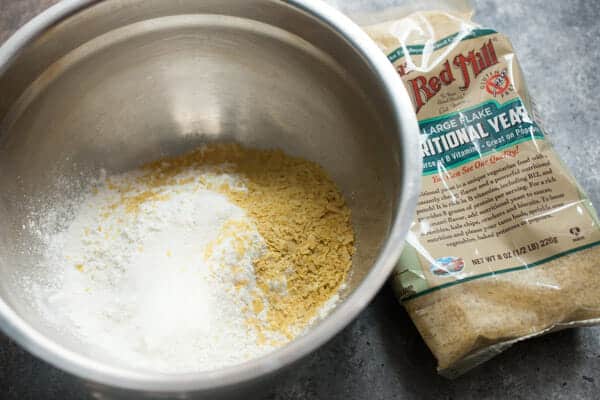 Then drizzle in the olive oil and water and stir it together until it's in a nice dough. It shouldn't be sticky at all so if it's sticking, add more flour by the tablespoon. If it's dry and cracking, add more water.
Just knead it for a few minutes in the bowl and then let it sit for a few minutes to relax.
Then roll it out nice and thin! I rolled mine out to fit my baking sheet.
Then brush it with olive oil and prick the dough with a fork to let steam escape while baking.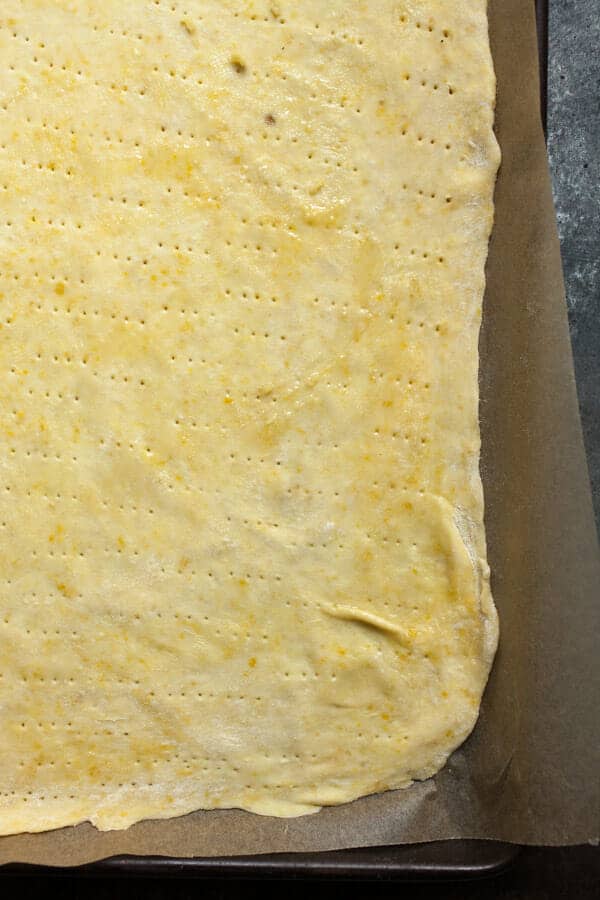 Toppings galore! More nutritional yeast is a must. But I also tossed on a pinch of salt and some sesame seeds (both white and black).
Then I used my little decorative roller cutter to make crackers!
Bake these at 450 degrees F. for about 13-15 minutes. Be sure to rotate them once halfway through and keep a close eye on them to make sure they don't burn near the end.
These nutritional yeast crackers are pretty delicious!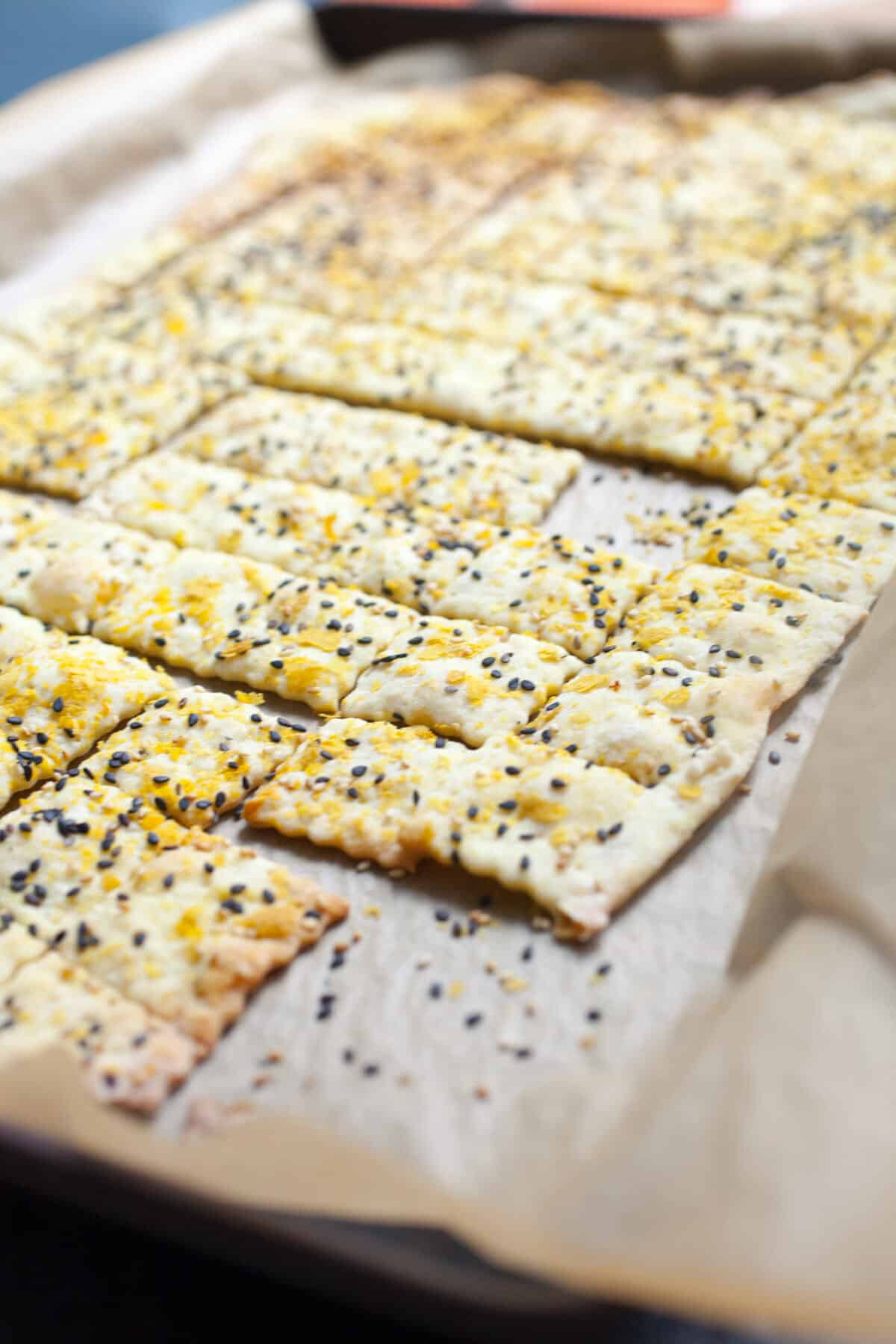 Any nutritional yeast fans out there? Every kitchen should have a bag of this stuff!