The holiday season is in full swing and I probably don't have to tell you that that means eating. Lots of it. To space out the indulgence, I like to have a few healthy soup recipes on my menu plan like this Chicken and Mushroom Soup.
There are many versions of this soup out on the Interwebs, but many of them use canned soups. This version is from scratch, but not necessarily hard. It's still ready to serve in about 45 minutes.
This Mushroom Chicken Soup is like a chicken soup, but with the flavors cranked up to 11. Instead of egg noodles, I used wild rice which gives it a really nutty flavor, but a huge chunk of exotic mushrooms that make the soup really savory and wonderful.
It's healthy, but that doesn't mean it isn't also comfort food.
What is wild rice and why use it in soups?
I really love wild rice, but it can be sort of annoying because it takes like 45 minutes to cook. I don't really know how to get around this. You could use white rice for this recipe, but I feel like that's an entirely different recipe.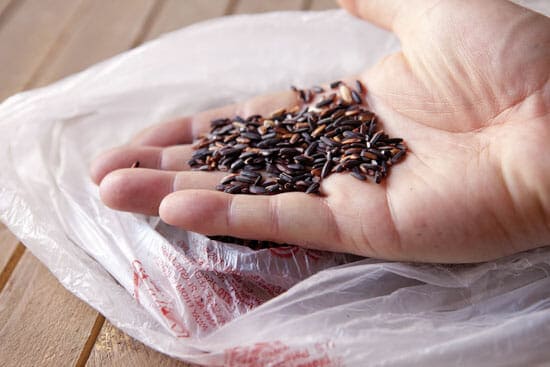 Luckily, this Mushroom Chicken Soup takes about 45 minutes to make start to finish so you can start your rice first thing and then add it in at the end and you'll be all set.
One very important note: Do cook your rice separately. I recommend boiling it in a medium pot with a lot of water. This will help it cook faster and also you'll notice that the rice turns the water a dank, black color. This would NOT be appealing if you turned your soup this color which is why I recommend cooking the rice in a separate pot.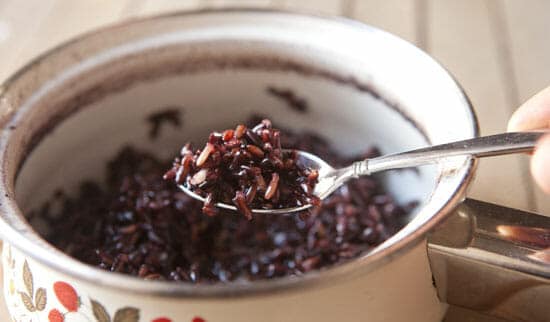 After it is tender (taste it regularly to make sure it doesn't get mushy), just drain it and set it aside until you need it for the soup.
How to prepare the chicken for this soup
The dream for this soup would be to use some leftover chicken from another meal. You can shred a few cups of it and use it in the soup, but if you need to cook some chicken just add it to your stock while it simmers with the aromatics or cook it separately in a small pot of simmering water for about 15 minutes until it's cooked through.
You could use chicken thighs or chicken breasts for this soup. Anything will work well.
Once your chicken is blanched and cooked through, let it rest until you can handle it and then shred the chicken into medium-sized strands to add back into the chicken mushroom soup at the end.
What mushrooms work best for this mushroom soup recipe?
I'm not picky on the types of mushrooms that you need for this soup. You could use basic white button mushrooms if you want or upgrade to some more exotic mushrooms like oyster mushrooms, cremini mushrooms or shiitake mushrooms.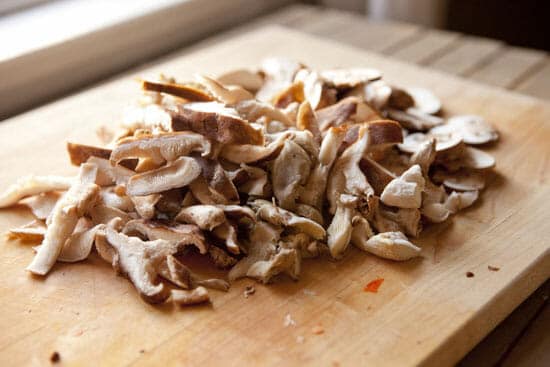 Personally, I just use what I can find that given day at the store. I wouldn't overthink it and using different mushrooms gives the soup some personality and is an easy way to change up the soup.
Making this Chicken and Mushroom Soup
Making a good soup isn't all that complicated. If you can, use homemade stock for the base, but if you are using store-bought stock it helps to simmer the stock with a cup or two of water, an onion, a few stalks of celery, a carrot, and a few cloves of garlic. Just those basics will improve the flavor of the stock.
Meanwhile, you'll need to dice the onion, red pepper, and carrots that will go in the finished soup. Take your time on these vegetables, but they don't have to be perfect.
Once you have your ingredients prepped and your rice is simmering, add a good drizzle of olive oil to a large pot and add in all the mushrooms. Season them with a big pinch of salt and let them cook until they start to brown and they release their liquid. This should take 6-8 minutes over medium-high heat.
Then add the red pepper, onion, and carrot and continue to cook until those veggies are soft.
To finish the soup, add the garlic and thyme and stir to combine. Then add the chicken broth (strained if you simmered it with aromatics), the shredded chicken, and the cooked wild rice.
Season this whole deal with salt and pepper and you're ready for soup.
This Mushroom Chicken Soup is surprisingly filling. You could garnish the soup with some fresh parsley or fresh thyme.
A bowl of this with maybe a few crackers or a good slice of bread and you'll be in good shape.
Can you make this in a slow cooker?
I've never actually tried this soup in a slow cooker because it's pretty easy to make without it, but if you wanted to try, add would add all the ingredients including the chicken and mushrooms and rice to a slow cooker with 8 cups of stock or water. Cook on low for 6-8 hours. Then shred the chicken and return it to the slow cooker. Adjust seasonings with salt and pepper and it should work great!
Note: I would probably not use black wild rice if you are cooking this in a slow cooker as it will stain the soup a deep brown color. You can substitute rinsed brown rice with no issue.
Substitutions and Ideas
Here are some other ideas for this soup that will be delicious without changing too much.
Leftover turkey! If you have Thanksgiving leftovers, use shredded turkey instead of chicken for an easy leftover use.
Instead of rice, you could use other starches like potatoes or even egg noodles to change up the soup texture.
Turn this into a creamy chicken mushroom soup by making a roux with a few tablespoons of all-purpose flour whisked into the vegetable base. Stir in the stock slowly and also add a cup of heavy cream. When you stir in the chicken and rice, it'll be a rich and creamy soup.
Storing and reheating the soup
Leftover soup stores wonderfully. If you store the soup with the rice though, the rice will soak up a lot of the broth so it might be necessary to add more chicken broth or just water to the soup to reheat it.
You can reheat this soup in the microwave on high for about 2 minutes. Just be sure to cover it with a paper towel to avoid splattering. If you are reheating a few servings of it, I would reheat it on the stovetop in a small saucepan until it's steaming hot.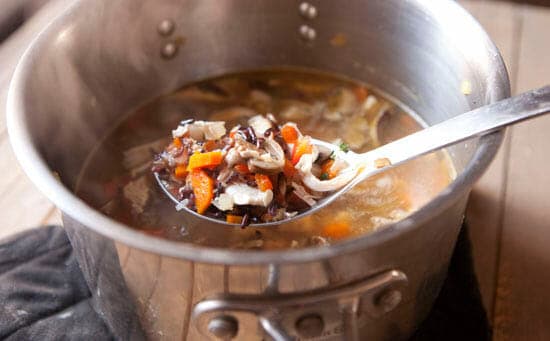 Chicken and Mushroom Soup
A healthy and delicious soup packed with sauteed mushrooms, chicken, and wild rice. Perfect for a chilly winter night.
Ingredients
½

cup

wild rice

,

cooked

½

pound

chicken breast

,

shredded

2

tbsp

olive oil

10

oz.

mushrooms

,

sliced

½

cup

yellow onions

,

diced

½

red pepper

,

diced

1

carrot

,

diced

1

clove

garlic

,

minced

1

teas

fresh thyme

1

quart

chicken stock

Salt and pepper

Fresh parsley

,

garnish
Instructions
Boil wild rice until it's cooked, but still has a slight bite to it. Don't cook the rice in the stock for your soup because it'll make the stock black!

Shred leftover chicken or simmer a chicken breast in simmering water for 15 minutes until chicken is just cooked. Then remove and shred.

Meanwhile, slice mushrooms and dice other veggies. For mushrooms, I like a mix of shiitake, oyster, and cremini mushrooms.

In a large pot add olive oil followed by sliced mushrooms and a pinch of salt. Cook until mushrooms release their liquid and are lightly browned, about 6-7 minutes.

Add diced onions, carrots, and red peppers and continue to cook until veggies are softened, another 4-5 minutes.

Add garlic and thyme and cook for 30 seconds. Then add stock, cooked rice, and shredded chicken. Simmer for 5 minutes, partially covered. Season with salt and pepper.

Serve soup with fresh parsley as a garnish.
Nutrition
Serving:
1
bowl
|
Calories:
318
kcal
|
Carbohydrates:
30
g
|
Protein:
24
g
|
Fat:
12
g
|
Saturated Fat:
2
g
|
Polyunsaturated Fat:
2
g
|
Monounsaturated Fat:
7
g
|
Trans Fat:
0.01
g
|
Cholesterol:
43
mg
|
Sodium:
712
mg
|
Potassium:
885
mg
|
Fiber:
3
g
|
Sugar:
8
g
|
Vitamin A:
3066
IU
|
Vitamin C:
25
mg
|
Calcium:
31
mg
|
Iron:
2
mg
Did you make this recipe?
Other delicious recipes to try