St. Patrick's Day is right around the corner and everything will be colored green on the Internet. I always like to participate, but try to make something that isn't just pretend-colored green, but is green naturally. This Avocado Cream Cheese Spread is the thing! Schmear it on a bagel, spread it on a pita or toast, or use it in a sandwich!
I alternatively call this my Lucky Green Cream Cheese! It's packed with fresh herbs and is actually lighter than your standard schmear thanks to the avocado added to the mix. You can make it in advance and it actually goes on smooth even right out of the fridge unlike your standard block of solid cream cheese.
Make it this week and earn some luck in bagel form!
Avocado Cream Cheese Ingredients
The main ingredients for this spread should be obvious: avocado and cream cheese.So let's talk about what else goes into this spread!
I like to use a lot of fresh herbs in my spread, which adds even more to the bright green color but also gives the spread some flavor since avocado can actually be a bit on the bland side. I start with fresh parsley, fresh chives, and fresh basil.
Of course, you can make this part your own. If you happen to have a little herb garden, I would raid it and toss in what you have. Fresh Cilantro? Sure. Oregano? Yes.
Other than that, you just need some fresh lemon juice and salt for this recipe. You could use lime juice if you had those in your pantry. Any citrus like that will work great.
If you wanted to make this a spicy spread, a jalapeno would do the job or some roasted green chiles!
How to make this Avocado spread
This whole thing is made in a food processor. You don't NEED a food processor for this recipe but it makes it dumb-easy. If you don't have one you can just finely dice all the herbs and mash the stuff together. This spread should be much smoother than guacamole though so make sure you really mash everything well if you aren't using a food processor.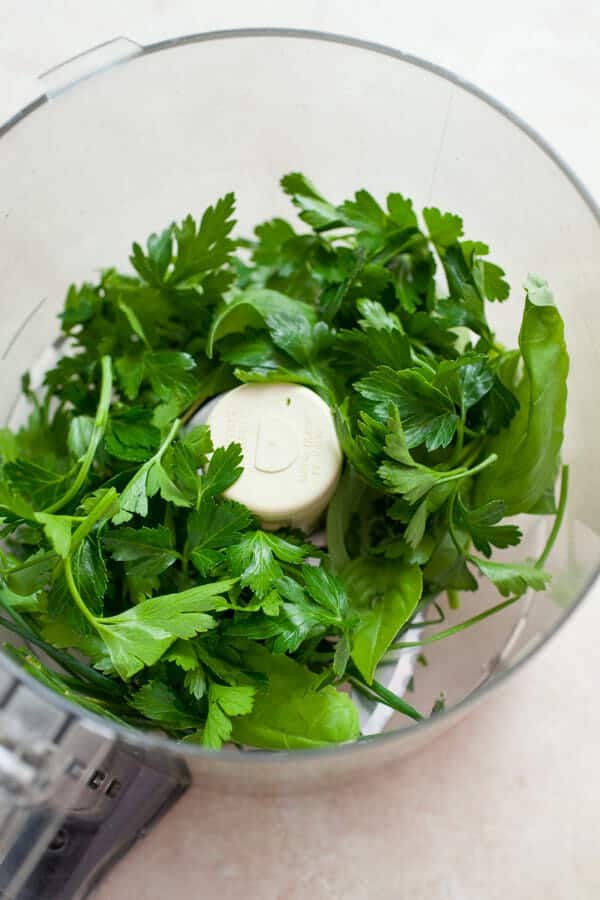 If you do have a food processor, add the herbs first and pulse them a few times to get them chopped up.
Then add the cream cheese and avocado. Again, this is easy. It does help to make sure you have a really ripe avocado so it purees perfectly. An unripe avocado will be much harder to puree.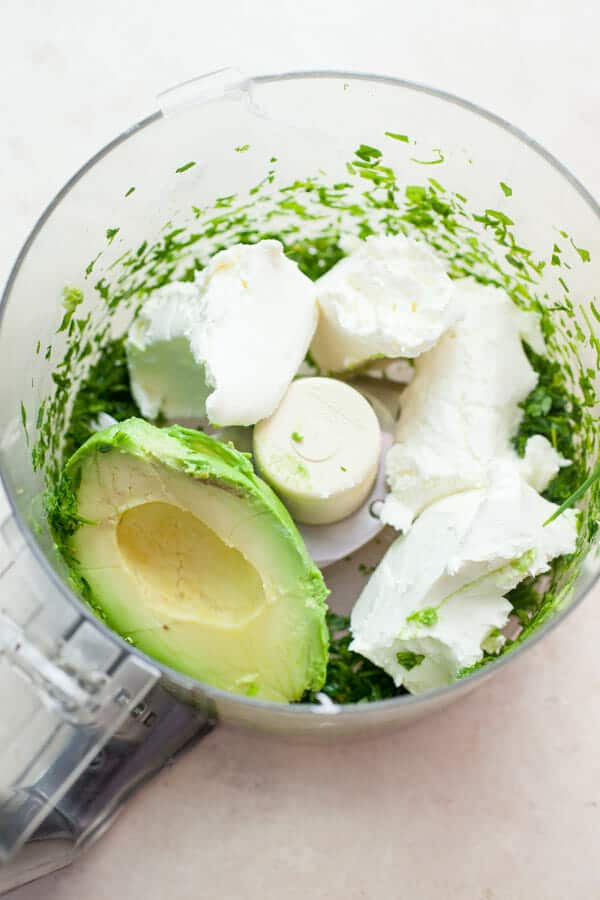 Drizzle in the lemon juice as the processor runs and it'll come together in this deliciously smooth spread.
Season it with some salt and give it a taste with a spoon. It should be bright and lighter than standard cream cheese.
This should be enough spread for about four bagels. Obviously, it's easy to double if you are feeding a crowd. It stores great for a few days in the fridge as well.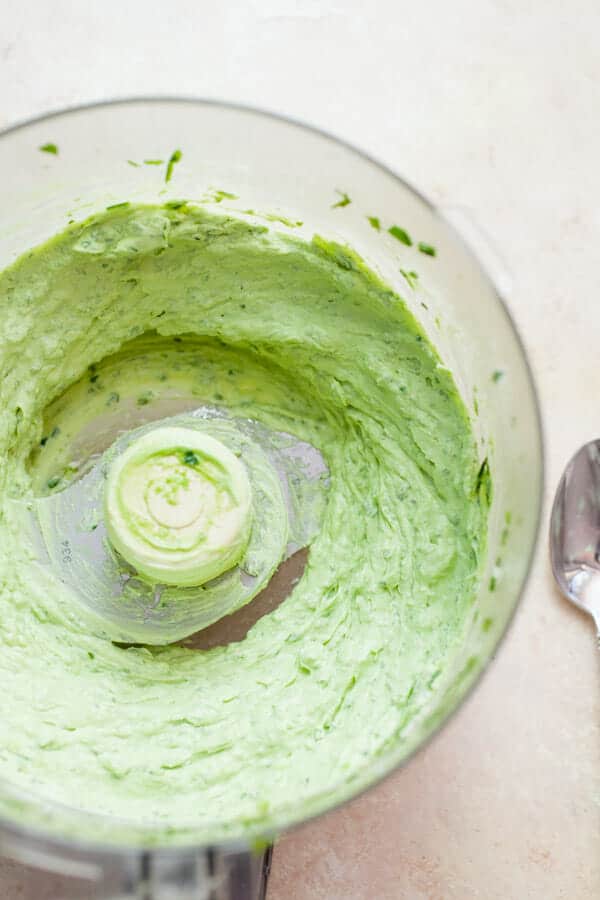 Ways to use this Avocado Cream Cheese
The most immediate use for this should be on bagels. It's wonderful.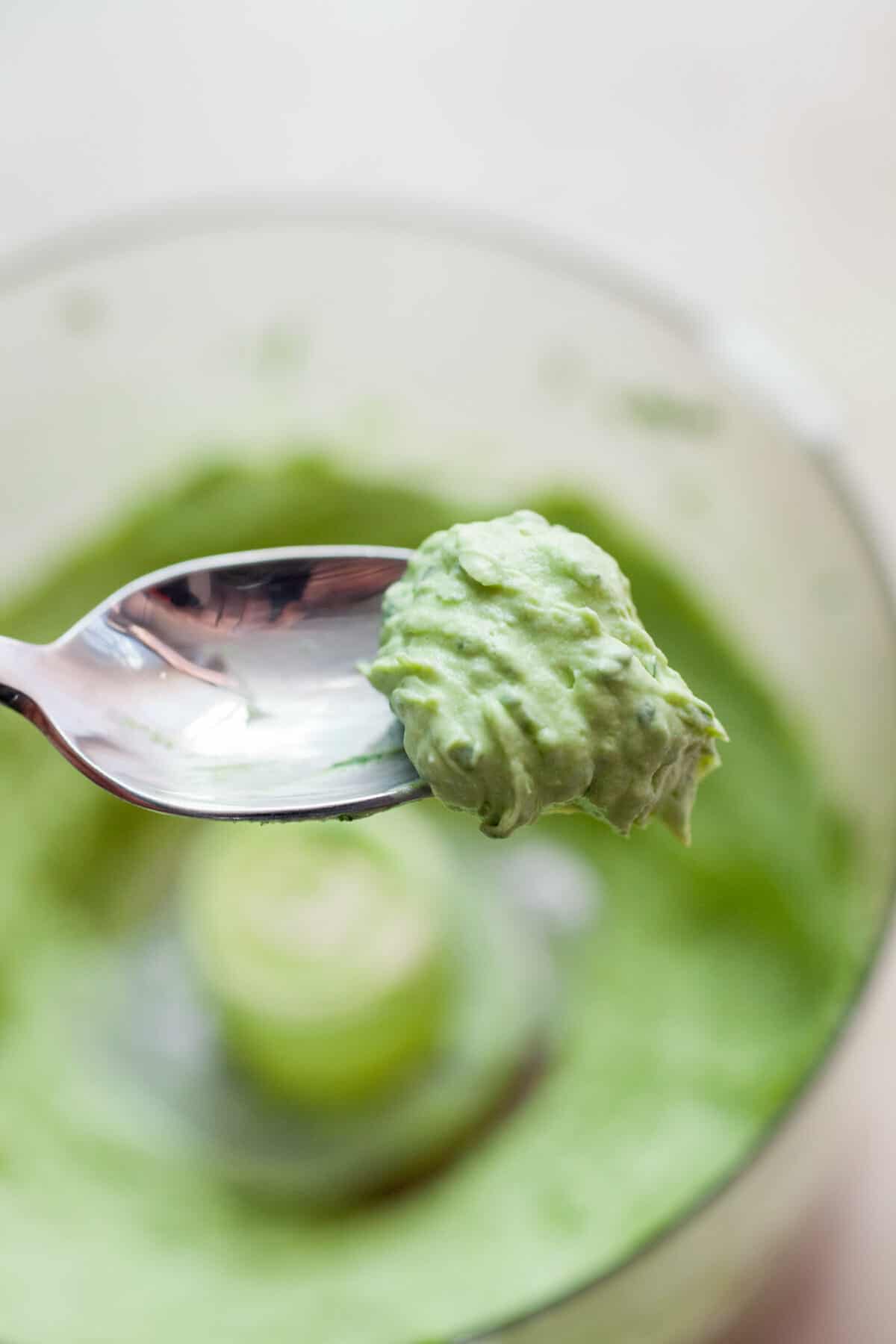 But, you could also make an updated avocado toast with this spread, even with the egg on top and maybe some Everything bagel seasoning.
To make a dip out of this spread, lighten it up with some yogurt or sour cream and use it as a dip for tortilla chips or pita chips.
Make a sandwich out of the spread with deli turkey, red onions, and greens.
Try it as a salad dressing if you lighten it with some buttermilk. You might need to blend it to really get a smooth salad dressing.
Schmear on!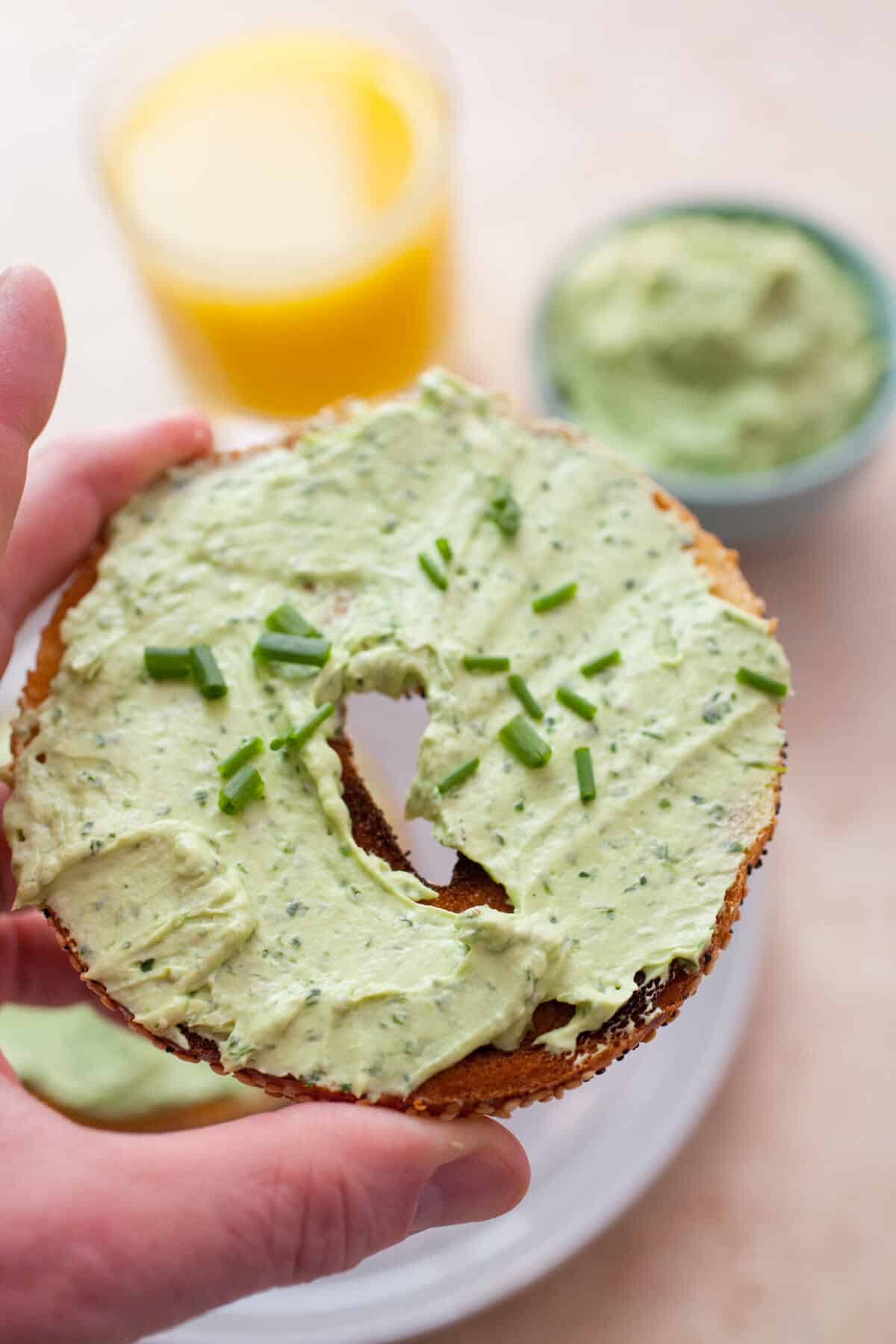 Drizzle in the lemon juice as the processor runs and it'll come together in this deliciously smooth spread.
Lucky Green Cream Cheese
This lightened-up cream cheese spread is packed with herbs and ripe avocado. It makes for the perfect schmear and is a great St. Patty's Day breakfast!
Ingredients
8

ounces

cream cheese

,

soft

½

ripe avocado

2

tablespoons

fresh parsley

1

tablespoon

fresh chives

1

tablespoon

fresh basil

½

lemon

,

juice only

Pinch

of salt

Bagels for serving
Instructions
In a food processor, add herbs (parsley, chives, basil) and pulse a few times to chop. Then add softened cream cheese and avocado.

Start your food processor and add the lemon juice as it runs until the spread is light and fluffy and combined well. Season with a pinch of salt.

Serve on toasted bagels.

IF you don't have a food processor, you can dice the herbs very finely and mash together the spread with a fork, but it won't be quite as combined.
Nutrition
Serving:
2
oz
|
Calories:
105
kcal
|
Carbohydrates:
8
g
|
Protein:
10
g
|
Fat:
4
g
|
Saturated Fat:
1
g
|
Polyunsaturated Fat:
1
g
|
Monounsaturated Fat:
3
g
|
Cholesterol:
7
mg
|
Sodium:
401
mg
|
Potassium:
313
mg
|
Fiber:
2
g
|
Sugar:
4
g
|
Vitamin A:
297
IU
|
Vitamin C:
13
mg
|
Calcium:
210
mg
|
Iron:
0.5
mg
Did you make this recipe?
Other great St. Patricks Day Recipes to try!
If you are excited to cook this St. Patricks day, join the club! For starters, this Guinness Banana Bread is rich and is great as a breakfast bread or dessert! If you are looking for a classy brunch, try out these Reuben Eggs Benedicts or you could just keep it simple with my one bowl beer bread! I also loved this fun St. Patricks Day Muddy Buddies from Frugal Mom Eh!