Halloween is a favorite holiday at House Macheesmo. We tend to try to dress up in some sort of family theme and obviously make some delicious food to enjoy as well. These Hot Dog Mummies are easy to make and always a hit with kids!
I've made a bunch of Halloween treats (have you checked out my Leftover Candy Peanut Butter Tart for some post Halloween fun?) over the years. While my Bloody Worms of Doom are my favorite visual recipe ever, these little Hot Dog Mummies might take the cake as one of the most delicious Halloween appetizers I've made.
After all, who doesn't love a pig in a blanket? That's essentially what these are. I made the dough in case you are feeling ambitious, but you can also use a wide range of store-bought doughs!
Making the Mummy Dough
There are many different kinds of dough you could use for these hot dog mummies, but I went with pizza dough and decided to make a fresh batch!
I made a small batch of pizza dough to use as the wrapping for my Hot Dog Mummies. I chose pizza dough because it browns nicely, but also because it's really stretchy and I knew I could wrap it easily.
Start the dough by stirring together the warm water, sugar, and yeast in a mixing bowl. Let this mixture sit until it starts to bubble so I knew the yeast was doing its thing.
After that, just stir in the salt and oil and then slowly mix in the flour. If you have a stand mixer, you can mix this with a dough hook on medium speed until it forms a soft, smooth dough ball. The dough should be pretty stretchy, but not sticky at all.
You can also absolutely just stir this together by hand and then knead it for 8-10 minutes until it's the same texture.
Lightly oil a medium bowl and optionally you can brush the dough ball with oil, cover it with plastic wrap, and let the dough rise for about 90 minutes until it doubles in size.
Now you are ready to make some mummies!
Other dough options for hot dog mummies
If making a fresh batch of pizza dough doesn't sound like a fun time for you, no worries. There are lots of options here. Here are a few ideas!
Use store-bought pizza dough! These days you can find decent pizza dough at most grocery stores or if you ask nicely at your local pizza spot, they will usually sell you a pound of dough for a few bucks.
Croissant dough or crescent dough. This works well and bakes up almost like a pig in a blanket. You won't be able to get the strands quite as thin while rapping, but ti will work!
Biscuit dough. If you have a can of biscuits, you can roll them out to flatten them, slice them up into thin strips, and use those to wrap your hot dog mummy.
Phyllo dough. Phyllo dough is tricky to work with but if you roll it into tight cylanders and wrap it around the hot dogs, it'll work just fine and be really flakey and delicious.
Shaping and Baking the Hot Dog Mummies!
When it comes to hot dogs, don't get the super skinny ones. They will be hard to cut for the mummies. Also, don't get the huge quarter-pound ones just because that would be an intense treat.
Just the normal-sized hot dogs will do the trick just fine. Personally, I like Hebrew National or Nathans. To make the legs of the mummy, cut the dog in half up almost halfway.
For the arms, cut it into thirds across the top of the hot dog, being sure not to cut all the way to the top of the dog or you'll amputate your mummy.
Get it?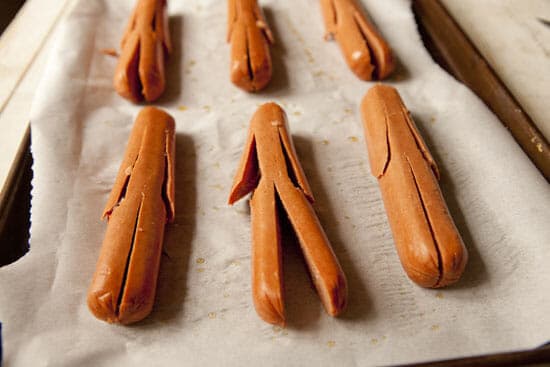 I recommend cutting all the dogs and then wrapping all the dogs.
Wrapping is easy and fun. You'll need 3-4 strips of dough to wrap a full mummy. I found it easiest to start at the legs and work up. Get the kiddos to help out for this step.
When all your Hot Dog Mummies are wrapped, brush them with some egg wash (1 egg plus some water). This will make sure they get golden brown and a bit crispy.
Transfer your wrapped mummies to a baking sheet or cookie sheet.
Bake these guys in 400 degrees F oven. for about 20-25 minutes until they are a golden brown color. I recommend baking them on parchment paper to make sure they don't stick.
Once you take the mummies out, you can use some hot sauce or ketchup to give them red eyes! You could also use candy eyes but I like the red-eye effect!
Serving these Hot Dog Mummies on cheesecloth is kind of a fun effect, but not necessary.
Not only do these Hot Dog Mummies look really cool, but these are seriously tasty. The dough gets crispy around the edges and the hot dog stays nice and juicy on the inside.
Make these Hot Dog Mummies for the kids, but I think you'll find the adults huddled around the table as well.
You could serve these with ketchup or mustard as a dipping sauce or something like BBQ sauce or honey mustard!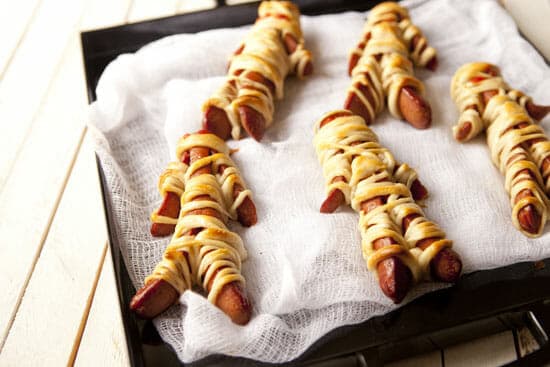 Making these mummies in advance
It can always be stressful to be cooking something while you are also getting in costume! These hot dog mummies are easy to make even a few days in advance if it helps you. Just keep them in the fridge on a sheet pan and then warm them up in a 350˚F oven for a few minutes before serving!
Here are a few other wonderful Halloween treats
Halloween is one of my favorite cooking holidays because you can really make some fun creations that are both delicious and creepy!
These Baked Brains (baked brie) are almost always on my Halloween menu. Easy to make and looks really cool on a table! These Putrid deviled eggs are also a hit and very easy to make in a big batch. For a sweet twist, I love these Halloween Swirl Brownies from Persnickity Plates!
Happy Halloween everybody!
Hot Dog Mummies
A fun and delicious Halloween recipe for hot dog mummies! Juicy hot dogs baked in crispy dough make a quick and easy party appetizer.
Ingredients
Quick Pizza Dough
2

cups

all-purpose flour

1

teas

sugar

1 ½

teas

kosher salt

¾

teas

dry active yeast

1

tbsp

olive oil

¾

cup

water

,

warm
Hot Dog Mummies
12

hot dogs

1

egg

,

+ 2 tbsp water

Sriracha

,

for eyes
Instructions
If you are making the dough, combine sugar, yeast, and warm water in the bowl of a stand mixer. Stir together and let sit for five minutes until the mixture is foaming. Stir in salt and oil and then slowly add flour. Stir together and them mix with a dough hook on medium speed until the dough is a smooth texture, but not sticky. if it's sticky, add a bit more flour.

You can also do this by hand by stirring the dough together and then kneading the dough in the bowl until it's a smooth texture, about 8-10 minutes.

When dough is done, transfer to a lightly oiled bowl, cover, and let rise for 90 minutes until it doubles. You can also use any prepared pizza dough for the recipe.

When ready to make mummies, preheat oven to 400 degrees F. Working with one hot dog at a time, cut it half way up the center and then cut an arm off of each side of the top of the hot dog. Basically cut it into thirds on the top to make two arms and two legs. Check out a photo to see what I mean. It's easy.

When hot dogs are cut, roll out dough on a lightly floured surface and slice into thin strips. I would shoot for about 1/4-inch. Working with one strip at a time, wrap the strips of dough around the hot dogs. I found it easiest to start with the legs and wrap up to the head. You'll need 3-4 strips per mummy.

When mummies are wrapped, place them on a baking sheet lined with parchment paper. Finish all mummies.

Whisk together one egg with 2 tablespoons water and brush all mummies with egg wash. Bake at 400 degrees for 20-25 minutes until they are golden brown.

Let mummies cool slightly and dot eyes with ketchup or Sriracha. Serve while warm!
Notes
You can make these mummies a day in advance and warm them in a 350˚F oven until re-warmed and crispy.
Nutrition
Calories:
205
kcal
|
Carbohydrates:
25
g
|
Protein:
8
g
|
Fat:
8
g
|
Saturated Fat:
3
g
|
Polyunsaturated Fat:
1
g
|
Monounsaturated Fat:
4
g
|
Trans Fat:
0.002
g
|
Cholesterol:
34
mg
|
Sodium:
605
mg
|
Potassium:
100
mg
|
Fiber:
1
g
|
Sugar:
0.2
g
|
Vitamin A:
20
IU
|
Vitamin C:
0.05
mg
|
Calcium:
18
mg
|
Iron:
2
mg
Did you make this recipe?